By setting up the right keyword match types in Google Ads, you can maximize your click-through rate (CTR), cut off non-targeted impressions, and save your ad budget.
The CTR of an ad largely depends on its relevance to the user's query. To increase relevance, use keywords in different match types. This article will explain what keyword and negative keyword matching options are available in Google Ads and how to properly use them.
What is a Keyword Match Type
Match type is the rule for displaying an ad on the Google Search Network in response to a user's request. The advertiser sets the match type at the keyword level.
The right match types help you:
Cut off non-targeted impressions
Save ad budget
Increase CTR
There are three match types in Google Ads: 
Broad match
Phrase match
Exact match
In February 2021, Google announced that phrase match will begin to incorporate behaviors of broad match modifier (BMM). Up until July 2021, you'll be able to create BMM keywords, but they will work as phrase match keywords. The behaviour of phrase match keywords has been changed as well. The changes are highlighted below.
How to Change the Keyword Match Type
By default, when you add a keyword to Google Ads, it has a broad match option. However, you can change the match type for single or multiple keywords.
How to change the match type for a single keyword
Go to the Keyword section. In the Match type column, click on the arrow icon and set the match type.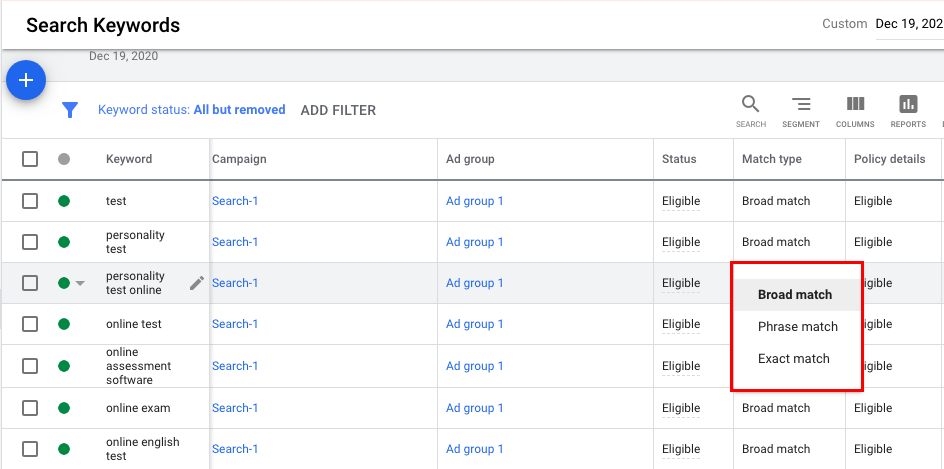 The default matching option for keywords in Google Ads is broad match
How to make a bulk change to your keyword match types
Do the following: 
Check the keywords you want to change.
In the menu bar above the table, click Edit. In the drop-down list, select Change match types.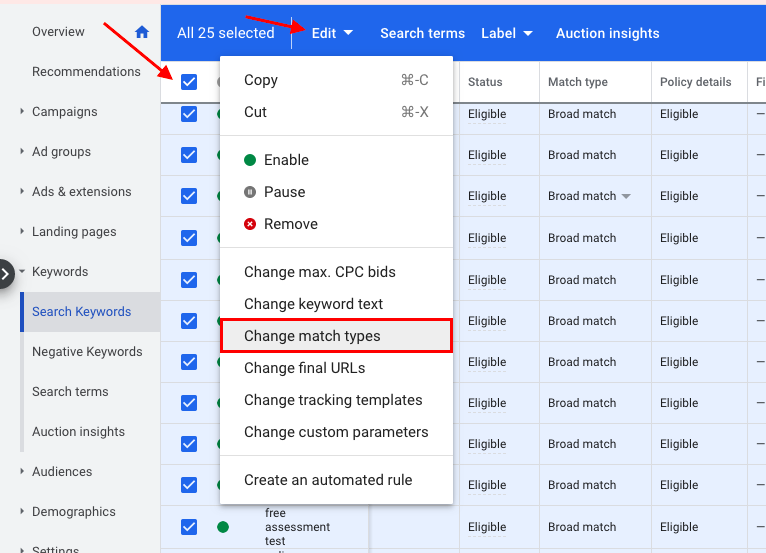 Check the box in the menu bar if you want to perform a bulk change to all keywords on the page
Select the match type for these keywords.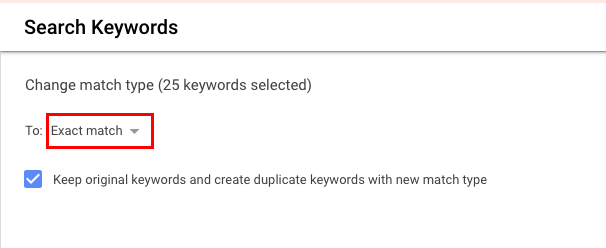 You can keep original keywords and create duplicate keywords with new match types or just change the existing keywords
Click Apply and the system will change the match type for selected keywords.
Next, let's take a closer look at each of the keyword matching options in Google Ads.
Broad Match in Google Ads
How broad match works
Broad match is the default option for keywords in Google Ads. It aims to maximize your audience reach.
Please note: Match types are only available for Search campaigns, not for Display Network and Shopping ads.
Broad match means that the ad appears in response to all phrases that are similar to the user's query:
Plural and singular forms
Synonyms
Misspellings
Queries with similar meaning and search intent
Broad match keywords examples
The easiest way to understand the broad match and see it in action is to look at Google Keyword Planner.
For example, you can see many suggestions for the keyword "plastic windows" and "pvc window"—some of them are fine, but others are questionable. Keywords like "plastic window frames" or "white pvc doors" require separate ad groups; you shouldn't show "plastic windows" ads for them.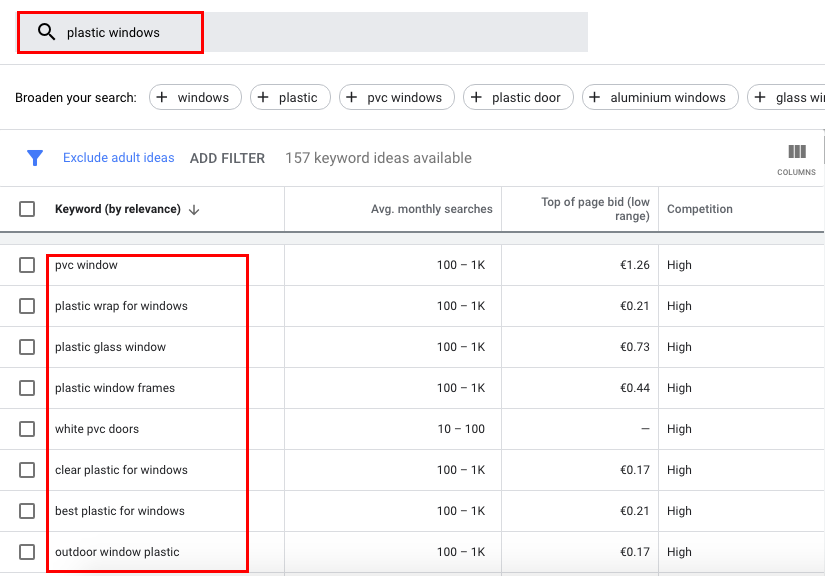 Some queries may be irrelevant to your product/service. In this case, you need to add them to the negative keyword list
Disadvantages of broad match
You're risking wasting your budget on irrelevant traffic. Let's say you've run an ad for the keyword "jobs." In this case, the system may show your ad both for the "steve jobs book" and "find jobs" queries.
The CTR of the ad may decrease, causing a lower Ad Rank. From the example below, you can see that, in response to the keyword "buy renault," Google shows an irrelevant ad. Users will rarely click on this ad because they are likely searching for cars but not for car parts. Lower CTR means that you will have to pay more for higher positions.

The only way to effectively deal with broad match keywords is to regularly top-up your negative keyword list. PromoNavi's Add Negative Keywords tool will help you to automate this process. The tool suggests keywords with poor performance that you can add as negative keywords to your campaigns directly from the PromoNavi interface. Here is a manual explaining how the tool works.
When you should use broad match
For a quick campaign launch. If you don't have time for in-depth keyword research and rethinking matching options, you can add keywords in broad match. But make sure to check your ad account daily and add irrelevant queries to the negative keyword list. This will improve your traffic quality.
To expand your audience reach in narrow niches. The system displays ads in response to requests with similar search intent. That's how you can reach out to the audience that is potentially interested in your product. If the initial keyword list is limited, a broad match can be a lifesaver for you.
When you shouldn't use broad match
When the Quality Score is falling. If a keyword is matched with many queries, the Quality Score drops. Therefore, do not use one-word keywords in your campaigns—they often match many queries. For example, the keyword «wheel» may drive users who are searching for a "bicycle wheel," a "car wheel," or a "bus wheel."
If you aim for a high CTR. Use an exact match to boost your CTR, so the ad will contain exactly the user's words when searching for goods or services.
If you're on a low daily budget. In this case, it is better to have maximum control over your campaigns using exact or phrase-match keywords.
How broad match affects Quality Score
Check the impact of the broad match keywords on your ad performance using the Quality Score. It indicates how well your ad and landing page match your keyword on a scale from 1 to 10.
How to upgrade your Keywords report with the Quality Score metrics
1. Go to the Keywords section. In the upper right corner of the table, click the Columns icon.

2. Click the Quality Score section. Select the following status components:
Quality Score gives you a general sense of your ads' quality, keywords, and landing pages on a scale from 1 to 10. Higher Quality Scores typically lead to better ad positions and lower costs.
Landing Page Experience estimates how useful your landing page is: how well the content matches a person's search term, and how easy it is for users to find what they need, etc.
Expected CTR is based on the past CTR of your ads.
Ad Relevance measures how relevant the keyword is to the ad.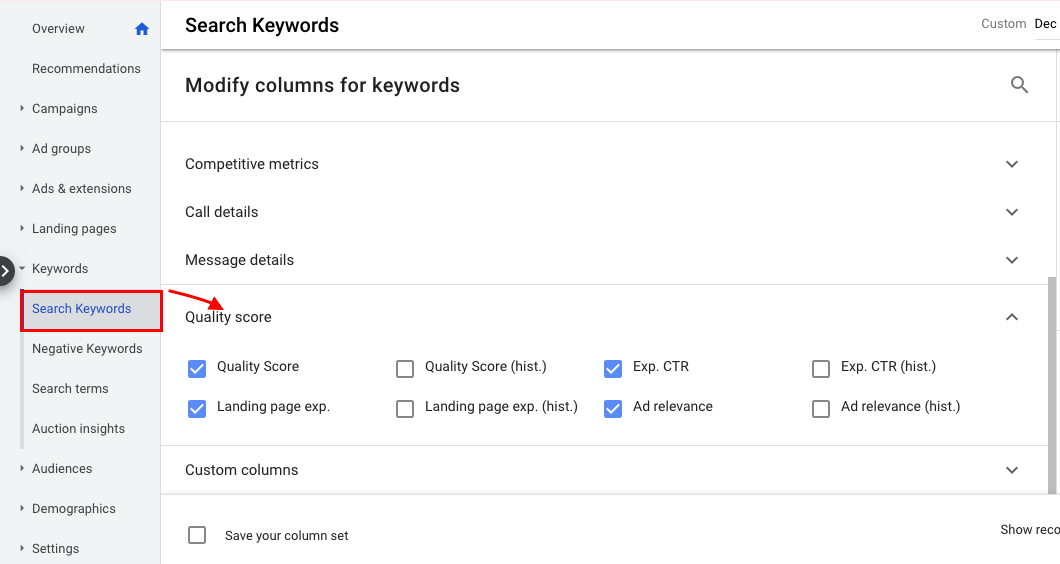 You can save your column set or just click Apply to use it for one time
3. Click Apply. You will see a table with stats.

New columns will appear after the Cost column
New keywords receive a Quality Score of zero. Therefore, in the Quality Score column, you can see a dash sign "-." The value will change when the system has collected enough data.
But even with a large number of impressions, the indicator may remain zero. This can happen in two situations:
Your keyword has not enough exact match impressions
Your keyword has not enough recent traffic
In the example below, the Quality Score lays between 3 and 7:

What these numbers stand for: 
Quality Score 7. Broad match does not significantly lower ad performance. The keyword is shown for relevant queries. There is no need to change the match type.
Quality Score 5. Broad match lowers ad performance, but ads are still showing for relevant queries. To improve the Quality Score, use keywords in phrase matches.
The Quality Score 3 means that broad match impacts ad performance negatively. The ad is shown for irrelevant requests. Use exact matches to increase performance.
If the ad relevance is below average, the first thing you should do is improve your ad copies. Then look at how the Quality Score changes. If it remains low, you should change match types.

Also, you may see different Quality Scores for the same keyword across campaigns and ads. This is because the score is influenced by factors such as targeting settings, ad content, landing page quality, and more.
Broad match modifier is no longer supported
In February 2021, Google announced that it would phase out the broad match modifier (BMM). In this regard, you should consider the following key points:
As of February 2021, both phrase match and broad match modified keywords will show the same behaviour. 
The new matching rules for phrase match will consider word order when relevant to the meaning. For example, the phrase match keyword "tickets LA to Sacramento" will continue to cover searches like "cheap tickets LA to Sacramento" and "LA tickets to Sacramento." If a user searches for reversed direction, the ads won't show.
As of July 2021, advertisers will no longer be able to add modifiers to keywords in Google Ads. Existing BMM keywords will continue to serve using the new behavior.
You don't need to perform any actions to shift from BMM to phrase match—the system considers their matching behavior the same. However, you should carefully monitor your keywords' performance and make changes if needed. PromoNavi's GDS report will come in handy here. From the Keywords performance section, you will learn whether your keywords are effective or not.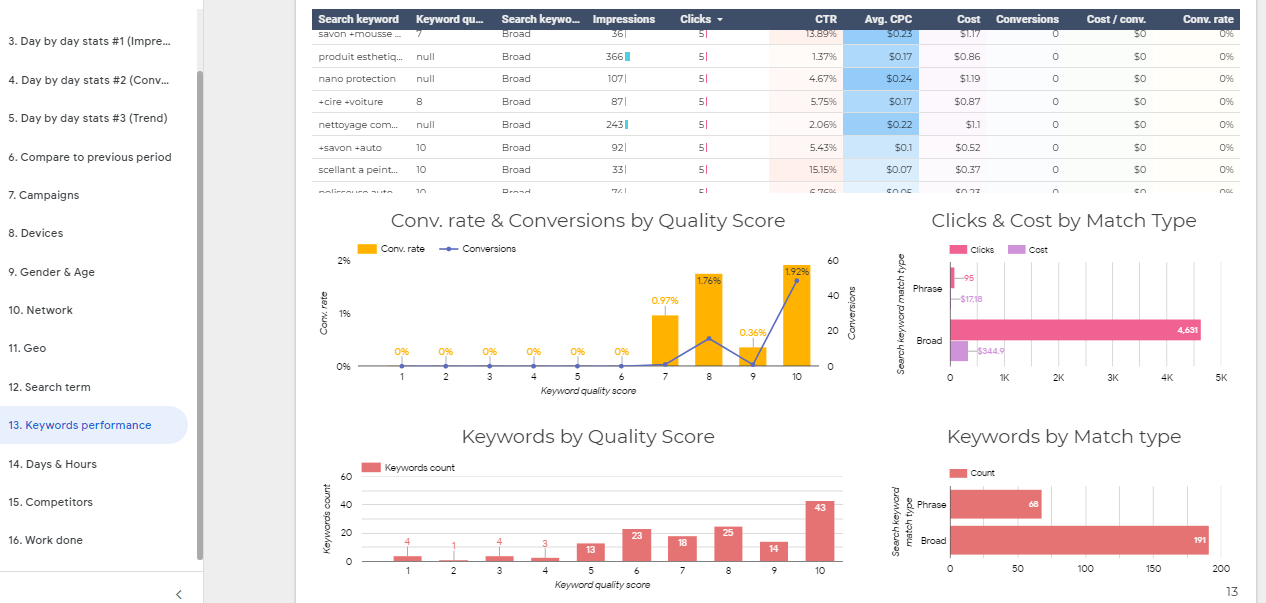 The sample of PromoNavi's GDS report
Here is a comprehensive manual on how to work with PromoNavi's GDS report. Also, we recommend you to glance at our overview of 15 GDS templates for PPC reporting.
Another helpful PromoNavi tool for you is Stop Ineffective Keywords. Go to the Campaign Optimization section and open the tool. You will see the keywords with poor performance. You can stop them directly from the PromoNavi interface and save your ad budget.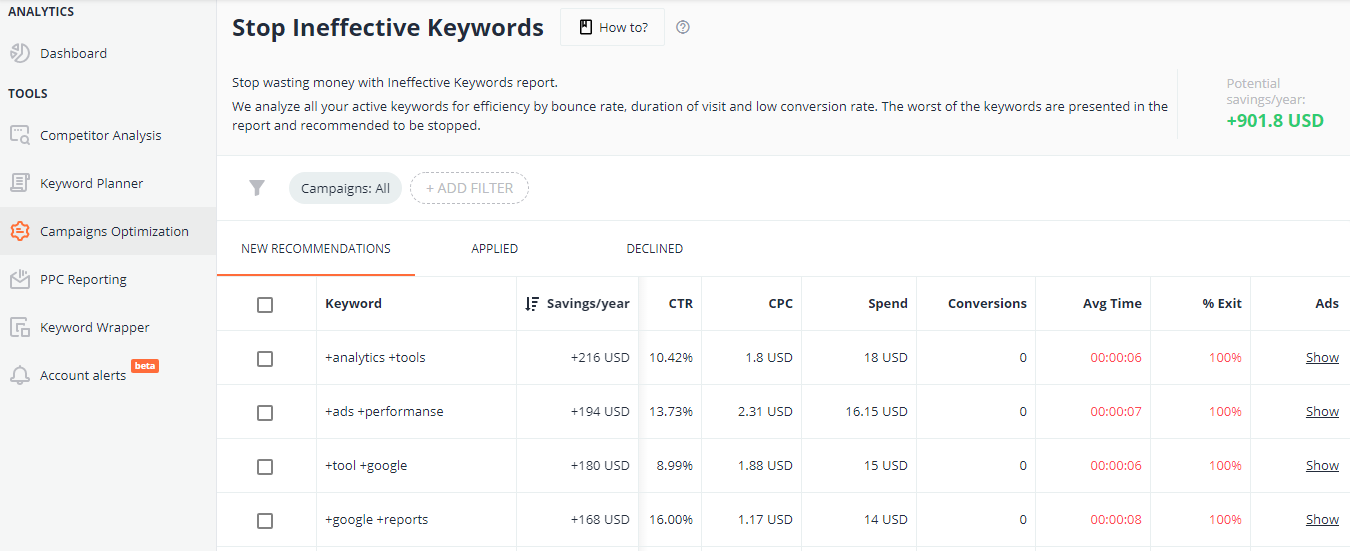 The table aggregates both Google Ads and Google Analytics metrics for each keyword
Phrase Match in Google Ads
To set phrase match in Google, use quotation marks. The system can display ads for queries that include a keyword or terms with the same meaning. 
Phrase match keywords allow the advertisers to target more accurately than with broad match and more flexibility than exact match.
For example, for the keyword "leather shoes" in phrase match, Google Ads will show ads for the queries "leather shoes for men," "buy leather shoes," and "leather sneakers for women."
Phrase match keyword
"leather shoes"
Matched queries
cheap leather shoes
leather sneakers for women
Winter leather boots for men
Non-matched queries
Leather goods
Cheap leather bags
Neylon shoes
Key benefits of phrase match
You can run ads for more specific queries than using broad match. If you need a wide coverage but broad match results in too much non-targeted traffic, you can try phrase matching.
Increase in CTR. Phrase match increases the chances of a click on your ad. As a result, your CTR and Ad Rank increase.
When you shouldn't use phrase match
If you want to run ads for specific keywords. If you know what queries the target audience uses to look for your goods and services, it is better to use the exact match.
If you want to expand coverage. If you're going to show your ads to a wide audience, you should use a broad match.
How to set up phrase match
1. Go to the Keywords section at the campaign or ad group level.
2. In keyword edit mode, select Phrase match. Save your changes.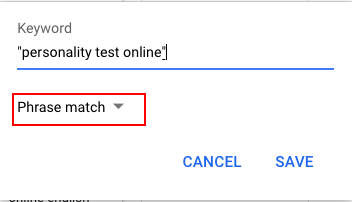 You will see the changes in your keyword list:

Keywords in phrase match are enclosed in quotation marks
Exact Match in Google Ads
This used to be the most "strict" match type. Before 2018, if there was at least one extra word in the search query, the ad was not shown (except for conjunctions and prepositions). But since 2018, Google has been supporting close variants for exact match—for better audience reach.
The system will show ads in such cases:
The user request completely matches the keyword.
The user request is a close variant of the keyword.
What are the close variants in Google Ads
Misspellings and abbreviations.
Plural and singular forms: "board game" and "board games."
Stemmings: "floor" and "floorings."
Reordered words with the same meaning: "kids shoes" and "shoes kids."
Queries variations with prepositions, conjunctions, and articles: "women shoes"—"shoes for women."
Implied words. For example, if your exact match keyword is " air humidifier," your ads may show on searches for "humidifier" since "air" is implied.
Synonyms and paraphrases: "swimming suit"—"bathing suit."
Queries with the same search intent: "free copyright images"—"free stock photo."
Here is an example
| Exact match keyword | Searches for which ads were shown before the changes | Searches for which ads can be shown now |
| --- | --- | --- |
| [chinese smartphones] | chinese smartphoneschinese smartphonechinese smartphonechinese smartphone | the same queries +phone from chinachinese phonesmartphone chinese  |
Getting a high CTR with an exact match is now more challenging because ads no longer match user intent so closely. However, you do not need to create an exhaustive keyword list for more coverage.
How to set up an exact match
1. Go to the Keywords section.
2. Enter the keyword editing mode, select Exact match from the drop-down menu and save the changes.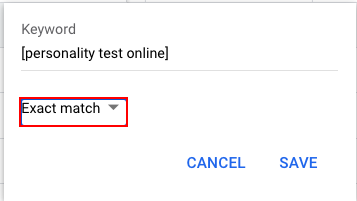 3. You will see the changes in your keyword list: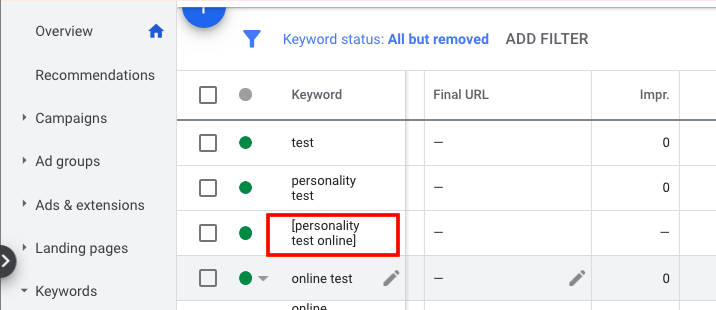 The keyword will stand in square brackets
Negative Keyword Match Types in Google Ads
PPC managers use negative keywords to exclude impressions for non-targeted keywords.
Let's say you sell water pumps. To prevent users who are looking for acids and oil pumps from getting to the site, you should add negative keywords: -oil, -acid, etc.
There are three match types for negative keywords: broad, phrase, and exact.
Here is an example of how negative keyword match types work (negative keyword: -kids shoes):
Search term
Will the ad be shown for the search term?
Broad match
Phrase match
Exact match
Cheap shoes
yes
yes
yes
Men shoes
yes
yes
yes
Cheap kids shoes
no
no
yes
Shoes kids
no
yes
yes
Kids shoes
no
no
no
When choosing negative keywords, keep in mind that they narrow the audience reach, so be careful in choosing them so as not to exclude the target segment from the display.
How to set up match types for negative keywords
1. Go to the Keywords section.
2. On the Negative Keywords tab, click the plus icon.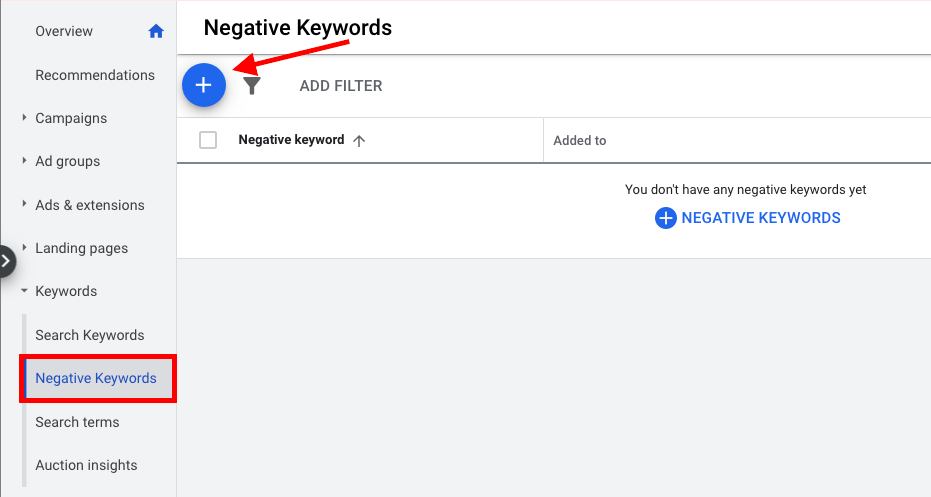 3. Add negative keywords (each on a new line) or upload a list.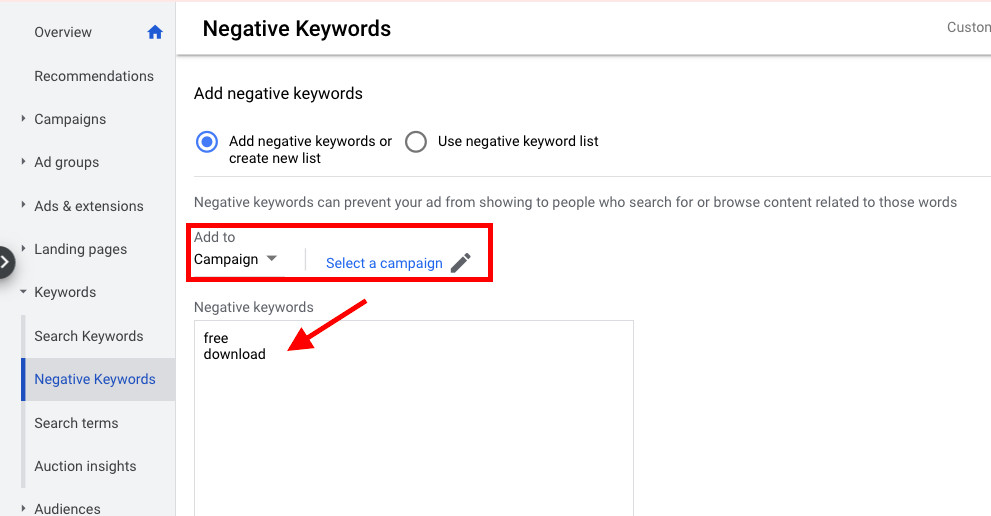 Don't forget to select a campaign you want to add negative keywords to
4. Set up the match type for each negative keyword.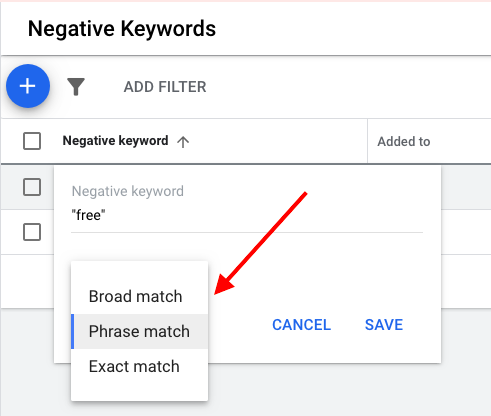 The default matching option for negative keywords is broad match
What You Need To Keep in Mind When Dealing with Match Types
There are three keyword match types in Google Ads: broad match, phrase match, and exact match.
Broad match can be a good choice for narrow topics to expand your keyword list and increase audience reach. 
If you use broad match, check your ads every day and add irrelevant queries to the negative keyword list. This will increase the quality of your traffic and save your budget. Leverage PromoNavi's Negative Keyword tool to automate this process.
Broad match modifier is no longer supported. With BMM, the system will consider all keywords as phrase match keywords.
Exact match gives you the most control over your ads. But to run ads on exact match, you need to have an elaborate keyword list. For in-depth keyword research, PromoNavi's Keyword Planner & Campaign builder will be helpful.