At first glance, Smart Bidding strategies seem to work simple: you just enable them, and the system does everything for you. The reality is that many advertisers who go this way observe drops in their PPC performance and conclude that Smart Bidding doesn't work.
When you opt-in for Smart Bidding, you should clearly understand how it works, when it is suitable, and how to prepare for launching. Odolena Kostova, an Account Manager at Google working with partners across Europe, the Middle East, and Africa, in the joint Google and PromoNavi webinar, presented all the key points you should know to get the most of Smart Bidding and avoid failures. All these key points are highlighted in this article.
Quick Links
Smart Bidding vs. Manual Bidding: Why Do You Need Automation
How to Choose the Right Smart Bidding Strategy
How to Set Up Smart Bidding Correctly
3 Pillars to Set Up Smart Bidding Correctly
What Are the Most Common Mistakes When Launching Smart Bidding
Smart Bidding vs. Manual Bidding: Why Do You Need Automation
Why Manual Bidding fades into the background
A few years ago, bidding was pretty simple—we just bid on keywords; that's all. Hence, if you wanted to show your ad in a higher position, you had to pay more than your competitors.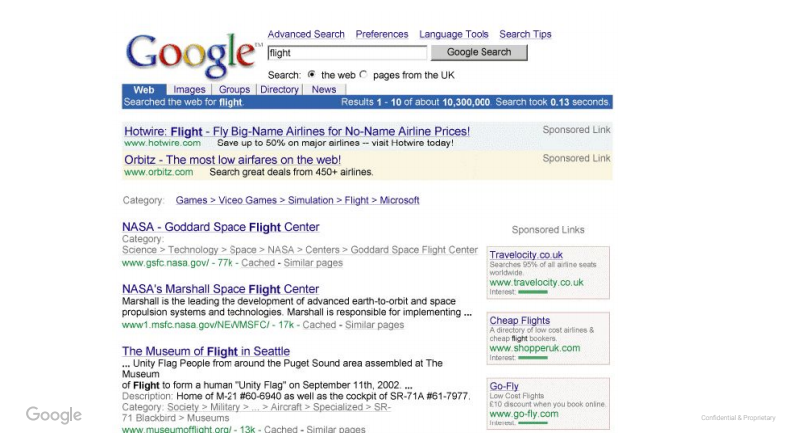 Later, Google introduced the Quality Score which changed the way the ads have been ranked on the search result pages; from that time, the ad quality began to influence the rankings. However, the algorithms stayed pretty simple.
Over time, things had been changing, especially when mobile devices came along. Factors such as device types, day of the week, locations, and time added more complexity to how the system prioritized your ads. For more control over your ads' exposure, you can manually adjust bids for each of these four directions.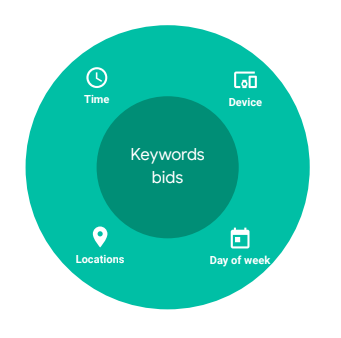 As time went, more factors began to play a role. These are language, operating system, extensions, and many more.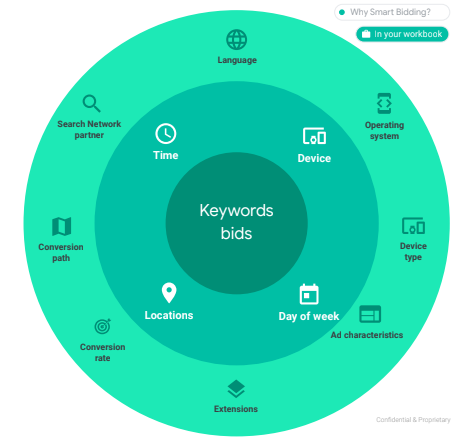 The key point is that factors from the outer circle can be considered only when you enable Smart Bidding. You can't manually adjust bids, for example, for language or extensions.
The takeaway is clear: If you want the system to consider more factors when setting up bids, you should enable Smart Bidding.
Today, customer search behavior is constantly changing, making it impossible to predict all searches. 15% of everyday searches on Google are completely new—meaning that a great number of queries have never been entered into Google's Search box before. Also, the popularity of voice searches is changing the way customers look for information. Voice queries are more complicated and less predictable.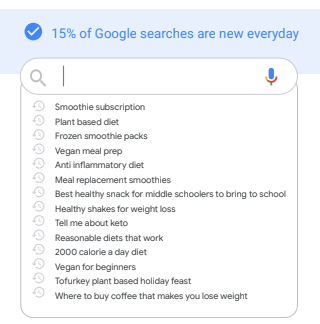 How Smart Bidding considers users behaviour
In the past, Google could understand customer intent only through keywords they type into the Search box. Now, in order to have the full picture of users' intentions, Google considers a combination of keywords, time, and the context of the specific search.
The automation helps you understand the intent behind the query. Let's say Lead 1 has previously searched for the snack for weight loss, while Lead 2 has never searched for something concerning diets. The Smart Bidding algorithms can determine that Lead 1 is more likely to convert than Lead 2, even when they type the same query, for example, "anti-inflammatory diet." Therefore, Google prioritises Lead 1 when setting up the bid.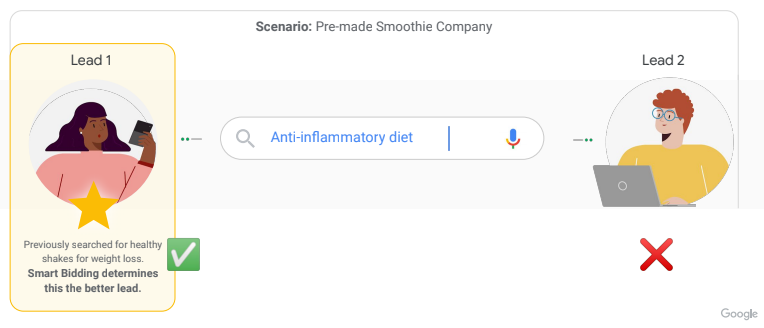 What is Smart Bidding for?
In times of seasonality, smart bidding is essential to adjust bids dynamically to changing demand and competition.
Smart Bidding takes into account changes in search trends (and not just data from your account).
Provides the ability to control targets and budgets, alongside the benefits of machine learning.
How Smart Bidding lets you be agile and adjust to changing trends in real-time
When bidding manually, marketers predict when to try and capture new demand due to seasonal or market changes based on historical data. In contrast to this, automation helps you be ready for what's next and deal with unexpected shifts in demand. Advanced predicting models consider:
Seasonal market changes
User behavior/preferences
Shifts in demand
Business goals
The key to masterful bidding is to adjust your bids based on each user's unique combination of signals. Asserting all of these manually for every auction is impossible.
Automation can deal with all these factors simultaneously and adjust bids in an agile way.
Fully automated Smart Bidding solutions drive the best results. As the data shows, you can expect the maximum conversion growth of 35% when you shift from manual to the Target ROAS bid strategy. Other strategies provide a significant increase in conversions as well.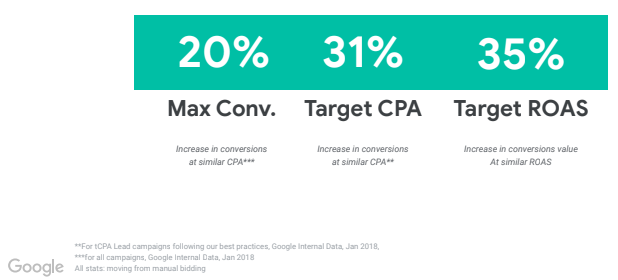 How Does Smart Bidding Work
First, let's talk about how the Target CPA bidding strategy works. 
Google Ads calculates bids within this strategy based on your inputted Target CPA. Let's say you want to get leads for no more than $10 each; the system will try to get as many leads as possible within a budget on this specific goal.

When setting up the bid, Google considers a range of signals:
User's intent signals at auction time.
Google proprietary signals.
Search-query level performance across your account.
Based on these signals, the system predicts auction-time conversion value for each specific search and sets up the optimal bid. 
When it comes to Target ROAS, the bidding mechanism is quite similar to Target CPA. However, the goal of this strategy is to drive maximum conversions on a target ROAS.

Obviously, when you want to achieve a higher ROAS, the system will be more selective when showing your ads, and you'll receive fewer conversions to meet this aggressive goal. Vise versa, a smaller Target ROAS will allow the system to show your ads more often. So, it is up to you to decide where the sweet spot is. 
Smart Bidding unique features
With manual bidding, you can control a few things such as targeted location, device, time, and remarketing audiences. However, Smart Bidding algorithms consider a range of exclusive signals, including:
Language
Browser
Operating system
Ad format
Search partners
Search query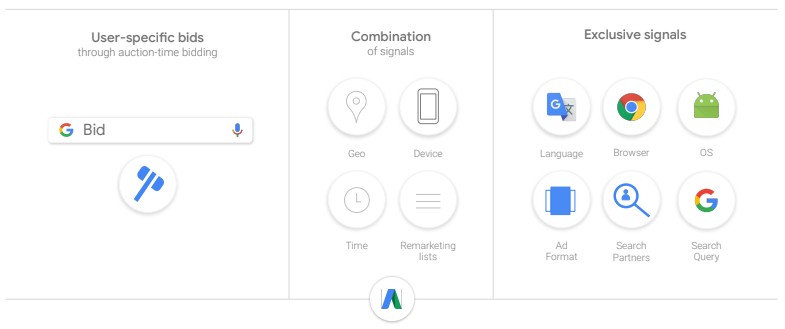 When all these signals work together, bids become much more precise. Smart Bidding strategies evaluate how certain signals interact with each other and set more holistic bids for every auction.

Let's see how it works. In the example below, we see that the campaign has three bid adjustments based on remarketing list (+30%), geo (+10%), and age (+20%). The overall bid adjustment is +60%. However, manual bid adjustments don't give you an understanding of the conversion probability. Simply put, you don't know in advance the increase in conversions after you adjust your bids for +60%. The impact of each factor remains in the black box for you as well.

Smart Bidding adjustments work differently. The system ignores all the adjustments you've manually set, and adjusts bids considering the conversion probability. For example, if the user matches all your requirements, but he/she does not seem to convert, the system will set the negative adjustment of -25%—meaning that you will pay less for such users.

How Smart Bidding strategies work on small campaigns
The system considers signals from the whole account. For example, if you run several small campaigns, the Smart Bidding algorithms will take into account all that data.
Moreover, the small campaigns will learn from all the conversions that already happened throughout the account. For example, low-volume campaigns on specific keywords can learn from the general brand campaign that you've set before.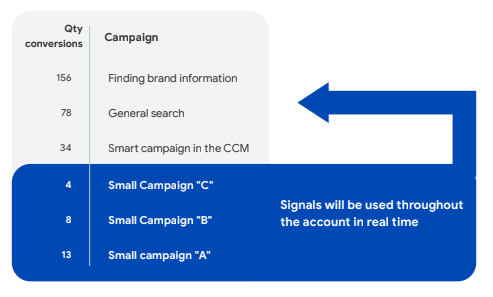 Example of how Smart Bidding works
Let's say you have such inputs:
Average CPC — 0.30€
Impression Share — 20%
CPA — 36€
Based on manual bidding, you'll win the auction for three of the total searches.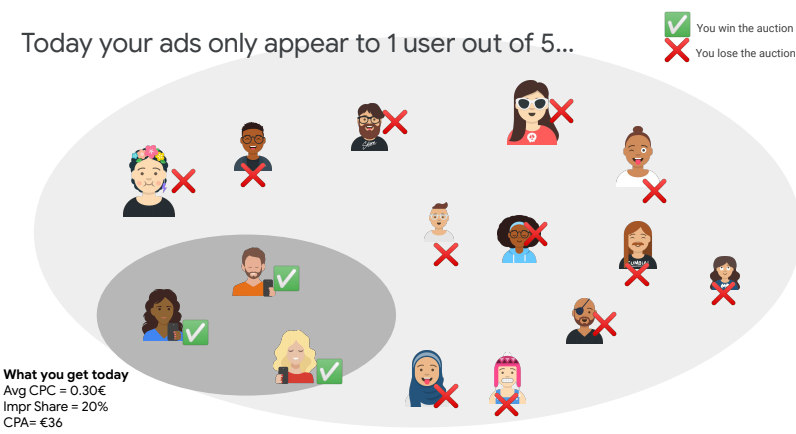 As you've set manual bid adjustments, you have the CPC of 0.1€, 0.3€, and 0.5€ for these searches. However, when bidding for auctions you won, you are missing valuable users and wasting money on others. The reason is that you weren't able to consider the intent of each user. For example, some users may need your service right now while others are just researching and not ready to make a decision.
In our example, only one search of two has high intent—meaning that ⅔ of users we've attracted are not likely to convert.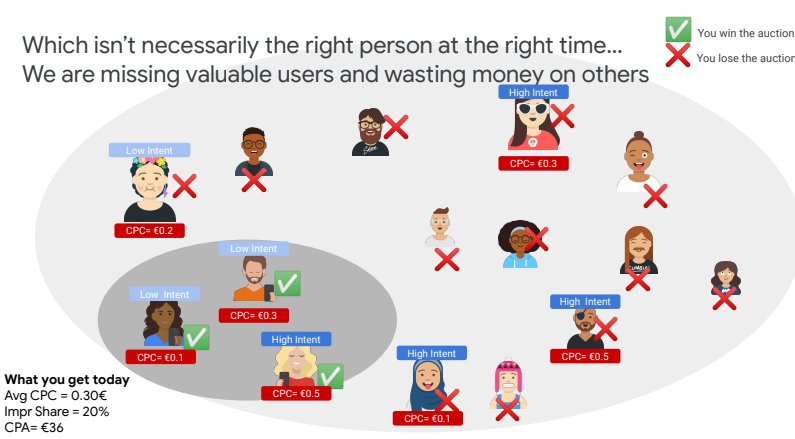 Smart Bidding uses thousands of signals in real-time to predict the likelihood of conversion in each specific auction. For users with high intent, the bid will be higher, and vice versa.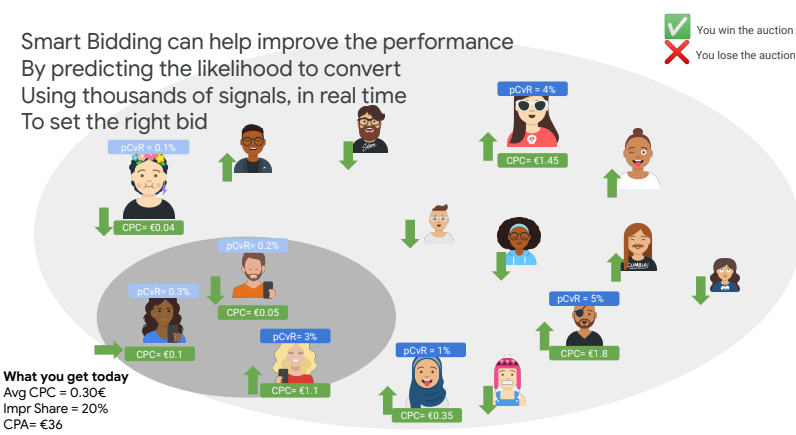 As a result, the Average CPC will increase, but CPA will remain the same. The benefit of Smart Bidding is that you will significantly increase your conversions.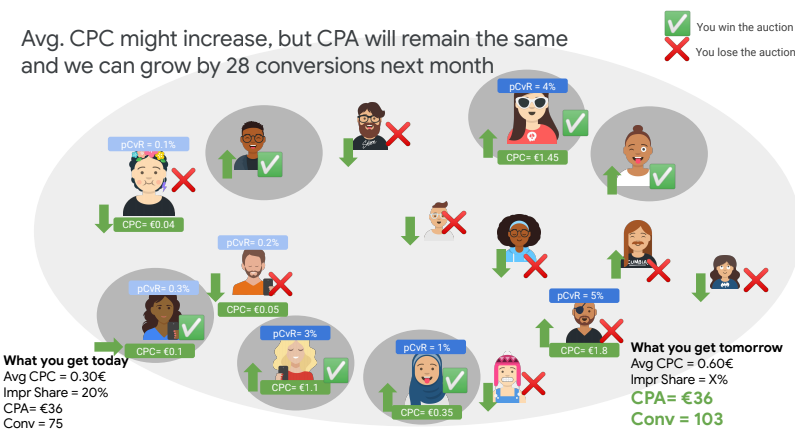 How to Choose the Right Smart Bidding Strategy
Every Smart Bidding strategy has its objectives and KPIs. 
For example, if your objective is branding, Target Impression Share or Maximize Clicks strategies is the best choice for you. You can start running them from a zero conversion history. 
If your objective is conversions and leads, you should start either with Target CPA or Maximize conversions strategy. For Target CPA, your goal will be the Average CPA; for Maximize conversions strategy, the system will strive to drive as many conversions as possible within your budget. You can start running these strategies with zero conversion in your account.
When your goal is to maximize Conversion Value, which is especially crucial for eCommerce, the Maximize Conversion Value strategy will be the right choice. 
If you set the Target ROAS strategy, keep in mind that you need at least 15 conversions with value for the last 30 days.

It is important to align your bidding strategy with your marketing objectives. For example, if you have a specific CPA/ROAS goal and are tracking conversion value, it makes sense for you to opt-in to the Target ROAS strategy; if you don't track conversion value, you should enable Target CPA.
The Maximize Conversion Value and Maximize Conversions strategies are good for campaigns with no CPA/ROAS goal.
Also you should consider other marketing goals such as generating leads, online sales, or offline sales to set up conversion tracking correctly.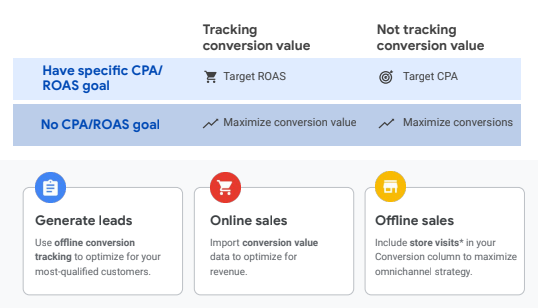 How to Set Up Smart Bidding Correctly
Smart Bidding needs a set of products that work together. The more you provide Google with high-quality data, the better Machine Learning can work for you. Simply put, you should "feed" Smart Bidding with data to increase your PPC performance.

Before you launch Smart Bidding, make sure to provide such steps:
Set up conversion tracking.
Use a non-last-click attribution model.
Make sure you target the right broad match keywords.
Opt-in for first-party audiences.
Create relevant ad copies.
Here is the excessive checklist on how to prepare your campaigns for Smart Bidding.
If you already run your campaign, keep an eye on Google's recommendations for Smart Bidding. They are available in your Google Ads interface and highlight issues with your conversion tracking, creatives, keywords, audiences, etc.
3 Pillars to Set Up Smart Bidding Correctly
Pillar 1: Conversion tracking
Without conversion tracking, Google Ads algorithms are blind. They don't understand your goals and can't track the results. So the very first thing you should do is to set up conversion tracking.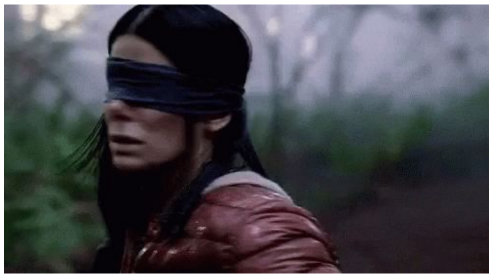 Another point is that if your conversion volume is too low, Google doesn't have enough data to optimize your campaigns. The solution is to track micro-conversions (calls, adding to cart, page views, button clicks, etc.) instead of your goals, such as sales or registrations.
Let's look at an example of splitting the conversion "Closed deal" into micro-conversions. Your customers move through different stages on the way to conversion. The initial stage is engagement. You can track here visited pages, newsletter sign-ups, or brochure downloads. While moving down the funnel, the user will perform new conversion actions: phone calls and form subscriptions. So, if you don't have much closed sales yet, make sure you've started to track such micro-conversions to provide the system with more data.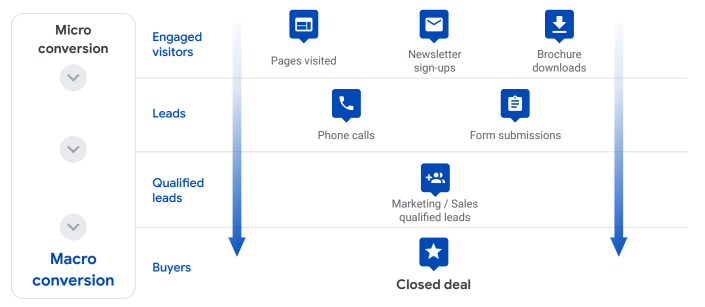 Here is another example of micro-conversions for driving online sales: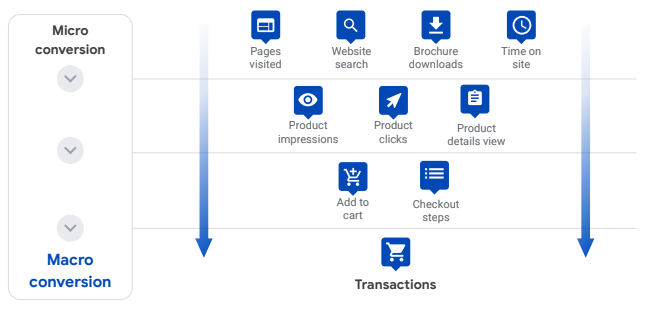 What to do if the conversion volume is too low
In this case, you should concentrate on the conversions with significant volume. After splitting your conversions into micro-conversions, estimate their volume and track the most significant of them.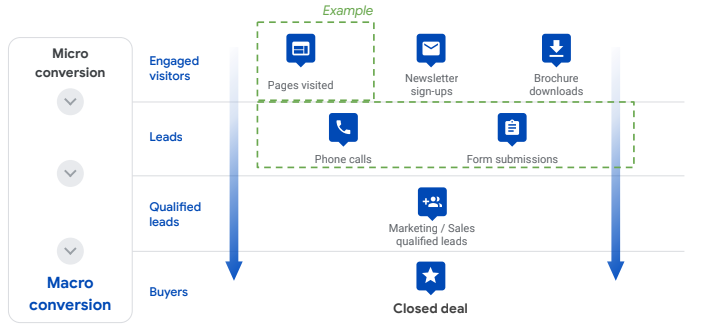 What if these conversions are not equally important? For example, Phone Calls may be 50x more important than Page Visits. To handle this issue, you should assign a value to each conversion action to weight them; then you can enable Target ROAS or Maximize Conversion Value strategy to optimize for conversion value.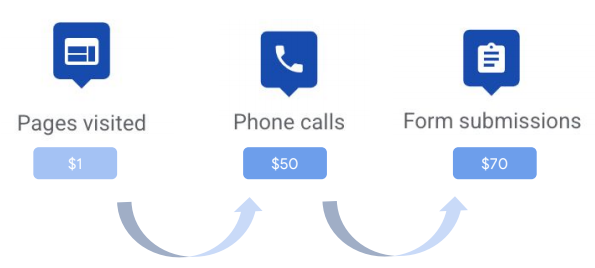 Pillar 2: Creatives
Follow Google's recommendations to create strong ad copies. Create 1 RSA per ad group, with Ad Strength. Also, add at least three extension types per ad group.
If there is something wrong with your ads, you will see recommendations how to improve them: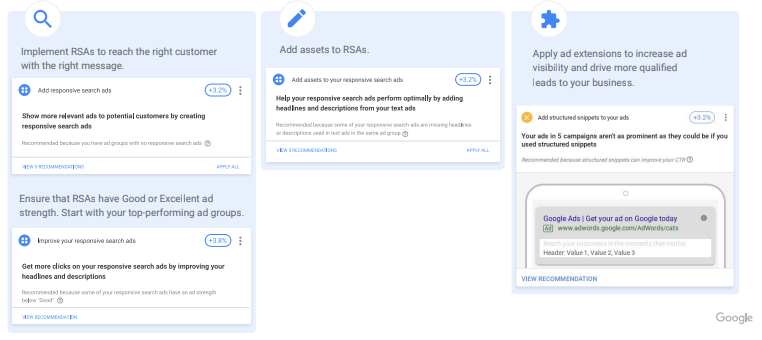 Pillar 3: Covering, target, and budget
The first approach is that you should set up your target CPA/ROAS considering their average values for the past 30 days. When you set an unrealistic target CPA or ROAS, the system will not be able to optimize for your goals, and you'll get a few clicks. 
When it comes to budget: when you set up tCPA/tROAS, the campaign must not be constrained by budget. If the suggested budget is too high for you, it is better to enable one of the "Maximize" strategies.
The last point concerns keyword coverage. Your campaign will have headroom for growth when the Impression Share is lower than 75%. If the Impression Share >75%, change the match type of top performing keywords to Broad Match or add new keywords.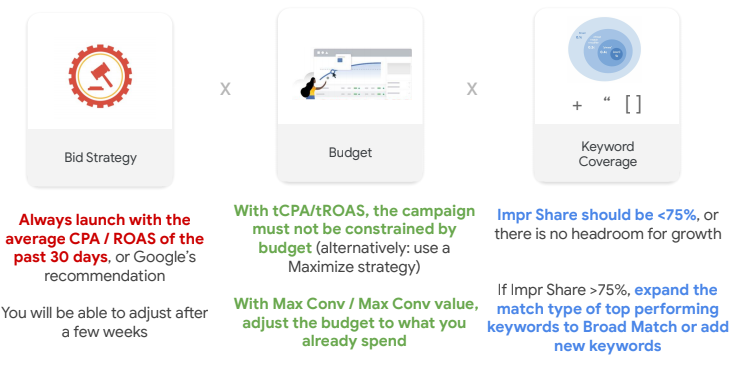 When choosing bid strategy and setting KPIs, consider the type of campaign you run. For a brand campaign, your goal is to appear as much as possible on carefully selected keywords. You can target exact match keywords and enable the Target Impression Share strategy. For this type of campaign, an average Impression Share can be more than 75%.
When you run a performance campaign, your strategy will differ. To drive conversions on a target CPA/ROAS, you should add broad match keywords and opt in for the tCPA, Maximize Conversions, tROAS, or Maximize Conversion Value strategy. In this case, to drive better results, your Impression Share should be between 10% and 70%.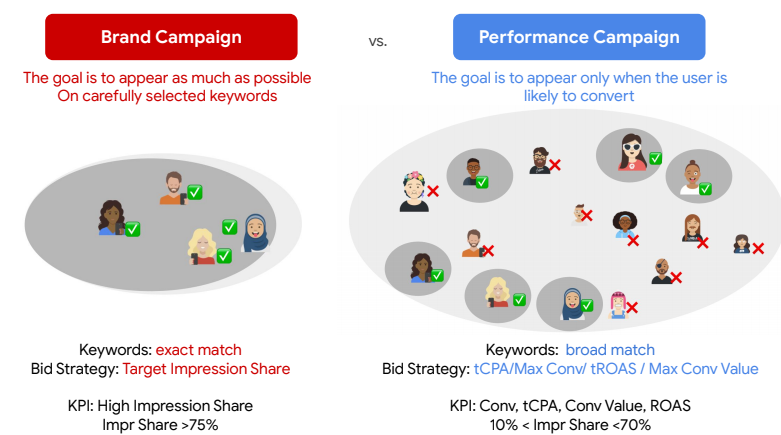 In your ad groups, look at keyword ideas and progressively change the match type of your keywords until you reach a broad match. Smart Bidding shows the best results when it works with the broad match keywords that give the system a place to capture new trendy searches and consider shifts in users' intent.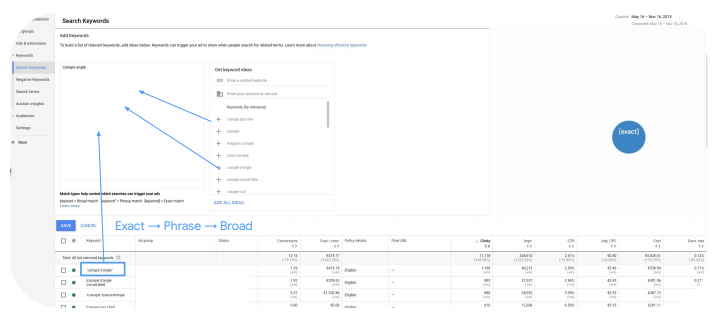 When it comes to negative keywords, you don't need to be too precise with them. Smart Bidding algorithms strive to show your ads according to users' intent, so you don't need to add as many negatives as when you deal with manual bidding.
The Most Common Mistakes When Launching Smart Bidding
Google's technical specialists identified the six most common pitfalls with Smart Bidding:
1. Using too aggressive of CPA or ROAS goals. Make sure the set Target
CPA or ROAS is realistic! Use the Google Ads-UI Recommended CPA/ROAS
goal to start.
2. Analyzing performance when the strategy is still learning. Smart Bidding is a machine learning algorithm, so the more stable, long-term data points it has, the better it can form predictions and optimize for conversions.
3. Overlooking high conversion delay when analyzing performance. Long conversion delays can make it seem like Smart Bidding is performing poorly when measuring a recent time frame. Factor in a time buffer.
4. Looking at the wrong metrics. If a campaign is using Smart
Bidding, you should look at conversion-based metrics to determine success.
5. Making constant changes to campaigns. Major changes may set the
Smart Bidding strategy into learning period.
6. Impression Share too high (>75%). Smart Bidding needs headroom to bring incremental performance.

FAQ to Smart Bidding
What is the minimum budget to run Smart Bidding effectively?
If your budget is limited (for example, $5/day), you should use Maximize conversions or Maximize conversion value strategy. For the Target CPA and Target ROAS strategies, you should follow Google's recommendations on the budget.
​How is it possible to start tCPA on zero conversion since Google is using the average conversion history to set bids?
When the account has no conversions, Smart Bidding uses data from similar accounts, the context of each query, and the user's likelihood to convert. The exception is the Target ROAS strategy that needs at least 15 conversions for the last 30 days. 
Must we start with manual bidding over the past 30 days before switching to Smart Bidding in order to accumulate the account history?
No, you don't need to run manual bidding before switching to Smart Bidding. The system can start optimizing your campaigns from scratch (except Target ROAS, where you need 15 conversions for the last 30 days).
Where is the border between high volume and low volume for Smart Bidding? Is it possible to understand in advance how much time it will take for the system to learn?
You can consider campaigns with less than 30 conversions per month as low-volume ones. For such campaigns, it is better to split conversions into micro-conversions to increase campaigns' conversion volume and reduce the time needed to learn.
When it comes to seasonal business, how long before the start of the high season does it make sense to enable Smart Bidding?
You should run your Smart Bidding campaigns in advance to make sure that the system will have enough time to learn. For example, for a Christmas campaign, it makes sense to enable Smart Bidding by the beginning of September. 
Let's say you've adjusted bids by all the available parameters: time schedule, locations, devices, audiences, etc. Will this interfere with the Automated bidding algorithms?
If you have existing bid adjustments, they will be ignored by Smart Bidding. The exception is device adjustment of 100%—meaning that you disable ads on specific device types.
Boost your PPC efficiency! Link your PPC accounts to PromoNavi to automate everyday tasks and receive valuable recommendations on how to improve your campaigns.

With PromoNavi, you can do keyword research, competitor analysis, automate reporting, track your PPC performance on the Analytics Dashboard, and get profitable PPC optimization recommendations.