It's frustrating when a user clicks an advertising link and lands on a 404 error page. That results in your budget wasting on the traffic that goes nowhere! Read on to be aware of how to find and fix broken links in your advertising campaigns.
Quick Links
What are Broken Links and Why You Should Avoid Them
How to Find Broken Links in Your PPC Campaigns
How to find broken links with Google Analytics
How to find broken links with Google Ads scripts
How to find broken links with extensions for browsers
Dealing with Broken Links: Using Link Checkers for Automation
Prevent Broken Links: Best Practices
What are Broken Links and Why You Should Avoid Them
Broken links are those that navigate to pages that no longer exist. A link on your website may reference a particular page – but, when clicked, something prevents them – the page may be deleted or altered, and the user never reaches an intended destination.
If the address (URL) of a page has recently been changed, any links that still reference this page will lead to a 404 (error page). These links are broken.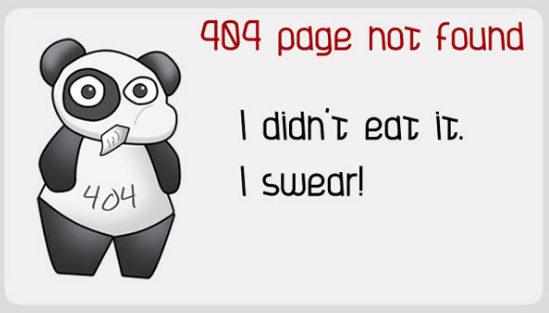 Here's what awaits your potential client who follows the broken link
Broken links have a doubled impact: they make a frustrating user experience, impacting your conversion rates due to the advertising part of your funnel "leaking." Besides the user, your standing as an advertiser is hurt, and you will be wasting your budget on this traffic that goes nowhere!
Critically, your priority is to save your budget and avoid running any ads with broken links that lead to "empty" clicks.
Also, Google and other search engines' algorithms punish sites that have broken links, assuming they are less maintained, legitimate, or likely to lead users to relevant content. This leads to pages being ranked lower in search, and it can get out of hand with a few redirected links being publicized and the problem not identified.
While broken links cause significant consequences, it's quite straightforward to automate and keep your site and Google ads campaigns in good shape, maximizing your impact as an advertiser.
Reasons for Broken Links
Remember that it's not just one source of the problem, and it can come from the administrator and website owner or even the user's error.
Reasons for broken links can be: 
The destination page was removed.
A link from old content was not updated at the same time as the post, product page, or content.
You changed your domain, or a critical "root" page.
A recent migration from one platform to another.
The page leads to content that requires a log-in or subscription.
Your site links to another resource, but that owner's site no longer has that page active.
Broken links are the result of a human error.
How to Find Broken Links in Your PPC Campaigns
Most of the time, it's an issue of basic but regular maintenance and housekeeping. In general, Google Ads PPC (Pay Per Click) campaigns should be closely monitored to avoid wasting money and time directing visitors to dead links or broken link paths through your advertising plan. 
You can always spend a bit of time navigating different paths around your own site occasionally or be in a lucky position to receive user feedback directly. However, when it comes to regular monitoring, you need a reliable approach to quickly find broken links.
How to find broken links with Google Analytics
There are at least two ways to find broken links with Google Analytics. 
#1: Leveraging the Behavior report
If you want to find which URLs have triggered the 404 error page, go to your Google Analytics. In the Behaviour / Site Content / All Pages section, set the Page Title as a primary dimension.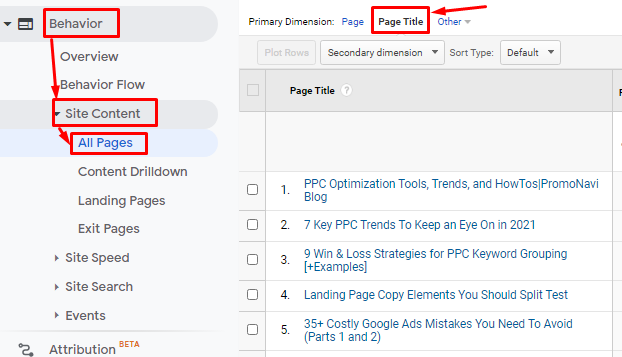 Now, you should find out what your 404 error page title is. Just enter in a browser any non-existing URL of your domain, hover the cursor over the tab, and you will see the 404 error page title.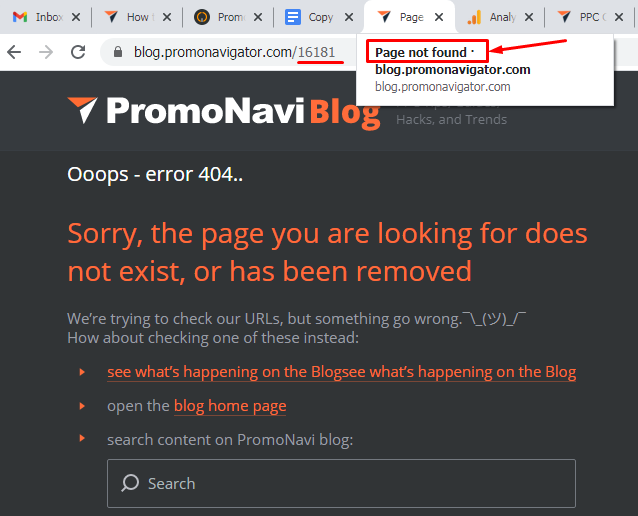 In our example, the title is "Page not found – blog.promonavigator.com"
When you know the title of the 404 Error Page, go to your Google Analytics and filter out the URLs by the "Page not found" phrase (or the phrase that would be in your title).

Click on the "Page not found" link to see all the broken URLs resulting in the 404 error.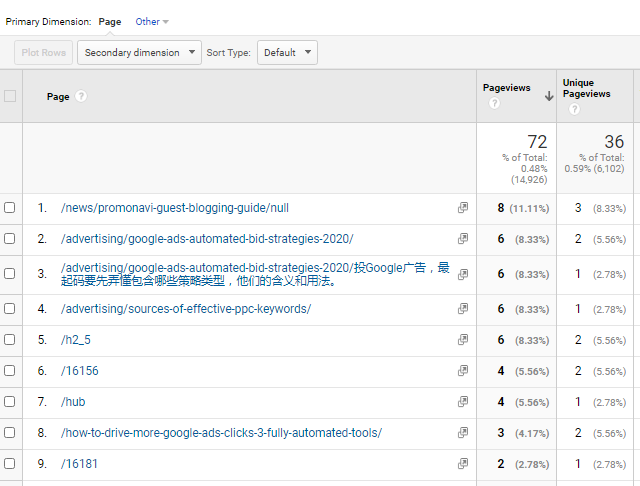 You can set the secondary dimension of "Medium" to find if the users attracted by your adverts are hurt by the broken links.
#2: Setting up the Custom report
Go to Customization / Custom Reports, create a new Custom report, and provide the following settings:
Name the report and the tab.
Switch the report type to "Flat Table."
Add the "Landing page" dimension and the "Entrances" metric.
Filter page titles by the "Page not found" path (if you enter only the part of the page title, make sure that you've chosen the Regex option).
Select "All views associated with this account."
Save the report.
You can find the broken links report settings below: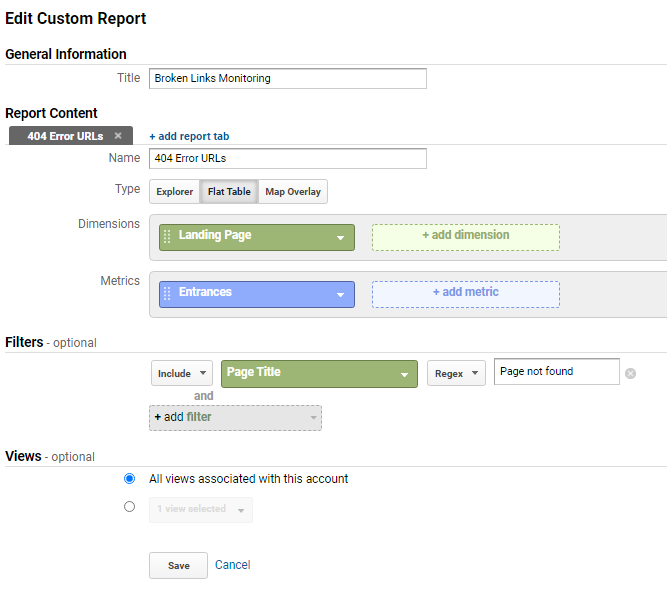 Now, you can monitor the broken links with the Custom report: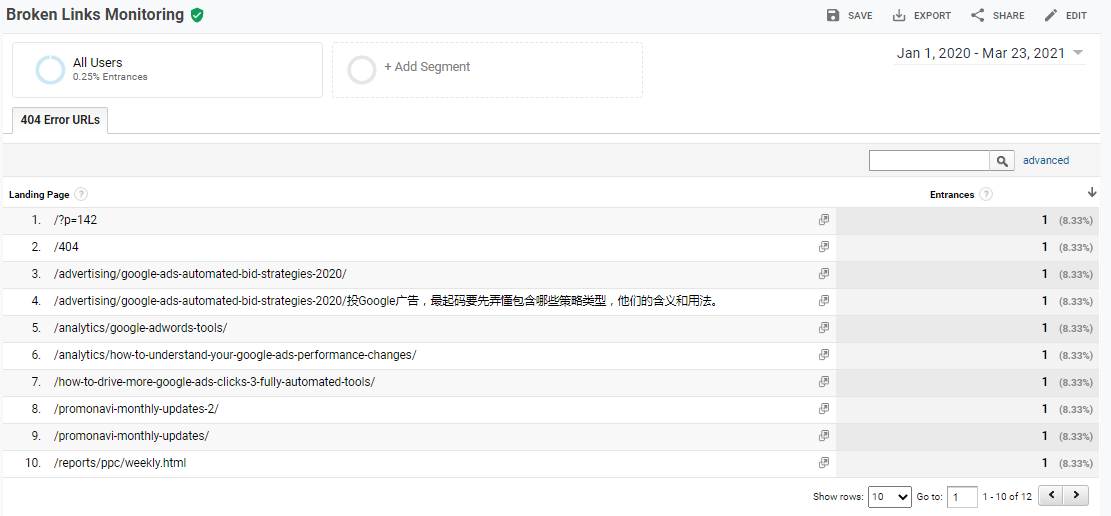 How to find broken links with Google Ads scripts
You may use Google Ads scripts on the Developer side, like the Link Checker for a single account or the Link Checker via the Ads Manager app for multiple accounts. With these, you may receive mail reporting on a script execution whose scope was searching for broken links, with advanced options for link validation.
For example, if you want to run the Link Checker script, you need to do the following: 
Copy the script code from this page and paste it into your Google Ads Script Editor.
Copy the Link Checker template spreadsheet and set it up (for example, you can enable checking broken links for paused ads or keywords).

Update YOUR_SPREADSHEET_URL in code—paste here your spreadsheets copy URL.

Enter the recipient's email on which the notifications will be sent.

Schedule the script Hourly and run it.
If the script detects broken links, you'll receive notifications on the email you've entered. Also, you will find a list of URLs with errors on the Results tab.
How to find broken links with extensions for browsers
There are also various plug-ins or extensions for browsers, including Check My Links and Broken Link Checker that allow live broken link searching, popping up notifications indicating broken links on the page you are currently browsing. These extensions (more commonly favored by browsers than plug-ins) can also shorten URLs, track conversions, analyze 301 redirects, and review links both internal and external link availability. All of these are ways that broken links can come to your attention.
For example, here is how the Check My Links extension works: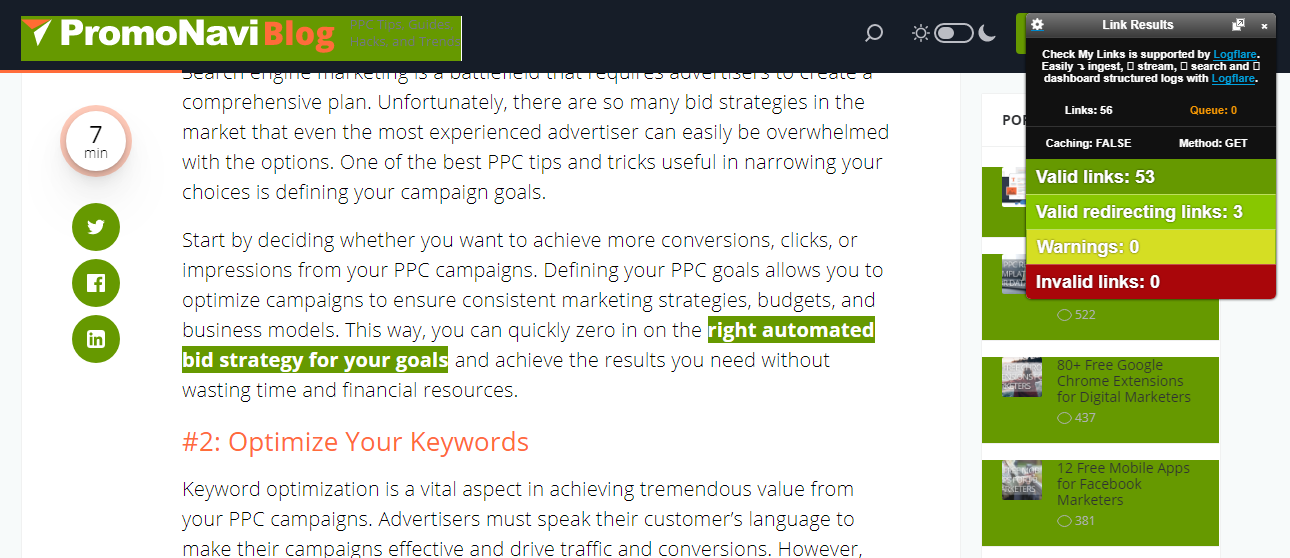 As you can see, the extension highlights all the links on the current page with different colors—broken links are marked in red.
Dealing with Broken Links: Using Link Checkers for Automation
To avoid committing manual time to monitor, it is better to automate it, which is an ideal job for a service or platform to do! Free online tools, or those integrated into website and ad management, can assess many website URLs at one time to scan and identify broken links on many sites at once.
Below is a detailed explanation of the set-up of automated broken link checking with PromoNavi. Read on to find additional best practices for avoiding broken links and fixing problems before they occur.
Using the PromoNavi Broken Links Checker
PromoNavi helps to easily integrate broken link checking into your website management. It allows you to check on your broken links with a simple tool that is constantly running, monitoring your Google Ads campaigns for the issue, and allows you to fix it with a simple prompt.
First, navigate to your Recommendations area, where one tile will display the built-in tool, the Broken Links Checker. Here, you'll see whether there is a problematic link somewhere on your site that needs to be addressed.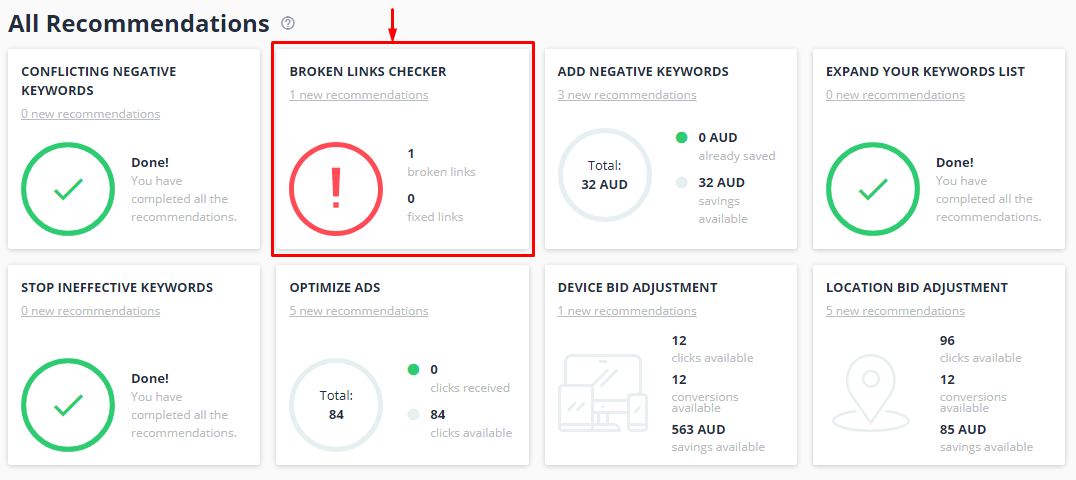 You will see the response code or the particular reason that PromoNavi has determined this link is broken. More often than not, this will be a 404 error.
You'll see the detailed link URL, the linked campaigns, and ad groups. For absolute clarity, you'll see when this was determined a problem—letting you make sure your troubleshooting timeline aligns with the most recent check date.

Click the "edit" icon to the left of the indicated broken link URL. Here, you'll be able to fix the problem by providing the correct destination address for that particular link. Save this change and move on to any further issues, taking care of broken links all across your site, on the path to optimization.
With a quick edit in the PromoNavi Broken Links Checker, you can reclaim the hygiene and page rank of your website, making it more usable and fixing the potential leaks in your conversion funnel. In all, your goal is to run efficient ad campaigns that don't have any broken links, yielding "dead-end" clicks.
Prevent Broken Links: Best Practices
As with most other PPC efforts, if it's possible to automate it, do it! Manual checking is inefficient, and you can quickly run into issues with workflow and organization, depending on how many people are involved in managing and contributing to your campaign.
Periodically check your links (if you have just a few links, you can do it manually by clicking your ad links; a better way is to use automated  tools — you will always stay in touch)
Use 301 redirects when adding links to a targeted page moves to another URL, or replace the old URL with the new one in your campaign/ad group
Pay attention to offline marketing materials that reference "bad" or misspelled links
Implement simple and human URLs, like https://site.com/classic-lines instead of https://site.com/jean/classic/jeans/ProductCode355xhJi8484 
Schedule time-sensitive sitelinks; specify the start and end dates for the time-limited offers (and links as well)
Create sitelinks at the Campaign/Ad group Level instead of the Account level. If something with your links goes wrong, not all your campaigns will suffer. Besides, this can help you serve the most relevant links to those who the people search those targeted terms
Stop running the ads if you are not able to fix the links immediately. It prevents you from inappropriate budget spending
Remember that links for your site are being placed not only by one person — using automation avoids inconsistent execution that leads to broken links
Take these tips, and keep your links up and running!