In this case study, you will find insights on doing PPC advertising for real estate investors. We'll lay out the steps the PPC team at Conquerrr took to deliver strong results across 40 Google Ads accounts owned by real estate investors.
Let's briefly describe who real estate investors are, what they do, and how they can meet their goals through PPC advertising.
Quick Links
Who are Real Estate Investors?
Why Run Campaigns on Google Ads?
Challenge 1: Google Ads Housing Category
Challenge 2: Expensive Housing Keywords
What is Intelligent Automation?
Who are Real Estate Investors?
Real estate investors are people who buy houses, make repairs and/or improvements, and sell them later for a profit. Typically, these investors choose real estate for several reasons: cash flow, capital appreciation, depreciation, tax benefits, and leverage.
Their target audience includes people who are:
Undergoing pre-foreclosure processes on their property
Receiving inheritance in the form of a property
Going through divorce procedures
Experiencing changes in income
Needing repairs on their property
If you qualify for one of these, a real estate investor will reach out to you with a cash offer and close on the house in as little as a few days. It's a win-win. You receive the much-needed cash, and the investor adds another asset to their portfolio. 
Why Run Campaigns on Google Ads?
Facebook and Google are two of the most popular advertising platforms out there. Although Google is a search engine and Facebook is a social media platform, they offer practical, cost-efficient advertising strategies that allow businesses to sell more than ever before. But when it comes to these two, who is the winner? Which one should your ads run on if you're a real estate investor?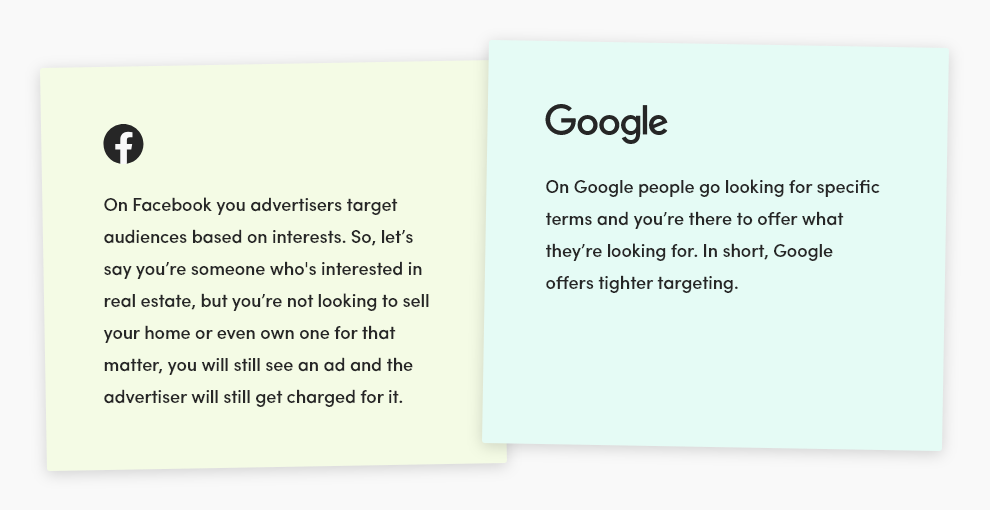 Now, let's get into the nitty-gritty of Google Ads advertising for real estate. There are a few challenges that we need to go over.
Challenge 1: Google Ads Housing Category
Google Ads has three ad categories where your targeting options are limited:
You can read about this further on the Google Support page. When fallen into the Housing category, you are limited when it comes to adjusting your settings for the following segments:
Age
Gender
Household income
Parental status
Marital status
Zip Code
Therefore, you have to be creative in how you land in front of the right searcher.
Challenge 2: Expensive Housing Keywords
Keyword research is the first step to creating a PPC campaign. It's the bread and butter of digital marketing and should be a number-one priority. The PPC team at Conquerrr uses many industry-leading tools along with PromoNavi to do keyword research. It's common to see expensive keywords in the real estate industry similar to legal, insurance, and medical industries. Below, you can see five commonly used keywords with their high and low bids in the San Antonio, Texas market where house hunting has been very active in the past two years.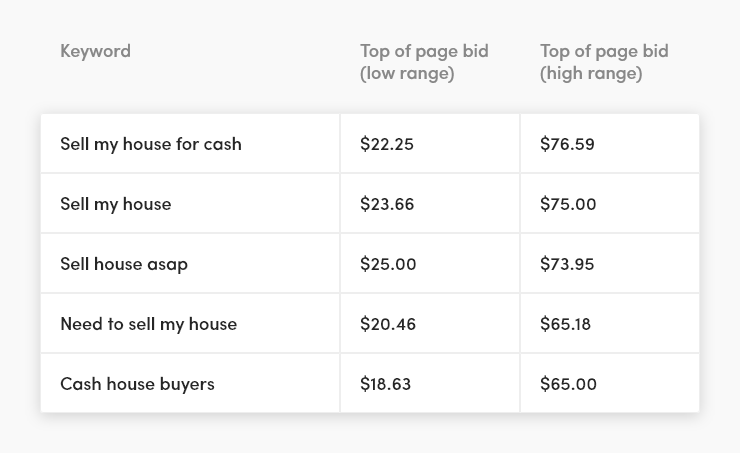 The average cost-per-click of these keywords is around $47, and if you're targeting other expensive areas or possibly all of the US, your ads will rarely show up due to low bids.
The Approach
So, here is what you're here for! This strategy will not only help overcome the above-mentioned challenges but also dramatically increase your account's performance.
The strategy consists of three phases, each with steps that need to be followed in the exact order written.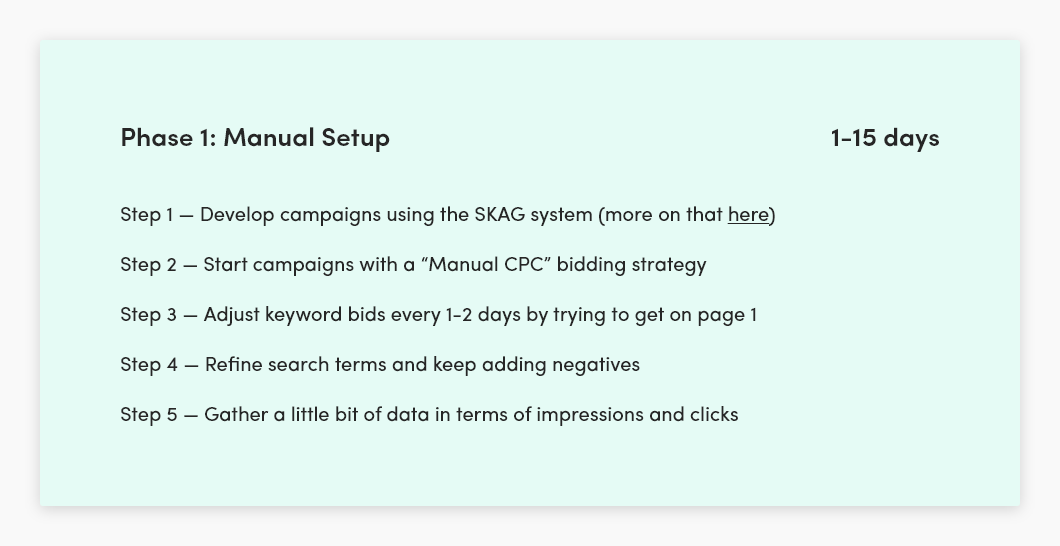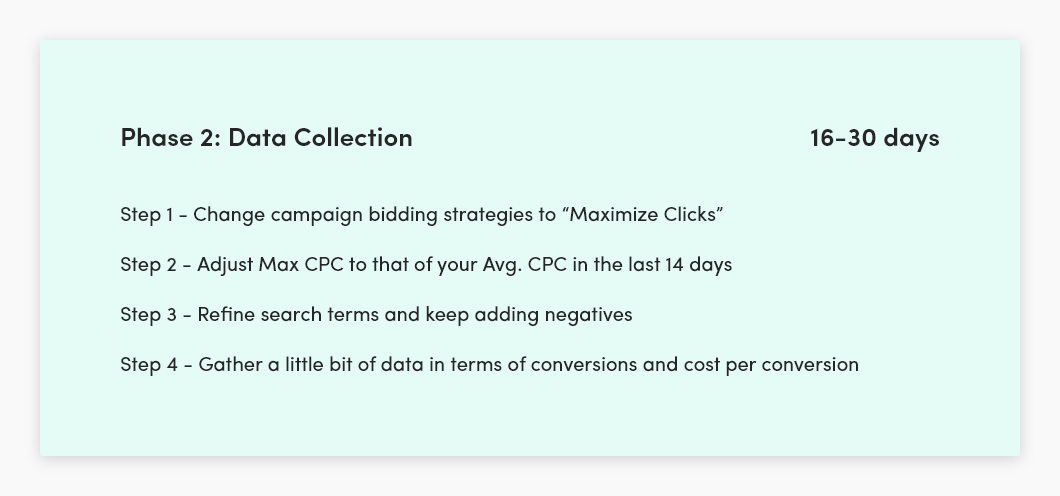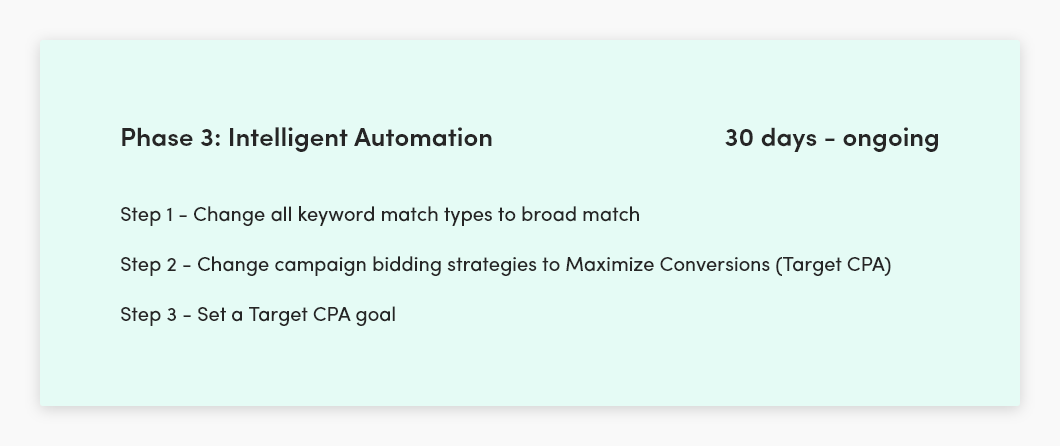 Phase 3 is one of the essential parts of the whole strategy, if not the most. Here is an "Intelligent Automation."
What is Intelligent Automation?
Intelligent Automation combines broad match keywords with the Maximize Conversions (Target CPA) bidding strategy.

Smart broad search campaign experiments have been started in all of Conquerrr's real estate accounts by pausing exact and phrase match keywords, using only broad match keywords. Do NOT forget to use only the Maximize Conversions (Target CPA) bid strategy because it is a MUST. The SKAG (single keyword ad group) system was also used, having an individual ad group for each keyword.
As for the CPA, it is better to target a little bit lower than the existing CPA by keeping the cost per conversion as low as possible. Otherwise, the cost per conversion with broad match keywords can go really high. 
The results were quite satisfying. Smart broad campaigns show much better results than the campaigns that had phrase or exact keywords in almost all accounts.
Results
This PPC real estate strategy outperformed a traditional strategy across 40 accounts when put into action. This strategy generated an average increase of 50% in conversion rates, a decrease of 30% in cost per click, and a higher click-through-rate across the board. Additionally, this approach succeeded in driving cost-per-conversion rates down by 45%.
Special Cases
Low budget
If you have a low monthly budget (in the range of $500-$1,500), it is better to focus on multiple states rather than going nationwide with your campaigns.
Data collection
If the process is too slow and you're falling behind on switching to the next phase, don't jump. Instead, try to add new keywords or locations to get the necessary data.
Lead quality
In case of lead quality issues, try to analyze search terms more often and exclude irrelevant phrases by adding them to your negative keyword list.
Lead quantity
Don't worry if the lead quantity is not what you expected in Phases 1 and 2. Follow the structure, and once you get to Phase 2, the lead quantity will stabilize.
Locations
If you're targeting two or more states or maybe nationwide, create campaigns for every location so you can analyze and manage the bids and performance of each location separately.
We hope this case study will be useful for you. Сombined with PromoNavi's PPC automation tools, the covered approach will help you drive more leads at lower cost.