Microsoft has escalated its email ads game and started showing its users more and more sponsored content, not where they'd like to see it. Unlike its competitor Google, which implemented ads into Gmail in 2012, Microsoft struggled to make those new ads appealing to its users. What's all the buzz, and what can we learn from the poor Microsoft experience? We answer these questions in this article.
Email marketing vs email ads
People spend hours checking, reading, crafting and sending emails every day. Thus, emails are a great marketing tool and an incredible way of building brand awareness and gaining more sales.
Brands can send two types of commercial emails to their client's mailboxes: marketing (or promotion emails) and advertisements. It makes sense to distinguish between the terms before we go any further.
Email marketing
Email marketing is a marketing strategy that involves sending commercial messages to a group of people via email. It helps you connect with your audience to promote your brand and increase sales. In fact, email marketing is still one of the most effective digital marketing mediums.
However, to be able to send those marketing emails, you need to have a list of email addresses you are allowed to send promotions to. There are many ways of getting people on that list. Usually, you'd promise a discount to those who subscribe to your newsletter, or your existing clients would agree to be added to your marketing lists with promotions and so on. You can't send your marketing emails to any email address you come across; it has to be done by a mutual agreement on both sides! Or at least that's how it works legally.
Now, you can do a lot with email marketing. You can send welcome and happy birthday emails to remind the customer about your brand, notify your subscribers about an upcoming sale or a new drop, share some free recipes that call for your products as ingredients and so on. Email marketing is an art and a craft. You can read more about it here.
Regarding email marketing, Microsoft Outlook is ahead of its competitors. It is one of the best free email service providers with anonymity features for emails. It allows the integration of other Microsoft apps and many popular platforms like Facebook and Trello.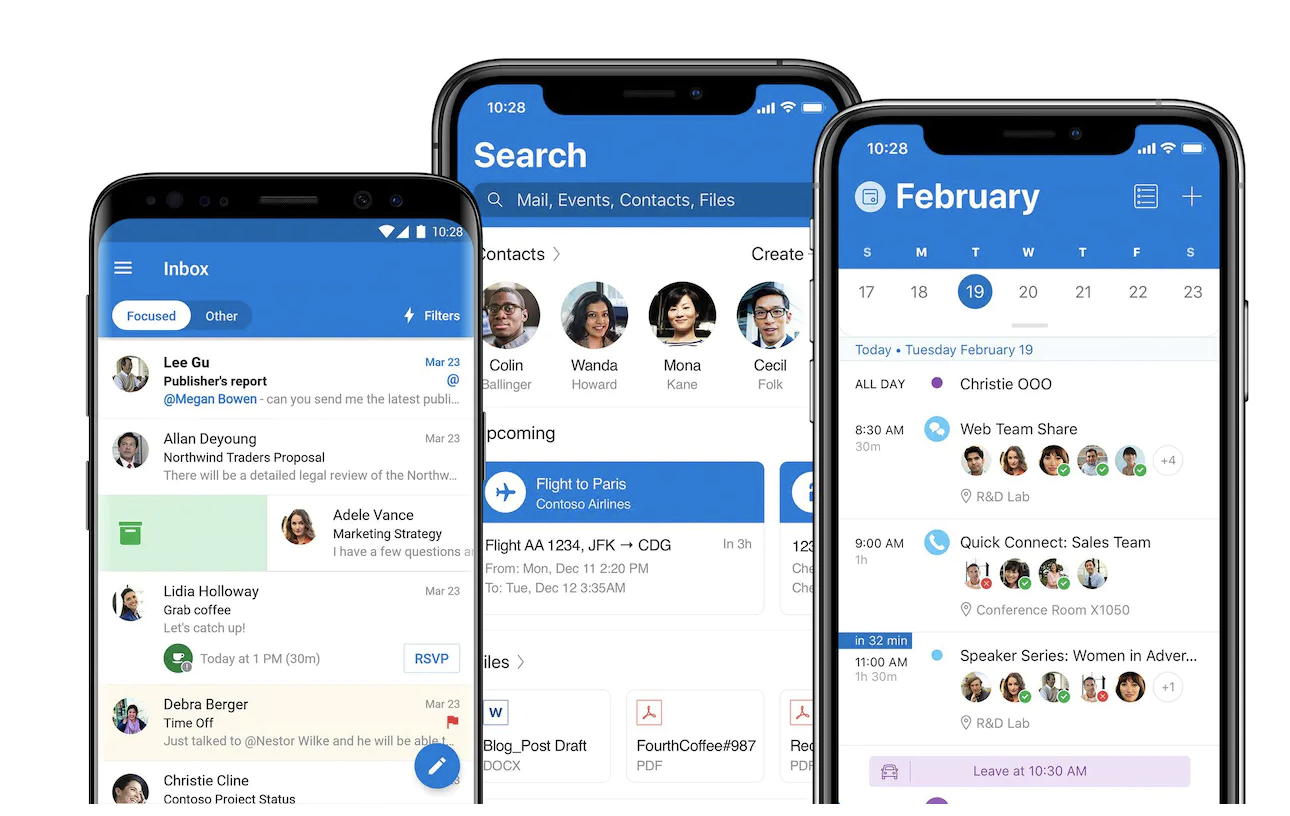 Microsoft Outlook. Image from Microsoft.
Email advertising
And what do you do if you don't have a list of email addresses to send your emails to? Well, if it is the case and you believe in the efficiency of email marketing, email ads are for you.
Gmail and now Outlook allow businesses to target users in their inboxes without having a list of specific addresses. It is a blend of traditional email marketing and pay-per-click advertising. It is just a type of paid ad you can run through Google and Microsoft. Email ads are less competitive than other ad placements and can help build brand awareness.
Email ads can target users based on the type of audience you envision interested in your brand, including various characteristics, such as demographics and keywords.
These sponsored ads found on Gmail and Outlook are certainly not as effective as your email marketing campaigns. However, it is still a great way to get into potential clients' inboxes.
The ads appear at the top of an inbox and look confusingly like real emails. The only real difference between the ad and the user's unread messages is a little "Ad" tag on the right side of the unread email, signalling that it is advertising. One can swipe to delete the email-like ads, but they'll soon reappear.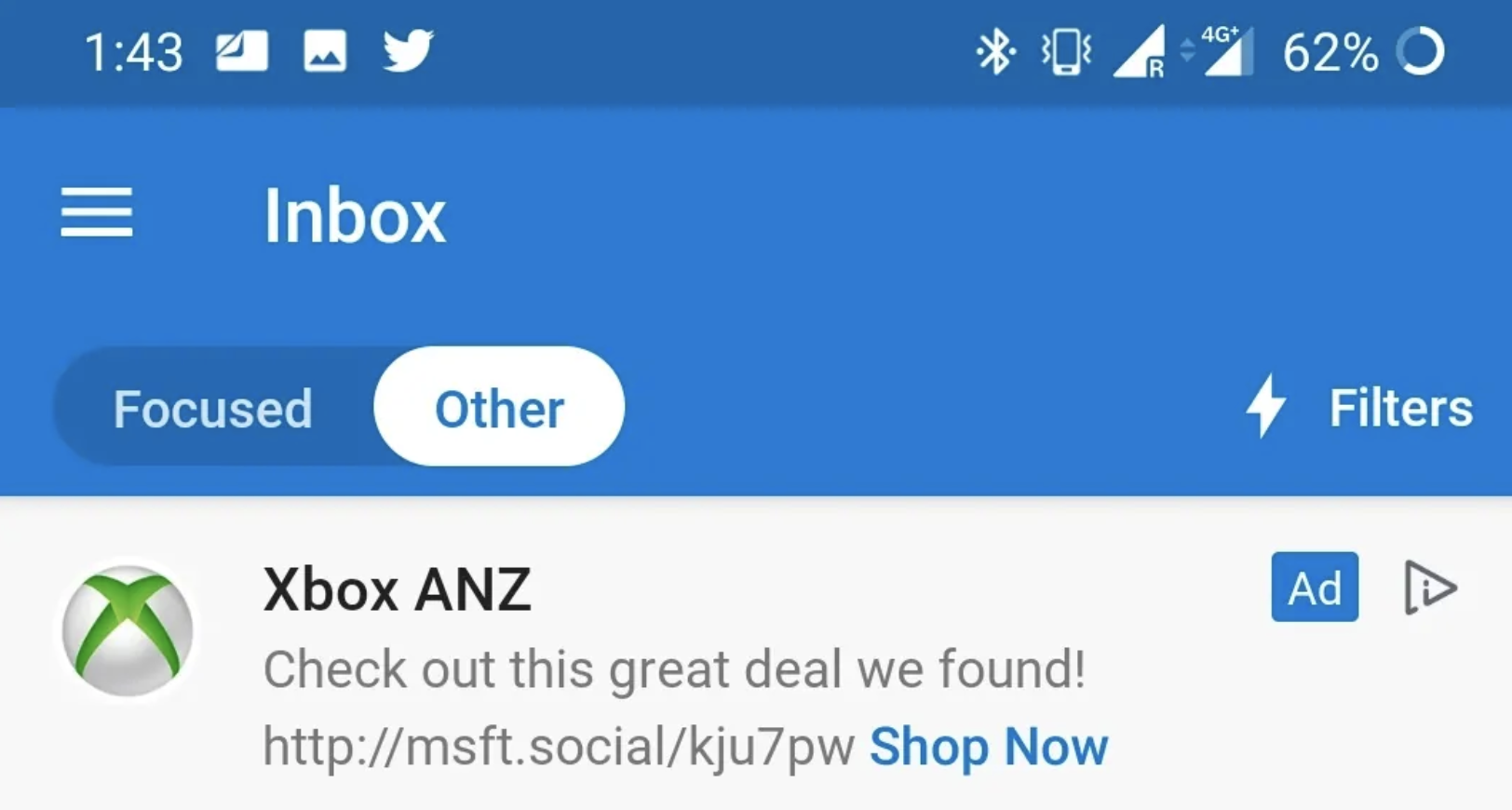 Email ad at Outlook. Image from mspoeruser.

Email ad at Gmail.
If the user clicks on the sponsored email, they will see an email-style advertisement. Usually, there would be an image and a call-to-action button. The content would most likely feature a promotion or a unique code for an extra sale.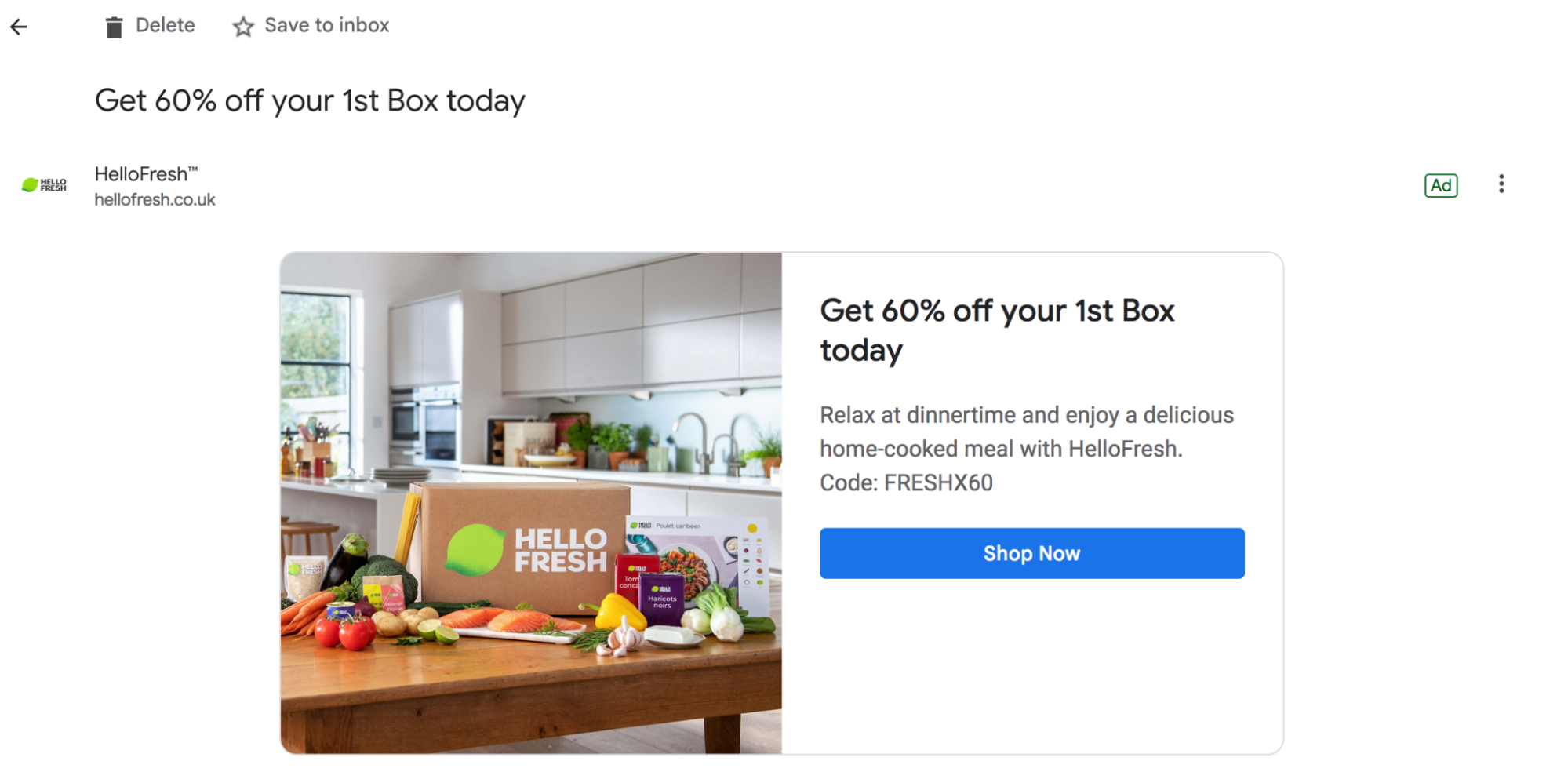 Gmail ad once opened.
Gmail vs Outlook
Google implemented ads into Gmail in 2012. Sponsored emails only appear in the Promotions tab, which is very convenient for the users as ads are not mixed up with their regular mail. Such distribution is also excellent for advertisers. They do not irritate people with their 'spam' and, on the contrary, only suggest that users look at their advertisements. And it works. From time to time, Gmail users open the Promotions tab to check on sales from their favourite stores, as marketed emails also go to the Promotions tab. Therefore, Google systematized their email advertising smartly, with organic email marketing helping to promote Gmail ads.
In contrast, it seems that Microsoft has not been as thoughtful as their competitor, or at least they pursue other objectives. Outlook places email ads in the Focused tab, where users receive all the emails other than ones with sales and promotions.
Outlook has a Focused tab with important mail and the Other tab with everything else, including marketed emails. Previously, Microsoft only put the ads in the Other tab for free subscribers, but now users are also starting to see ads in the Focused inbox. And they are not happy about it. Similarly, marketers only see a negative response to their ads in front of potential customers at the wrong time and place.
Frustration over Outlook ads
As mentioned, Microsoft has started putting ads in Outlook on iOS and Android, and users' responses have been negative.
Those who use a free version of the app find it more challenging to avoid ads in Outlook mobile. It seems that by implementing the ads, Microsoft is not trying to help marketers but that it's forcing its users to pay for a Microsoft 365 subscription.
However, Outlook mobile app users don't want to pay Microsoft and try to fight the company in every a way. For example, many have been leaving one-star review complaints on Apple's App Store.
Screenshot from App store.
Some users try to communicate their message to the Microsoft team via Twitter.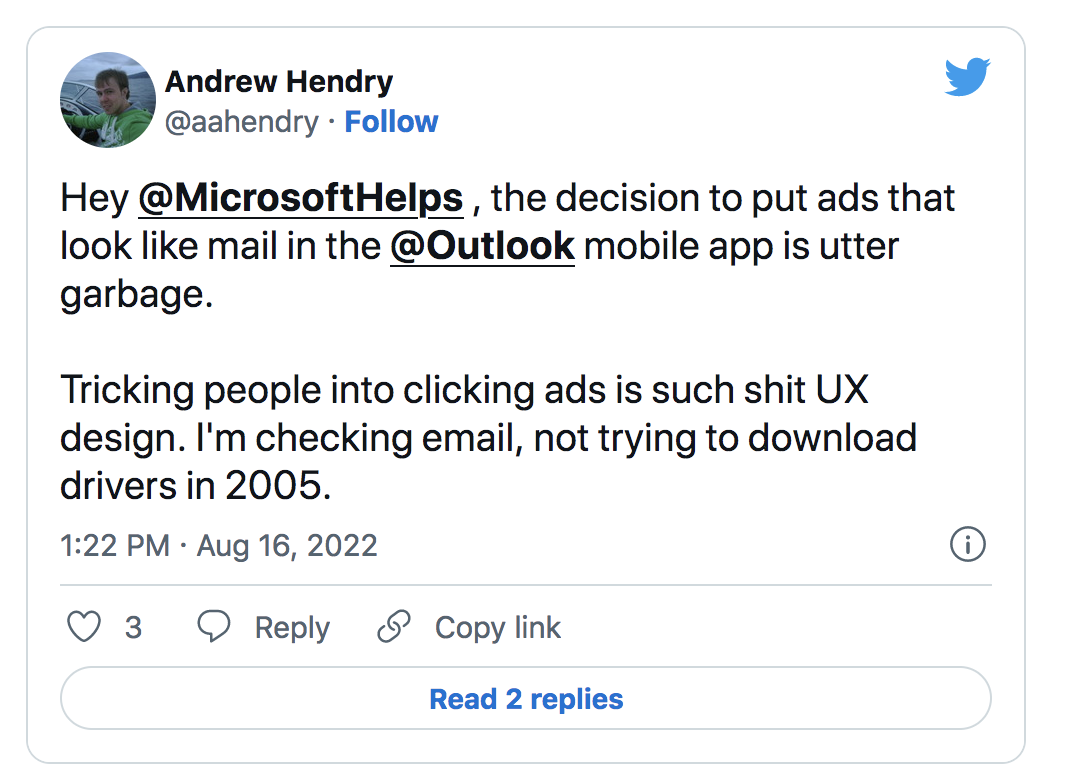 Screenshot from Twitter.
Users are seeking answers on how to stop the ads without having to pay Microsoft. Google Trends show that the combination of 'outlook', 'ads' and 'get rid of' has dramatically risen in August. And articles, promising to give solutions appear. These include titles such as 'Seeing more ads in your Outlook app? You're not alone' and 'Microsoft Outlook is getting more ads — here's how to get rid of them'.

Screenshot from Google Trends.
Looking to optimize your email marketing strategy? Here's everything you need to know.
Let's digest everything we've learned so far about marketing with email and make some conclusions to take away. Here are the main things to consider, no matter whether you are already in the email marketing game or just looking to hop on.
The top three things include the information we've looked at before and new advice from the experts.
1. Decide whether to advertise with email marketing or email ads.
In this article we have broadly discussed the difference between email marketing and email advertisements. To sum up, here is what you need to consider when deciding which one to go with:
Email marketing is more efficient than email ads.
You can only do email marketing if you have many emails from your customers who are willing to receive emails from you.
Email ads are better if you are looking for new customers.
Email ads work if they have a clear call-to-action button.
2. Microsoft Outlook is better (and cheaper) than Google's Gmail for email marketing. At the same time, Gmail will definitely get you more clients if you choose the email ads strategy.
Yes, it is as simple as that. You don't need to look any further if that is your question.
3. Remember that your emails are advertisements.
Therefore, treat your Gmail ads like pay-per-click advertisements.
Use a compelling title and description to draw users to your ads.
Think of your call-to-action button. Where does it take the users?
Remember that your landing page is just as important as your ad. If you've got your potential customers to click on your CTA, ensure they've got what you promised them on the destination page. If you promise a promo code, the users should get it.
Think of the image you are going to use. How does it look on mobile and desktop?
If it's a marketing email you are writing, make sure it stands out among the many others users most likely receive daily.
Write catchy subject lines!
Do not try to sell your products right away. Especially not before the customer opens the email. Start with engaging content and only then showcase your goods and services in a fun way.
Make your emails personal. There are many ways to do so. Start with simply changing the recipient's name and finish with more sophisticated methods. For example, if you are a pilates studio, you could email those who've just finished a class, asking them for feedback about the lesson.