Customers have to be convinced through the information they need and not the information you want to share. This is where email marketing comes into play.
Email marketing is not a new thing, but there are platforms that can make your marketing automated. This automation helps businesses personalize emails, yet at scale. This is the working model of most modern businesses. Your business doesn't necessarily need to be an online business, but you certainly can get prospects over email marketing automation.
What does an email marketing automation platform do?
The basic benefit is the automation of tasks so that your staff doesn't have to do it repeatedly. But there is more. The templates like the Klaviyo dashboard template optimize the time of your staff and also optimize the focus on which customers you have to work with.
Starting from sending emails to analyzing and collecting information, your email marketing automation platform can do most of the work with automated functions so that you can focus on your business.
The following 10 email marketing automation platforms can help you do the task: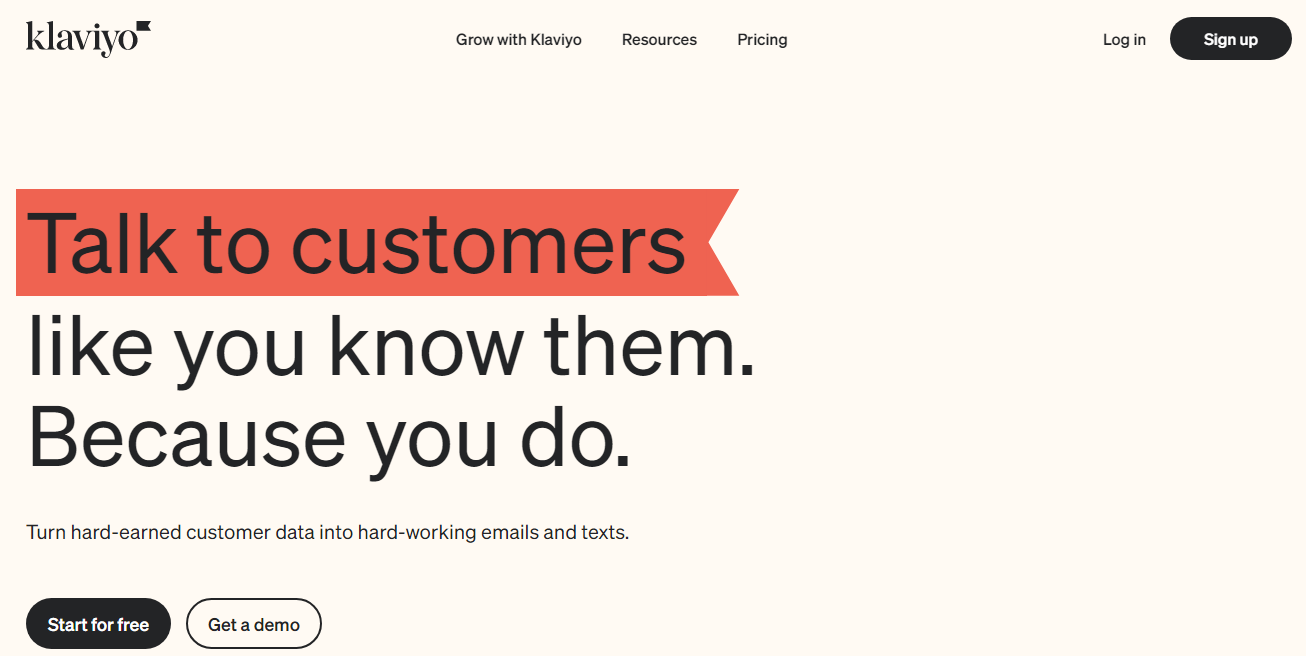 Klaviyo can be used to automate your email marketing with real-time data about the customers. You can use the current location, interests, and demographics of the customers. The real-time integration allows you to know the customers better so that your emails become personally connected to the customers.
It can connect with your digital tools including online stores with a few clicks and then use the data to create up-to-date information for your email marketing. The standard templates available can save you time when you start using the platform for the first time. You can pick up on the go and improve on your designs later.
Automated and timed responses to customers help you focus on your business while your customers are getting timely information through automated emails. Your dashboard also tells you about the performance of your email marketing campaign.
As Klaviyo is widely-used, various third-party developers suggest solutions to make it easier to work with this platform. For example, you can make use of this Klaviyo dashboard template to keep track of your email marketing performance in real time.
Features: This-minute integrations, Ready-today templates, Self-sending messages, and ever-improving performance.
Pricing: There is a free version and demo versions as well. You can start for free, become familiar, and then choose the paid versions. The pricing depends on the number of email addresses in your list. For example, for 1000 email addresses, you will pay $30/month.
Use case: It's very user-friendly. Your staff will become familiar with the Klaviyo dashboard template and much more within hours.
Recommended for: It could be used by both small and medium scale businesses.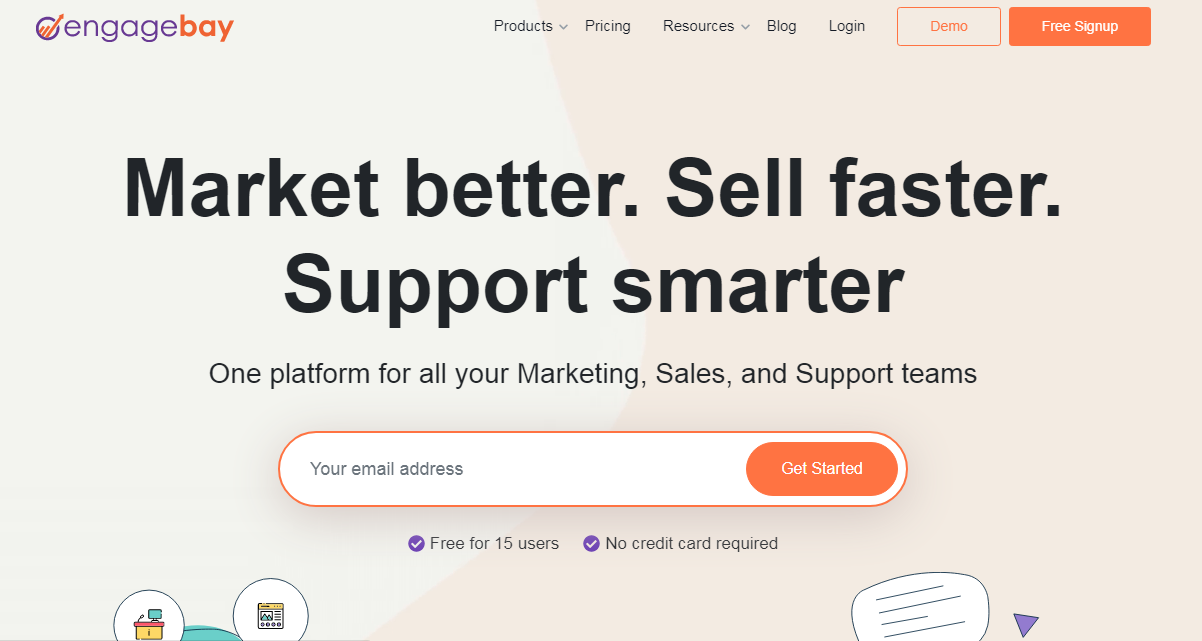 EngageBay has the facilities to automate our tasks through landing pages, email sequences, and live chat facilities. It is kind of an all-in-one marketplace where you can manage the marketing support you need to provide to your business and to your customers. A support ticket management system is also included in the software.
Features: Email marketing, CRM, live chat, landing page builder, customer contact center, live chat, email automation, sequencing, and helpdesk software. The landing page builder is particularly useful in that you don't have to manually design the landing page for your business.
Pricing: The paid plan is on a per month per user basis (from $11.99 per user), but the free plan can help you start. Also, the free plan has limited features, so it is a good place to become familiar with the platform for a few days and then choose the paid version.
Use Case: The user-friendly and intuitive design makes it easier to work with and all are facilitated with drag and drop features. The email builder becomes very easy to use with these features and the users get used to it fairly quickly.
Recommended for: businesses with the sales team and customer service team have to work closer can use this. This platform could be recommended for small-scale teams and businesses.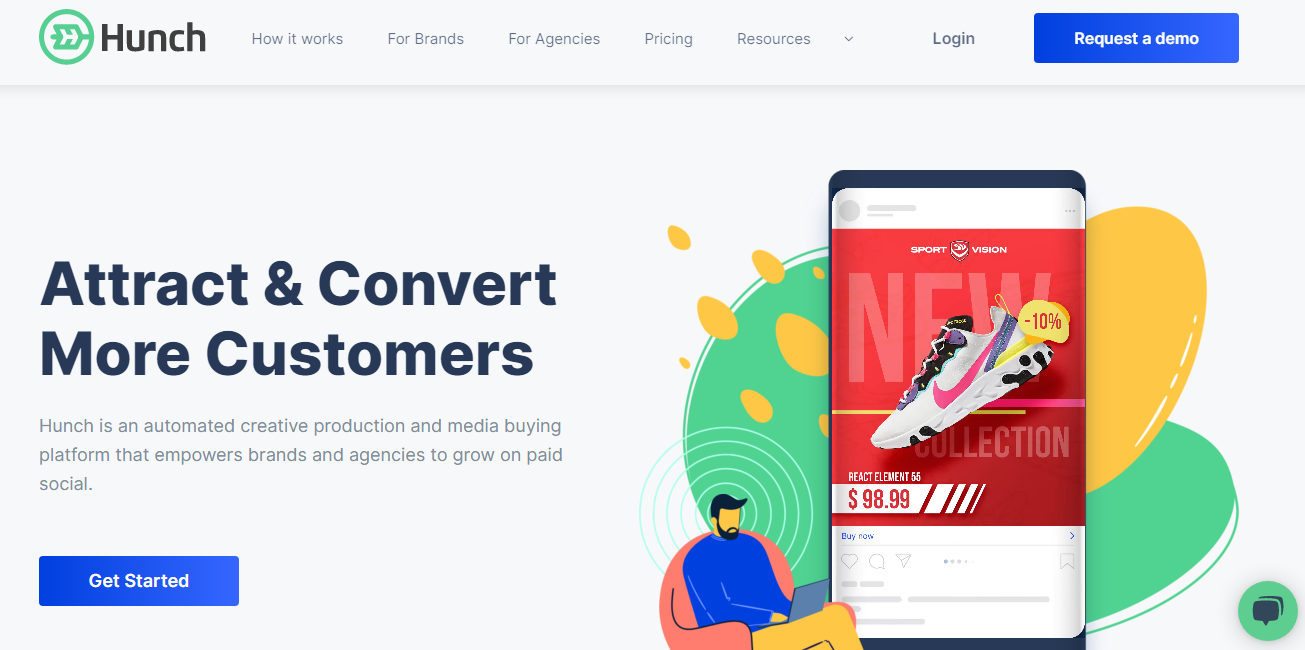 Many eCommerce businesses use this tool to automate their business marketing online. The automatic platform can create multiple products or single product promotion creatives with a single click of a button. Based on the customer journey data you have, you can personalize the emails, flyers, and landing pages you want quickly. You might need demographic information like the native language, location, weather, and other personalized information to select your target audience for email marketing.
Features: Personalize your ads within clicks, creates thousands of creatives with the click of a button.
Pricing: There are different plans. You can contact the sales team to get quotes based on your needs.
Use Case: The users rate the product with a five-star rating based on the ease-of-use.
Recommended for: medium-scale businesses with customer numbers in the order of thousands.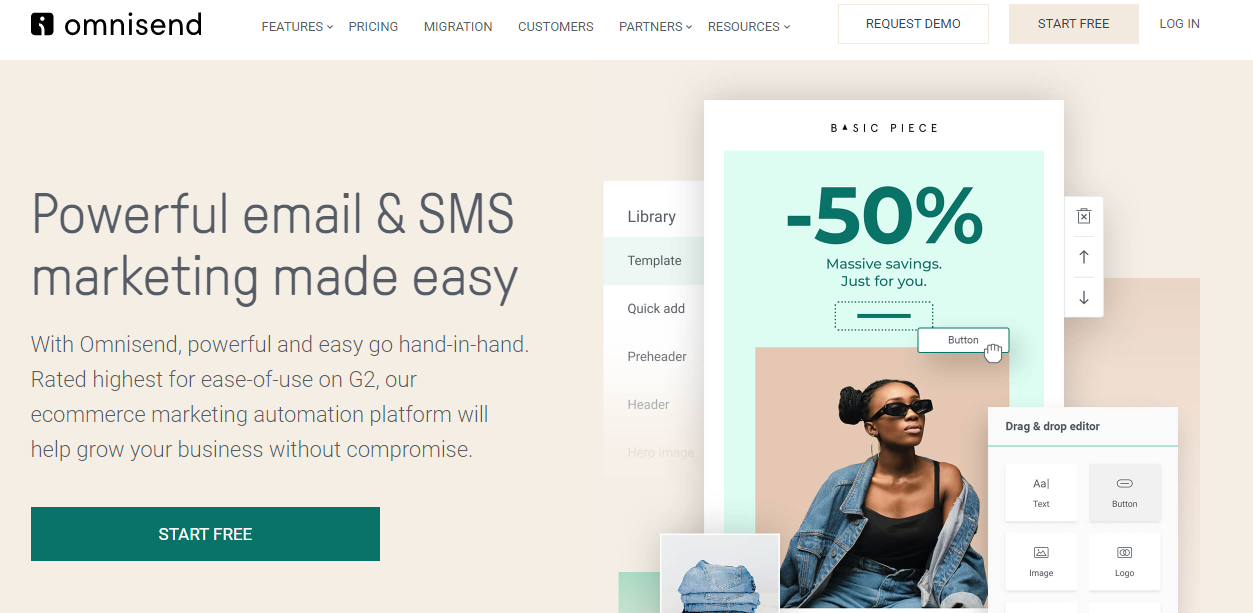 Unlike the other proven platforms, Omnisend is a late comer to the market and picking up momentum. This platform can support multiple channels and bring your marketing automation beyond email marketing to better workflows. So, you can manage all your channels from one tool.
Features: The SMS marketing with this tool is an addition. Email marketing, Omnichannel automation workflows, contact capture forms, sales reporting, smart segmentation, and many other e-Commerce features can improve your automation.
Pricing: The paid plans vary with different option upgrades. You can select which features to include and adjust the pricing according to your needs. It is also possible to start with a standard, free version of the product to check the tool and familiarize yourself with it.
Use Case: It is very user-friendly. The landing pages, forms, pop ups, emails, workflows, and other features can be created through drag and drop features. This means a new user can easily adapt to the system and start using it with maximum efficiency rather quickly.
Recommended for: Companies with a large number of customers where the marketing has to be done through different channels can use this software. It is useful in producing personalized content over multiple channels.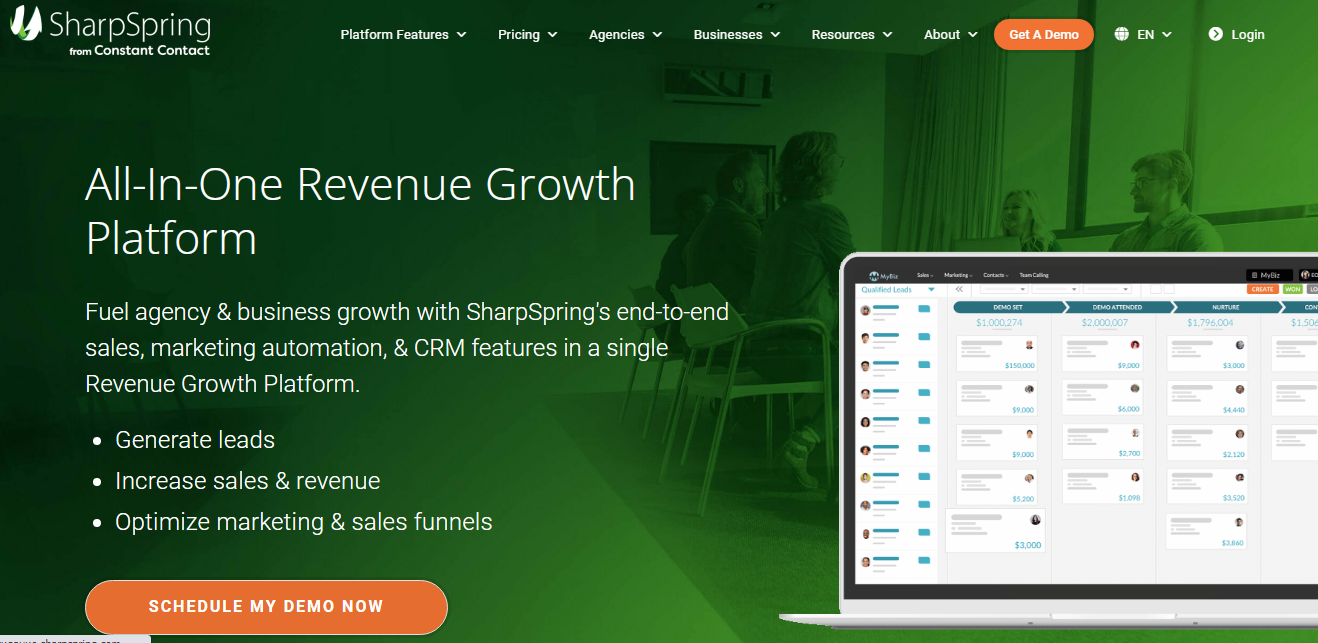 The behavior-based email marketing automation is the key point in SharpSpring. The blog building, social media, and dynamic landing pages all focus on converting leads into sales through personalized email content and automation.
Features: Integrates with other e-commerce platforms such as Shopify and Magento for easy data transmission and email creation. The platform also has a WYSIWYG editor that uses point and clicks, behavior-based email automation which enables segmenting customers based on their behavior, lead scoring, dynamic forms to capture data, and a Robust Rules Engine. Smart emails and dynamic web content are also significant features.
Pricing: The platform is very expensive for small-scale businesses (the pricing starts at $399/month for 1000 contacts). There are no free versions available due to the cost of the tool. If you choose it, then you have to pay. But you can get quotes based on your needs and the tool can be customized accordingly.
Use Case: Integration with hundreds of online tools, these systems bring an easy-to-access platform. Your staff will become familiar with the system within minutes.
Recommended for: This is mostly for retailers who get the most profit from the chain.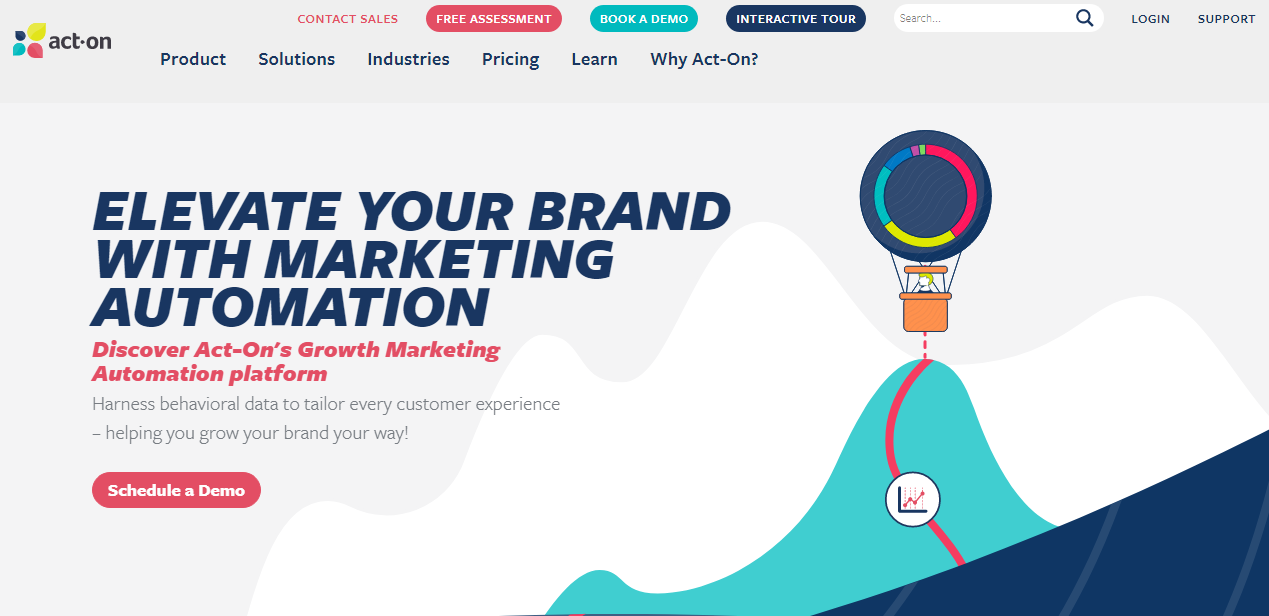 This is another expensive tool that targets sales and marketing automation. There are many other features that make this system worth the price.
Features: Drip campaigns, Analytics of Return on Investment, social marketing, and search functions, and other social media management are a few of the useful features. The email marketing and website visitor tracker can allow you to quickly target your updated customers and the lead management helps to identify the next potential sales.
Pricing: Pricing starts at $900/month for 2500 contacts. You can contact the sales support team and start with a free demo to get to know the tool.
Use Case: Since the platform is intended for sales conversion, it has a pretty rigid design. It might take you a few days to become familiar with the design before you become an easy user.
Recommended for: It is recommended for businesses that have good revenue. If you own a small business, then it's not for you. But if you have a business that is making sales in the millions and want to improve, then this tool is for you.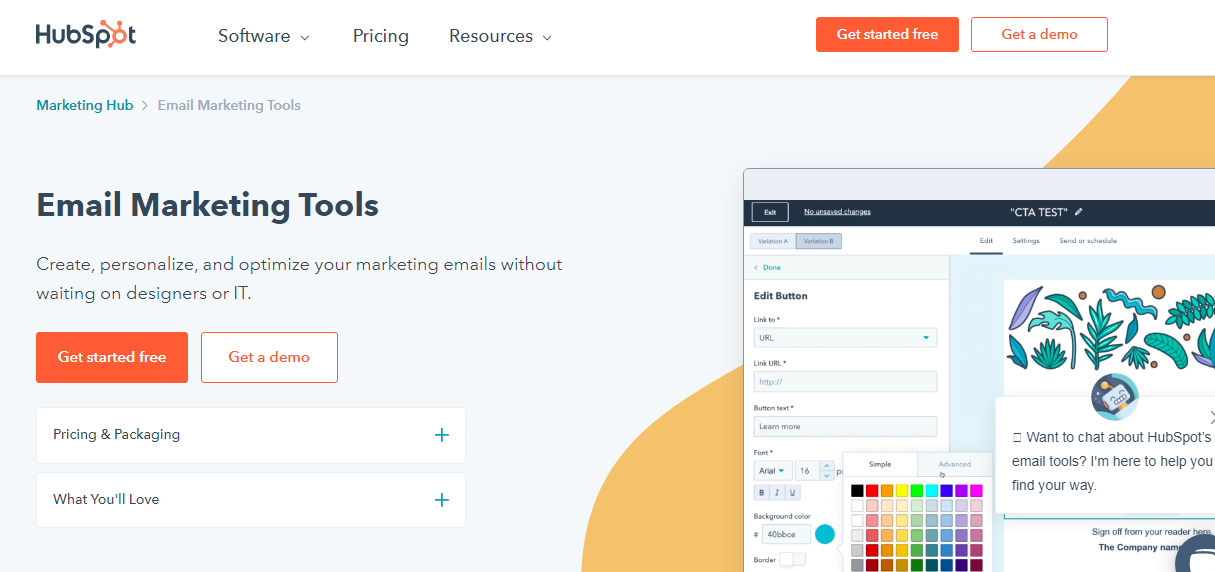 HubSpot is one of the well-known tools for automation. The CRM, sales and marketing tools available make it one of the best for email marketing automation. It has integration between email, social media, analytics, customer contact, and SEO.
Features: Progressive profiling helps businesses to keep track of the best leads. There is a call to action, segmentation, integrated social publishing, blog analysis, SEO recommendations, and many more features to make it much more efficient for the marketing people.
Pricing: Like any other proven platform, this one is also expensive and is offered on a monthly basis. You can connect with the sales team to get a better option for your business.
Use Case: Fairly easy to use. You still have to become familiar with the product, but it also comes with the drag and drop features.
Recommended for: This tool is good for marketing solutions, online integration, and other social media needs as well as automated email marketing for all sizes of businesses.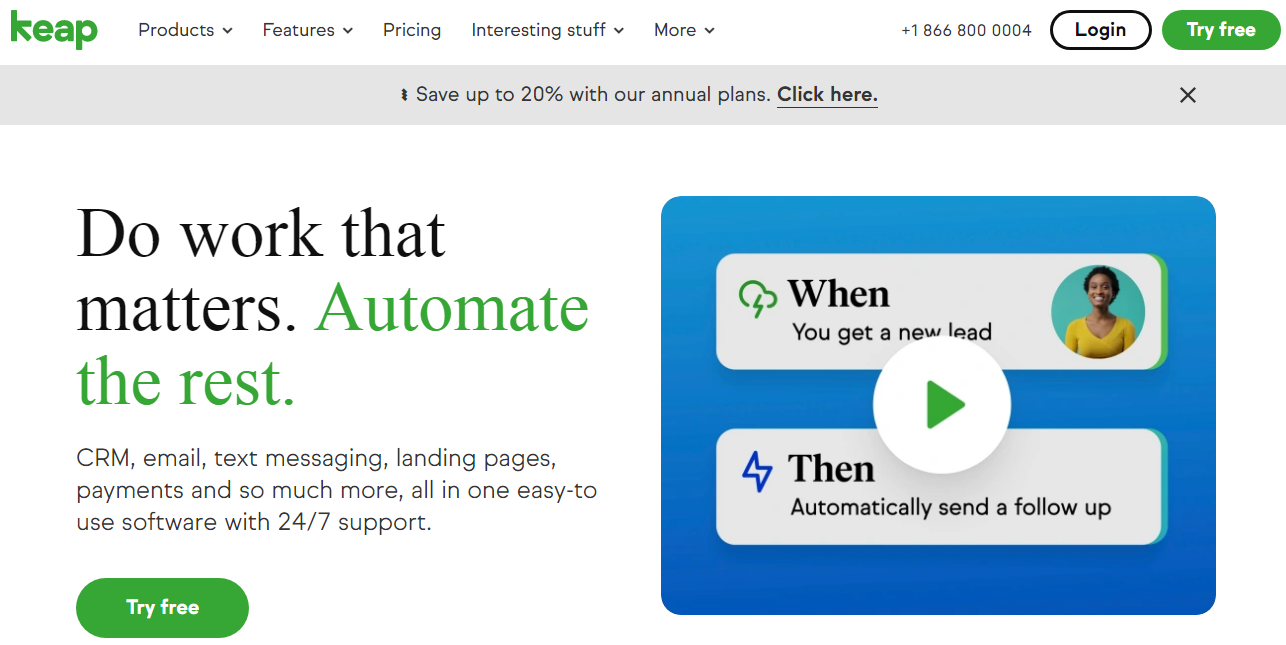 Keap was formerly known as InfusionSoft. It is a tool to use for customer tracking and task management on a daily basis. It can reduce your burden to carry out repeated tasks by automating most of the work.
Features: This tool has segmentation, analytics, drip campaigns, landing pages, search and social campaigns, and website visitor tracking.
Pricing: It is free to start with. You can upgrade to a paid membership.
Use Case: The use of applications and the different methods are huge. Due to this nature, you might spend a lot of time exploring all the options, but it is fairly easy to use.
Recommended for: This product is recommended for start-up businesses and small-scale entrepreneurs.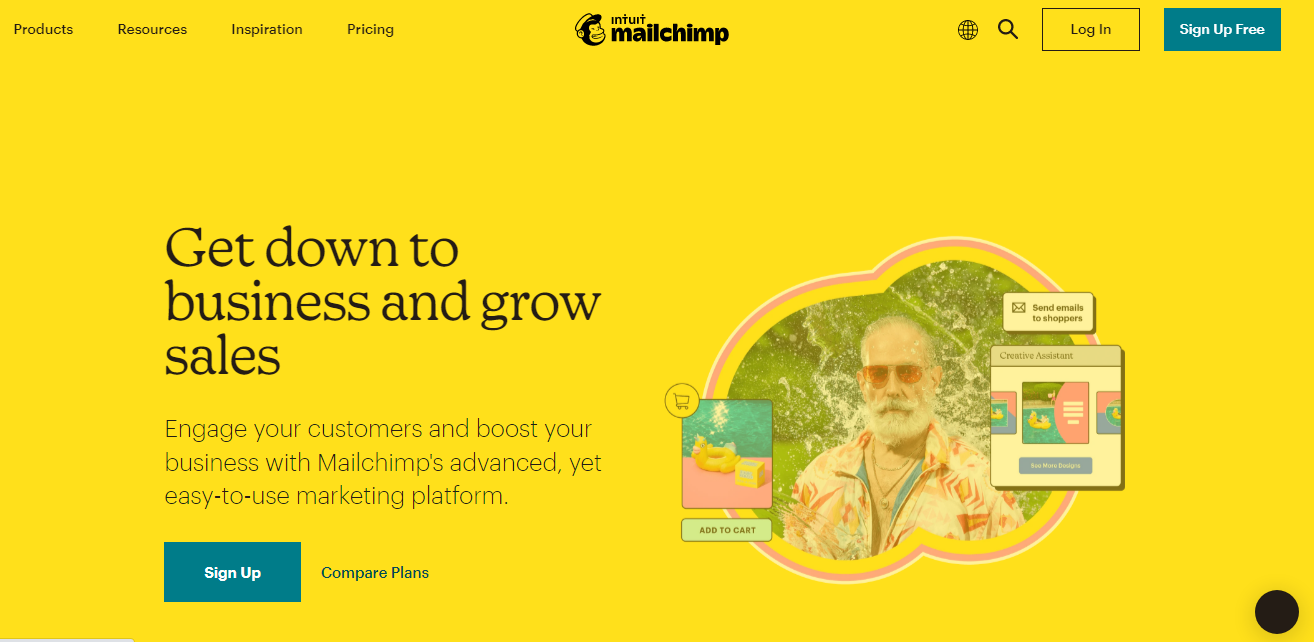 This is one of the known names; in fact, one of the most widely used email automation software. Although it is mostly used for only email marketing, the platform has CRM, website, campaign services, design features, and full-scale online marketing.
Features: Site tracking, drip campaigns, website visitor tracking, email marketing, online integration, and many others.
Pricing: Free version is available and upgrading to a paid version is optional. Pricing starts at $11/month for 500 contacts. 
Use Case: This is very user-friendly, and anyone can learn how to use this platform quickly.
Recommended for: Small to medium businesses can use MailChimp.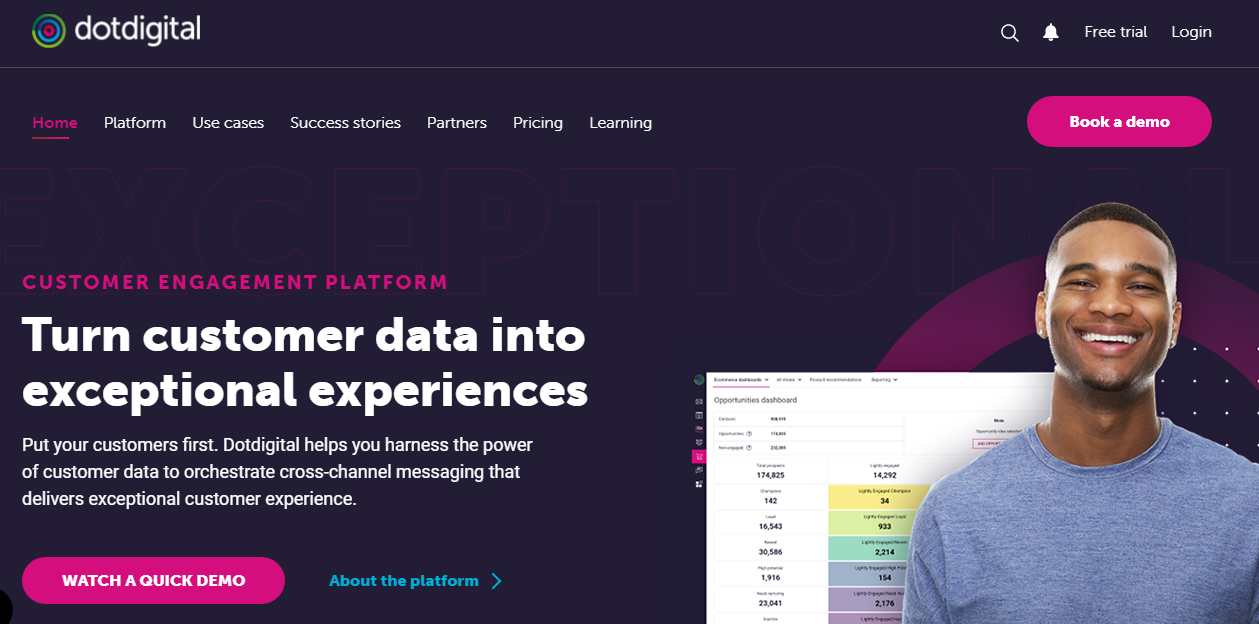 Although listed at number 10 here, Dotdigital is one of the known names. It has had heavy competition for over two decades but still is relevant in the market. It has a large customer base and is used widely all over the world.
Features: Creative studio, strategic services, campaign management, and other custom integrations are available along with product training.
Pricing: There is no free version, but there are discounts for the paid versions you choose to go with.
Use Case: Easy to use and easy to learn. It can also be easily integrated with other online tools and marketing software.
Recommended for: Professional email marketers with specific needs can use this software to get all that they need in one place.
To Wrap Up
Email marketing automation can be useful to businesses and many businesses are using it. You can choose from the platforms listed above to get the best solution for your tasks.
For more in-depth marketing automation, consider opting in for a PPC ad platform such as PromoNavi. With its help, you can save time on handling routine tasks and drive better results to your Google, Microsoft, and Facebook Ads campaigns.