Have you ever dreamt of your ad on a taxi in New York, Piccadilly Circus in London and a shopping centre in Berlin? Well, even if you thought that impossible, Tech giant Google has made it possible for you.
Last month, Google launched digital out-of-home (DOOH) ads for Display & Video 360. Now you can place digital ads across train stations, aeroports, stadiums and plenty more.
"With a single plan, they can reach people on screens of all shapes and sizes. And it can be done rapidly and efficiently. Marketers can activate, pause, and optimise digital out-of-home campaigns in near real-time," wrote Shreya Mathur, Display & Video 360 project manager.
In this article, we prepared everything you need to know about Google's digital out-of-home advertising and whether you should add it to your marketing strategy.
Why should you care?
While similar to traditional ads on billboards, digital out-of-home ads allow marketers to advertise at certain times in multiple locations. Marketing with Google Display & Video 360 also enables budgeting wisely. For example, as a bar owner, instead of paying for an ad on a particular billboard all the time, you can pay for it to be shown solely during the 'happy hour' in multiple locations in different time zones. And your neighbour's brunch place will advertise on those same billboards in the mornings.
"With digital out-of-home ads in Display & Video 360, brands can combine the emotional power and captivating formats of traditional out-of-home advertising with the efficiency of other digital channels." Google's blog post explained.
What is digital out-of-home advertising?
We are all used to traditional out-of-home ads on billboards next to bus stations and ad panels in shopping centres. Those images and some text over them, trying to persuade us to buy that bottle of beer or that gorgeous dress the model is wearing.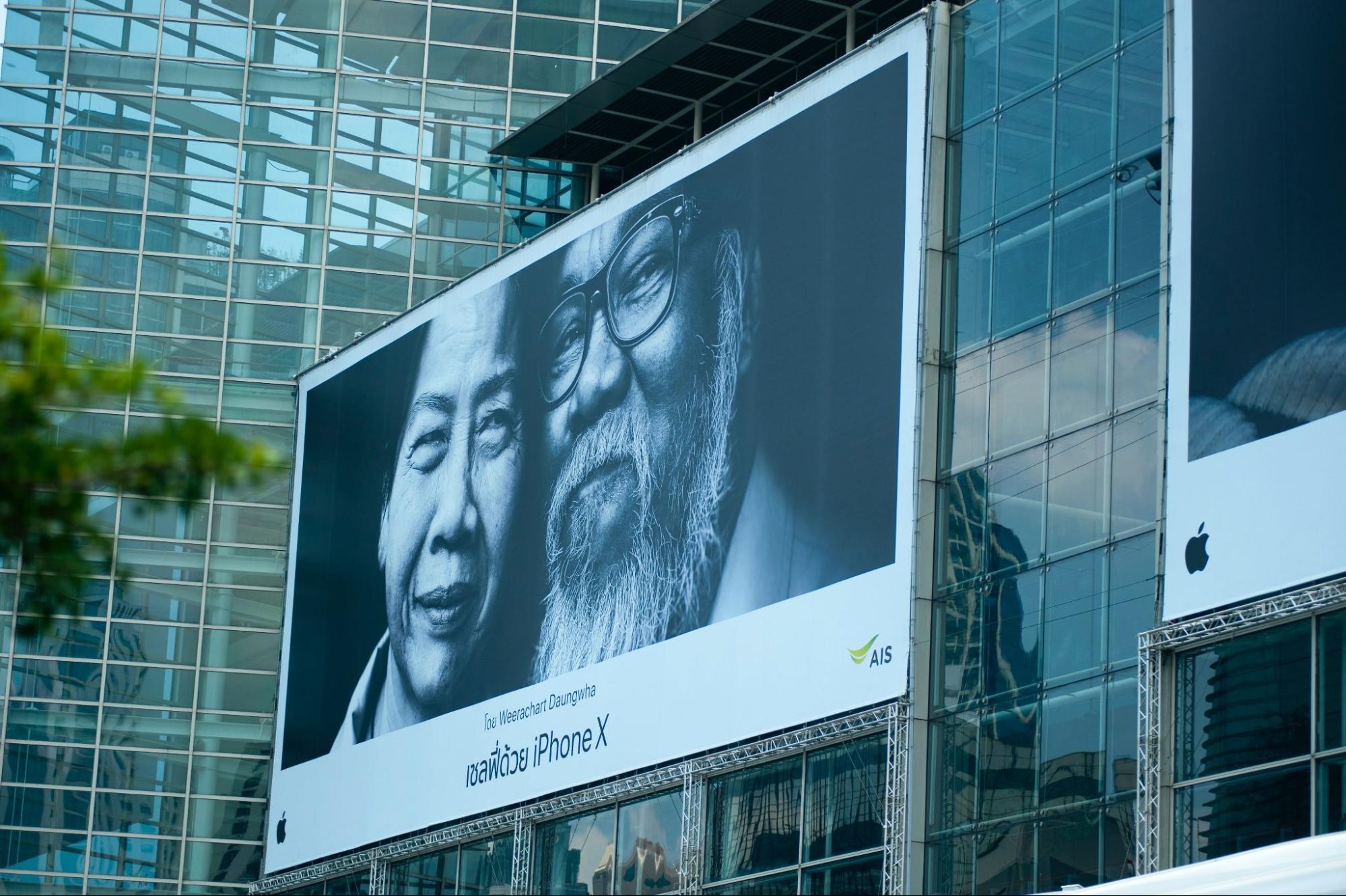 An example of a traditional out-of-home ad on a billboard.
"[Out-of-home ads] help brands engage shoppers at moments when they make key decisions or take certain actions such as walking in a shopping mall or lining up at the grocery store checkout." – Shreya Mathur, Product Manager, Display & Video 360.
There is an obvious disadvantage to out-of-home advertising, though. Marketers have no control over the ads once they are out there. No changes can be made, nor the Return Of Investment can be measured. And this is when Google steps in and presents its vision of out-of-home advertising.
With digital out-of-home advertising, marketers can choose precisely when to show their ads. That is a big step forward for out-of-home advertising. Now marketers are welcome to pay only for the time they believe would benefit the brand the most. If your potential customers take the subway to get back home from work on a Friday night, you show them your ad on their train at 6 pm.
Your digital ads can also include videos or animations of all sorts, which grab the customer's attention more efficiently than static images.
How does digital out-of-home advertising work in Display & Video 360?
With Google's Display & Video 360 DOOH ads, you can reach people on screens around the world from a single account. Google's DOOH ads are ideal for international companies that want to simultaneously advertise to people on the streets of London, New York, Moscow and Seul.
Display & Video 360 users can buy screens in public places such as stadiums, airports, bus stops, shopping centres, taxis and more. You can change the screens you're advertising on in almost real-time. You can also pause your ads.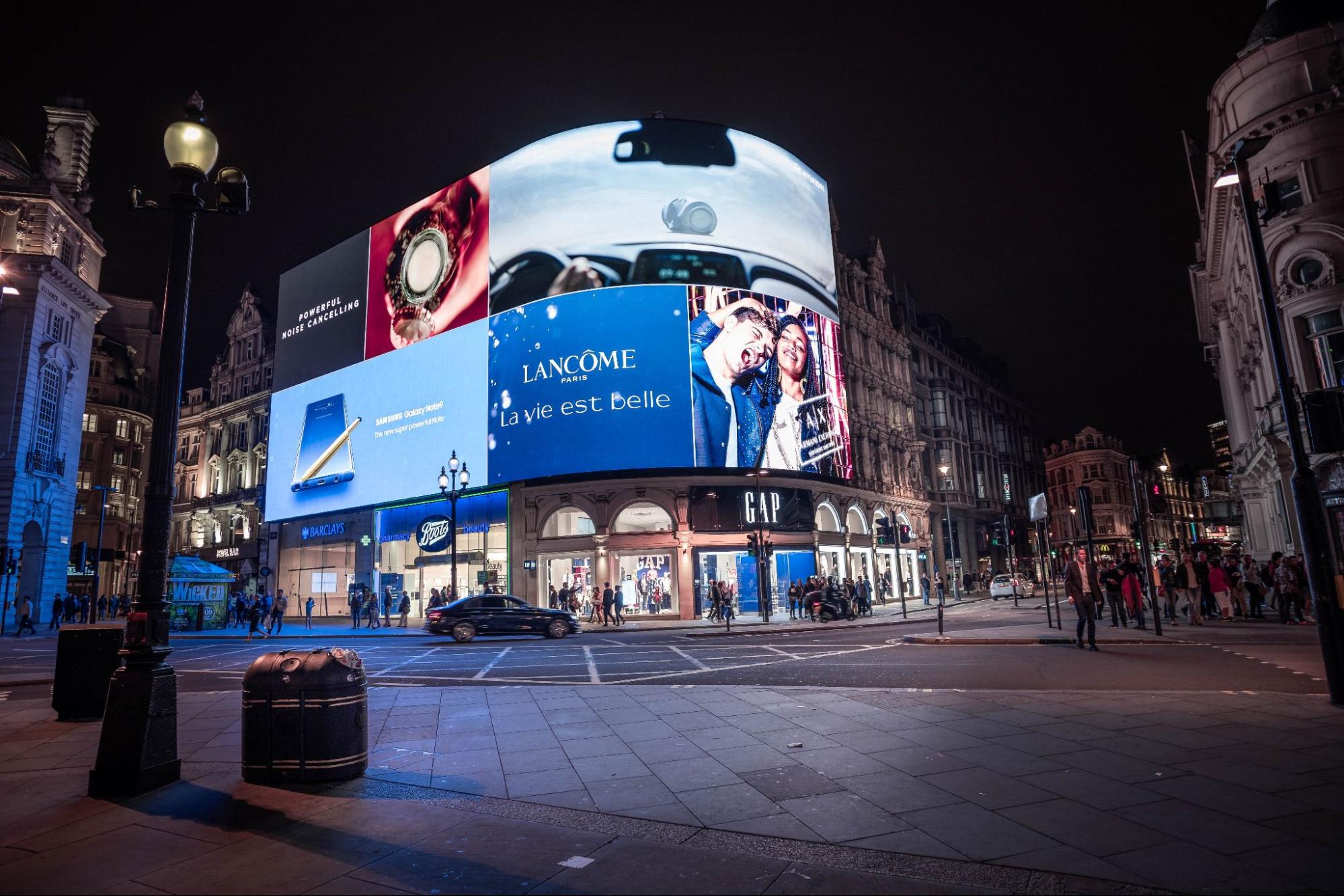 Several DOOH ads on a billboard in London.
Google's digital out-of-home ads are supposed to reach people in their real-world journey with the efficiency of programmatic technology. This means that Google can help you choose where and when to advertise! You don't have to select locations and think of the perfect schedule manually; Google's intelligent insights will help you.
Display & Video 360 partners with Hivestack, Place Exchange, Ströer SSP, VIOOH and Vistar Media. Through these exchanges, advertisers can access ad placements of Clear Channel Outdoor, Intersection, JCDecaux, Lamar and Ströer, and more.
What are the benefits of DOOH advertising?
We have already mentioned some obvious benefits of DOOH advertising. These include changing the ads during the day and placing them anywhere in the world. Now, let's dive deeper into these and more advantages of digital out-of-home ads for Display & Video 360.
Reach: DOOH ads can get your message in front of many eyes who may never discover you online. DOOH ad campaigns are, therefore, great for building brand awareness.
Flexibility: It's not only that you can run your ads in multiple locations; you can also change those ads and run different versions of them according to the region in which they are presented or the time of the day.
Programmatic ads: You can leave it to Google to choose the best locations and schedule for your ads – no manual planning; artificial intelligence will do that for you, based on their research.
Data privacy: Although it might seem like those pragmatic ads are personalised (and, in a way, they are), no person would feel like the brand is spying on them. The decisions on where and when to place an ad are generalised with the idea of targeting as many people as possible and not showing you the bag you saw online the day before.
What are the disadvantages of DOOH advertising?
No matter how great the idea of bringing your ads out of home sounds, the concept has certain limitations.
Distractions: First of all, you'll be advertising in an environment with a number of distractions. People will be in a rush on their phones in a meeting and might not even notice your ad.
Less control: Unlike online marketing, you'll have less control over the whole situation, starting with the more general message in the beginning and finishing with having less understanding of who will see your ad.
For more prominent brands: It looks like automating out-of-home campaigns is particularly effective for bigger brands with international footprints. Therefore, that might not be for you if you are a smaller business.
Measurement: It isn't easy to accurately measure the impact and success of DOOH campaigns.
How do you measure the success of DOOH ads?
Digital out-of-home publishers measure impressions using a multiplier based on their estimates of the number of viewers for each ad. This estimate, which isn't based on an individual's data, helps advertisers measure the impact of their digital out-of-home campaigns. That's less specific than regular digital ad targeting, but no surprise as we are talking about a traditional ad format that was a little bit digitised.
ASOS was one of the first brands to try Google Display & Video 360 DOOH ads. Hundreds of billboards were programmatically chosen and generated an estimated 22 million viewed impressions. A post-campaign study found that the addition of DOOH inventory to the campaign added a 14% increase in brand awareness and a 22% increase in brand consideration in exposed vs control areas.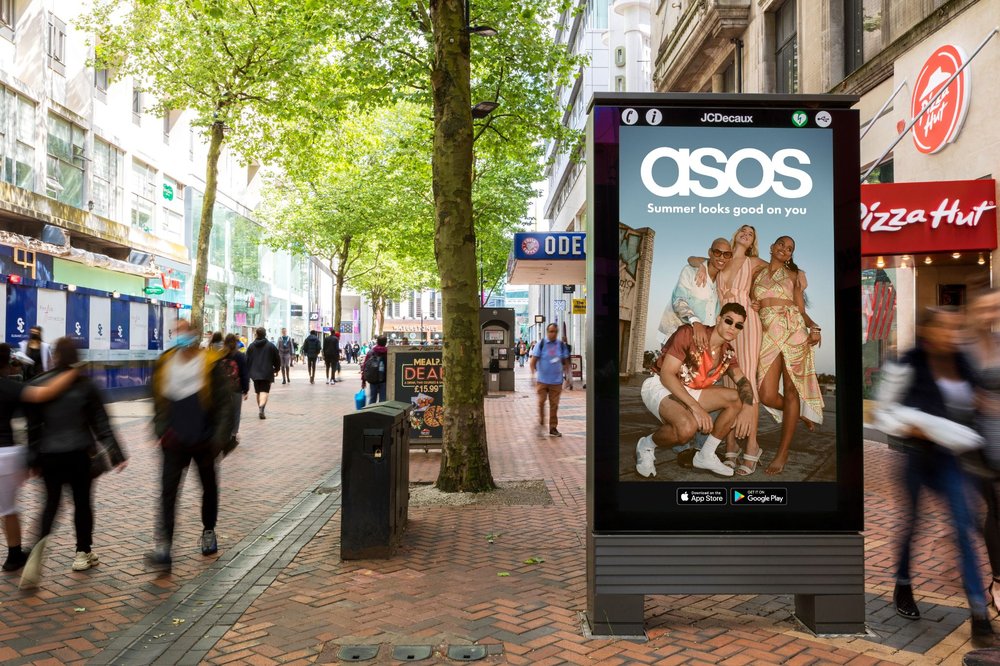 ASOS DOOH advertisement. Photo from Google's blog
Final thoughts
To conclude, we'd like to say that maybe digital out-of-home ads are not for you yet, but as your business is growing and you might be thinking of expanding beyond the borders, it's great to know that such a possibility exists.
You can control multiple screens from one account with Google's digital out-of-home ads for Display & Video 360. You can change, pause and stop your ads almost in real-time. You have the possibility of running your ads only during certain times of the day, and Google is here to help you figure out the most beneficial time and advertising locations for your business.