You've set and run your ads on Google, but you aren't getting any impressions or clicks—your ads aren't even showing… Or they've disappeared for no reason. Tech mistakes—but are you sure?
Look through the following checklist. There is always a reason. It can be trivial, but not always obvious.
We've classified all the possible reasons why your ads are no longer showing in Google Search results into 4 groups:
Let's figure it out!
Why Your Google Ads Are Not Showing: Basic Mistakes
It's not only beginners who make occasional mistakes. In case the ads aren't showing, a pro can dig too deep but the solution turns out to be as simple as that.
1. Your payment didn't go through or your balance is exhausted
It happens. Not only because you forgot to recharge the balance, but there are objective reasons outside your control.
Cashless payments take time to transfer
If you use a legal entity account, transactions can take up to three days to go through. In some cases—up to ten days. Holidays can prolong this period even more.
What to do?
If you deal with prepayments, make an advance at least for a month ahead. Or, you can set up an auto-recharge, which is available in Google Ads.
To prevent balance exhaustion, set up the alerts that will notify you when your balance runs low. You can do this using the Balance Checker option available within the PromoNavi Alerting tool. You'll receive an alert at your email address or Telegram messenger when the current balance is not enough for 2-10 days of advertising (depending on your settings).
Payments for ads are VAT exclusive
Keep in mind VAT while planning your Google Ads costs. In the case of 20% VAT, if you top up your balance $500, you'll be able to spend only $416.67. The bids and budgets in ad systems are stated exclusive of VAT.
Thus, you can make incorrect budget calculations, and the money can be spent in less than a full month. So, your ads will stop showing.
If you run PPC ads on automatic services, make it clear with VAT included beforehand.
2. Your ads was accidently stopped
The campaign seems to be switched on, everything is alright. But, take your time to make sure that the ad group, the ads, and the keywords are switched on too.
To find the stopped groups/ads/keywords, sort them by ad status.
Also, you can use the "Change history" section to find stopped or deleted ads. How to find these ads:
In the drop-down menu, choose "Change type."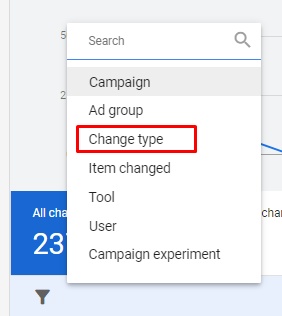 Checkmark the "Status" item (sub-items will be marked too), and click "Apply."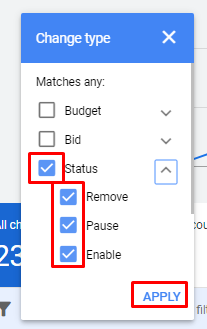 After that, you'll see all the "missing" ads, keywords, etc. Here, you can undo changes.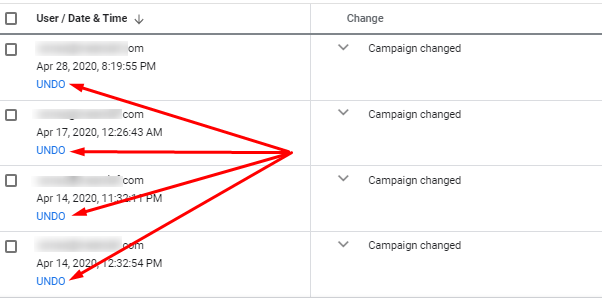 Another way to run all your stopped ads (or some of them) is to set up automated rules.
3. Your Google Ads Account is Under Review
This is purely a Google thing—you can do nothing here. The point is that Google, from time to time, checks all accounts for the purpose of user safety. After the review is over, your ads will start showing automatically.
Why Your Google Ads Are Not Showing: Bids and Budget Issues
4. The Daily Budget is Spent Prematurely
When you set up a Google Ads campaign, you limit it to a daily budget. If the amount of clicks is too high (or they are too expensive), the funds will be finished before the end of the day.
This is most typical of new campaigns, when it's hard to see how fast the money is being spent. In such cases, we've got the following: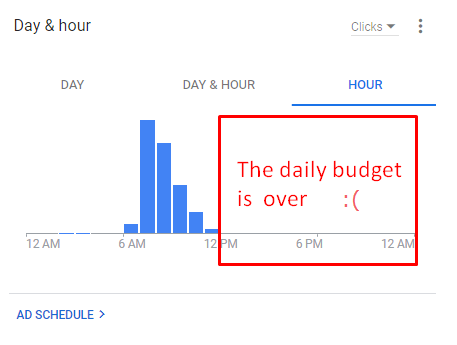 On certain days, Google Ads can carry out the prescribed daily budget restriction. Such excess can't be more than double the cost of the daily budget. But even with this flexibility, the daily budget may not be enough.
How to keep track of your daily budget? Here are 10 scripts to prevent Google Ads budget overspending. Alternatively, you can make use of the PromoNavi Alerting tool that allows you to be notified when your ad spend exceeds the level you've set.
How to make ads show steadily for 24 hours
There are several ways, and none of these are mutually exclusive:
Increase the daily budget. This way out is obvious, but in most cases impossible (simply because of limited funds).
Decrease the max bid. In this way, you won't win all the auctions but will get steady traffic. What's more, you can adjust bids by device type and location with help of the PromoNavi's Device Bid Adjustment and Location Bid Adjustment Tools.
Narrow the targeting. When you are short on money, you'd better focus on a concrete audience—for example, show ads only in one main location.
Use more strict keyword matching options. Broad match keywords drive a lot of clicks, but frequently more than half of the traffic is irrelevant. The conversion rate of such clicks leaves much to be desired. The way out is to use a phrase match or even an exact match instead of a broad one.
The ways above help you not to spend the daily budget prematurely and to make ads show steadily for 24 hours.
5. Your max bids are too low
Let's say you're planning to reduce your average CPC. A seemingly obvious solution is to set up a minimum CPC lower than the low range bid from the Google Keyword Planner.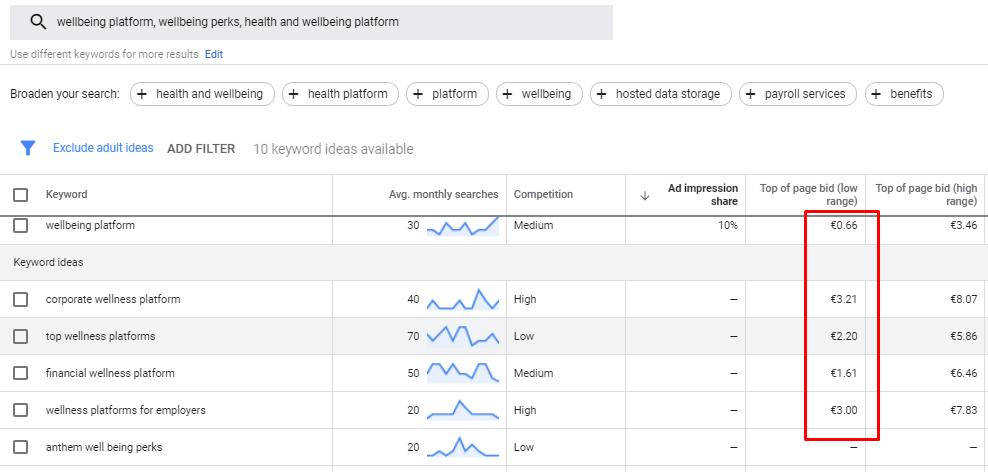 But the Planner gives you the approximate values—from and to a certain amount. Too-low bids can result in no performance at all. You'd better set the bid somewhere in between. For example, you could set up an average bid that is calculated in Google Keyword Forecasts.

7. Too-high downward bid adjustments
The max bid for devices, locations, or audiences can be set by bid adjustments.
Available Google bid adjustments:
| Bid adjustment type | Bid adjustment range |
| --- | --- |
| Device (PC, mobile, TV, tablets) | from -100% to +900% |
| Location | from -90% to +900% |
| Time & Place | from -90% to +900% |
| Remarketing lists | from -90% to +900% |
| Gender, Age | from-90%  to +900% |
| Interactions (calls)  | from -90% to +900% |
Here is an example of bid adjustments by device type in a Google Ads campaign: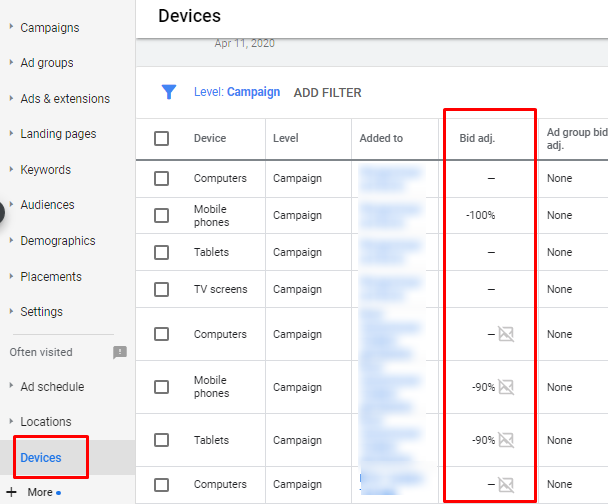 The -100% adjustment means that ads are stopped. But the -90% adjustment doesn't solve the issue. Dealing with it by making high downward adjustments, your bid becomes uncompetitive.
How to fix it?
If you aren't seeing any performance, check bid adjustments at different levels: campaign, ad groups, keywords. Set bid adjustments that are not so extreme, and wait for several hours. If you have no results, continue to follow the further checklist items.
Why Your Google Ads Are Not Showing: Targeting and Keywords Issues
8. Targeting Scheduling Mistakes
In Google Ads, you can set the schedule of your ads by day of the week and time of day. If the schedule is set incorrectly, there will be no ad performance (or ads will start showing on the wrong days and times).
Let's take a closer look at common time targeting mistakes.
The ads may be stopped during an active time of the day
This can happen because of the confusing layout of the Google Ads schedule setup. It is easy to make a mistake here, especially if the schedule is complicated. What's more, the mistakes can occur because of incorrect search demand analysis (for example, if you analyze the search queries at short time intervals).
An example of an ad schedule in Google Ads: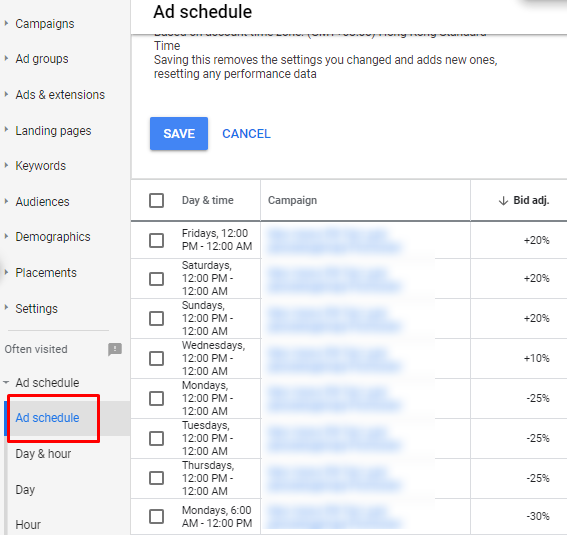 Time zone mismatches
You should take into consideration the time zone of your account and those of your customers. For example, if your company is registered in Hong Kong, the account time will be GMT+8, and the ad schedule will match GMT+8. But if you target a New York audience, the difference in time will be 12 hours. Thus, you should always bear in mind time differences.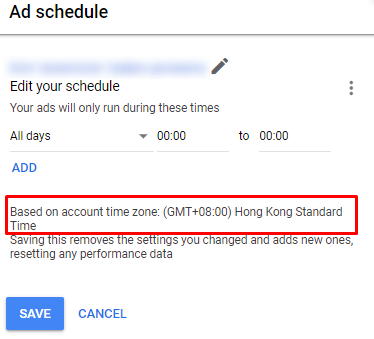 9. Keywords search volume is too low
If the targeted keywords are too low-volume, the ads won't show. Google temporarily makes these words inactive, so they don't trigger your ads. 
Why the search volume could be too low:
You deal with a completely new product, and nobody knows about it yet.
You have a specific product for a narrow audience.
Your product is seasonal, and the search demand is temporarily low in the "off season."
You use keywords with a too-long "tail."
How to fix it
Strangely enough, the best thing is to do nothing. If you've just run your ads, wait a couple of weeks. Perhaps the demand will increase and the traffic will come.
Change the keywords to "grab" users from Search; you can cut the "tail" of the phrase, change the wording or format, or use a phrase or broad match instead of an exact one.
Before adding keywords to your campaign, check their search volume first. You can do it using the PromoNavi Keyword Planner tool. Enter keywords to see their average monthly searches in the selected country. While there, you'll also get new keyword ideas, see the seasonal trends, keyword difficulty, and CPC.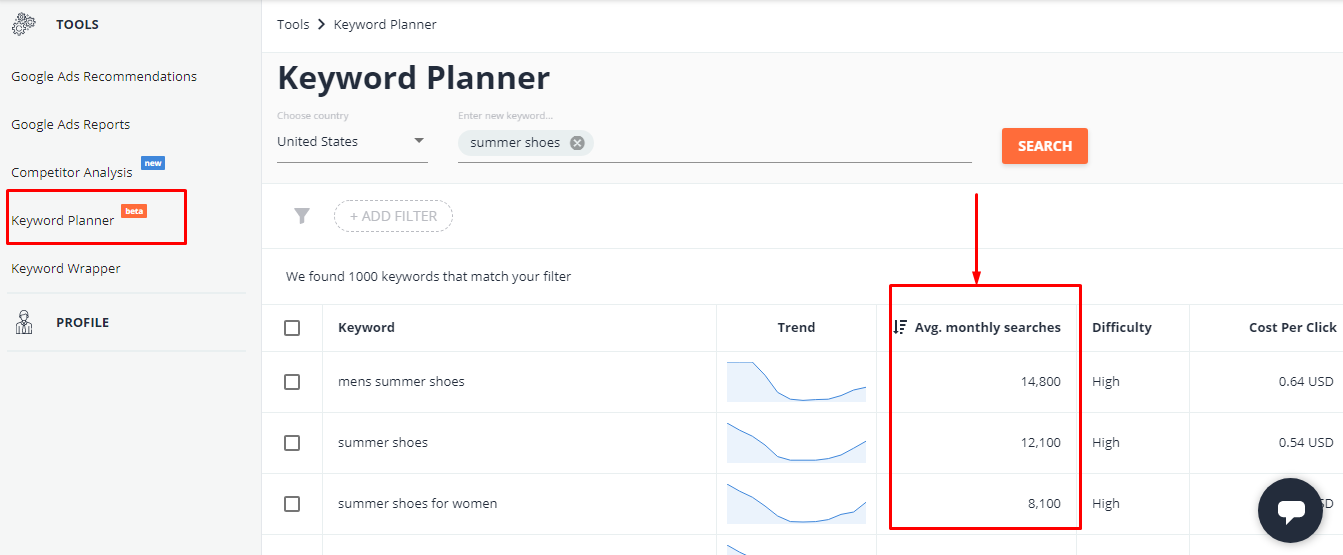 10. The Ads Get Blocked by Negative Keywords
Adding negative keywords is a great way to cut irrelevant traffic. But the incorrect selection of negative keywords results in limited shows.
Let's take an example.
You're running an ad on the keyword phrase "CRM free demo." The advertised CRM system is not free, which is why you are not interested in traffic on the "free CRM" query. So, you add the phrase "free CRM" to the negative keywords list. In this case, these ads won't be shown even for the targeted phrase "CRM free demo."
How to fix it
Use exact match negative keywords instead of broad match ones. Enclose conflicting negative keywords in square brackets.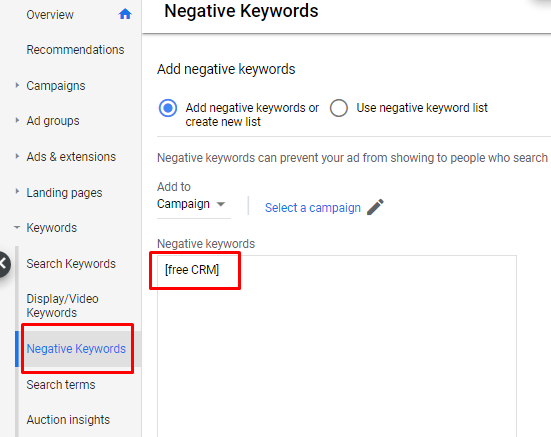 Now, your ad will be eligible to show for those who search free demo versions of CRM, and ineligible to show up for those who are interested in just free CRM.
Note! In Google Ads, the exact match is not so "exact." Shows may occur due to related negative keywords variations. So, enclose in square brackets all word forms.
Another example…
You're running an ad on the keyword phrase "buy shoes." Also, you have a negative keyword on the campaign level for the same phrase "buy shoes." In this case, using an exact match for the negative keyword is useless. The only way out is to remove this negative keyword.
How to find conflicting negative keywords?
It's possible with the help of the PromoNavi Conflicting Negative Keywords tool. The tool finds negative keywords that block normal keywords from matching relevant search queries. You could remove these negative keywords in one click to make your campaign more effective.

11. Irrelevant keywords in ad groups
The ads should be relevant to the users' search queries. Thus, it's preferable to combine keywords in one group with the same search intent. 
Here is an example. You're promoting washing machines. You have three phrases:
"washing machine"
"washing machine bosch"
"washing machine bosch wan24260by"
When a user enters a search query "washing machines," he only starts choosing. It's quite logical to offer him the catalog with your entire washing machine assortment.
"Washing machines bosch" is a query of a user who is interested in a particular brand, and he needs a page with Bosch washing machines.
The last search query is the "hottest" one. A user is seeking an exact model, and he is almost ready to buy. The specific product page will be the most relevant here.
So, if the ads aren't showing, check your ad groups for irrelevant keywords. Move these keywords to new ad groups with their own ads, or remove them completely.
Why Your Google Ads Are Not Showing: Ads and Landing Pages Issues
12. Low Ad Rank
The position of the ad depends on the Ad Rank. The Ad Rank depends on 6 factors:
Max bid
The competitiveness of an auction
The context of the person's search
Auction-time ad quality (including expected CTR, ad relevance, and landing page experience)
The Ad Rank thresholds
The expected impact from your ad extensions
As you see, at least 3 factors concern your ad's quality. So, a low-quality ad gets lower positions (or even can't get shows at all).
How to improve the ad quality
Fill in all the available headlines (3 fields), descriptions (2 fields), and display path. Also, add some extensions (sitelinks, callouts, lead forms, etc.) to add some weight to your ad. The "fatter" your ad, the more informative and attractive it is. Just compare these two ads to feel the difference: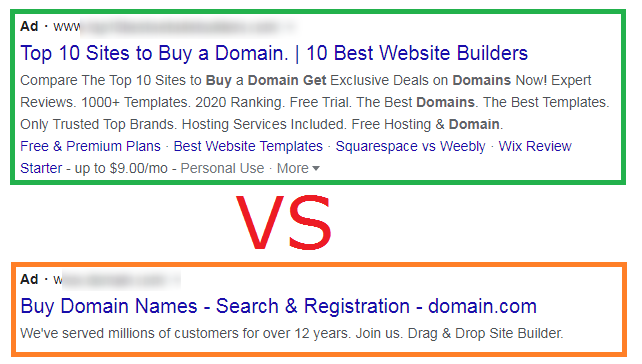 Add keywords in headlines and descriptions (but not too – much to avoid spamming). Here is a good example:

Use relevant final URLs in your ads. Correctly selected URLs increase the Quality Score of your ads and make them drive more conversions.
In the ad text sections, point out important information: prices, delivery conditions, the main product features. Avoid platitudes – stick to the point.
13. The Dynamic Search Ads Performance Issues
Dynamic Search Ads use your site content to target your ads. You don't need to set the keywords and write ad headlines – Google does it for you. Everything seems to be extra-convenient, but there are some pitfalls here that could collapse your ads' performance.
If you choose Google's index of your website as a targeting source, all the targeted pages should be indexed. Otherwise, Google won't be able to find relevant pages and generate ads.
If the targeting source is your page feed, it should be downloaded to the section "Business Data" beforehand. Otherwise, your ads won't show.

Other reasons include…
The Dynamic Ad targets may be omitted or set incorrectly.

There is not enough content on the landing pages, or the content is very specific or too frequently updated (for example, every day). In these cases, Google won't be able to detect keywords and generate ad texts.
The domain doesn't support an HTTP prefix. It will be disapproved because "Destination is not working."
14. Your Ads are Not Approved
All ads are reviewed before running. If the ads don't comply with Google Ads policies, they get declined. All the information about ad approval status is available in the Google Dashboard.
Why your ads may be declined
Your content is forbidden for promotion (counterfeit goods, recreational drugs, psychoactive substances, equipment to facilitate drug use, hacking software, etc.)
You've provided an incomplete package of documents or you have issues with them: they are out of date, falsified, illegible
The landing page content doesn't match the ad text
Final URLs have different domains set within the same ad group
The text is written in CAPSLOCK, w i t h  g a p s, with lots! of exclamation marks!, etc.
The text is not informative, too short, or spammed with keywords
The essential list of the requirements for ads is here.
15. Automated Ad Review
Once you've created an ad, it is sent for review. You don't need to do anything—the process is automated. In most cases, the reviewing process lasts up to 24 hours. So, be patient and don't expect your ads to show immediately after creating.
If the status of the ad is still "Under Review" within 24 hours after creation, contact Google Support then.
Make the most of your PPC campaigns with PromoNavi! Save time managing your Google, Microsoft, and Facebook Ads accounts within a single platform and get profitable insights to boost your KPIs.

Get started with a 14-day trial with unlimited access to all the features!