If you are already running ads on Google Shopping or Amazon or just about to launch your first campaign, you may wonder which is the right advertising platform for your products? Which platform can better increase your online presence and revenue? Where, as a retailer, should you concentrate your marketing efforts?
Every business is unique, and one solution doesn't fit all. Traditionally, many advertisers focus on Google, but times are changing. Over the past years, Amazon has been scaling up, and retailers have reevaluated their advertising strategies. For many of them, Amazon is a logical choice to move beyond their current sales.
However, there are pros and cons for both platforms. Let's see what are the differences between Google Shopping Ads and Amazon Product Ads, and what you should consider when investing your marketing budget.
Quick Links
Google Shopping vs. Amazon Sponsored Product Ads: the Comparison Table
What are Google Shopping Ads
With Google Shopping ads or Smart Shopping campaigns, retailers can promote their products to consumers on Google. Those ads are located on the very top of the SERP and Google's Shopping tab.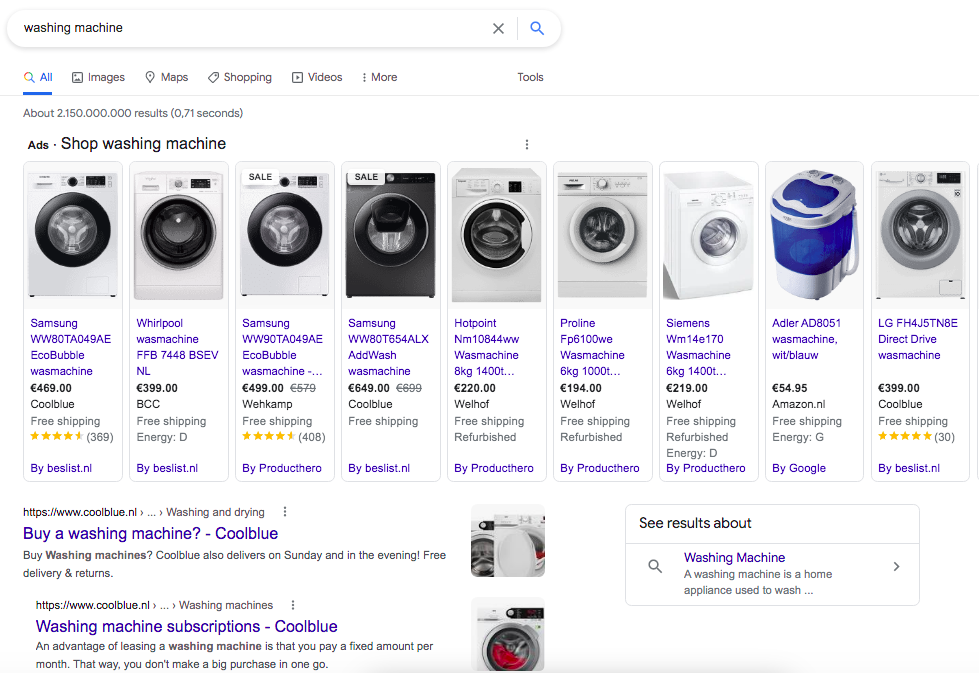 Google Shopping ads on the All tab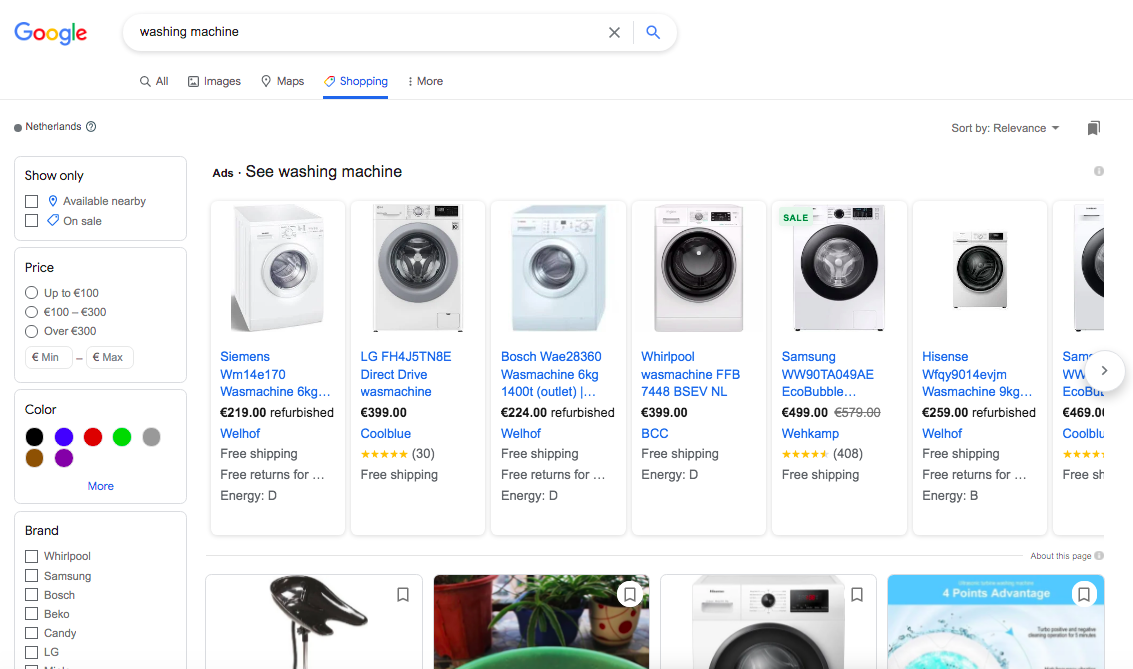 Google Shopping ads on the Shopping tab
Google's shopping ads provide customers with details about the product, such as product name, description, image, price, store name, user ratings, and additional information like shipping, discounts, and more. 
Unlike paid search ads, Google Shopping ads aren't targeted by keywords. Instead, Google decides what to display based on information from the data feed that the advertiser provides through Google's Merchant Center. You can learn how to do it from our blog post, 3 Ways to Create a Google Merchant Feed For Your Shopify Store (helpful not only for Shopify store owners). 
For more insights on Google Shopping campaigns and how they work, read one more blog post, 20+ Reasons Why Your Google Shopping Ads Are Not Showing.
What are Amazon Product Ads?
Amazon has its native ad platform—Amazon Ads. It allows sellers to run Sponsored Product Ads across the website, including product pages and search results. Amazon's ads are available to first-party vendors and third-party sellers and show up on Amazon exclusively.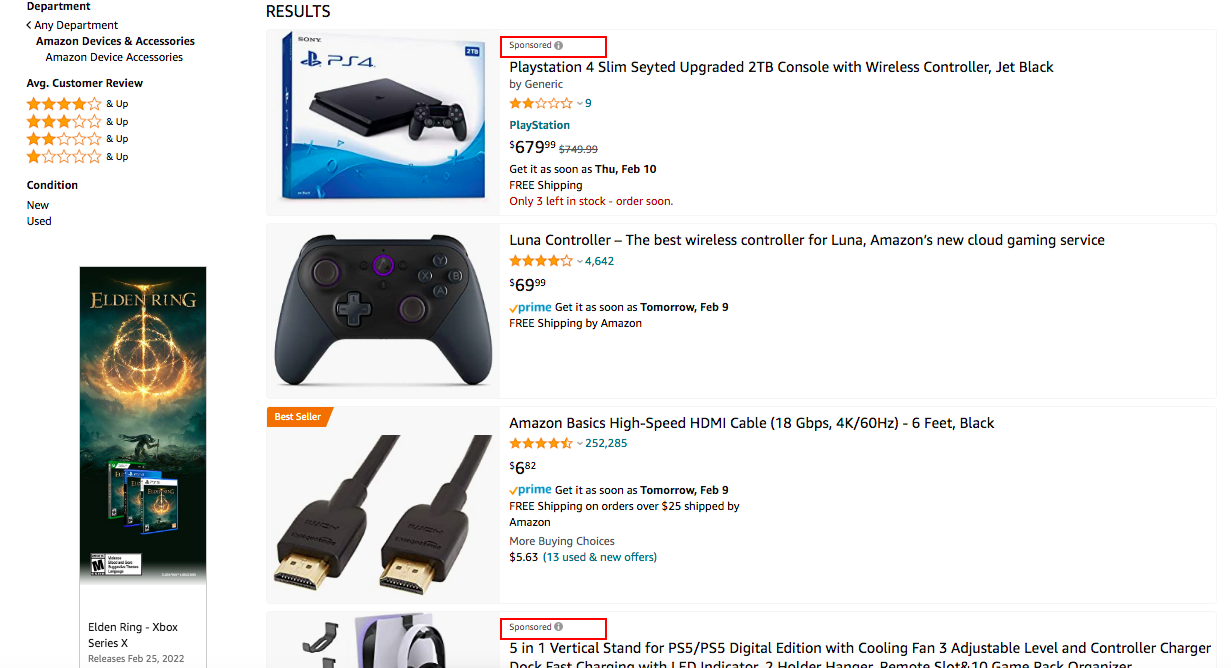 Amazon's Product Ads on Amazon's search results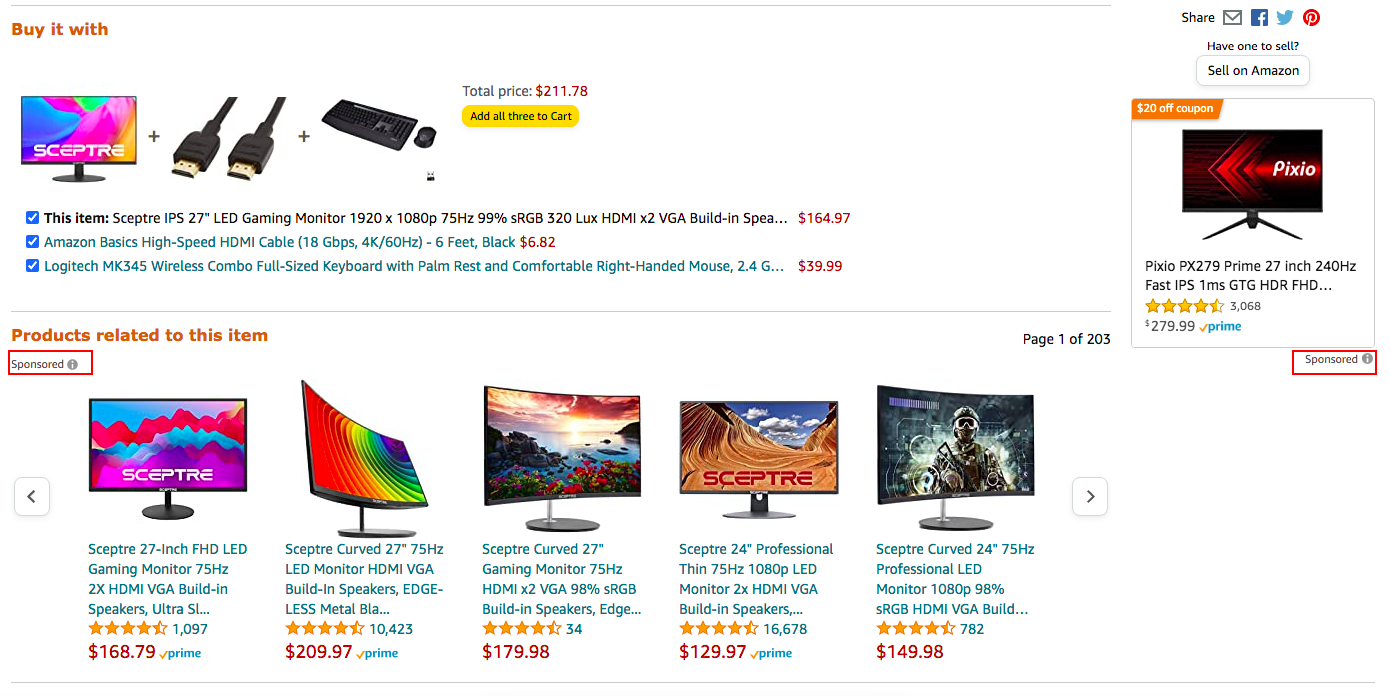 Amazon's Product Ads on Amazon's product page
Amazon Sponsored Product Ads look similar to Google Shopping Ads: they provide a product image, display the product name, price, user rating, etc. 
Now, as you already know, what the formats look like and where they appear, it's time to discuss the pros and cons of each ad type.
Pros of Google Shopping
Show your products almost worldwide
With Google Shopping, you can reach consumers in more than 90 countries. You will find the list of current countries and conditions in Google Merchant Center Help. 
Compared to Google, Amazon has a very limited list of eligible territories. To date, you may advertise just in 15 countries: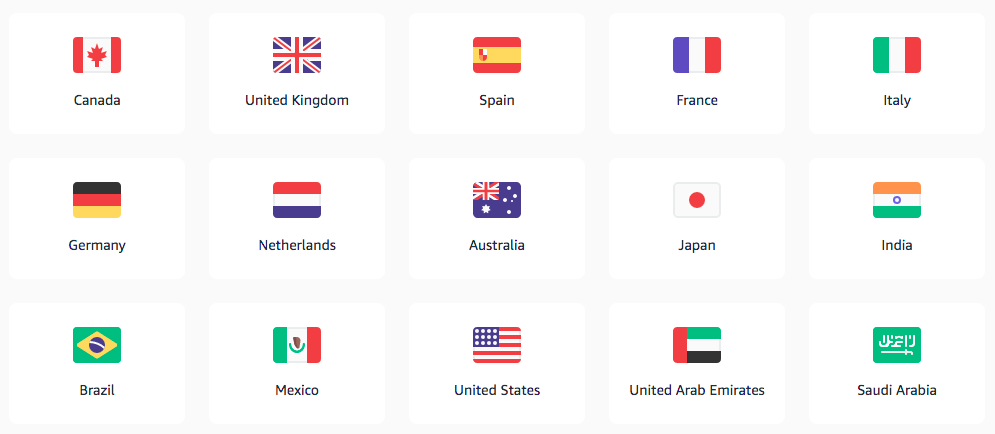 For some businesses, this difference may not matter. For example, if you only sell to the US and Canada, it doesn't matter that Amazon can't reach customers in many other countries. However, it's crucial to think about your audience's demographics when comparing these two platforms.
Sell Products on Your Website
With Google Shopping ads, you drive clicks to your own website. Users click on your ad from the SERP and land on your website, where they can browse other products you offer. You are also not limited to Amazon's page layout, and your landing page can look any way you want.
With Google Shopping, you are free to experiment with design to drive more conversions: your website—your rules.
Highly customizable campaigns
Google Shopping Campaigns provide a lot of space to manage and customize them. This can be frustrating for beginners because there are so many details to consider, from feed creation to bid management. 
Luckily, there are a lot of automation solutions for Google Shopping. For instance, if you own a Shopify store, you can install the PromoNavi app and then, within a few clicks, create a product feed and launch a Shopping campaign tailored to your needs.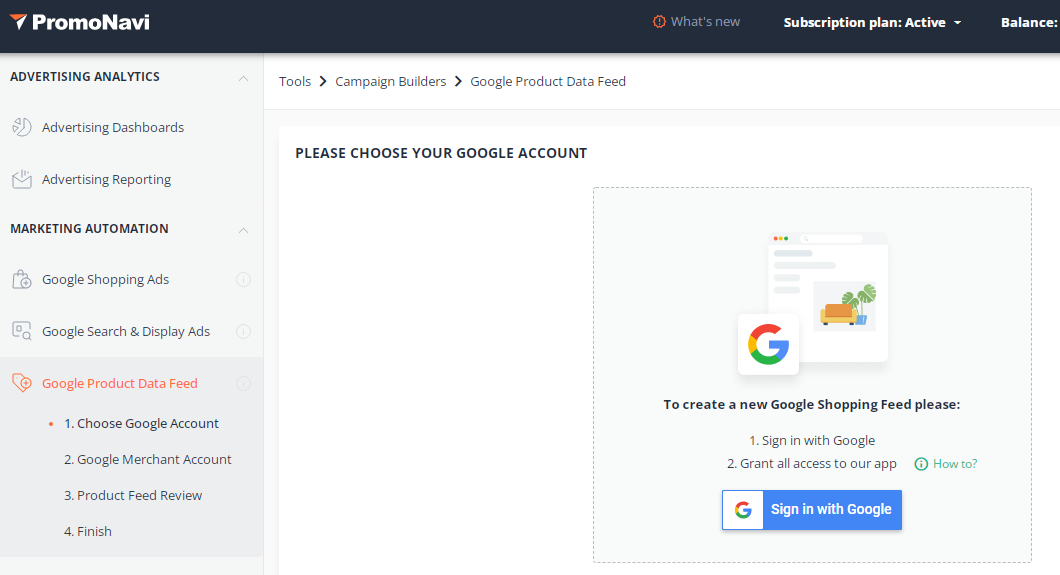 Better brand visibility
On Google Shopping Ads, your brand's name appears below your product image, title, and price in blue font. So it's easy for users to spot and remember your company.

Unlike Google Shopping Ads, Sponsored Products on Amazon don't include the name of your business. You can incorporate your brand name into the product title, but it will not be as easy to spot as with Google Shopping Ads.
However, this shouldn't be an issue. With both platforms, your aim is to see immediate results and drive sales, and brand awareness focuses on a long-term return.
Cons of Google Shopping Ads
High competition
One of Google Shopping's downsides is increased competition on the platform. This results in higher CPC, and it can be hard to get through, especially for smaller businesses. We will focus on the average CPC for both platforms in later sections.
Keyword targeting is not available
Unlike regular Google Ads or Amazon's Sponsored Product ads, you can't specify keywords you want to target using Google Shopping campaigns. So, for example, if you sell sunglasses, you can't create ad groups that target keywords related to specific products. 
Instead of keywords, Google uses your product information (title, description, category) to decide when to show your ad. As a result, you can't optimize ads for high-value keywords, and you rely entirely on Google's algorithm. 
Pros of Amazon Advertising
Audiences With a High-Purchase Intent
Both Amazon and Google Shopping focus on audiences that are ready to buy. However, people who go directly to Amazon can be lower-funnel users compared to Google. They are more willing to buy a product, not just research and compare options.
According to Statista, Amazon accounted for 41 percent of the US eCommerce market. Just as Google is the go-to place for searching, Amazon is the hub for shopping.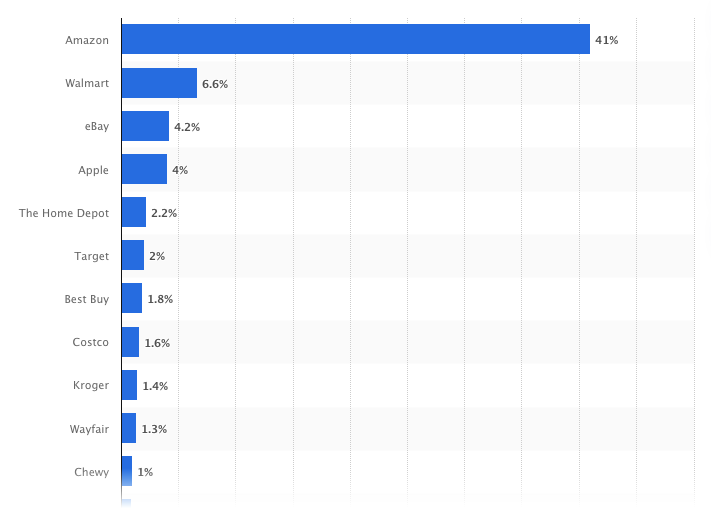 Market share of retail eCommerce companies in the US, October 2021
Lower competition
Amazon Ads is a smaller platform, and you can start there before your competitors. With lower competition, costs can be lower too. Depending on products, clicks on Amazon Ads may be cheaper than on Google Shopping. 
For example, the current average CPC on Amazon is $0.89, while the average Google's CPC for the e-commerce industry is $1.16. The difference ($0.27) may seem not so dramatic at first sight, but with 300 clicks per month, this makes $81 monthly or $972 yearly. You could reinvest this money in more clicks and revenue for your store.
These numbers display the average CPC. Depending on the niche, CPC may vary, so you should explore CPC for your products before deciding how to allocate your budget.
Unique placement options
Unlike Google Ads, your Amazon Ads may appear not only in search results but also on product pages. This means you can show your goods to people who are considering your competitor's products. It's like having your ad on a competitor's website.
Cons of Amazon Advertising
Commission
The commission makes a significant difference between advertising on Google Shopping and Amazon. While you pay for clicks only on Google, Amazon charges an additional commission on sales driven by ads. 
The commission depends on your selling plan (Professional or Individual), country, and product category. The average commission is about 15%; you can explore the details on Amazon Seller Central.
More manual work
Unlike Google, Amazon has limited bulk editing options. This means you have to build each campaign individually, add products, and set bids. If you have multiple goods, this will be time-consuming. With Google Shopping campaigns, especially if you use automation tools like PromoNavi, you can create ads for hundreds of products within minutes.
Lack of transparency and documentation
Some resellers criticize Amazon because of its unpredictability. The platform changes the rules unexpectedly, and advertisers have to adapt on the go. In general, Google is much more transparent in many ways, including massive amounts of documentation, expert advice, and support. For Amazon, the strategy is often trial and error, while Google has clear guidelines.
Google Shopping vs. Amazon Sponsored Product Ads: the Comparison Table
To make it easier for you to weigh the pros and cons of these two platforms, we created this comparison table. Here you can see all the differences at a glance.
Parameter
Google Shopping Ads
Amazon Sponsored Product Ads
Global reach
90+ countries.
15 countries.
Where do the ads show
Google's SERP and Shopping tab.
Amazon's search result page and product pages.
Where do you drive your audience to
Your website.
Your product page on Amazon.
Cost
Higher CPC.
No additional fees.
Lower CPC.
Extra fees.
Ad customization 
More customizable.
Less customizable. 
Brand visibility
An extra line for the brand name.
No extra line for the brand name. You may include it in the product title.
Keyword targeting
No keyword targeting is available.
You can target ads by keywords.
Audience's purchase intent
High purchase intent.
The purchase intent is even higher.
Transparency and documentation
Very transparent; many guidelines and detailed documentation.
Less transparent; you learn from mistakes. 
Time costs
Less time-consuming, especially with automation tools.
More time-consuming.
Final Thoughts
After all, do we have a clear answer, which platform is better, Google Shopping Ads or Amazon Ads?
To be honest: it depends. 
Both platforms are places to catch low-funnel customers with a clear buying intention. If your budget is large enough for both of them, and you already sell on Amazon, we would recommend profiting from their combination and not limiting your efforts to one platform.
Still, if you need to choose just one platform, your decision should depend on your business specifics and current goals. 
For example, if you sell exclusively on Amazon, don't have a big budget, and your shipping countries correspond with Amazon Ads eligible countries list, you may confine or at least start with Amazon Product Ads. You can save some advertising budget and reinvest this money in more clicks. Another Amazon's advantage may be that the conversion rate could be higher because people are more likely to buy goods if they search for them there.
On the other hand, if you have your own website and want to reach out to a larger audience, Google Shopping Ads would be a better choice. You will drive traffic to your website, which can result in higher brand awareness and business growth outside Amazon with its fees and commissions. And Google is clearly the only place to go in this dichotomy if you sell outside of the 15 Amazon's currently eligible countries.
Whatever your choice is, both Google Shopping and Amazon Sponsored Product Ads can drive valuable leads for your business, help you grow and thrive. You can experiment and compare ROI from both sources to determine which one is better for your unique business and customers.
Promoting your Shopify store on Google is expensive and time-consuming? With the PromoNavi App for Shopify, you don't need to waste time and overpay agencies for advertising your products—you just take a couple of minutes to set up a campaign, and you'll start receiving customers right away!