Google Analytics is not the only analytic tool. And not the only free one. 
Some other web analytics platforms are easier to use, some of them provide deeper insights, some are more suitable for marketers, product, or content managers. If you are concerned about your and your users' data privacy, you can also consider using another tool.
If you are looking for an alternative or an addition to Google Analytics, take a look at our list.
Quick Links
Clicky
Clicky offers real-time analytics for your website. It tracks the key performance metrics as well as provides heatmaps, shows visitor actions, and more. The platform is easy to use and is a good alternative to Google Analytics.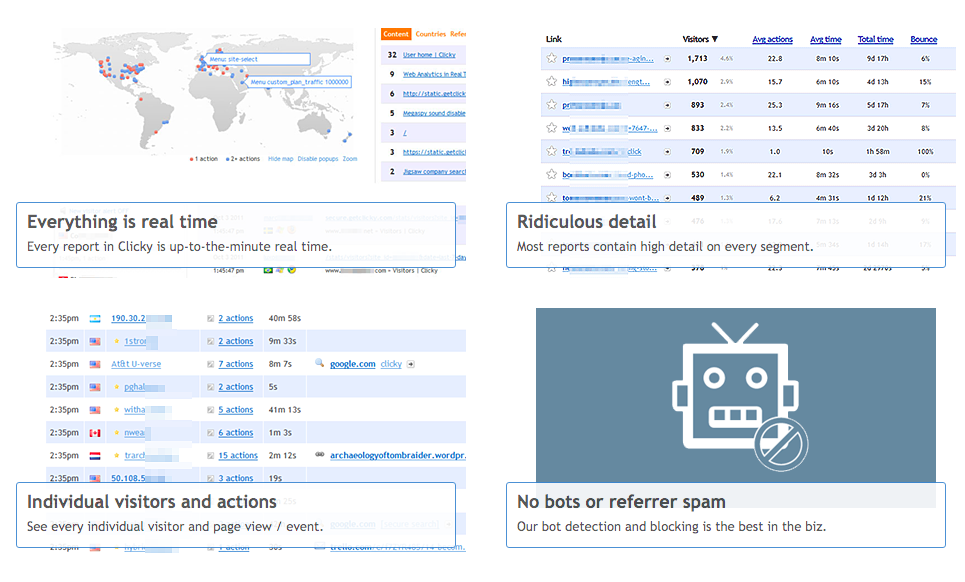 Image source: Clicky's homepage
Key features
Real-time reports.
High-level filtering and segmentation options.
Individual visitors action tracking.
Referrer spam and bot filtering.
Heatmaps by page, visitors, and segments.
On-site analytics widget.
Uptime monitoring with an alert system.
Filters to ignore traffic based on country, referrer, and more.
Search keyword rankings.
Goals and conversions tracking, incl. dynamic goals.
Split testing.
Funnel/path analysis.
White-label reports.
Pricing
A free package is available. The next level package starts at $9.99/month or $79.99/year. Heatmaps and uptime monitoring require a Pro Plus or higher account starting at $14.99/month or $119.99/year.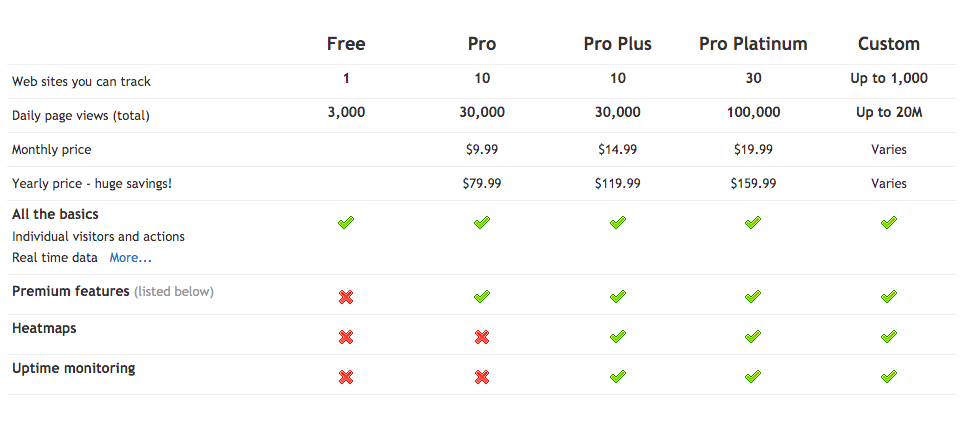 Image source: Clicky's pricing section
GoSquared
GoSquared is an alternative to complicated analytics systems and has intuitive dashboards.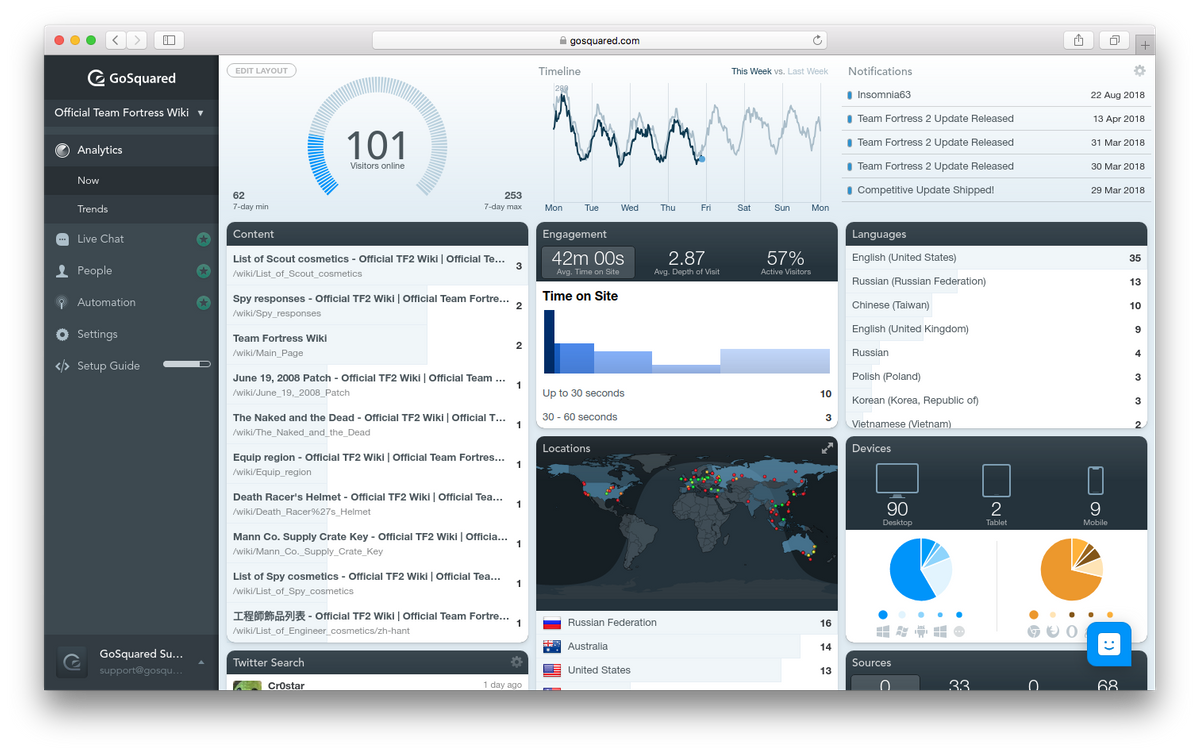 Image source: GoSquared's official website
Key features
Real-time dashboard.
Trends dashboard.
Real-time eCommerce analytics.
Map view of your visitors.
Visitors' data is anonymized.
Downtime alerts.
Visitor-level details.
Event tracking.
Daily email-reports.
Integrations with Slack, Zapier, Twitter, Webhooks, WordPress, Shopify, Google Tag Manager, Squarespace, Joomla, Drupal, Magento, and more.
Pricing
A free limited-use plan is available; paid options start at £29/month. You can start with a free trial.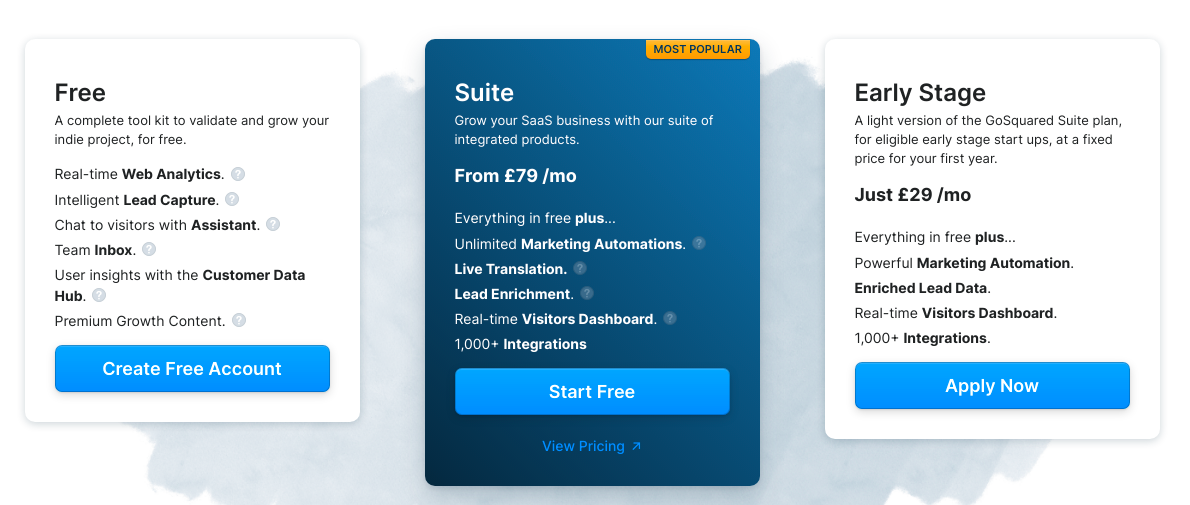 Image source: GoSquared's pricing page
Finteza
Finteza is an advanced web and app analytics tool. In addition to other features, it can help you build and analyze conversion funnels so that you have a clear picture of your customer's journey.
Key features
Traffic quality evaluation: Finteza's bot recognizes bad traffic, its type, and source.
Automated funnels by pages, events, and sources.
Audience analysis (device, location, IP, etc.).
Page analytics.
Automatic real-time conversion calculation for all sources.
Ready-made plugins for integration with WordPress, Drupal, Joomla, and other popular CMS.
Built-in bot detector.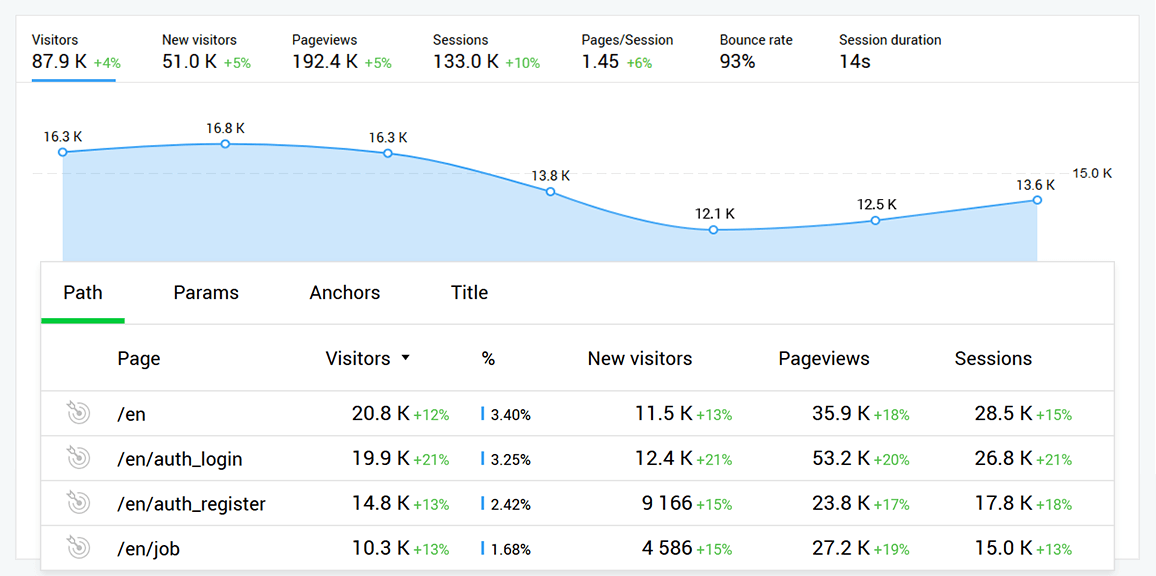 Image source: Finteza's homepage
Pricing
You can start with a 30-days free trial; after 30 days, you will pay $25/month per 100,000 unique visitors.
Matomo
Matomo, previously known as Piwik, is a powerful Google Analytics alternative. Unlike its main competitor, Matomo has an open-source code, 100% data protection, and strict privacy rules. As their website states, the service is trusted by the United Nations, NASA, Amnesty International, Red Bull, Huawei, and European Commission.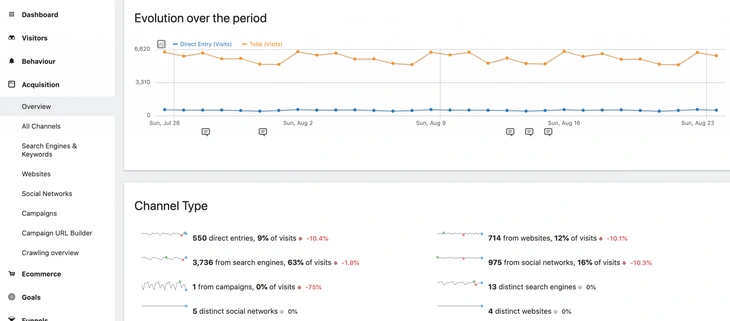 Image source: Matomo's official blog
Key features
Matomo is an ethical alternative to GA; it doesn't use visitors' data for any «own» purposes. You can even use Matomo without asking for the user's consent.
An open-source tool.
Accurate data instead of data samplings.
Highly customizable.
You can import your historical Google Analytics data to your Matomo account.
Heatmaps.
Session recordings.
Funnels.
A/B testing.
Visitor profiles, so that you can evaluate every action an individual user has taken on your website.
Enhanced SEO reports.
Tag manager.
Integration with WordPress, Joomla, WooCommerce, Magento, Drupal, Moodle, and 100+ more technologies.
Pricing
Pricing options depend on your website traffic, hosting (on your servers or Motomo's cloud, and features you want to use). The Cloud plan starts at €29/month.
Open Web Analytics
Open Web Analytics is an open-source web analytics framework.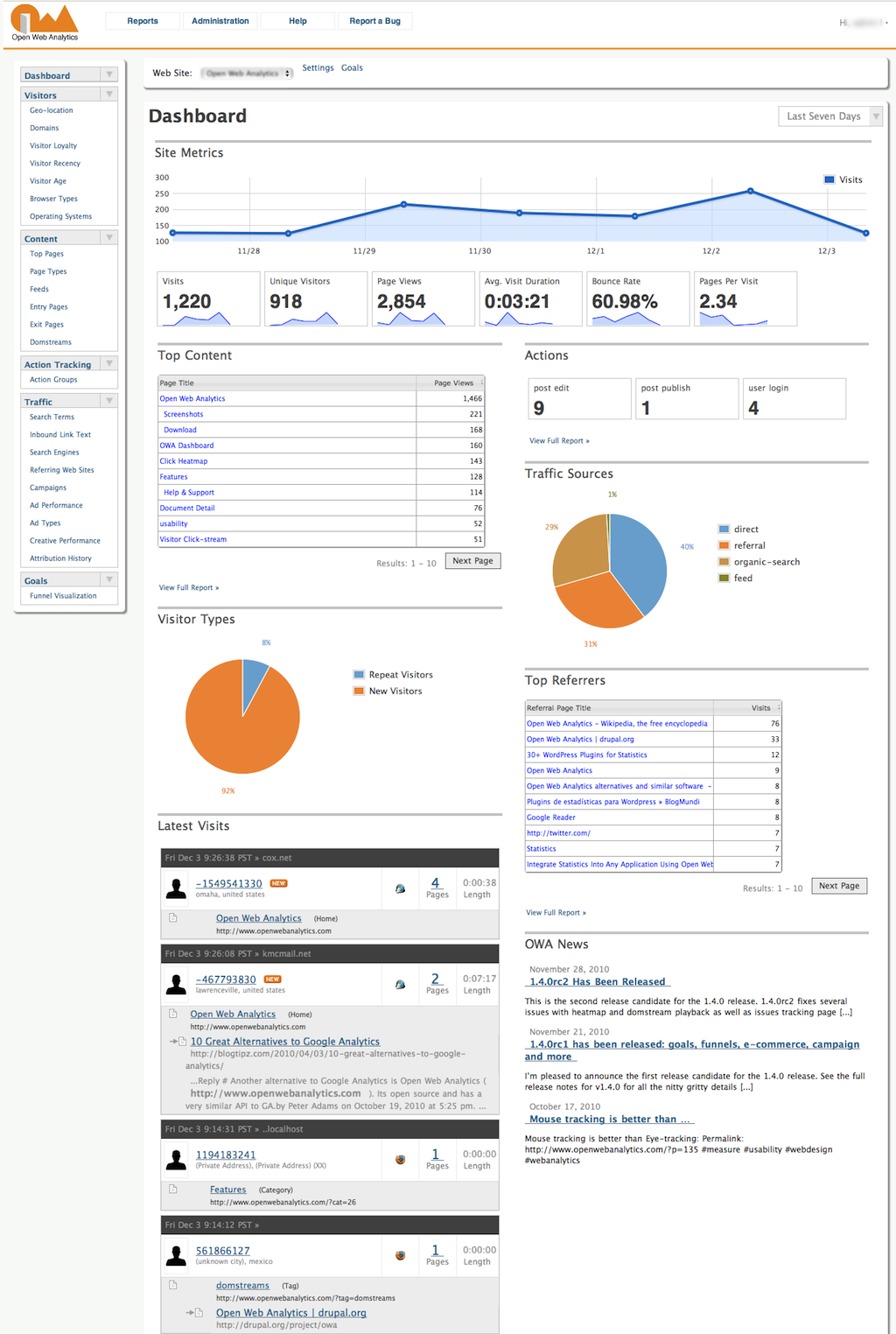 Image source: Open Web Analytics website
Key features
Stats on unique and repeated users, sessions and pageviews, average session duration, and bounce rates.
E-commerce analysis: revenue, transactions, conversion, etc.
Data on login and exit pages, traffic sources, search queries, and goals.
Heatmaps.
Audience insights: location, age, browser, etc.
With technical skills, you can adapt the system for any project—there are modules and APIs available.
Pricing
Open Web Analytics is an open-source tool, licensed under GPL, so it's free to use. You can support this project with donations.
Рanelbear
Panelbear is a fast and simple analytics platform that doesn't use tracking cookies nor does it track personal data. 
Key features
Real-time dashboards.
Cookie-free analytics.
Filter and compare options for any metric.
Automated alerts for traffic spikes and increased page load times.
Shareable dashboards
Weekly or monthly email reports.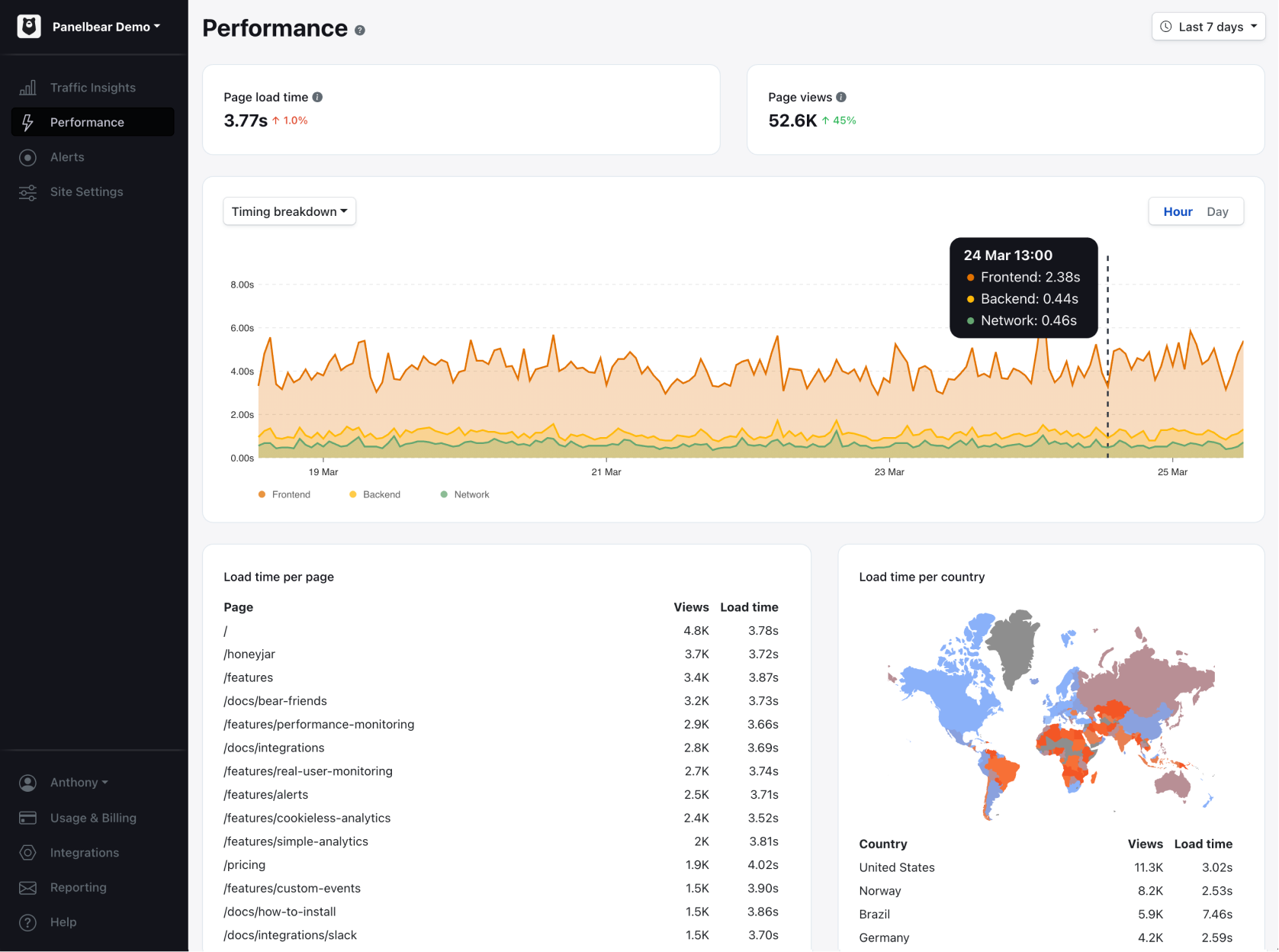 Image source: Pannelbear's homepage
Pricing
Panelbear's pricing plans range from $9 to $249/month. For a smaller project, you can try the free option.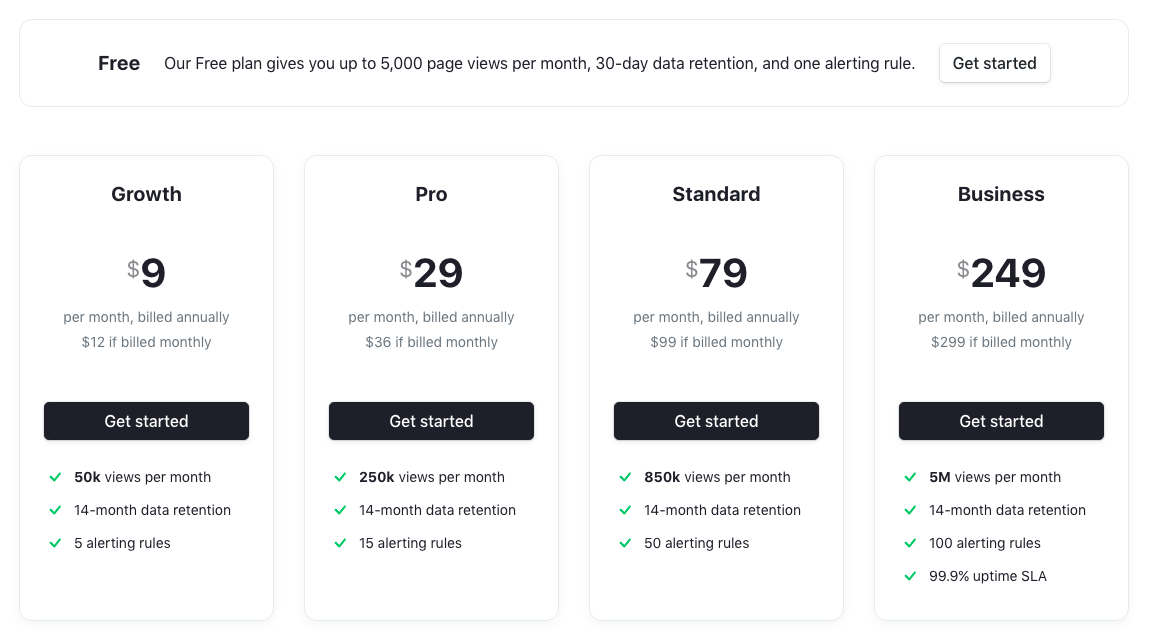 Image source: Pannelber's pricing section
ReactFlow
ReactFlow is a web analytics service with a focus on data visualization for marketers, UX designers, developers, and product managers.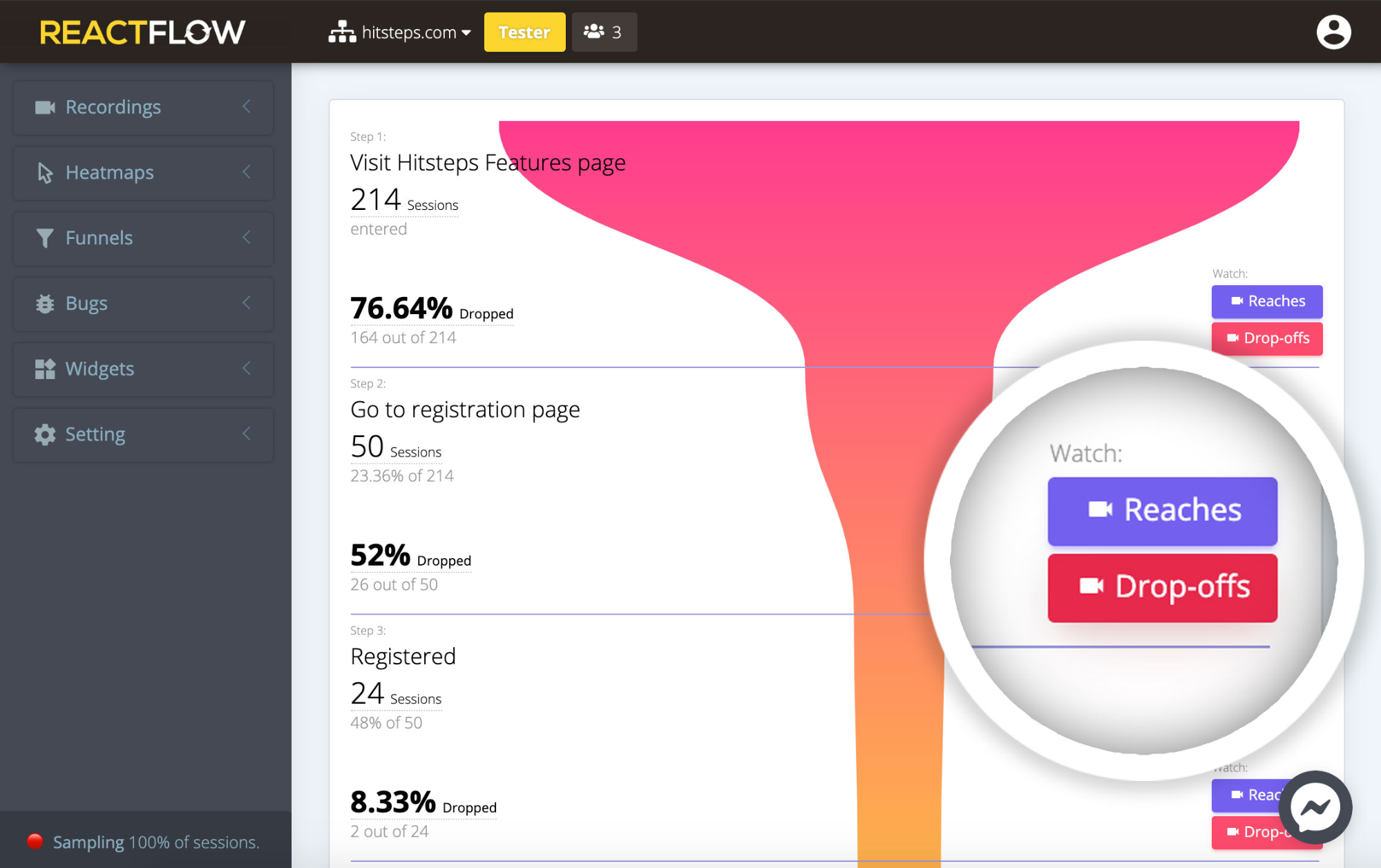 Image source: Reactflow's website
Key features
User's activity recording.
Advanced heatmaps to identify what is working and what needs to be changed.
Detailed funnels.
Bug notifications and analytics (Javascript and Network errors, 404 error).
Collecting visitors' feedback.
Pricing
There are both Individual and Business plans available. Individuals can choose between a free option with limited functions and a PRO plan for $19.99/month. Business pricing depends on traffic starting at $19.99/month for up to 5k daily pageviews. All plans come with a 14-day free trial.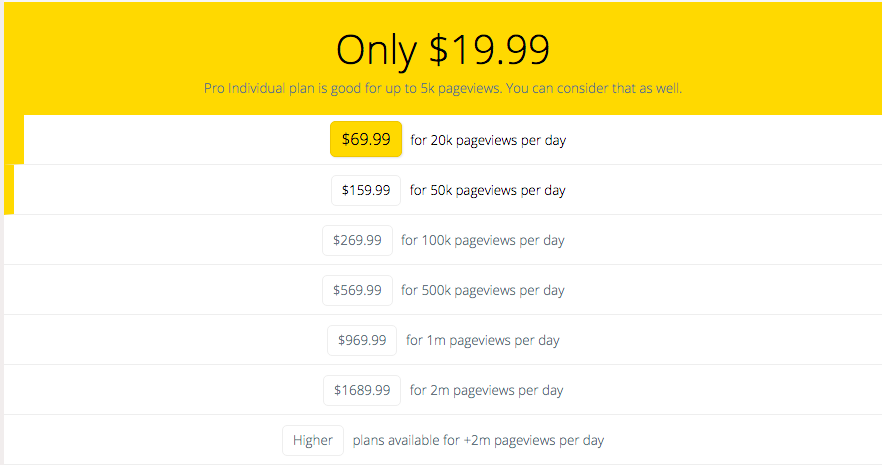 Image source: Reactflow's pricing page
StatCounter
StatCounter is an easy-to-use real-time web analytics tool focused on the user journey. You can use StatCounter on the go; Android and iOS apps are available.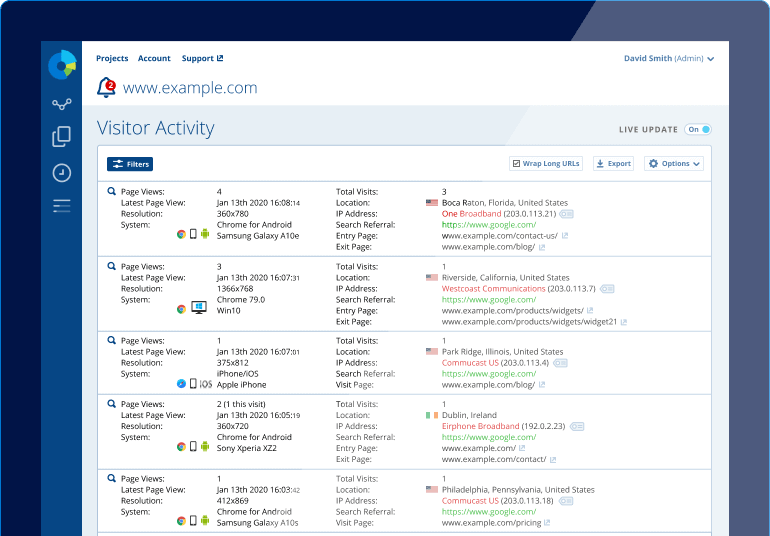 Image source: Statcounter's website
Key features
Well-visualized reports dashboard with key metrics: traffic sources, visitor location, engagement, operating system, popular pages, and more.
Traffic trends over time.
Google keyword data.
Paid traffic monitoring (Google Ads, Facebook, Twitter); click fraud detection.
Real-time visitor activity feed.
Notifications about specific important visitors.
Daily, weekly, or monthly email reports.
Pricing
There is a free plan for blogs and hobbyist websites available and a Premium plan for businesses. The premium options start at $9/month for 100,000 pageviews. You can get a discount for annual billing and begin with a 30-day free trial.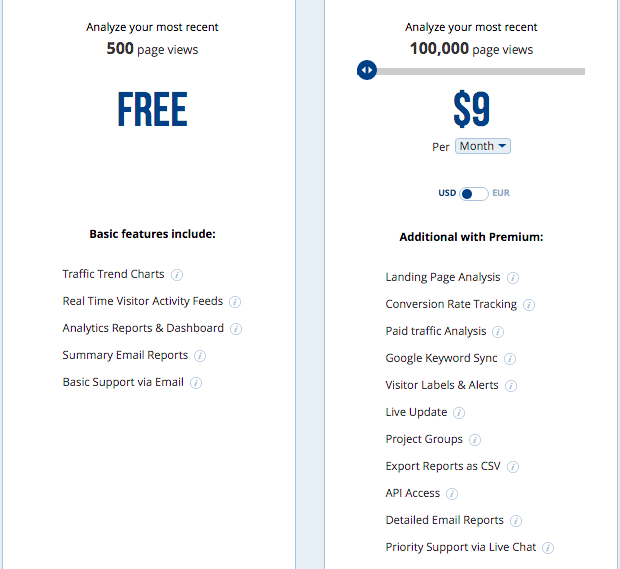 Image source: Statcounter's pricing section
Umami
Umami is a convenient and straightforward web analytics solution. This open-source service relies on privacy, does not use cookies, and works with GDPR.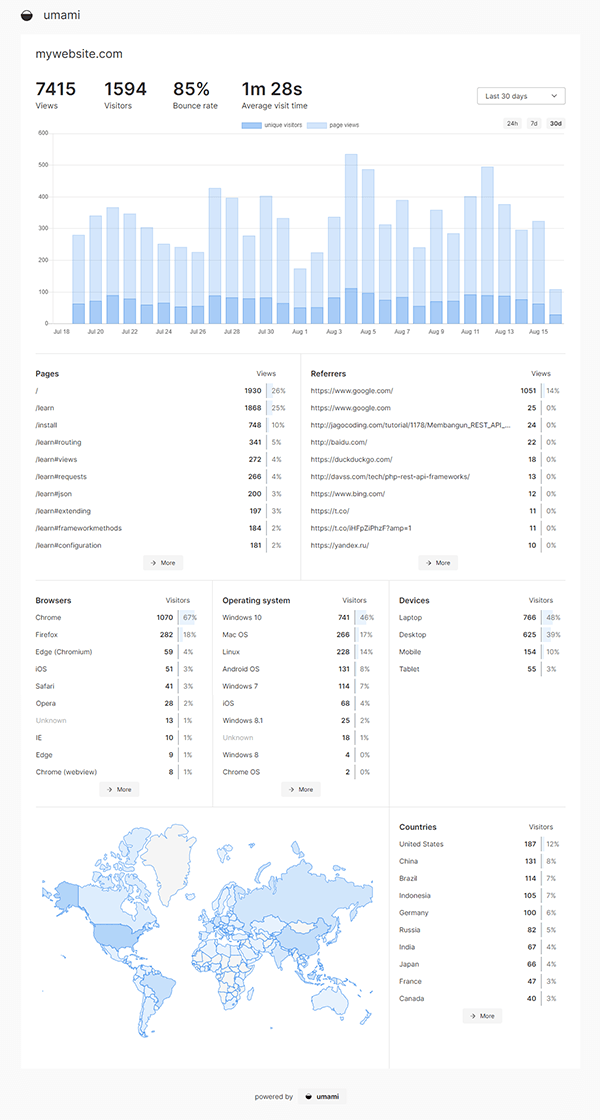 Image source: Umami's official website
Key features
Track an unlimited number of websites from a single installation.
The tracking script weights only 2KB.
You own all the data because the service is self-hosted.
Anonymizes all collected data.
All essential metrics are collected on a single page.
Mobile-friendly interface.
Share your reports and tracking data via URL.
Pricing
Umami is an open-source solution, so it's free to use under the MIT license.
Woopra
Woopra is an analytics service focused on the customer journey.

Image source: Woopra's Analytics section
Key features
Journey reports.
Trends reports to find out how main metrics change over time.
Cohort reports analyzing growth trends over time and measures patterns throughout the customer lifecycle.
Retention reports.
Behavioral segmentation with dynamic user segments.
Woopra also provides tools to create individualized user experiences and engage visitors with built-in triggers.
Pricing
Woopra provides a free plan with limited functions. Paid options start at $349/month. A 14-day free trial is available for all plans.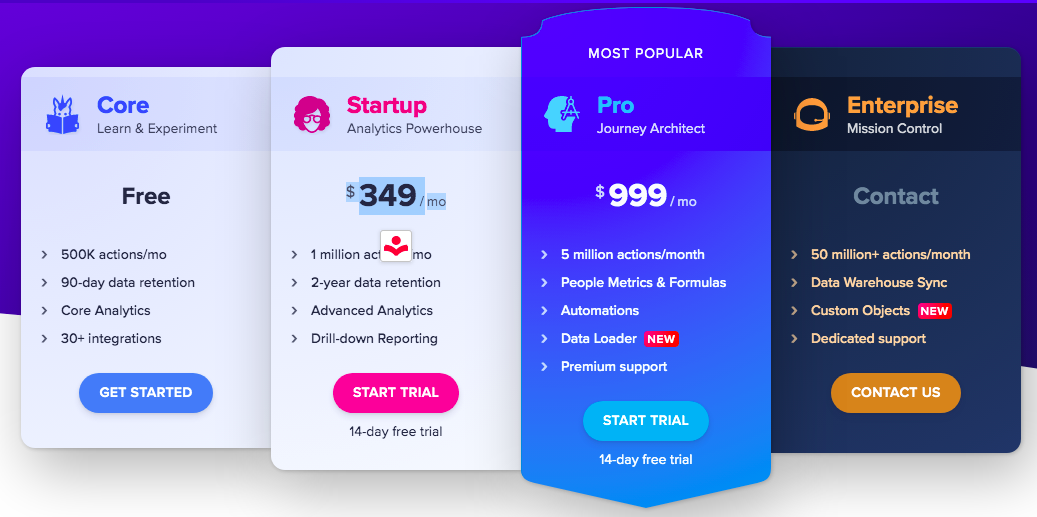 Image source: Woopra's pricing page.
20 More Google Analytics Alternatives
Choose your best Google Analytics alternative or an addition to GA to dive deep into data analysis and better understand your marketing performance!
Boost your Google Ads performance! Link your PPC accounts to PromoNavi to automate everyday tasks and receive valuable recommendations on how to improve your campaigns.

With PromoNavi, you can do keyword research, competitor analysis, automate reporting, track your PPC performance on the Analytics Dashboard, and get profitable PPC optimization recommendations.