If you are already running ads on Google, it will be easy for you to start with Microsoft Advertising. In this article, we explain how to quickly import your Google Ads campaigns into Microsoft (formerly Bing) Advertising, and what pitfalls you should avoid.
Quick Links
Why Microsoft (Bing) Advertising?
A Quick Way to Import Your Google Ads Campaigns into Microsoft (Bing) Advertising
What You Should Check After the Import
Campaign and Ad Group Languages
What's More You Should Do When Importing Your Google Ads Campaigns to Microsoft
Make the Most of Your Ads: Add Microsoft Ads Features and LinkedIn Targeting
Why Microsoft (Bing) Advertising?
Google undoubtedly dominates the search market, but Microsoft Advertising is a great complement to most PPC strategies. With Microsoft, you can reach customers who are not using Google (according to Microsoft, there are 63 million search users like this). 
And here are some more numbers on the Microsoft Search Network audience: 
Microsoft gets 15.8 billion monthly PC searches.
719 million—this is the number of unique PC users who use Microsoft Search.
Microsoft Search's PC market share is 14.9% worldwide, and 37.2% in the U.S.
In the U.S., the Microsoft Search Network audience spends 22% more online when shopping from their desktop than the average internet searcher.
In the U.S., 42% of the Microsoft Search Network have household income in the top 25%.
As you can see, it definitely makes sense not to limit your PPC search campaigns to Google Ads—especially because it's so simple just to mirror your Google campaigns to Microsoft.
Here's how you can do it.
A Quick Way to Import Your Google Ads Campaigns into Microsoft (Bing) Advertising
One of the advantages of Microsoft Advertising for PPC managers is the ability to import Google Ads campaigns as they are. You can import campaigns either through a file or directly from your Google Ads account without a spreadsheet. You decide what you want to import: one or several campaigns, or the whole account, or just the recently updated items. You can import up to 20 million keywords and 20 million ads and choose the frequency: once or on an automated schedule.
And that's how you run the import.
If you want to import campaigns as they are and don't want to run any customizations, follow these simple steps:
1. Sign in to Microsoft Advertising, go to the top menu, click  Import > Import from Google Ads.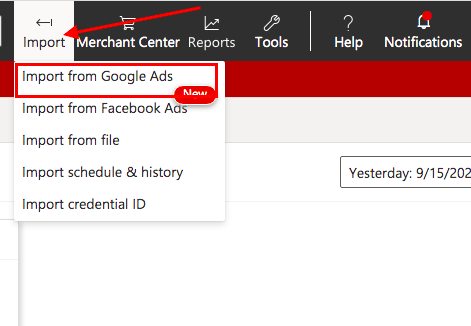 2. Click Sign in with Google and follow the instructions to give Microsoft Advertising permission to import campaigns from your Google Ads account.

3. Select the Google account you want to import from, and allow Microsoft to access your Google account.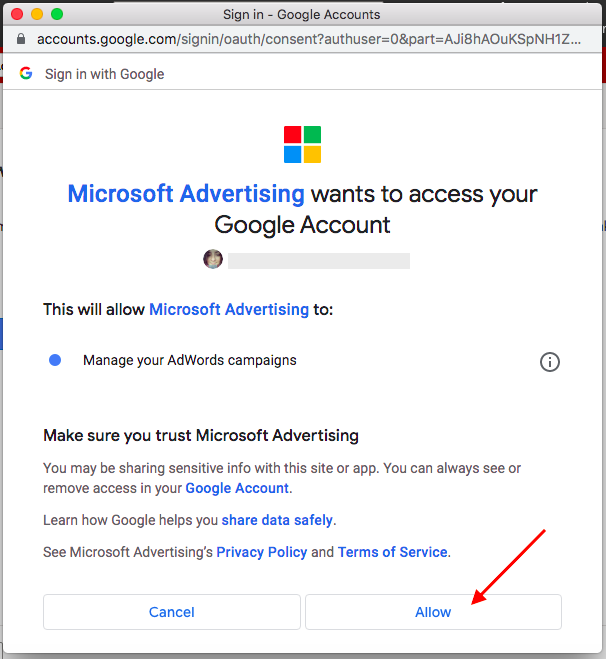 4. Select the Google Ads account you want to import from.

If your Google Ads account is set to a different currency than your Microsoft Advertising account, the system will ask you to choose from two options: convert to Microsoft account's currency or adjust the bids and budgets manually after import.

5. Now, you can start importing. Enter the import name, set a schedule, and decide if you need email notifications after import is ready.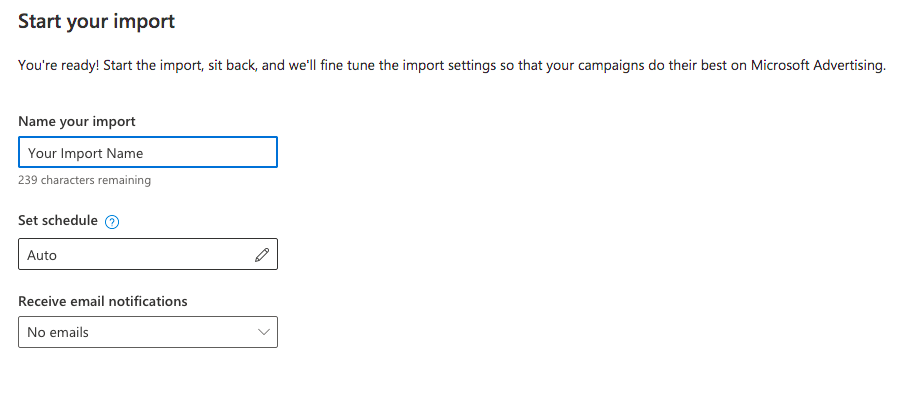 For the import schedule, you should choose from:
Auto: Microsoft Advertising automatically sets an import schedule to best optimize your campaigns.
Now: Import starts after you click Start import and runs once.
Once: Import starts at the time you specify and runs once.
Daily: Import starts once a day at the time you specify.
Weekly: Import starts once a week at the time you specify.
Monthly: Import starts once a month at the time you specify.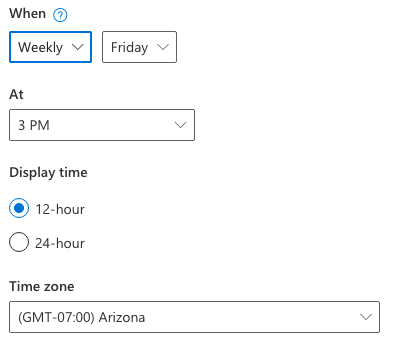 You can change your import schedule anytime. Just go to Import > Import schedule & history from the top menu.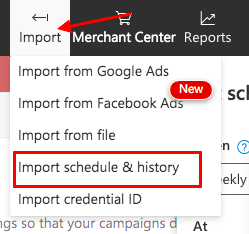 6. Click Start import to finish the setup process.

If you want to choose specific items for import, adjust budgets, bids and bid strategies, and more, select Advanced import at this step.

Advanced import
1. Select the campaigns and ad groups you want to import from Google Ads. You can do it under "Which campaigns and ad groups do you want to import?"
You can either import all existing and new campaigns or only specific campaigns and ad groups.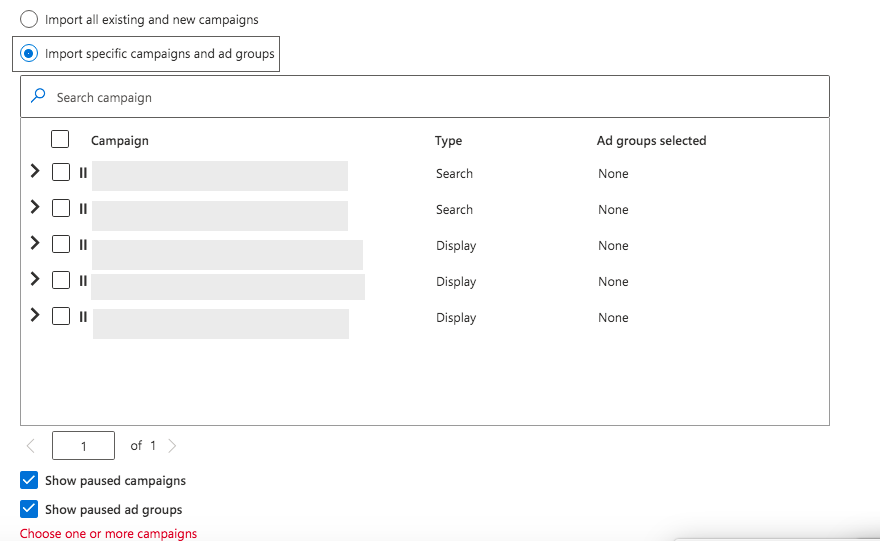 If you want to import both active and paused ad groups and/or campaigns, select Show paused ad groups / Show paused campaigns. If this checkbox is not selected, the system will import only active ad groups and campaigns.
2. Select the items you want to import and customize under "Choose which items to import and the options to set for them."
First, decide what to import.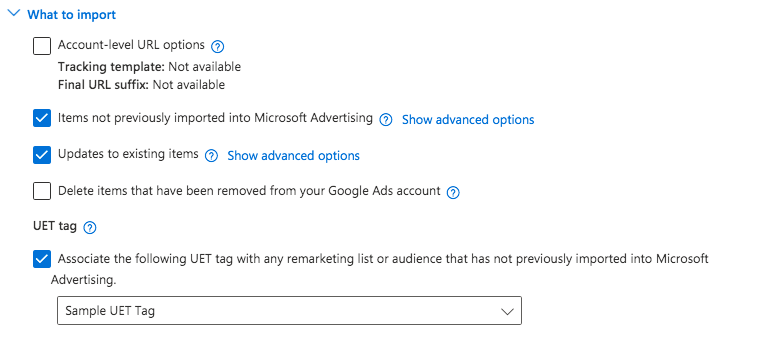 If it's available, you can import the tracking template and final URL suffix associated with the account.
You can check only items that have been previously not imported into your Microsoft Advertising account: campaigns, negative keyword lists, targeting settings, ad extensions, feeds, and more.
You can also update existing items with new imported information. Don't forget to uncheck the items that you do not want to change.
One more option here is to delete items that have been removed from your Google Ads account.
At this step, you can also associate a UET (Universal Event Tracking) tag with a remarketing list or audience.
Next, scroll down to the Bids and Budgets section.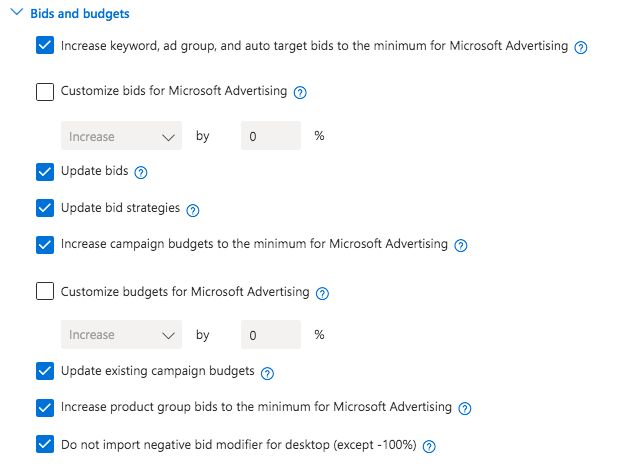 From here, you can:
Increase your bids and budgets to the minimum requirements for Microsoft Advertising.
Customize bids and budgets for Microsoft Advertising (Decrease or Increase by a certain percentage).
Update bids, bid strategies, and campaign budgets to match those currently in Google Ads.
Allow or forbid Microsoft to import negative bid modifiers for desktop except -100%.
And there are even more options to adjust. Here is a list: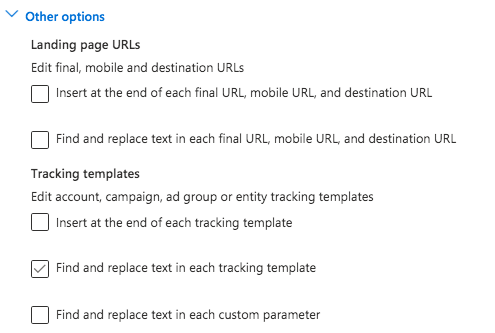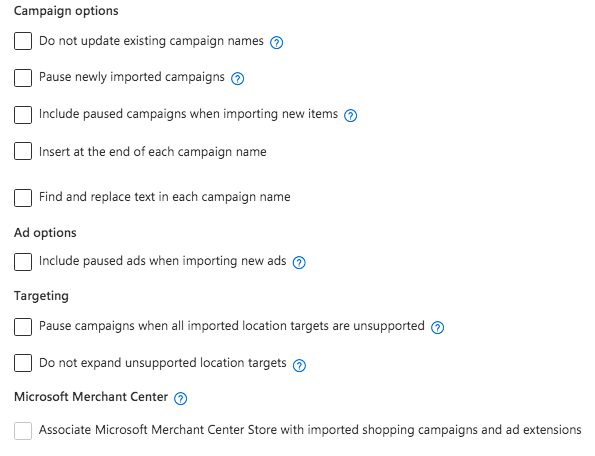 3. After you have checked everything you need, click Next, enter the import name, set a schedule, and click Save.
Some features won't be imported from Google Ads but you can recreate them after the import is finished: 
Automated rules. In Microsoft Advertising, you can set automated rules for bids and budget changes, enabling and disabling ads for specific events, and more. 
IP exclusions. If you want to prevent some users from seeing your ad, you can exclude up to 100 IP addresses or address ranges per campaign. To do this, select a campaign you want to edit, click Edit > Other changes. Choose Select a setting >IP address exclusions. Enter one IP address or address range (using *) per line. Click Apply.
Account-level and ad group-level App Extensions. You can read more about it in Microsoft Advertising Help.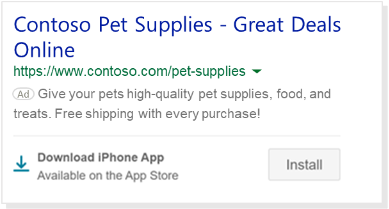 What You Should Check After the Import
Though the two advertising platforms are very similar in most aspects, there are some differences between them you should understand to execute your import seamlessly. 
Bids and budgets
The minimum CPC bid is higher in Microsoft Advertising than in Google Ads. In Google Ads, the lowest CPC bid is the lowest denomination of the currency (for instance, $0.01 or £0.01). However, in Microsoft Ads, the minimum CPC bid is $0.05 and £0.05. Bids that are too low will be raised to meet Microsoft's minimums. If you manually set lower bids during advanced import, the system won't import those campaigns. 
One more thing you need to consider is that the average budgets in Microsoft Advertising mostly are lower than in Google Ads. We would recommend starting at 20-25% of your Google Ads budget. 
Bid Strategies
Microsoft Advertising does not support all Google Ads bid strategies. After import, the system will automatically set unsupported strategies to Enhanced CPC. However, you can update bid strategies later after the import.
Dynamic Search Ads
Microsoft supports dynamic search ads only in the U.S., France, and Germany. For other markets, Microsoft Advertising imports only Expanded or Standard Text Ads.
Negative keywords
Microsoft Advertising doesn't support broad match negative keywords. Your broad match negative keywords from Google Ads will be imported as phrase matches to Microsoft. 
Ad Distribution (Network)
Microsoft Advertising sets your ad distribution to Search if your Google Ads network was set either to Google Search Network or Search and Display Network.
You should also consider that if your network is set to Google Search Network, and Include search partners is selected, Microsoft will target all search networks (Bing, AOL, and Yahoo search and syndicated search partners).
Age and Gender Targeting
Microsoft Ads supports most of the age and gender targets supported by Google Ads, but there are a few differences. Please keep in mind that Microsoft doesn't support the Google Ads age group of 45-54; this group will not be imported. The system will also ignore age groups and gender marked as Unknown.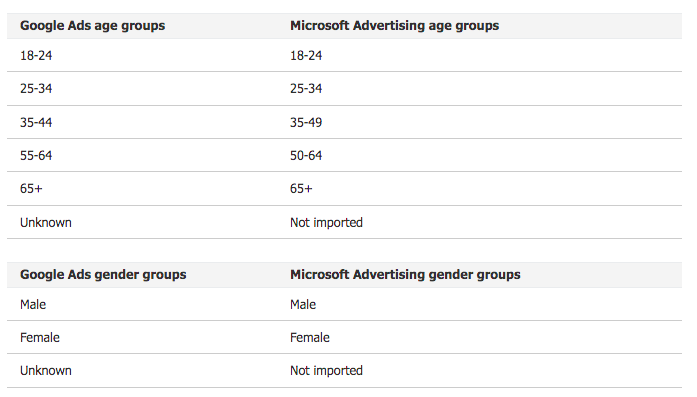 Image Source: Microsoft Advertising Help
Audience Targeting
You can import your Google Ads in-market audiences and their corresponding associations to Microsoft Advertising, but their lists don't match exactly. If an in-market audience doesn't exist in Microsoft Advertising, it will be assigned to a parent audience.
Here is a list of what will be imported: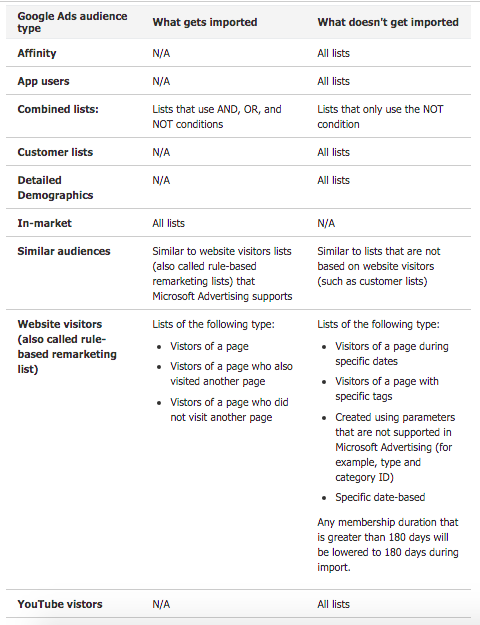 Microsoft supports only in-market audiences. If you need to transfer custom and remarketing lists from Google Ads, you can do it manually later. 
Location Targeting
Microsoft automatically matches your imported locations from Google Ads to the same location targets in Microsoft Advertising. However, Microsoft doesn't support some smaller locations as Google does. In this case, Microsoft mapps these smaller locations to a nearby parent location (such as a state, region, or a province). Sometimes even the bigger location (state/region/province) is unsupported. In this scenario, neither location targets will be imported.
If such granular location targeting is crucial to you, you can opt out of expanding your location targets during import. To do this, select Do not expand unsupported location targets under Choose Import Options. 
Microsoft won't import unsupported location targets, however, your campaigns will continue to serve worldwide without location targeting.
Another option is to pause campaigns containing only unsupported location targets immediately after importing. In this case, you should select Pause campaigns when all imported location targets are unsupported under Choose Import Options during the import.
In this scenario, if a campaign has both supported and unsupported location targets, the campaign will run for supported location targets only.
Campaign and Ad Group Languages
Microsoft Advertising supports the following ad languages: English, German, Italian, French, Spanish, Portuguese, Danish, Dutch, Finnish, Norwegian, Swedish, and Traditional Chinese.
If you try to import ads in other languages, Microsoft will not import your campaign and will flag it with the error message: "Unsupported target languages."
What's More You Should Do When Importing Your Google Ads Campaigns to Microsoft
Remove Audience Ads
Display ads in Microsoft are called Audience ads, and they are turned on by default. We recommend turning them off in campaign setting unless your goal is branding and not conversions.
Go to Campaign Settings and select Advanced Campaign Settings. Under Other Settings, select Audience Ads. To turn them off, set the bid adjustment to Decrease by 100%.

Remove Search Partners
Advertising on Microsoft Search Partners usually doesn't perform very well. So we recommend turning them off before you start running campaigns. 
To deactivate Search Partners for each ad group, go to Ad group settings and expand Ad Distribution. Select Bing, AOL, and Yahoo search (owned and operated) only.

Make the Most of Your Ads: Add Microsoft Ads Features and LinkedIn Targeting
To maximize your Microsoft Advertising performance, make sure you add these features to your freshly imported campaigns.
Image extensions
Unfortunately, you can't import image extensions from Google Ads but you can create them in Microsoft Advertising. You can find a how-to explanation in our blog article.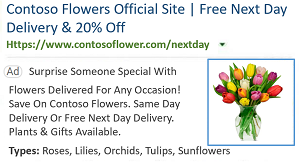 Action extensions
Action extensions are clickable buttons with preselected call-to-actions. Customers can directly interact with you from the ad, for example, end a message or make an order.

Review extensions
Review Extensions in Microsoft Advertising let you include in your ads positive reviews from 3rd party sites. Don't confuse it with customer reviews.

Filter link extensions
This extension combines the features of Sitelinks and Structured Snippets. Here you may choose from a long list of types and then add your own descriptor and link.
Using this extension, you can present many different features under categorized headers (there is a long list you can choose from), and customers can easily navigate to specific sections.

Video extensions
Video Extensions is a new feature that can make you stand out from other ads. This extension allows you to add a video to the ad that the user can play directly from the ad.

LinkedIn targeting
One great feature for B2B businesses is the LinkedIn profile targeting by Microsoft. Try this to add targeting by job function, company, and industry in the Campaign Targets section.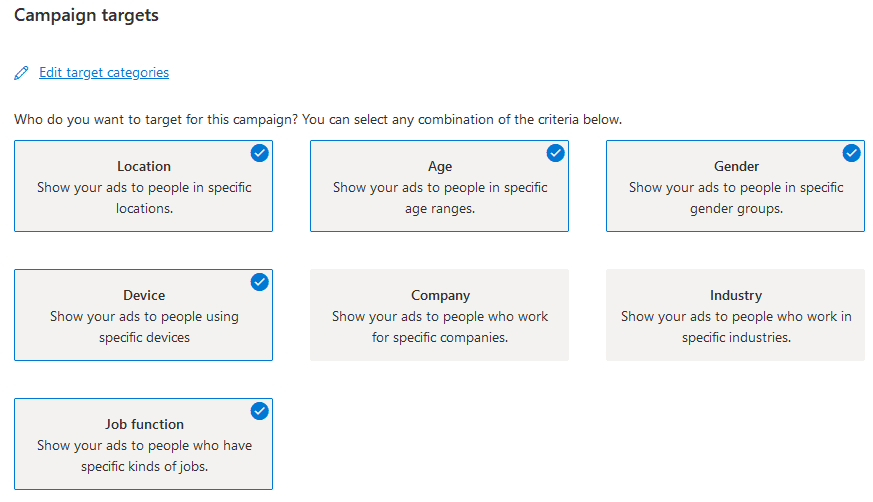 We believe that Microsoft Advertising can be a successful part of your PPC strategy. You can broaden your audience and get extra conversions at a lower cost than in Google. However, don't expect too much—the search volume can not be compared to Google, but it doesn't mean you should miss out and wait for your competitors to be the first to use it.
Boost your Microsoft, Google, and Facebook Ads performance! Link your PPC accounts to PromoNavi to automate everyday tasks and receive valuable recommendations on how to improve your campaigns.

With PromoNavi, you can do keyword research, competitor analysis, automate reporting, track your PPC performance in real-time, and get profitable PPC optimization recommendations.