Google Shopping ads is the leading campaign type for eCommerce. Online stores invest in Shopping ads equal to about 76% of their search ad budgets. These ads generate 85.3% of clicks on Google Ads—meaning this is a powerful tool to drive sales. 
However, Google Shopping ads have some downsides. The most significant downside that makes advertisers search for alternative channels is the high competitiveness of Shopping ads. The more businesses promote on Google Shopping, the fewer impressions and higher CPA they get. 
That is why it is important to find alternative channels to drive sales to your store. We've covered 5 ad platforms that might become an alternative or an addition to Google Shopping. 
The Best Alternatives to Google Shopping Ads
Microsoft Product ads
With over 700 million PC users worldwide, Microsoft Search Network enables advertisers to promote their products on the Bing search results page. 
Shopping ads on Microsoft are called Product ads. These ads include custom images from your merchant catalogs (which you create in the Microsoft Merchant Center); and they contain a title, pricing, and seller details.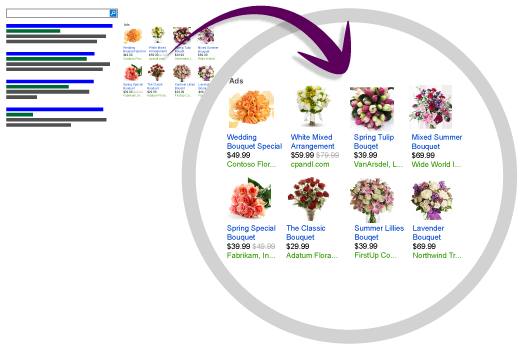 The process of the shopping ads setup on Microsoft is quite similar to setting up such ads on Google—we covered the process in detail in this guide.
Despite similar features, Microsoft Products ads have some differences from Google Shopping ads, for example:
Unlike Google Shopping ads, which appear not only on the search results, but also on Image search, Shopping listings, and Google Search Partner websites, Microsoft's product ads are displayed only on the top of the search result page and on the right side next to search results on Bing, Yahoo, and AOL.
Product ads and Microsoft Shopping Campaigns are available in a limited list of countries: Australia, Canada (English only and excluding Quebec), Germany, France, India, United Kingdom, and the United States.
If you are planning to promote your products in the countries that support Product ads, you definitely should try this option from Microsoft. The competition on this platform in your niche may be lower—meaning that you will drive more sales at a lower cost. 
Product ads on Facebook
With more than 2.8 billion users, Facebook is the most popular social platform in the world, outpacing YouTube, WhatsApp, and TikTok. When it comes to eCommerce, Facebook Marketplace has 1 billion monthly visitors, meaning that this social platform is very attractive for those who want to sell goods online. 
Facebook has specifically tailored product ads enabling you to promote your products on various placements, including Facebook and Instagram Feed, Facebook Marketplace, Stories, and others.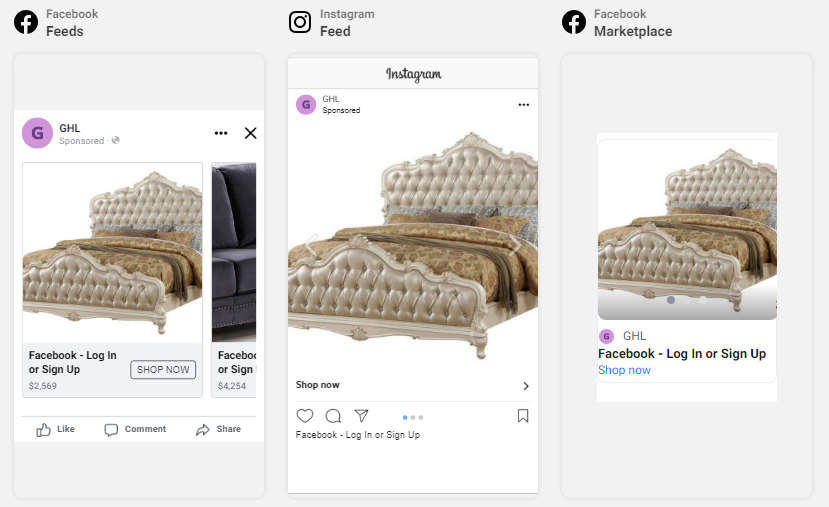 Here is how Product ads on Facebook look like
To start promoting your products on Facebook, you need to create a catalog. You can do it from your Commerce Manager (click +Add Catalog and select the eCommerce catalog type). After the catalog has been created, you can start adding items. Facebook provides 4 options to handle this task: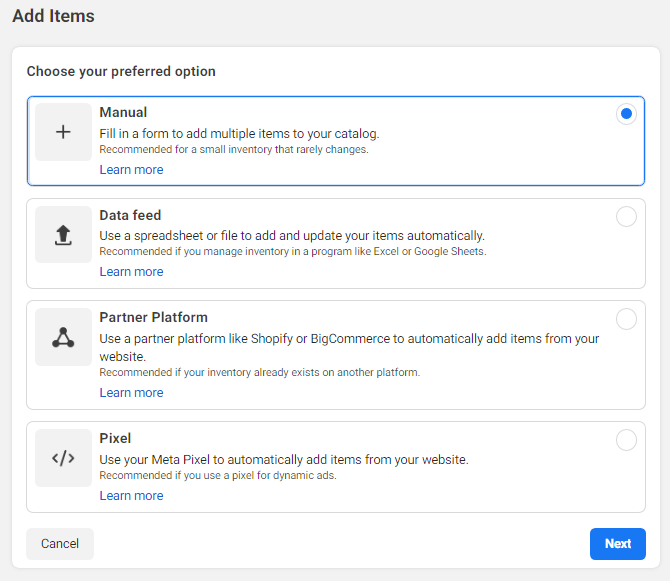 Once you create the catalog, you can create a campaign to advertise added items. Choose from 5 available ad types:
Collection ads. This ad type shows 4 items from your catalog under the main video or image. If you have less than 4 items in your catalog, this ad type is unavailable.
Carousel ads. This ad type shows several items from your catalog which a user can scroll. Carousel ads can be filled manually or dynamically, depending on which option you choose.
Dynamic ads. When you choose this ad type, Facebook will pick the most relevant items from your catalog to show users who are the most interested in such products. To run these ads, you need to install Facebook pixel or SDK on your website or app.
Ads with product tags. This ad type is suitable for promoting specific products from your catalog on Instagram. By clicking such an ad, users navigate to a product details page where they can learn more about the product and make a purchase.
Collaborative ads. With these ads, brands that sell their products through retailers and merchants can set up direct sale campaigns. Here is the list of available retailers that collaborate in your country.
At first glance, Facebook Product Ads are somehow similar to Google Ads. However, there is a core difference: while Google Shopping ads are shown in response to exact search queries, Facebook product ads are displayed to people according to their interests or targeting settings. Anyway, if you're searching for a Google Shopping Ads alternative, this channel is worth testing.
Amazon Product Ads
Amazon is the most popular marketplace in the world. If you sell your products here, you should consider running native ads on this platform. It allows sellers to run Sponsored Product Ads across the website, including product pages and search results.
Amazon Sponsored Product Ads look similar to Google Shopping Ads: they provide a product image, display the product name, price, user rating, etc.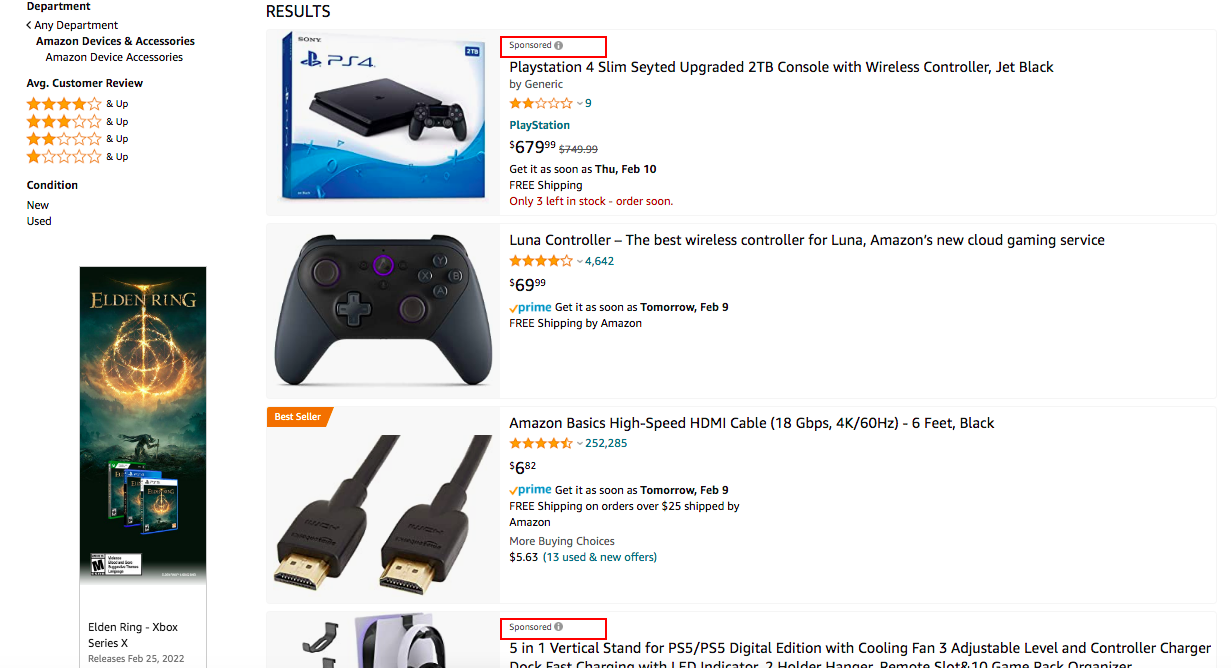 Amazon Product Ads on Search results page
Amazon Ads is a smaller platform than Google Ads, and you can start there before your competitors. With lower competition, costs can be lower too. Depending on products, clicks on Amazon Ads may be cheaper than on Google Shopping. For example, the current average CPC on Amazon is $0.89, while the average Google's CPC for the e-commerce industry is $1.16.
Here is a comprehensive comparison between Google Shopping ads and Amazon Product ads.
Pinterest Shopping Ads
Pinterest is the 14th largest social platform in the world. This platform is more popular than Twitter and Reddit. In 2021, Pinterest reported that shopping engagement grew by 20%—meaning that it provides great opportunities to reach audiences for eCommerce. Here are some specifics you should consider before advertising on Pinterest:
This platform is suitable if you want to reach mobile audiences—82% of people use Pinterest on mobiles. 
People actively search ideas on Pinterest. For example, users start Christmas planning as early as April. So, you can advertise seasonal products in advance. 
75% of weekly Pinterest users say they're always shopping. This is one more signal for those who want to promote their goods via this platform.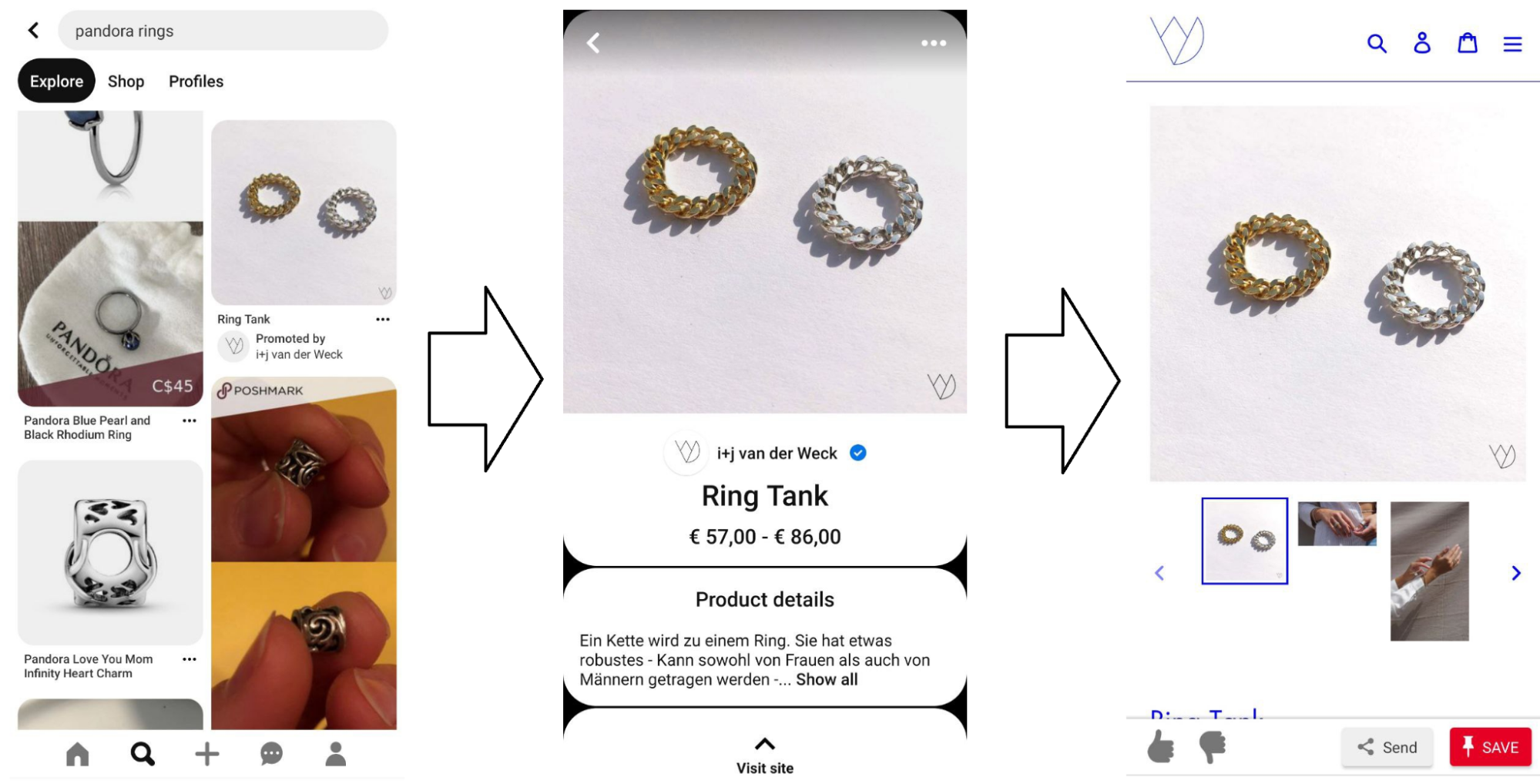 Here is how Pinterest Shopping Ads look like
Pinterest allows you to advertise products in three ways:
Shopping Ads. These are ads with a single image that are displayed according to people's interests.
Collection Ads. These ads provide your customers with additional photos or even videos of your products.
Dynamic retargeting. This option enables you to reach people who have visited your website or added items to the cart.
Shopping on Pinterest is available to merchants from 30 countries, including the United States, Australia, Germany, United Kingdom, and others. 
To get started, you need to switch to a Pinterest Business Account. Once done, create a catalog with your products, otherwise, you won't be allowed to set up Shopping ads. (Here is the instruction on how to create a catalog on Pinterest.)
Once you add a catalog and verify your website, you can proceed to the Ads menu and click Create ad. Choose the Catalog sales objective, enter your campaign details, define targeting settings, budget, etc. After that, select product groups you want to advertise and complete your campaign creation.
Collection ads will be available once you've set up your Shopping ads within catalogs. You can select product groups you want to promote, and the system will automatically create collections based on them.
Pinterest Shopping ads is a great solution for eCommerce for several reasons. First, these ads are organically integrated into the Pinterest feed and attract customers who are interested in your products. The next point is that Shopping ads are easy to set up—you don't need to be a marketing superstar to run them. The last point is that you have at least three opportunities to showcase your products on Pinterest—you can reach new audiences with Shopping or Collection ads, or you can retain customers using retargeting.
Promoted Listings Standard on eBay
eBay is the second largest marketplace in the US. With over 187 million users worldwide, this platform has more than 1.7 billion listings. That's why it is challenging for sellers to stand out against the competition. To increase the visibility on eBay, more than 940,000 sellers make use of Promoted Listings. According to eBay stats, Promoted Listings Standard puts your items in front of more buyers, boosting visibility by up to 36%.
Promoted Listings enable sellers to show their products on the eBay search result page (above or below the listing). Such ads are similar to non-promoted results, but marked as "Sponsored."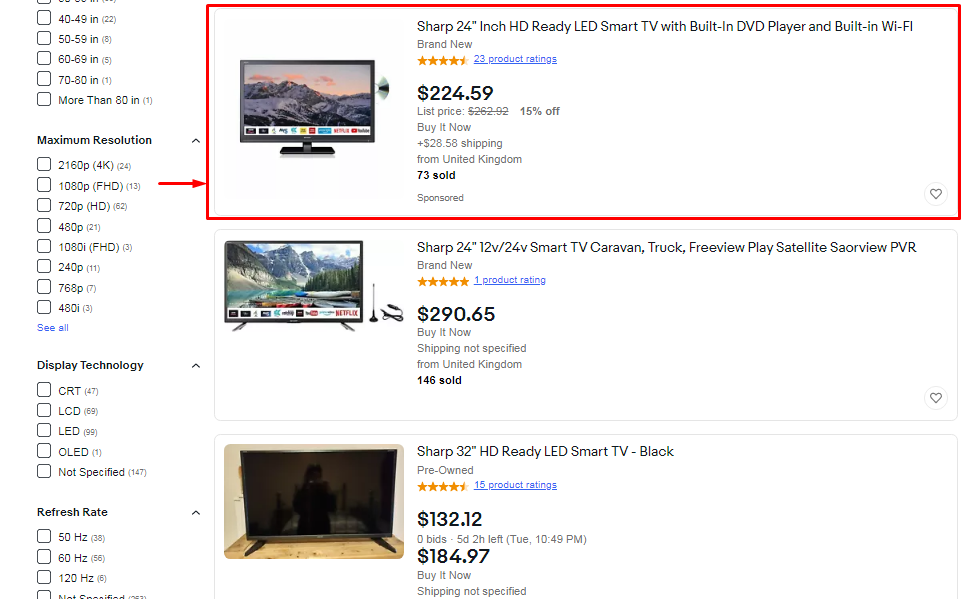 Here how a Promoted Listings ad on eBay looks like
What should you know before opting in to the Promoted Listings:
You pay only when a customer buys the sponsored item. This is the key difference from Google Ads where you have several payment options, including paying for clicks and conversions. 
You can define the percentage of your final sale price you are willing to pay. However, eBay will show the average ad rate in your niche, and you should try to stay within this recommendation.  
Promoted Listings is available to the sellers who are rated as "Above Standard" and "Top Rated" and have enough account activity.
To get started promoting your items on eBay, go to your Seller Hub and navigate to Marketing / Promoted Listings. Create a campaign and choose the listing where you want to advertise your products. Once done, set your ad rate, name and launch your campaign.
Wrapping up: Which Shopping Ad Platform Is Better?
Each shopping ad platform we've covered is suitable for eCommerce. However, there are some factors to take into consideration before choosing specific platforms. 
When it comes to advertising an online store created on the standalone CMS, you can run ads on Microsoft, Facebook, or Pinterest. Amazon and eBay products ads are available only for sellers working within these marketplaces. 
Make sure shopping ads within specific ad platforms are available in the targeted country. Once Google Ads are available almost worldwide, other platforms have narrower geography. 
To find the best performing platforms for your objectives, test them out and compare actual metrics, including CPC, CPA, Impressions, and ROAS. You can make use of PromoNavi dashboards, enabling you to compare performance metrics across different channels within a single screen. Moreover, in Promonavi, you will find various tools to simplify your advertising and improve your ad performance.