Giveaways on social media, including Instagram, are a great way to increase your followers' activity and make them more loyal, attract new subscribers, increase brand awareness, and, as a result, grow your online business. 
Numbers prove it: a study by TailWind shows that Instagram accounts holding giveaways and contests grow 70% faster than others. One more good thing about Instagram giveaways: they are very simple to conduct; you don't need any special skills, advertising accounts, or third-party services. 
However, as with any other marketing activity, there are some details you should know to launch a really successful campaign and get the most from it. In this post, you will find ideas and advice for every step of your giveaway campaign, from finding the right prize to increasing your coverage. 
Here are some quick links to help you navigate through the post:
A Short How-To for Your First Instagram Giveaway
Focus on the Value of the Prize
Create Special Holiday Promotions
Celebrate Your Own Special Occasions
Be Clear with Your Geo-Targeting
Learn More about Your Followers
Encourage Followers to Make One More Step
Profit from User-Generated Content
Use Giveaways for Brand Awareness
Remind Followers about the Giveaway
A Short How-To for Your First Instagram Giveaway
Before we proceed to explaining all the great tips and hacks, let's start with the basics. This will be helpful if you are totally new to giveaways. Otherwise, just skip this part and keep reading from the next section. 
Now then, here is a very basic guide on how to launch a giveaway on your Instagram account:
1. Pick a prize. It can be a gift card, free admission, smartphone—actually, anything you consider reasonable. The only point is that the prize should be desirable and valuable for your audience.
2. Decide how users will enter the contest. Try to make clear and simple rules. For example, one of the most common ways of entering an Instagram giveaway looks something like this:
Follow this account.
Like this post
Tag a friend or multiple friends in the comment section.
Share this post to get an additional chance to win.
However, you are free to make your own contest rules as long as they don't contradict your local and Instagram laws.
3. Decide how you will pick a winner. Traditionally, the winner will be chosen randomly using a random number generator.
4. Create an image that will showcase your prize and tell the most important details about your giveaway. You can even create multiple images: the first will demonstrate the prize, and the next will explain the rules.
5. Write a copy that will describe your giveaway rules in detail.
6. Make sure your giveaway does not violate Instagram's guidelines.
Before creating your first giveaway, one more good idea is browsing Instagram for the hashtag #giveaway to understand what the post should look like and discover common patterns. 
Now that you are familiar with the basics, it's time to dive deeper and discover ideas for your perfect giveaway. 
1. Think of a Relevant Prize
It may be tempting to attract thousands of users with prizes like a new iPhone or $1,000, but such an approach will result in unqualified followers. Expensive and popular prizes may be nothing more than spam magnets. That's why it's crucial to find the right prize that will attract your target audience and reflect your business. 
For eCommerce, the right choice will be any item from your store, a gift card, or even a discount code if you want to encourage a more significant part of your audience.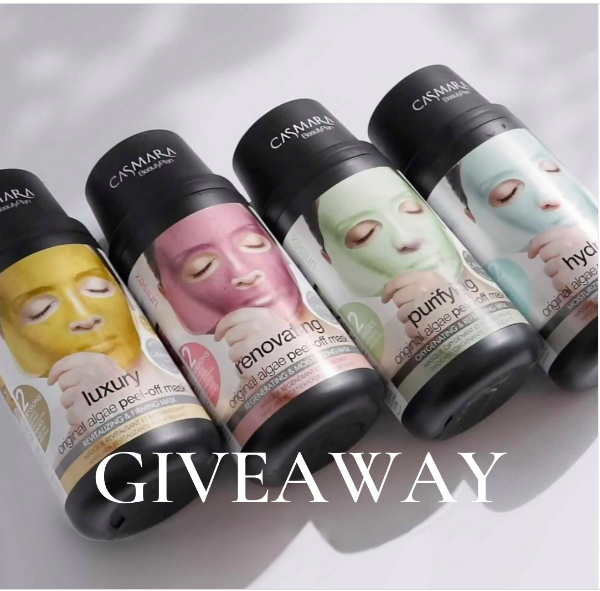 Keep in mind that a good giveaway shouldn't attract everyone, but resonate with your buyer persona.
2. Focus on the Value of the Prize
Make sure your audience understands how valuable your prize is. There are at least two ways you can do this: explain how great the product is or be straightforward and articulate the price of this item.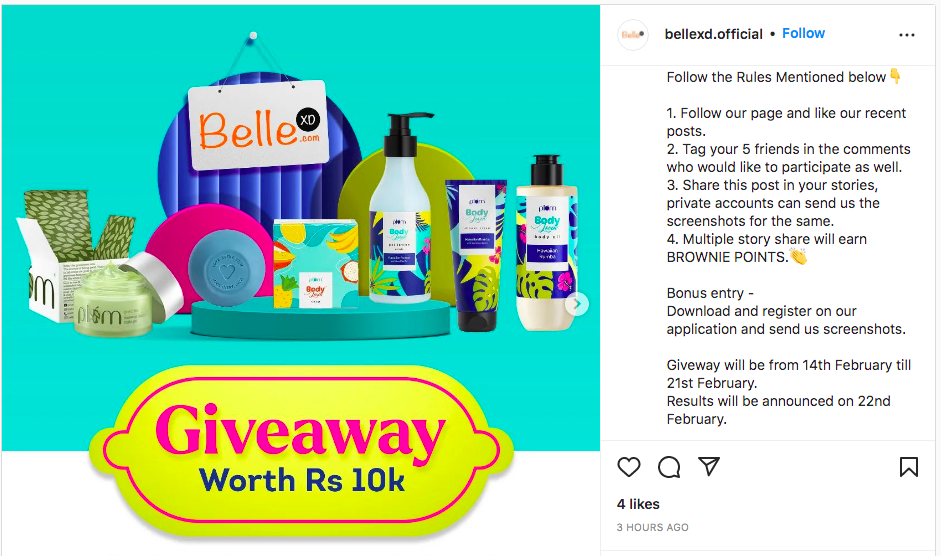 It's always a good idea to place a link to the prize's product page in your bio or in the comments section to drive your social media audience to the website. This will not only tell more about the prize but also encourage people to browse through your other products.
3. Be Clear with Your Copy
Do not reduce the participant number by vague wording. Your copy should be clear and straightforward; the participants should easily understand what they have to do and what they will get in return. It's always a good idea to place the main rules not only as a picture description but also as an image in the post carousel. Highlight the steps to make them easy to follow.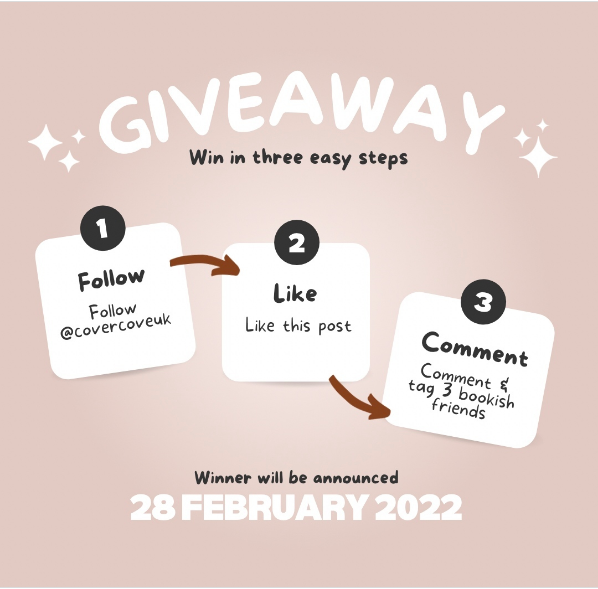 Make sure you stay in line with Instagram and local rules and add a disclaimer with all the details like this: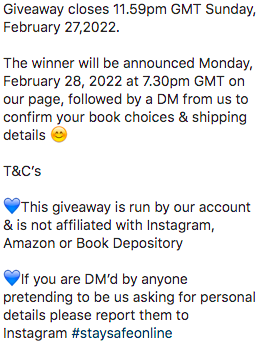 To be 100% safe, use the official disclaimer:
"Per Instagram rules, this promotion is in no way sponsored, administered, or associated with Instagram, Inc. By entering, entrants confirm that they are 13+ years of age, release Instagram of responsibility, and agree to Instagram's terms of use."
4. Create Special Holiday Promotions
Promotions during the holiday seasons may be a point of contention. On the one hand, it seems like everyone is creating festive campaigns, and it's tough to stand out from the rest in order to be noticed, especially for smaller businesses with less advertising money.
On the other hand, holiday time is the peak time for eСommerce, and everyone gets a chance to have their market share. So it would be unwise not to take advantage of this opportunity. Just remember to pick the right prize that will work with your audience.
Another point for festive giveaways is customers' expectations. Your audience waits for holiday promotions, special deals, and giveaways during the holiday season. As an eСommerce business, don't miss out on such occasions as Christmas, New Year, St. Valentine's Day, Easter, Mother's and Father's days, Halloween, and local holidays.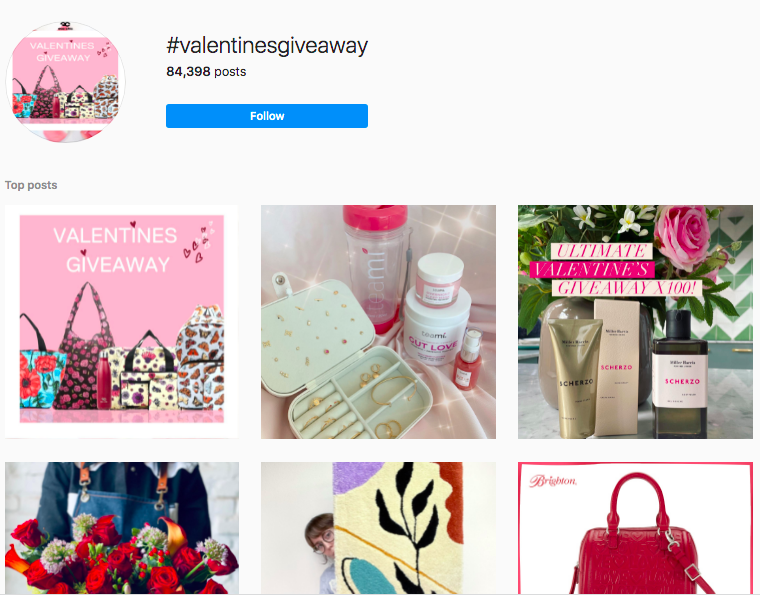 5. Celebrate Your Own Special Occasions
There is much more to celebrate than just the big holidays. Think of special days and occasions that resonate with your audience. For example, if you sell toys or kids' clothes, you could launch a giveaway for World Children's Day. Try to think outside the box and celebrate, for instance, National Cheese Day or World Book Day.
You can also celebrate your own special events. For example, it may be a new follower number or your shop's birthday.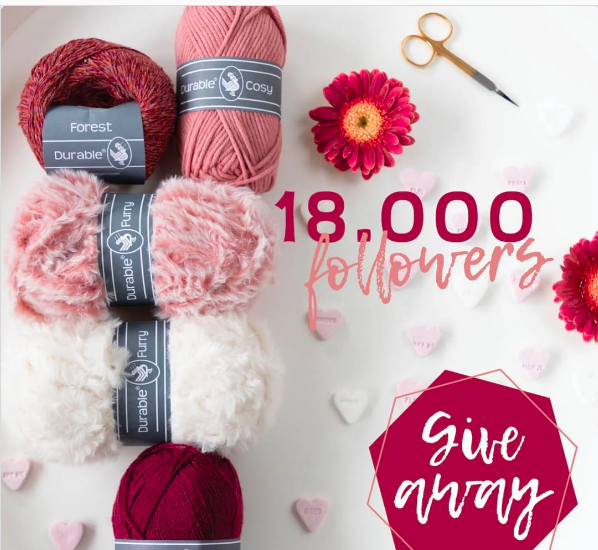 6. Be Clear with Your Geo-Targeting
Unless you are running a worldwide business, you shouldn't run a worldwide giveaway. Don't be afraid to offend followers from countries where you don't ship to. They are not your target audience (at least for now), and it's totally normal to limit your proposal to your business geo.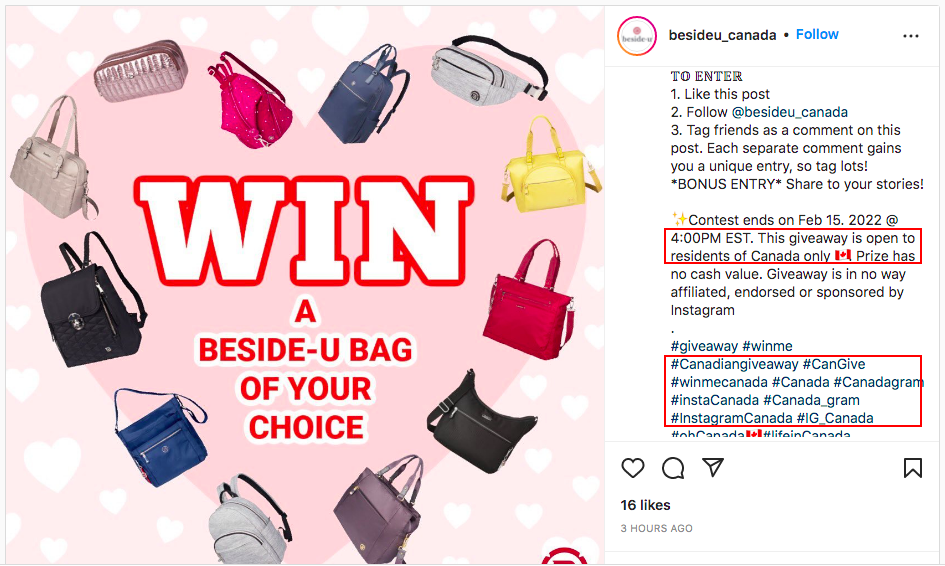 Tip: Don't forget to use local hashtags that will additionally represent your geo.
7. Learn More about Your Followers
You are free to create almost any rules for your giveaway. That means you shouldn't limit yourself just to the regular "like-follow-mention" technique. Instead, be creative and use your giveaway to communicate with followers in a closer way.
For example, you can suggest giveaway participants to fill out a questionnaire to learn more about their interests, preferences, and ideas about your product. This will provide valuable marketing insights and make your connection to the audience stronger. You can thank every participant with a discount code to encourage your followers even more, and one lucky person will get the Big Prize.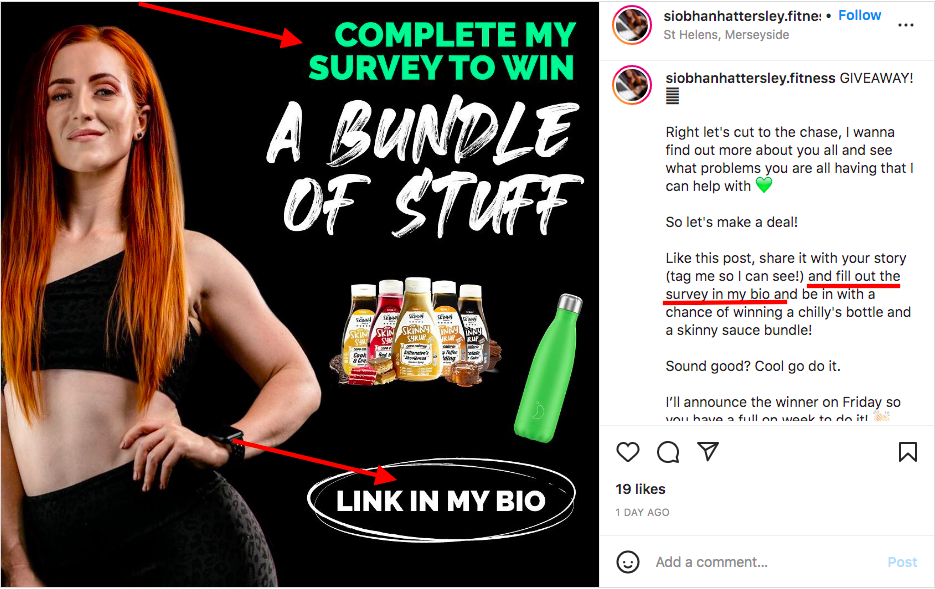 8. Encourage Followers to Make One More Step
Customer surveys are not the only extra step you can ask your customers to take to win the prize. Think of other valuable actions for your business. It could be a subscription to the email list (you can place a link in the bio as well) or, like in this giveaway post, a suggestion to download your mobile app: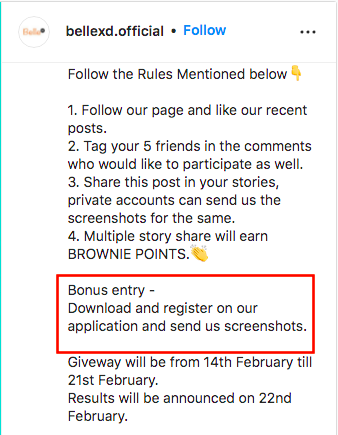 9. Sell More with Giveaways
Giveaways can boost your sales. Announce a giveaway exclusively for your customers. For example, you can notify your followers that every customer who buys something from your website during the coming week will automatically participate in your giveaway for a grand prize. More customer motivation results in increased sales.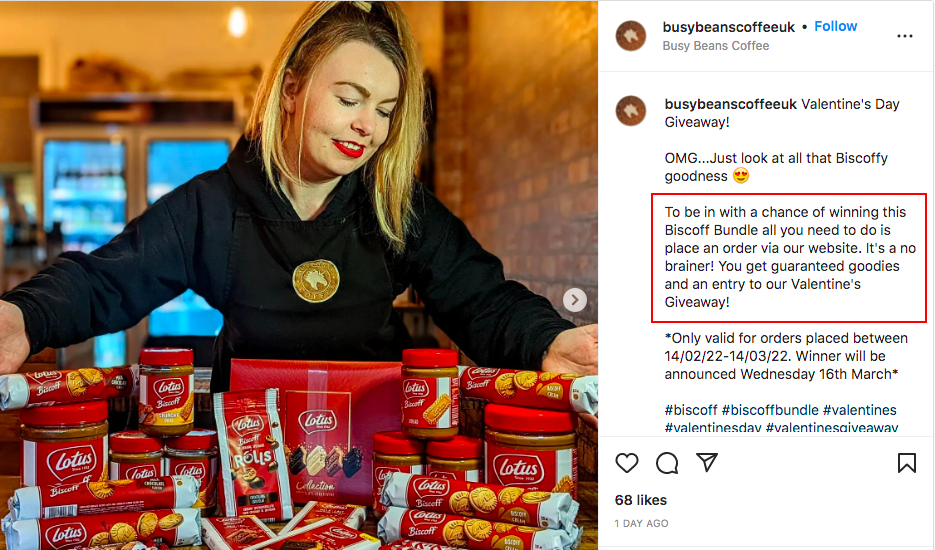 10. Profit from User-Generated Content
User-Generated Content (UGC) is any kind of content users create and post on their social media accounts. Businesses can encourage followers to create and post brand-specific content to get more coverage in an authentic, non-advertising-looking way. There are many ways to do this, and giveaways are one of them. You can raffle prizes among followers who posted stories or posts creatively mentioning your business.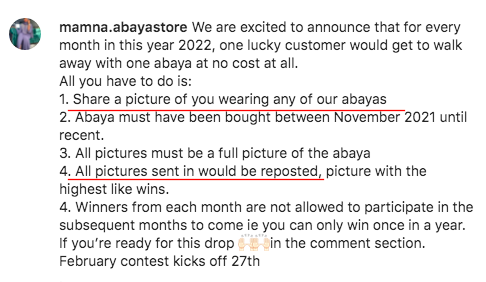 Remember that the reward should be in proportion with the effort you want from your followers. So think of something valuable; otherwise, they won't be likely to participate.
11. Use Giveaways for Brand Awareness
If you launch a giveaway, you definitely want your post to be seen by thousands of Instagram users. So why not use this opportunity to tell more people about your brand? When creating the visual for your giveaway, make sure to include your logo in the image.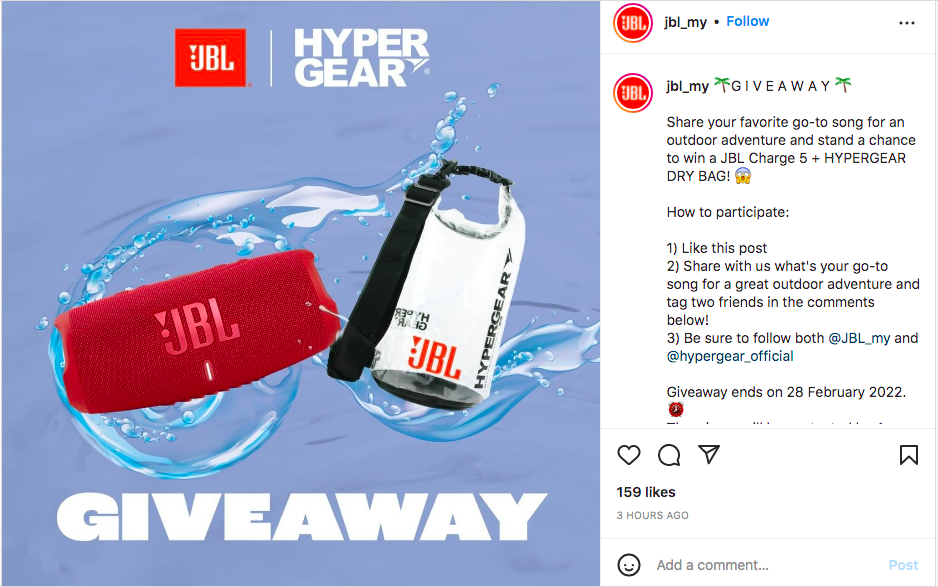 12. Don't Forget about Hashtags
This may seem obvious, but sometimes people may forget about the basics. Whatever idea or reason stands behind your promotion, your giveaway post should contain relevant hashtags to reach a bigger audience. Start with the most general ones, like #giveaway, #prize, or #contest, and go deeper depending on your product and location; use hashtags written in local languages of your audiences as well.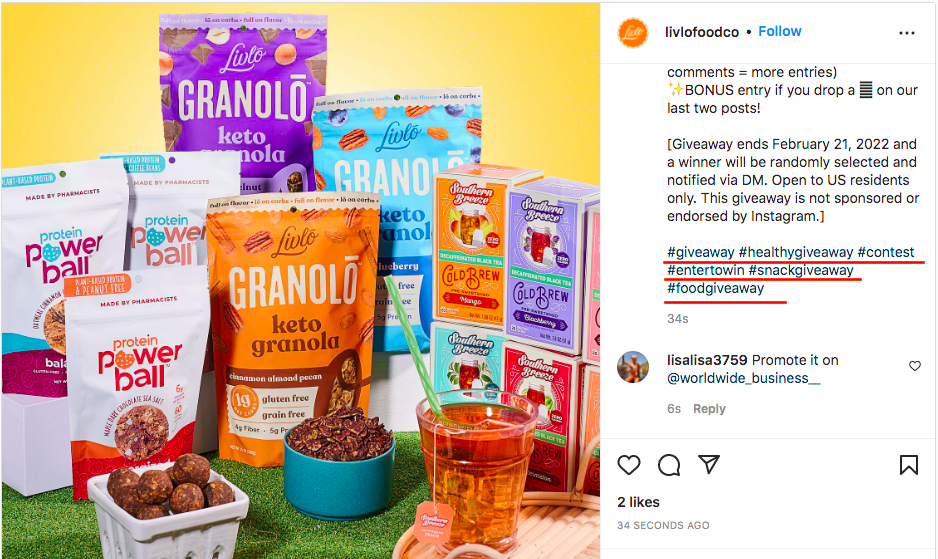 13. Partner with Influencers
You can additionally promote your giveaway by cooperating with influencers. This doesn't automatically mean huge advertising budgets; you can start with local influencers who have not so many followers but are very close to your target audience. Think of your buyer persona's geo, interests, and beliefs, and that's how you can find the right influencer to promote your giveaway to a bigger audience.
14. Partner with Other Businesses
One more way to provide your giveaway more resonance is to create a double giveaway with another business. What businesses share the same target audience with you but don't compete with your brand? For example, if you sell sports clothes, you may collaborate with a gym or a diet nutrition brand. Create a giveaway with two prizes, and promote it in both accounts. This will benefit both businesses, and you don't have to pay extra for the promotion.
You can even go bigger and create a huge collaboration like this: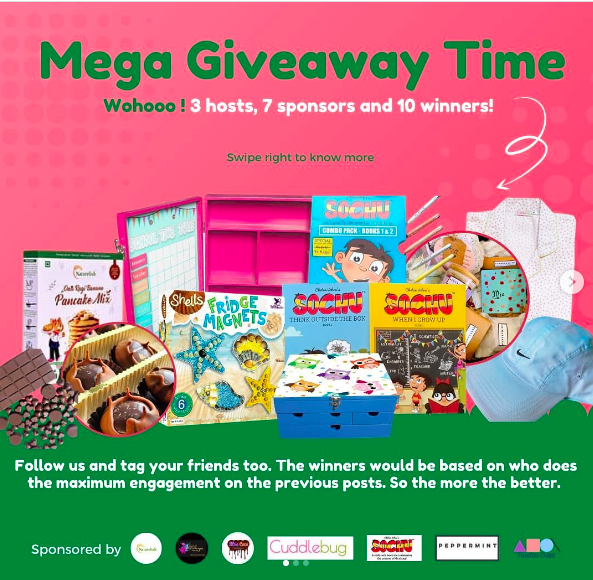 15. Remind Followers about the Giveaway
Your giveaway activity should not be limited to just one post in your feed. Remind followers about the running giveaway in stories and new posts; that's essential to engage more users.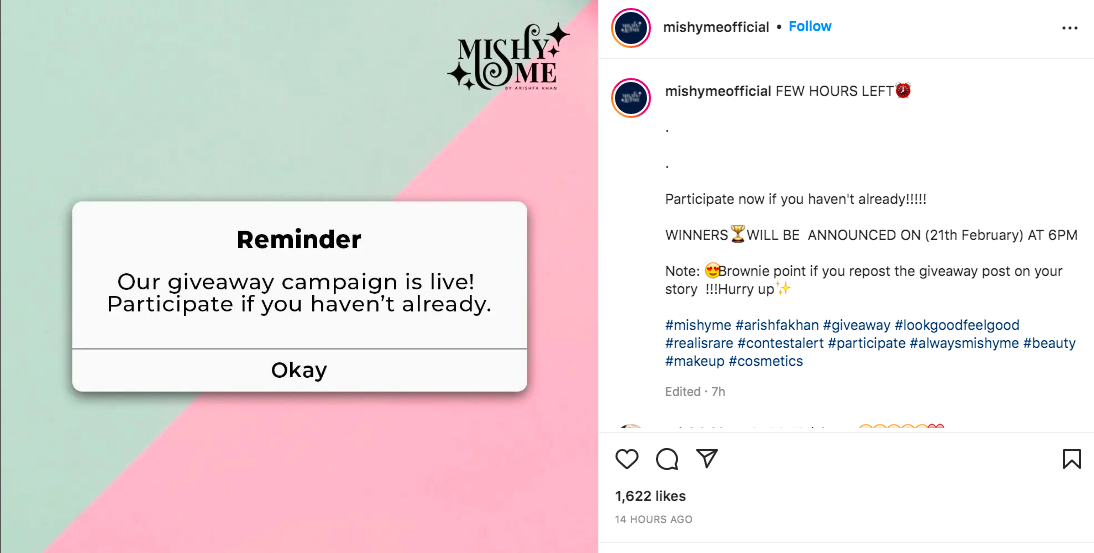 Bottom Line
Business benefits from a giveaway are much more than just increasing your number of followers. If successfully done, giveaways can provide valuable insights about your customers, build stronger relationships, and increase sales. 
Here is a cheat sheet for your perfect giveaway campaign: 
Focus on a relevant prize that will represent your business and highlight its value.
Create a clear and attractive copy.
Target the right geo.
Profit from special occasions and holidays.
Encourage followers to action.
Partner with influencers and other businesses for more coverage.
Browse our blog for more valuable ideas to promote your eCommerce business!
Promoting your Shopify store on Google is expensive and time-consuming? With the PromoNavi App for Shopify, you don't need to waste time and overpay agencies for promoting your products—the app does all the tasks for you, from merchant feed creation to setting up Shopping ads and tracking your ads success.