There are a lot of ways to adjust your Facebook campaigns according to marketing tasks. One of them is ad scheduling. Sometimes, you just don't need your ads to run all the time because of the significant performance drops and rises throughout the week or the day.
In this article, we cover how to find the best time to advertise on Facebook, where to search for insights, and how to set up your ad schedule.
Quick Links
Best Time to Post on Facebook vs. Best Time for Ads
Best Time to Advertise on Facebook: Insights and Stats
Use Your Own Data to Find the Right Time
Where Can You Look for Insights
How to Set a Schedule for Your Facebook Ads
Best Practices for the Best Time to Advertise on Facebook
Best Time to Post on Facebook vs. Best Time for Running Ads
If you google, "What is the best time to run Facebook ads," you'll find articles highlighting both the best time to post on Facebook and to advertise on it.
For example, you can find out that the best time to post across industries is 9 AM; another increase in clickthrough rates is between 11 AM to 12 PM; and the hours of 3 PM to 4 PM are good posting times for B2C, B2B, software, and higher-end organizations (Hubspot). Similar data provides Hootsuite: the best time to post on Facebook is between 8 AM and 12 PM on Tuesdays and Thursdays.
However, all those recommendations are only a little help if you want to discover when the best time is to run a paid campaign. There is a significant difference between organic Facebook updates and advertising. Organic posts appear in the news feeds of users who've already subscribed to your page. Your sponsored posts aim to target a much broader audience than people from your follower list.
That means, if you are looking for research and insights, you should be aware of what exactly you are dealing with.
Best Time to Advertise on Facebook: Insights and Stats
Unfortunately, unlike for organic posting, there is not much data about the best time for ad campaigns. 
However, in AdEspresso's Facebook Ads Cost Benchmarks, we've found stats on CPC and Cost per Like depending on the day of the week and time of day. Here are some insights:
The average CPC is slightly lower on weekends than on weekdays. However, the difference is minimal: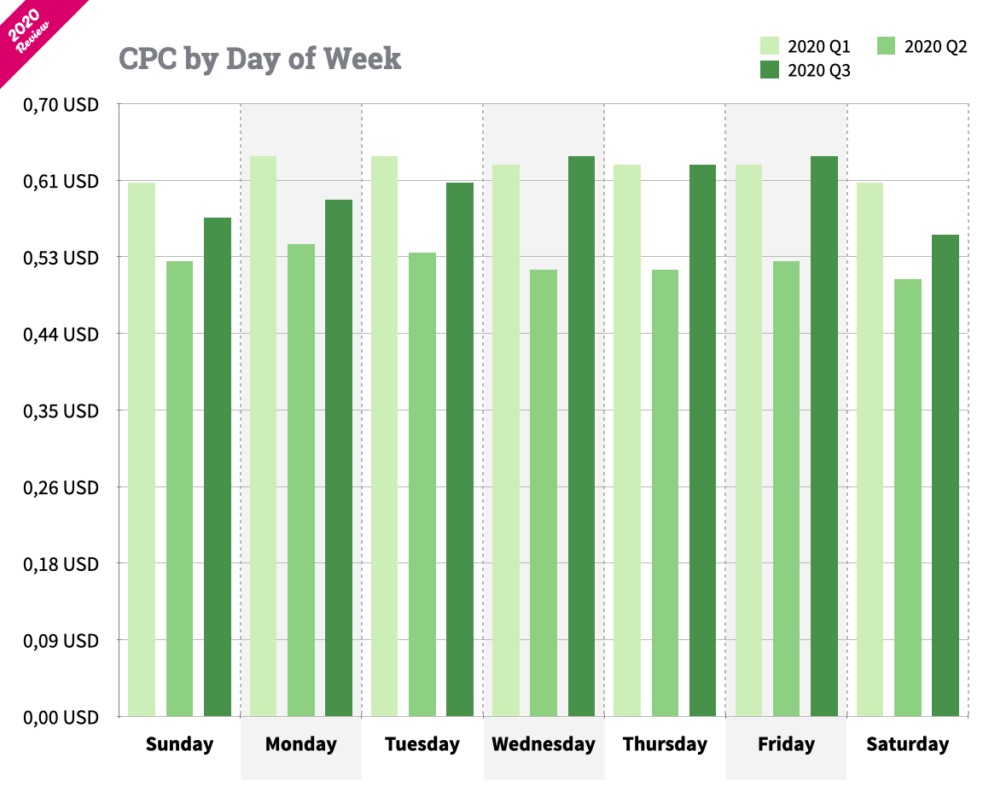 The most expensive hours are between 9 AM to 5 PM: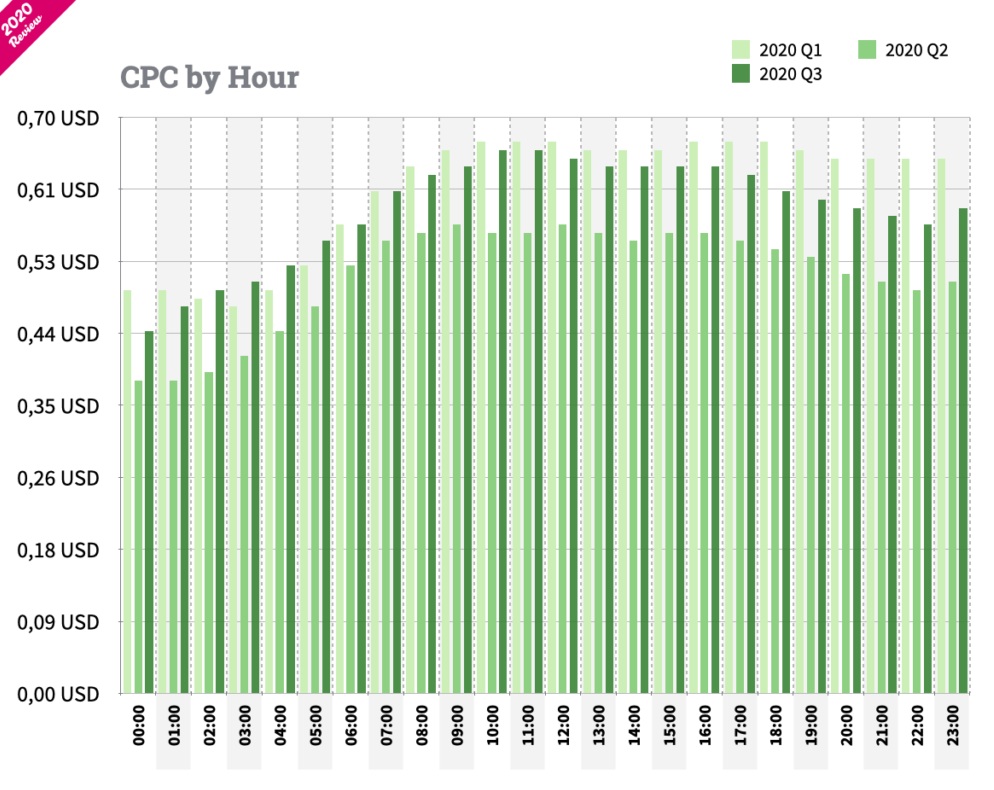 It's also quite interesting to compare the CPE (or Cost per Like) depending on the hour of the day. CPL by Hour varied significantly between quarters in 2020. For example, during the first quarter of 2020, the cost-per-like was most expensive during night time, in the following quarters—between 3 and 9 PM.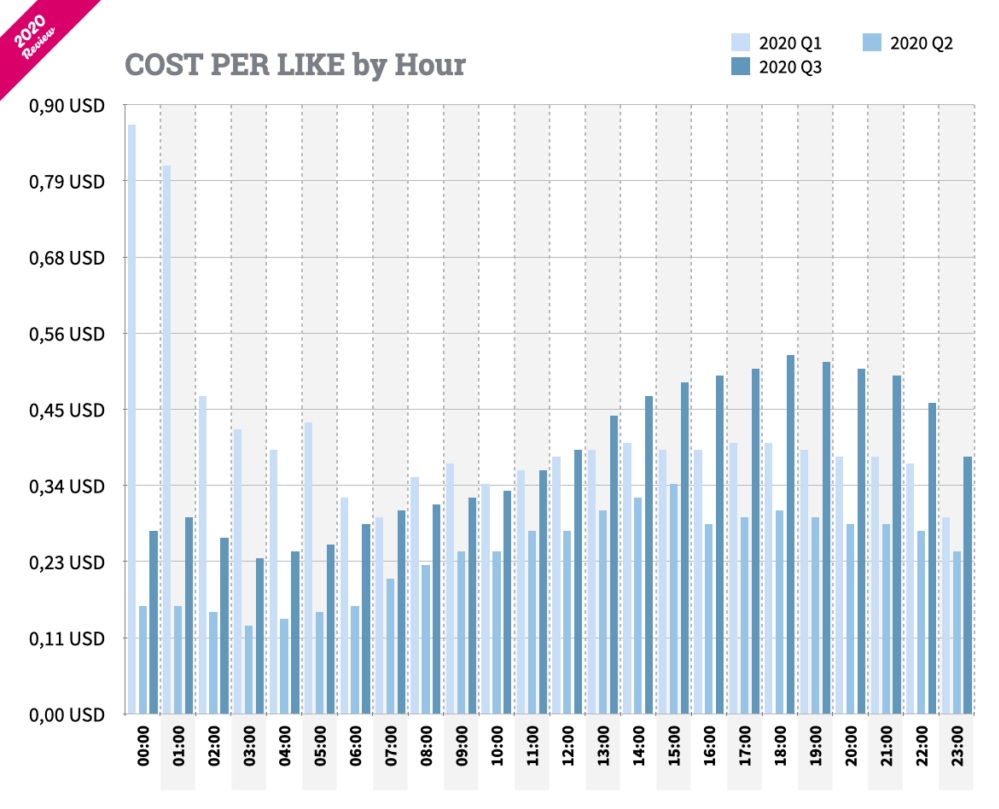 But don't be upset that there is not very much data available. That's only because… it makes no sense! The performance stats vary depending on the industry, location, target audiences, etc. So the only right thing to do is to do your own research.
Use Your Own Data to Find the Right Time to Run Facebook Ads
The only way to find the right time for your ads is to analyze your own business and the behavior of your target audience. No external research or stats from other advertisers will give you the valuable insights you can get from your own data. Your business and your audience are unique—and so is your best-performing ad schedule. 
To find the right time for your ads, you need to ask yourself the right questions.
Some of them are obvious and simple to answer, like «What are your operating hours?» For example, it doesn't make sense to run ads for emergency car repair services at 11 PM if you work till 10 PM.
Others require deeper research, for example: 
What days of the week do you get the most sales?
What days of the week and time of day do your Facebook posts get the most engagement?
When do your paid posts convert the best on the website?
How does this all change depending on the season?
Let's figure out where you can find the answers.
Where to Get Insights on the Best Time to Run Facebook Ads 
You can find valuable data using multiple free tools. On Facebook Page Insights, you can find the time when your fans are online. To uncover ad performance depending on the time of day, look through Facebook Ads Manager stats and Facebook Ads Reporting. Google Analytics helps you to find the most converting hours and days. 
Facebook Page Insights
Using Facebook Page Insights in Facebook Business Manager, you can find out when your fans are online. Unfortunately, you can discover this data only for users who already like your page. 
Go to Page Insights > Posts and choose the tab «When Your Fans Are Online.»  If you hover over each day, it gives you a day-specific graph with hour-by-hour statistics.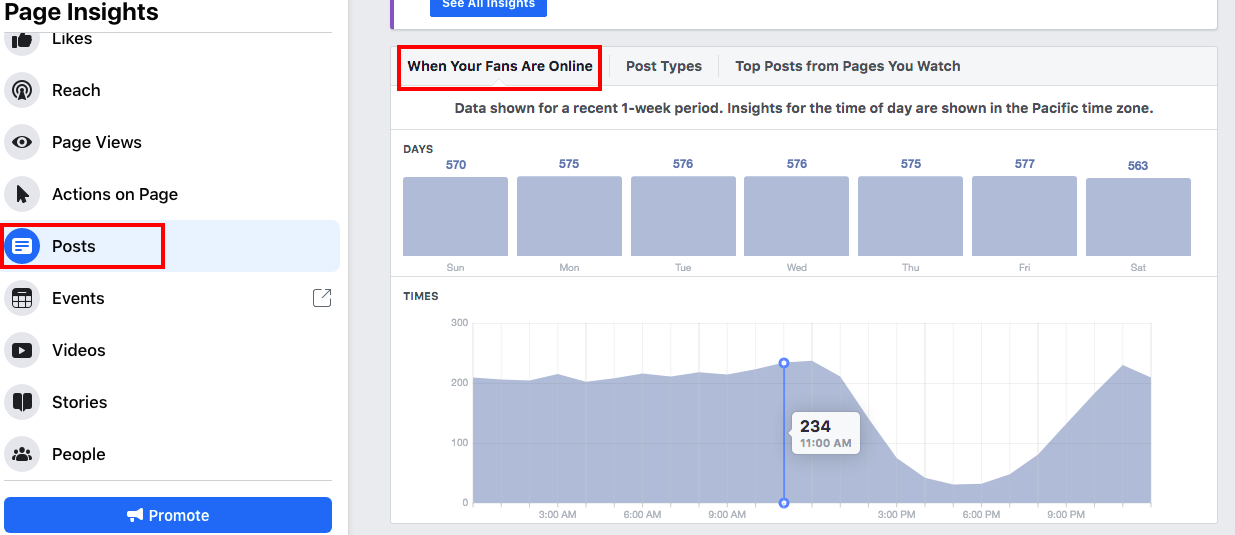 Facebook Ads Manager
In Facebook Ads Manager, you can find valuable insights about your ad campaigns. Now we are looking for the time when your ads perform the best. To find the data you need, go to Campaigns and click on Breakdown. Next, select By Delivery, and a drop-down will appear. From here, you can choose either Time of Day (Ad Account Time Zone) or Time of Day (Viewer's Time Zone):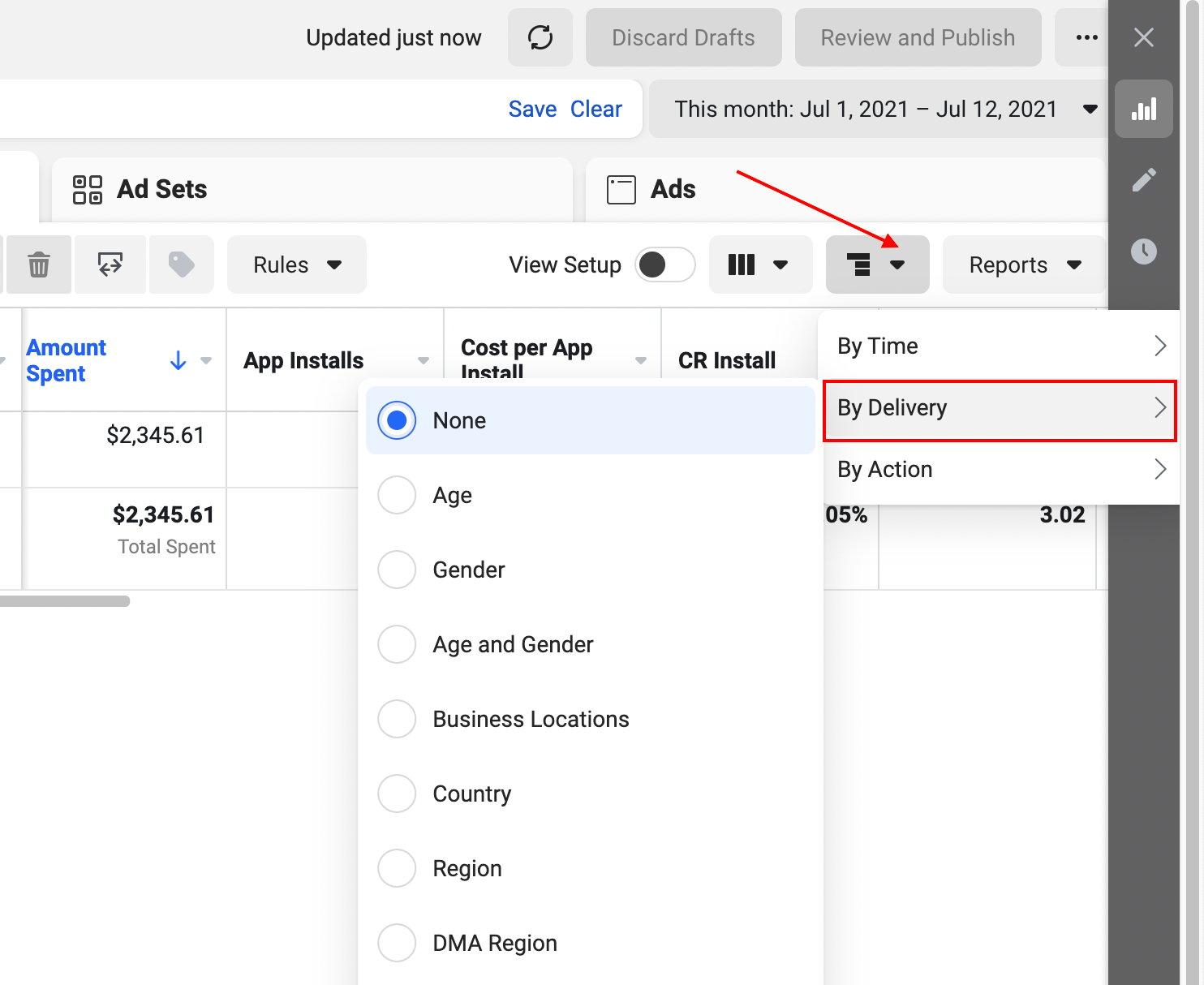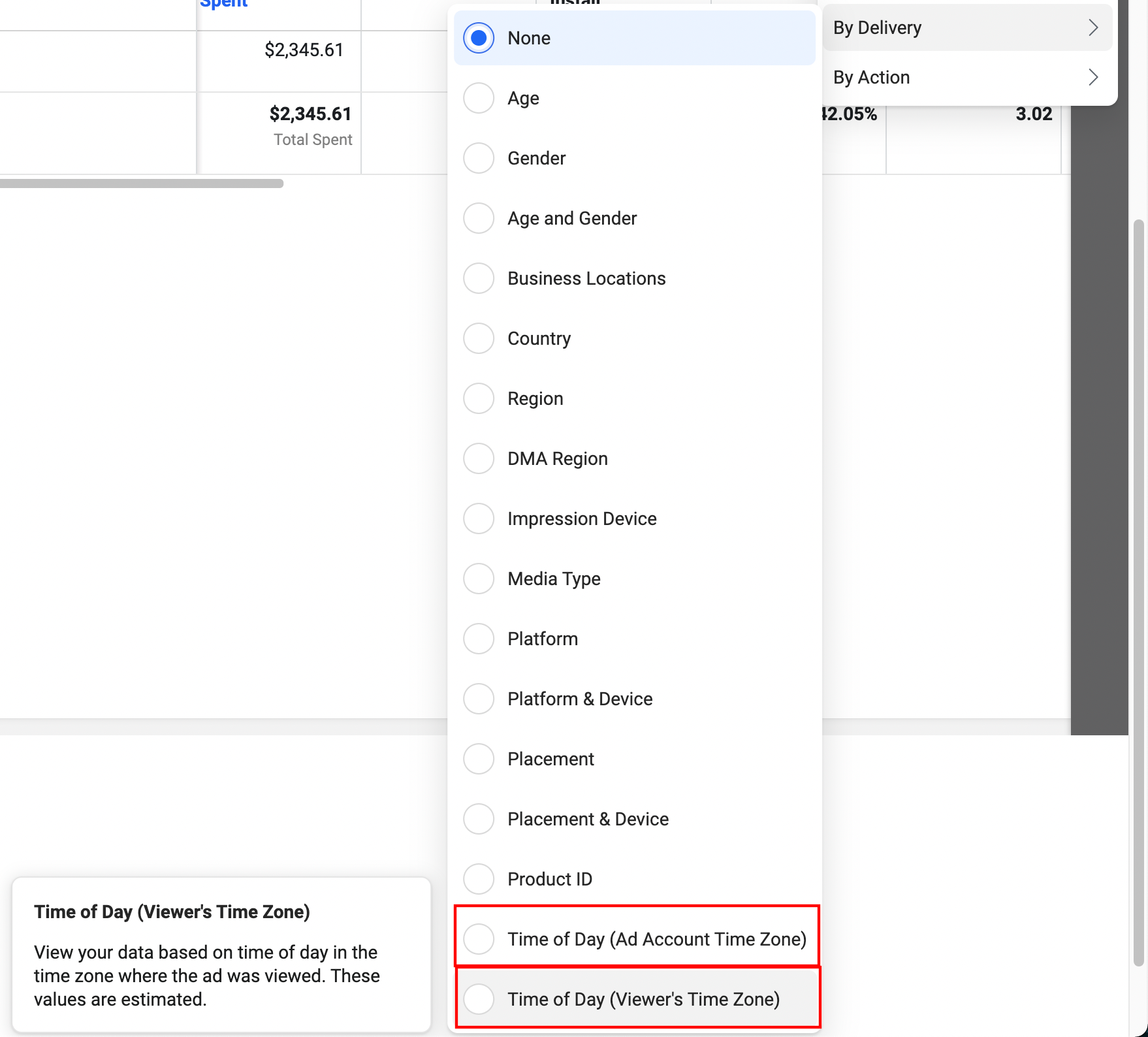 You will see a table with a breakdown by the hour of day and columns with data. For example, if your campaign goal were App installs, the columns will be Amount Spent, App Installs, Cost per App Install, CPM, Impressions. Analyze this to find out what is the best time for you to advertise on Facebook.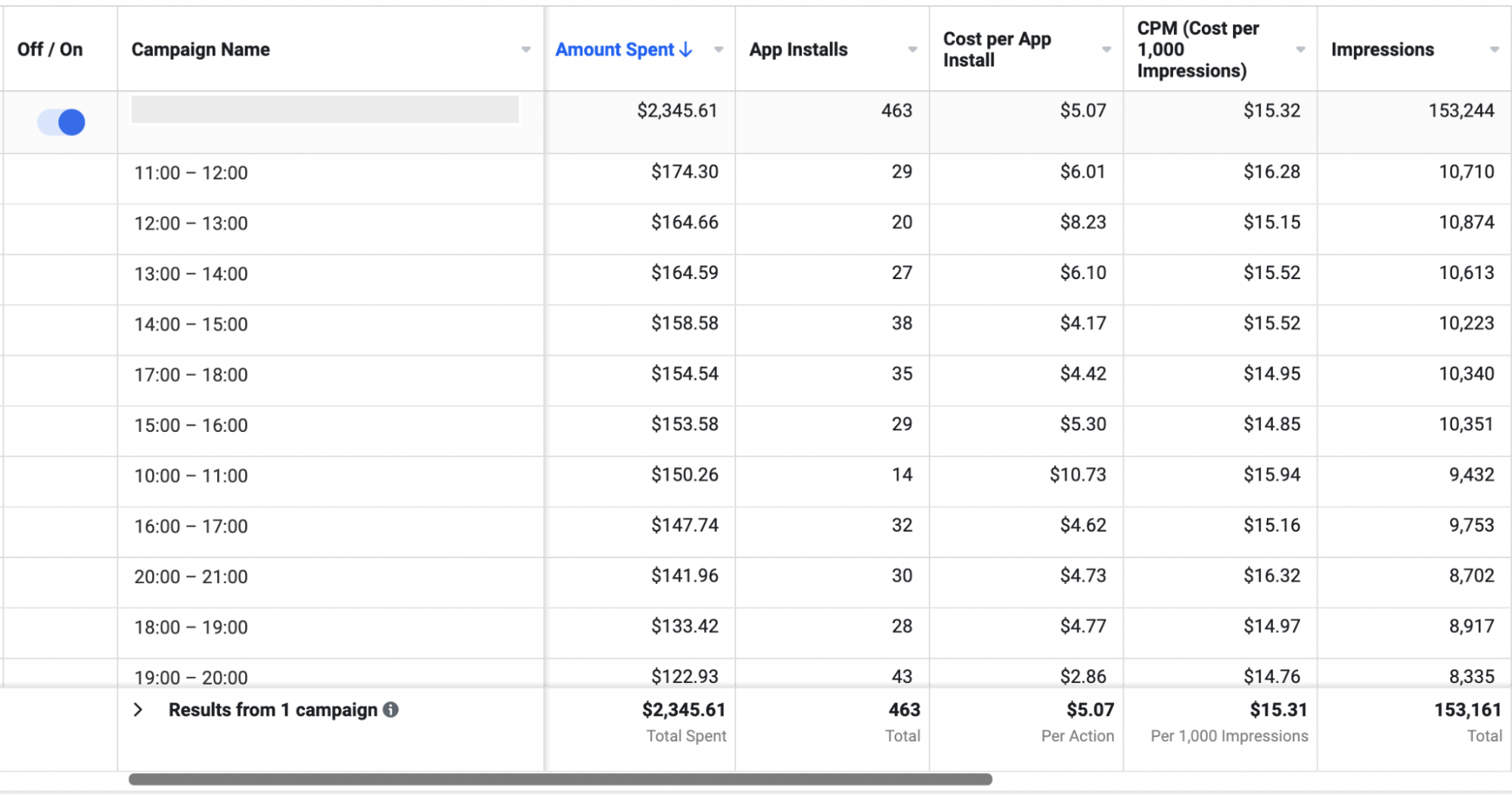 Facebook Ads Reporting
With Facebook Ads Reporting, you can create various reports for multiple accounts, including a time of the day breakdown. But unlike Facebook Ads Manager, here, you can do it only in your account time zone. 
Select Customize Pivot Table, and check Time of Day (Ad Account Time Zone).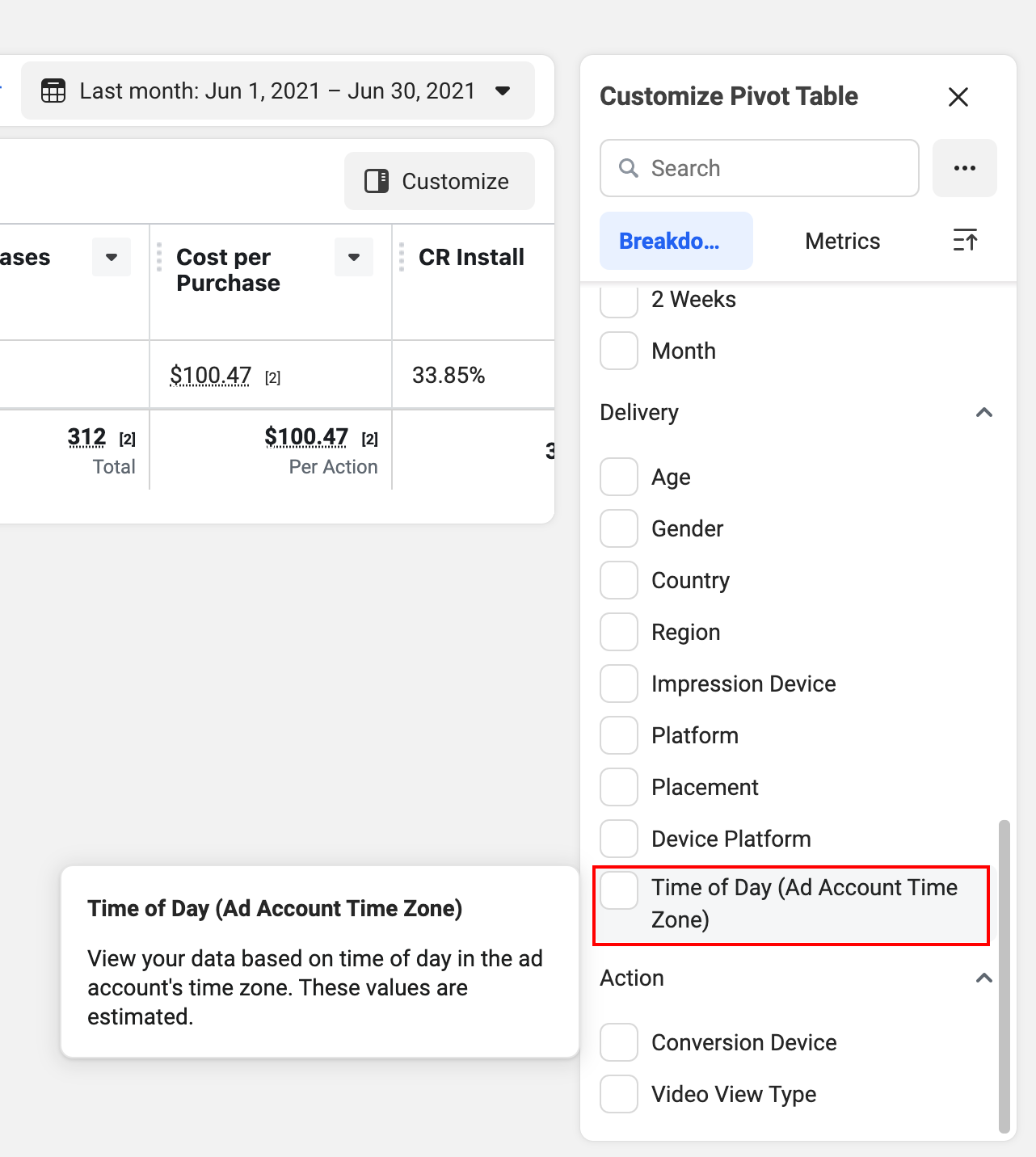 You will see a table like this: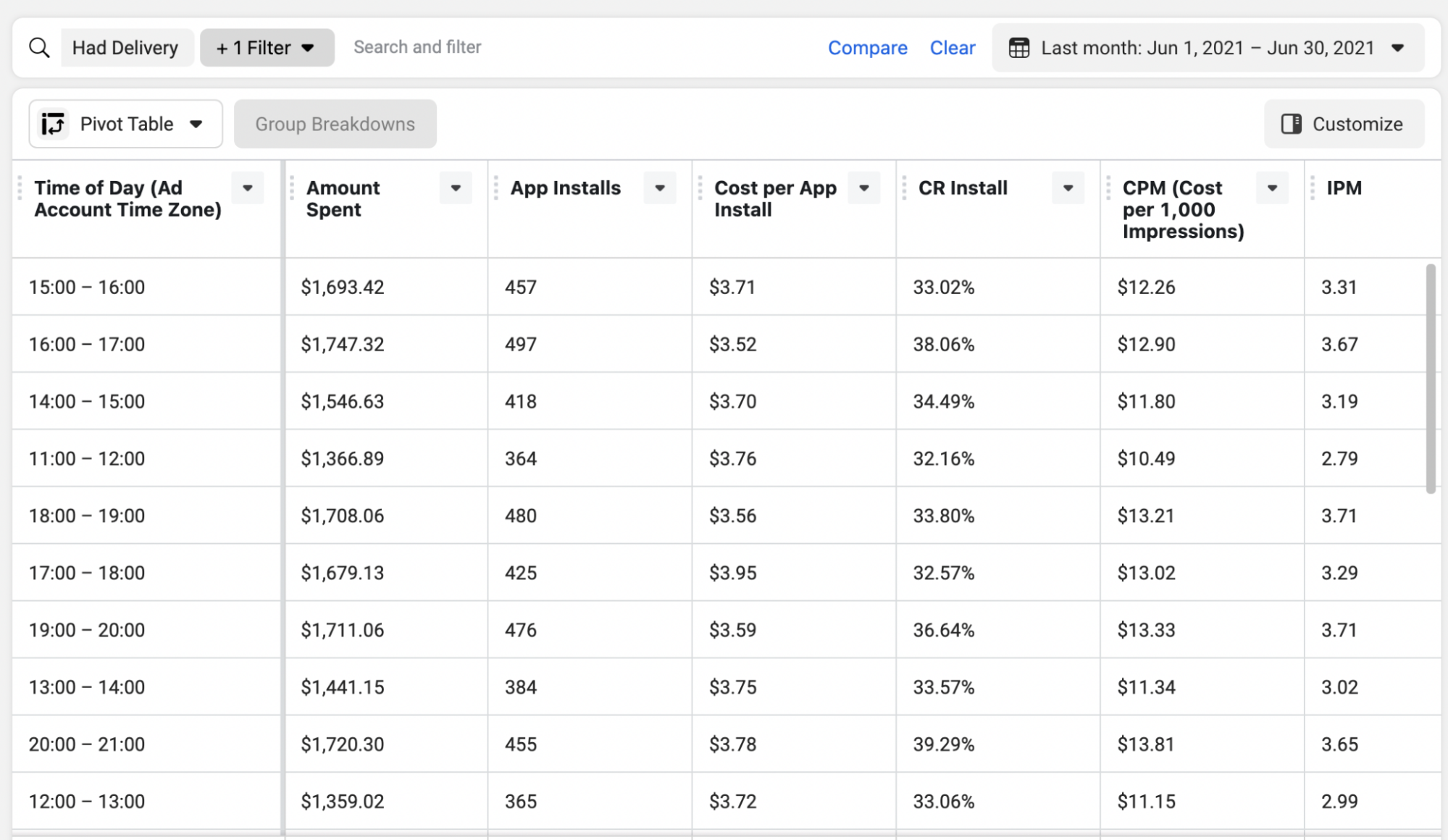 Now, you can analyze at what time you have more conversions at a lower cost.
Google Analytics
To discover the time when your ads convert the best, use your Google Analytics account. First, select a date range, then choose Conversions > Goal URLs. Next, find your "Order Completed" page in the list and click on it.
Select Secondary Dimension and type in the word Hour. Then, click on Hour in the drop-down menu. This report will show you the number of people who have purchased your product grouped by the hour of the day.
If you change the Secondary Dimension to Day of Week Name, you can discover on which days of the week users convert the best.

If you want to spend your budget on the people who are most likely to convert, choose the most profitable days and hours.
Research Your Competitor Performance throughout the Day
Despite the best data being your own, sometimes it's worth looking at your competitors too. After all, you are sharing the same audience.
Analyze at what time your competitors are running their ads and how the audience responds to them. For example, you can look at the time when users leave the most comments.
Though you can discover valuable data this way, this manual work can be really time-consuming. However, some tools can help, for example, NapoleonCat. Using this, you can find out which days and hours competitor's posts enjoy the highest engagement.

But, as we said, there is no guarantee that your competitor's best practices will work for you, so we highly recommend doing your own research based on your unique data.
How to Set a Schedule for Your Facebook Ads
Now, when you have your insights, it's time to use them well. 
To schedule your ads, go to your Facebook Ads account, select Lifetime Budget, and set a Start and End Date. Unfortunately, you can't set a schedule when you choose Daily Budget.
After that, you can select Run ads on a schedule. Now, choose what time zone you will use (you can select your account's time zone or your audience's time zone). Make sure the time zone is the same as your time zone in Google Analytics.
When you select Run ads on schedule, the following box will open: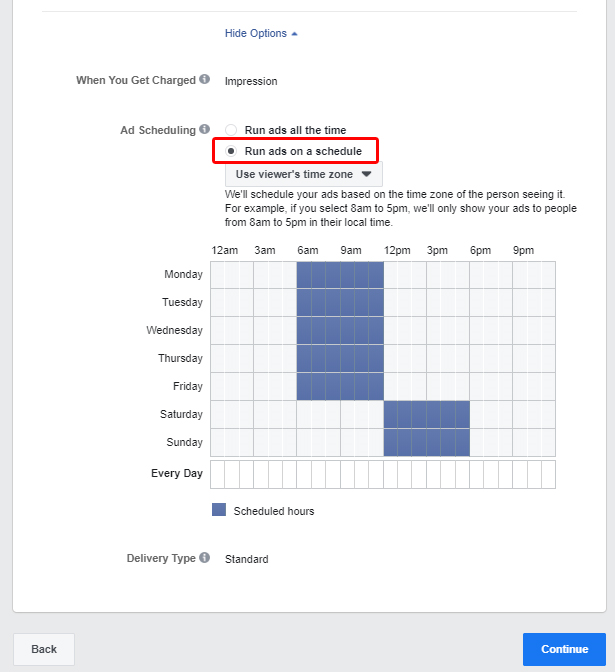 Click inside the boxes that represent the days and hours you want your ads to run.
Best Practices to Show Your Facebook Ads at the Right Time
Consider different time zones. This may be an obvious one, but it's crucial to make sure that you are using the correct time zones for your audiences. Otherwise, all your analytical work is useless.
Don't be too granular. Facebook's advertising system doesn't like it if you shake it up and make too many adjustments. We wouldn't recommend starting and pausing your campaigns every couple of hours. Schedule for larger intervals.
Test and analyze. Compare your results with and without scheduling. Sometimes evenly running campaigns perform better.
Adjust. Your audience's behavior can change over time, and your perfect schedule won't work anymore. Consider such factors as seasonality, holidays, significant events, etc.
Make the most of your PPC campaigns with PromoNavi! Save time managing your Facebook, Google, and Microsoft Ads accounts within a single platform and get profitable insights to boost your KPIs.

Get started with a 14-day trial with unlimited access to all the features!