Are you looking for a platform with a high number of users but not overcrowded by advertisers? TikTok can be the right choice for you. With over 1 billion active monthly users, TikTok is now one of the favourite apps for people of all ages all over the world.
Don't give in to prejudice that TikTok is for kids and teens only; the audience is growing up with the platform year over year. For example, in the U.S., over 50% of active TikTok users are 30+. And you can definitely profit from it, until your competitors do.
Are you ready to explore the stats behind the platform, the advertising types, and the ad setup process? Let's dive in!
Quick Links
Why You Should Advertise on TikTok: The Audience of TikTok
How Much Does it Cost to Advertise on TikTok
How to Advertise on TikTok: Creating an Ad Manager Account
How to Advertise on TikTok: Creating Ad Groups and Ads
How to Measure Your TikTok Ads Performance
What is TikTok?
TikTok is an app for creating and sharing short videos on any topic, from dancing and cooking to education and since. Videos can last from 15 seconds to three minutes and contain music, stickers, and other special effects.
The history of TikTok began in China in 2016 with the Douyin app. TikTok and Douyin are very similar, but due to Chinese legislation, users from these two apps have no access to each other's content.
To bring Douyin to the international market in 2017, the owner of Douyin — ByteDance company – bought the platform Musical.ly and launched their application on its infrastructure. From August 2018, TikTok became available worldwide.
Today, TikTok's audience is more than 1 billion monthly active users. This is more than the audience of Snapchat (500M) and Pinterest (480M) together.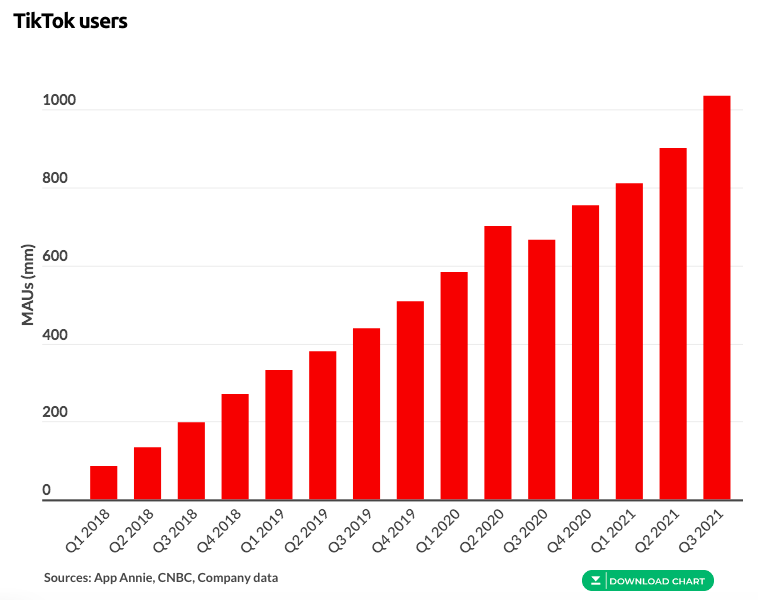 Image source: Business of Apps. TikTok Revenue and Usage Statistics (2021)
TikTok continues to grow. According to SensorTower, TikTok was the most downloaded non-gaming app worldwide for September 2021 with more than 59 million installs.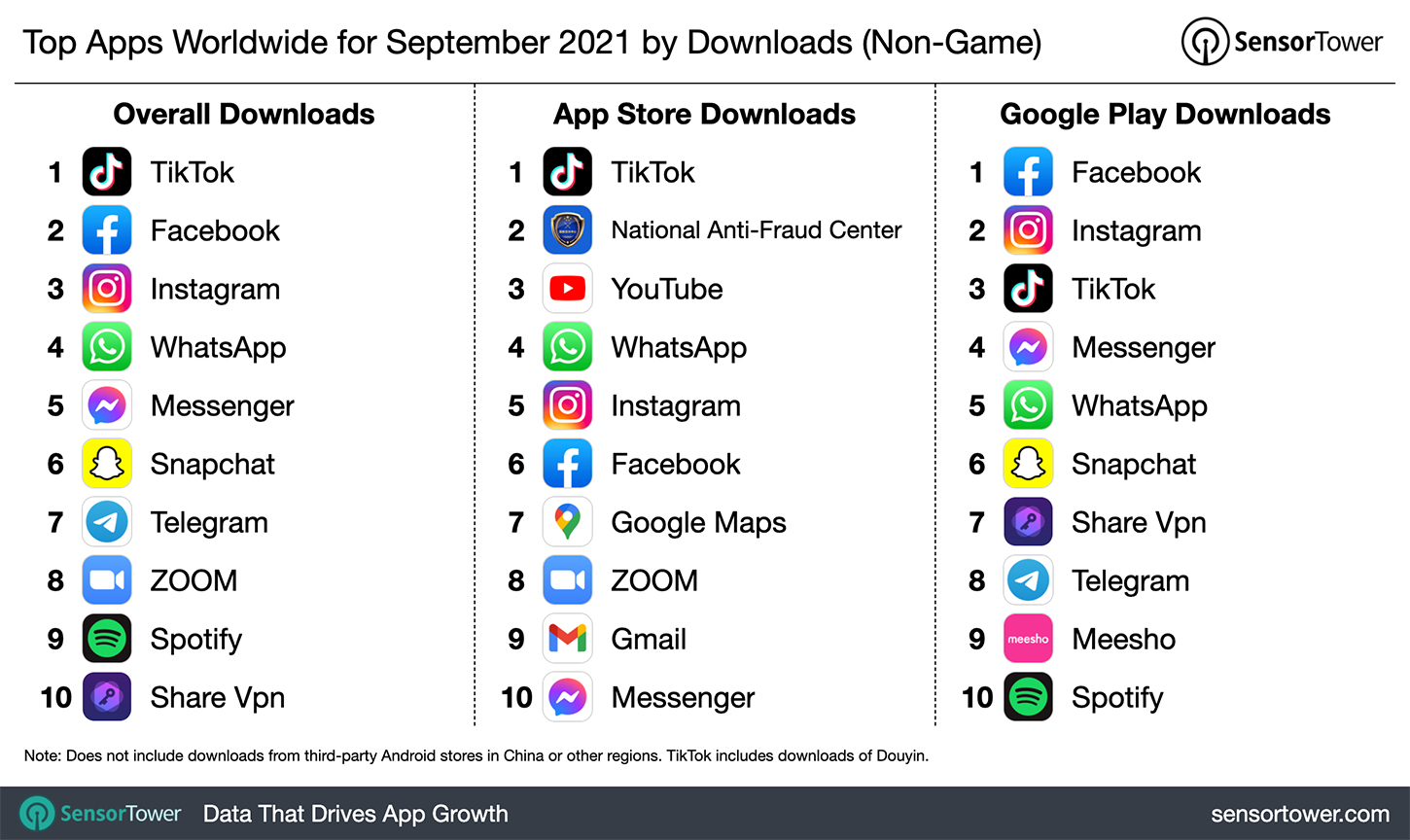 Image source: SensorTower. Top Apps Worldwide for September 2021 by Downloads
In total, TikTok has been downloaded over 3 billion times.
Why You Should Advertise on TikTok: The Audience of TikTok
The audience of TikTok is huge and diverse. You can reach out to the most age groups, countries, and languages. Here are some impressive stats that can help you make your decision:
According to AppTrace, TikTok is available in 141 markets. However, the official TikTok Creator Marketplace claims that TikTok is now available in over 150 countries.
U.S. TikTok users spend an average 858 minutes per month on the app. As you can see from the chart, there is a significant increase in monthly user engagement over the last time: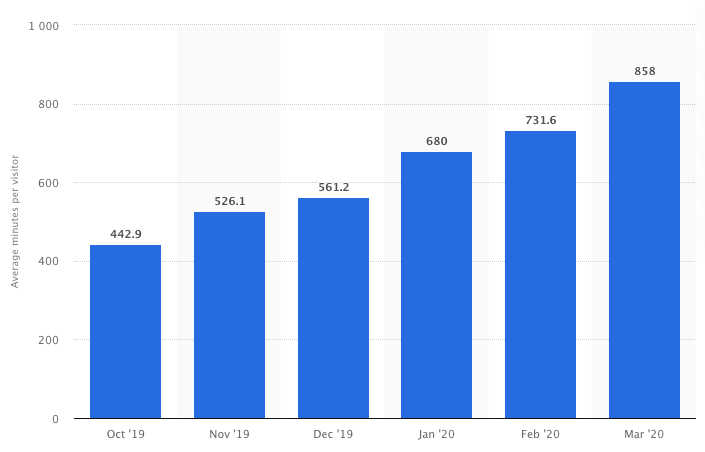 Monthly TikTok app user engagement in the United States from October 2019 to March 2020 (Image source: Statista)
In the U.S., 20% of those with household income of more than $75,000 have used TikTok. 
In the U.S, TikTok is more popular with females than it is with males. As of spring 2021, women accounted for 61% of TikTok's users, with men counting for 39%. So if your target audience is women, you should definitely give TikTok a try.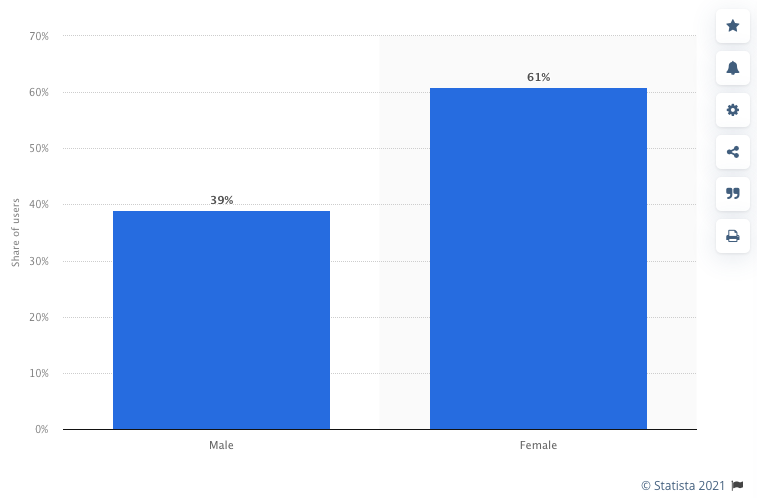 Distribution of monthly active TikTok users in the United States as of March 2021, by gender (Image source: Statista)
TikTok users are growing up: over 50% of active TikTok users in the U.S. are over 30 years old.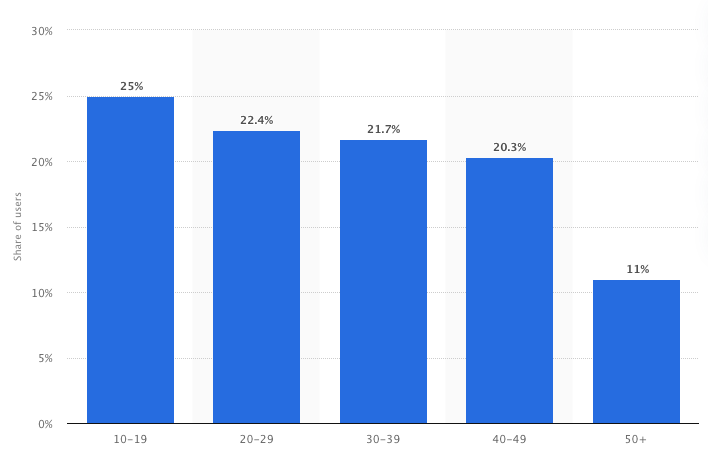 Distribution of TikTok users in the United States as of March 2021, by age group (Image source: Statista)
One more great news about TikTok for advertisers: platfrom's users feel good about the ads published on TikTok. These are the results of a study with more than 25,000 participants across 20 countries:
72% of survey participants find TikTok ads inspiring.
70% think that the ads on TikTok are trend-setting.
80% believe that TikTok ads are enjoyable.
67% of participants said that TikTok ads capture their attention (10% more compared to other platforms).
TikTok Ad Types [+Examples]
TikTok has a wide range of available ad formats, but there is only one you can launch by yourself in your ad account—In-Feed Ads. For other formats, you should contact your account manager. 
But let's go step by step through all TikTok ad types. 
In-Feed Ads
As you can follow from their name, these are ads in the feed. They appear among the native news feed of TikTok users on the "For You" page. They fit into the feed natively, so it is often even difficult to understand that this is an ad.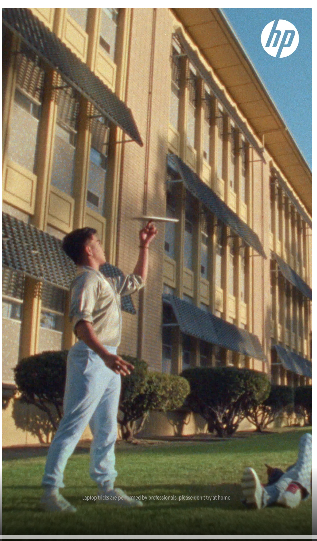 An example of the In-Feed ad on TikTok
Users can like your commercials, comment on them, share, subscribe, upload, shoot videos with the same music, etc.
Brand Takeover
This is a large-format ad that appears when users open the app. It takes over the whole screen for a few seconds, and then turns into an in-feed video ad. Brand takeover is an exclusive format and is limited to one advertiser per day.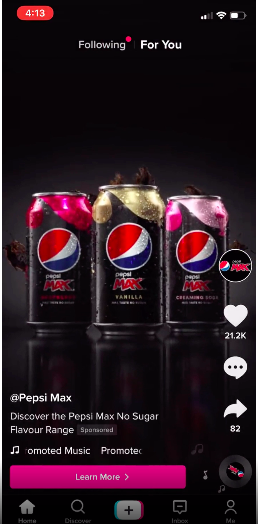 An example of the Brand Takeover ad on TikTok
Branded AR content
Ads can also look like branded tailor-made sharable stickers, lenses and other types of AR content. Other TikTok users can use them in their videos.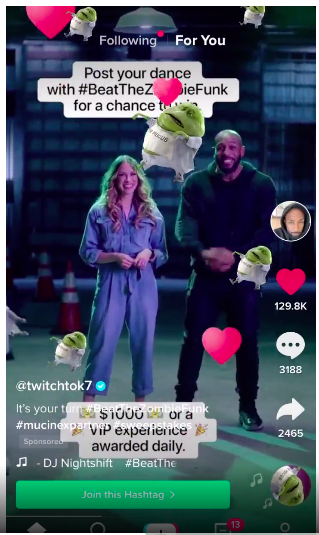 An example of the Branded Effects ad on TikTok
Hashtag Challenge
You can find this type of ads in the "Discovery" section on TikTok. Hashtag challenges engage users to create their own content by uploading a video with a special challenge.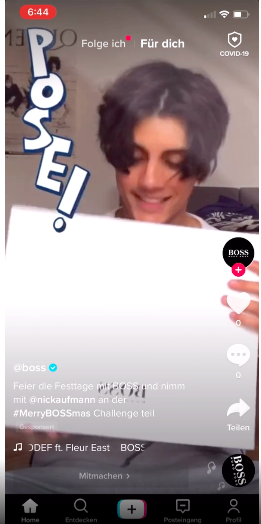 An example of the Hashtag Challenge on TikTok
Top View
This format presents your brand on the best and unmissable placement of TikTok—right on the top of the feed.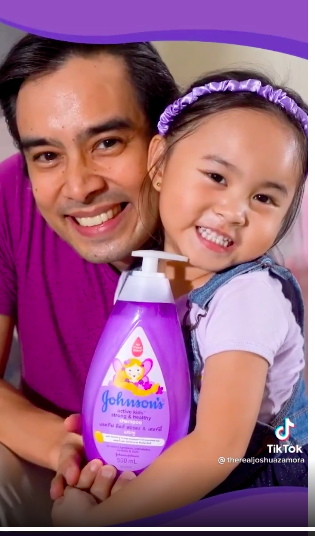 An example of the Top View ad on TikTok
How Much Does it Cost to Advertise on TikTok
For In-feed ads, TikTok requires a minimum budget of $500 for overall campaigns, with a $20 minimum for ad groups. This means, you can start relatively small. 
However, other ad formats, like Brand takeover or Hashtag challenge can be quite costly, and are options for bigger brands. TikTok doesn't publish prices for these formats but many marketers refer to a leaked TikTok pitch deck that states that large campaigns can range anywhere from $25,000 to $150,000.
How to Advertise on TikTok: Creating an Ad Manager Account
If you have run ads on Facebook, setting up ad campaigns on TikTok should not be an issue for you. Campaign setup, structure, and functionality are very similar to Facebook.
First, you need to create an ad manager account. 
1. To do this, go to TikTok for Business and click the Create Now button on the top of the page.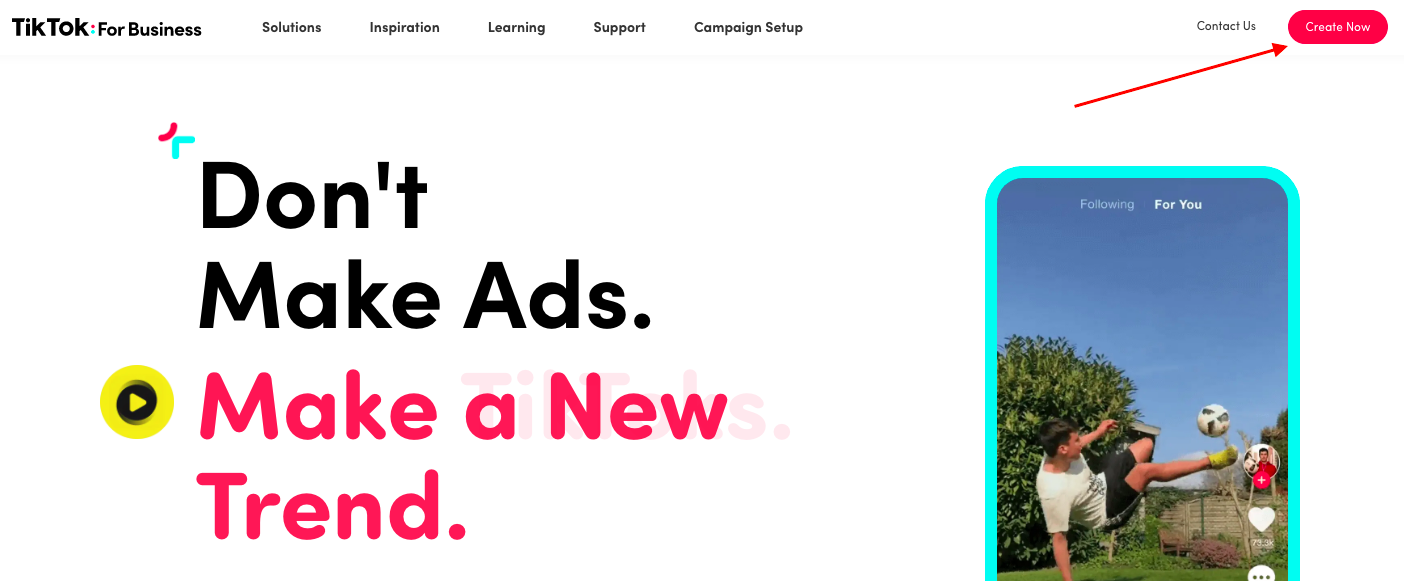 2. You can choose how you want to sign up (via Email or Phone). Fill in your registration details: your email-address or phone number, and your password.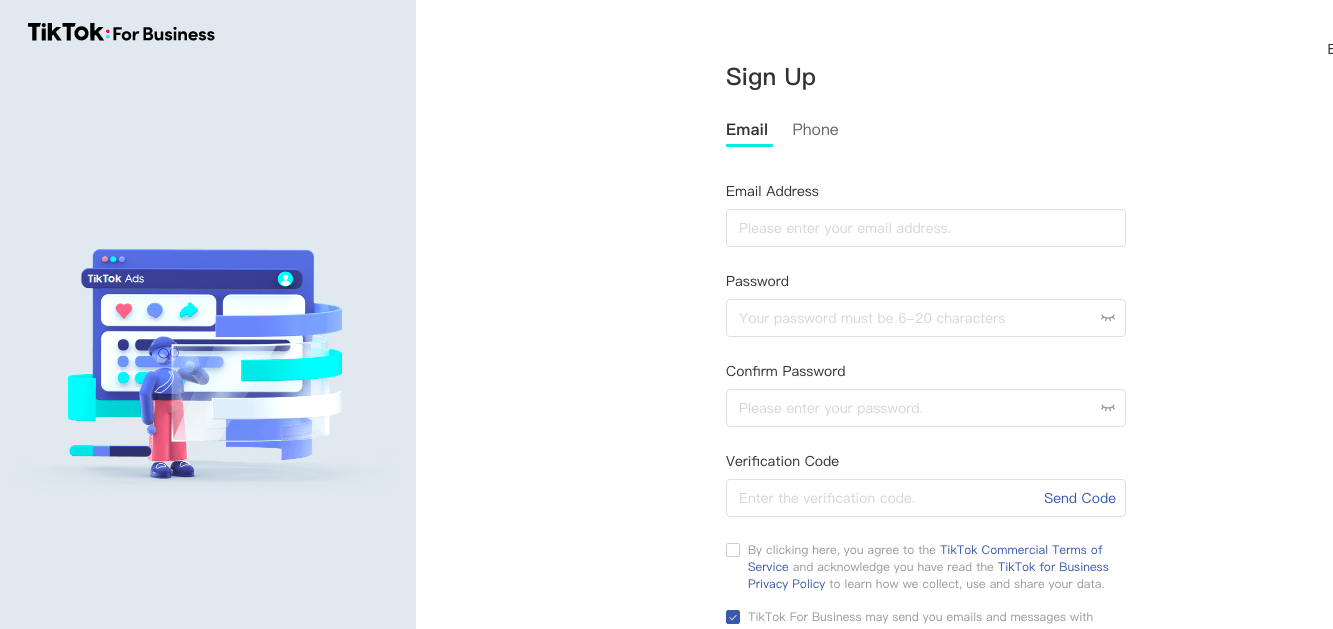 3. Click Send Code. You will receive it via SMS or email.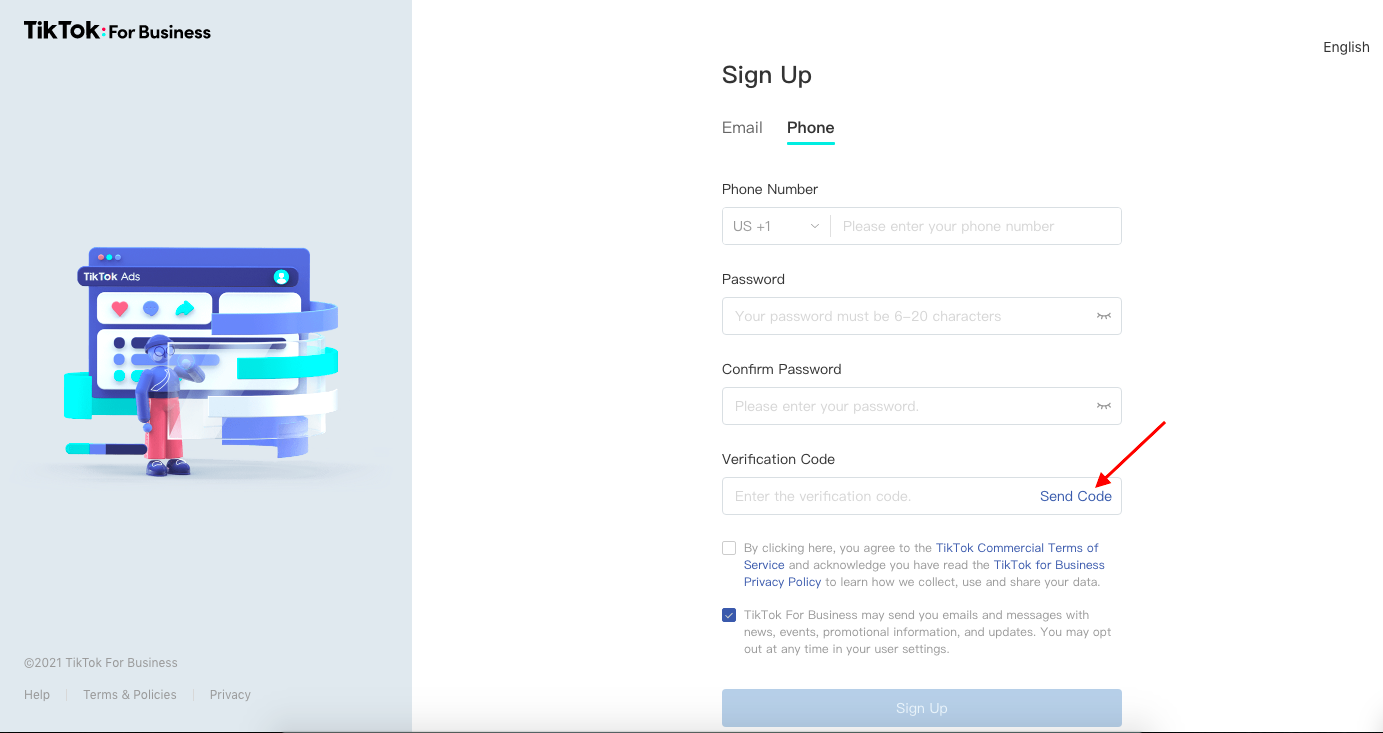 4. Enter your verification code, check that you agree with TikTok's terms and policies, and click the Sign Up button.
5. Next, fill in the information about your company: choose your country, time zone, industry, and currency; enter your company name and your email. Click Register.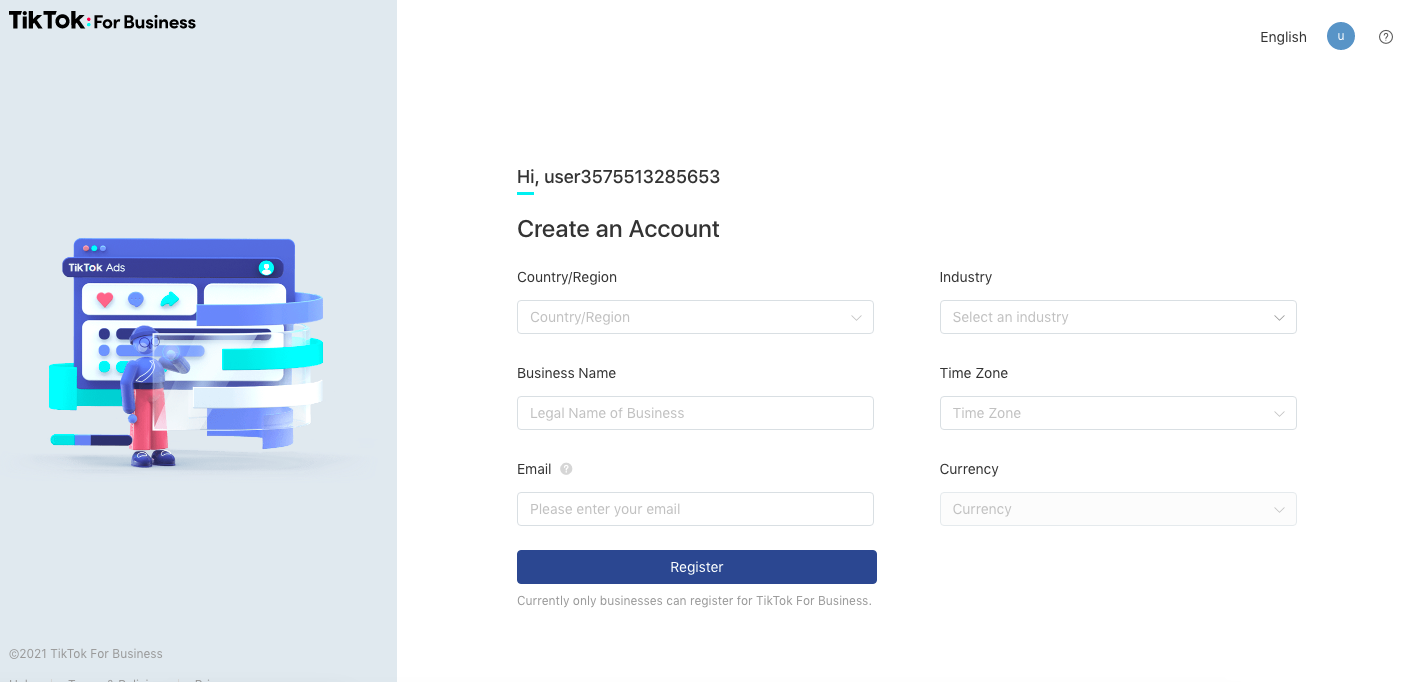 6. Next, you need to fill in short information about your business for contracts, taxes, and voucher notifications.
Enter your company website or a link to App Store or Google Play.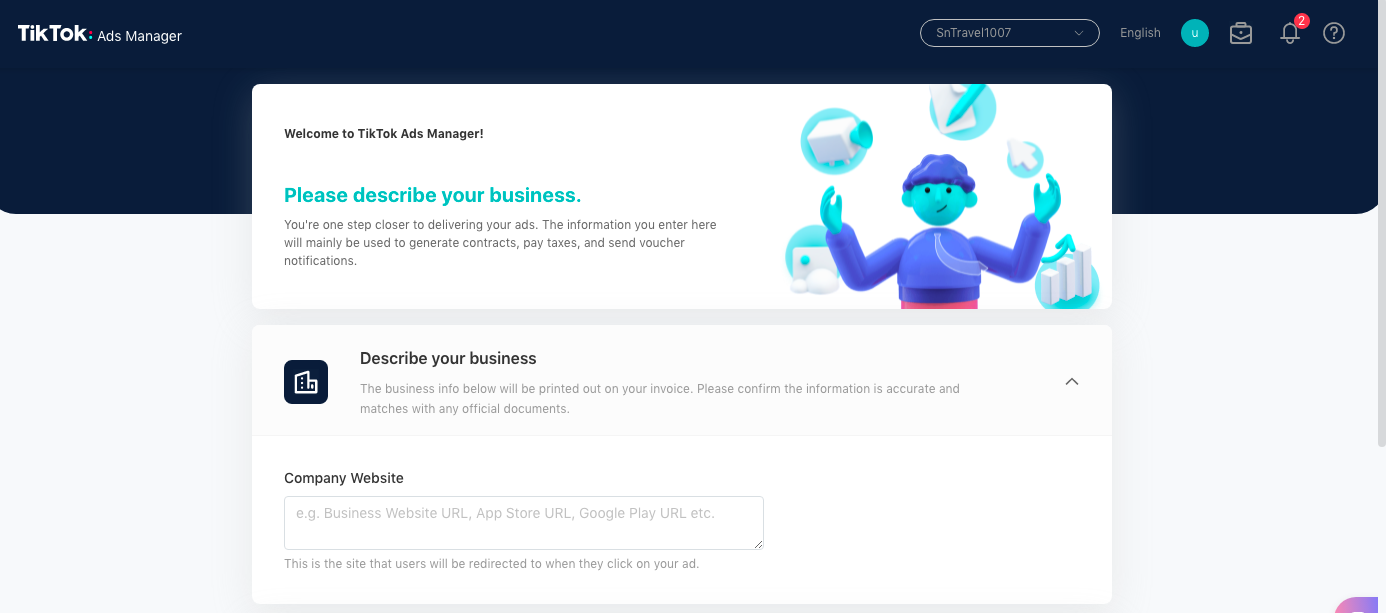 7. Enter your billing address—this address will be printed on your invoices.

Now, you are ready to start with your first campaign!
How to Advertise on TikTok: Creating Ad Groups And Ads
When you create your first campaign, the system will ask you which Ads Manager mode you want to use. You can choose between the Simplified and the Custom mode. You can start with the simple one; however, you can change the mode at any time.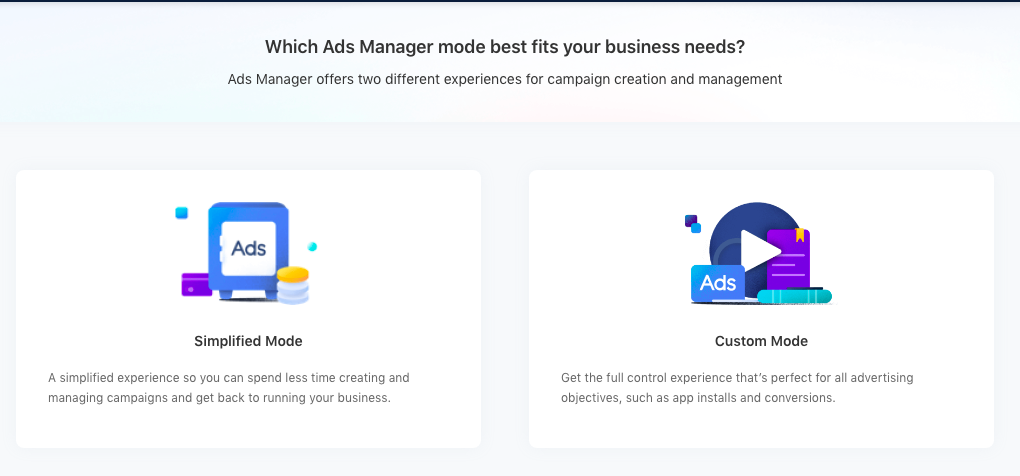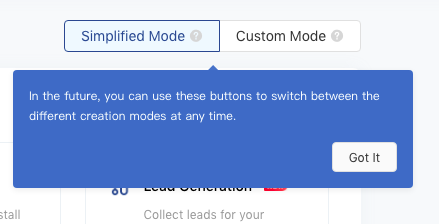 Let's take a look at how the set up process works in the Simplified Mode.
1. Choose the advertising objective for your campaign. You can choose between 4 objectives:
Website Conversions
Website Traffic
App Installs
Lead Generation

2. Enter your campaign name and click Continue.

3. Enter your ad group name.

4. Select a TikTok Pixel from the list and an Optimization Event.

How to create a TikTok pixel:
Click the Create Pixel button. Enter the Pixel name and choose the installation type (install it manually or using a third party tool like Shopify or Google Tag manager). The system will walk you through the next steps depending on the installation type you choose.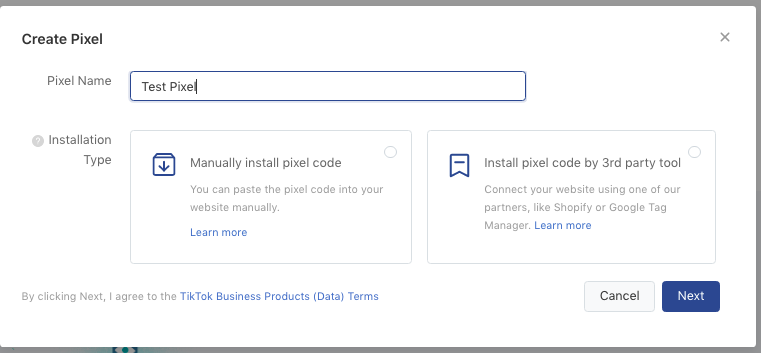 Use the Google Chrome extension TikTok Pixel Helper to check if your Pixel has been installed correctly.
5. Proceed to the Placement and Targeting section.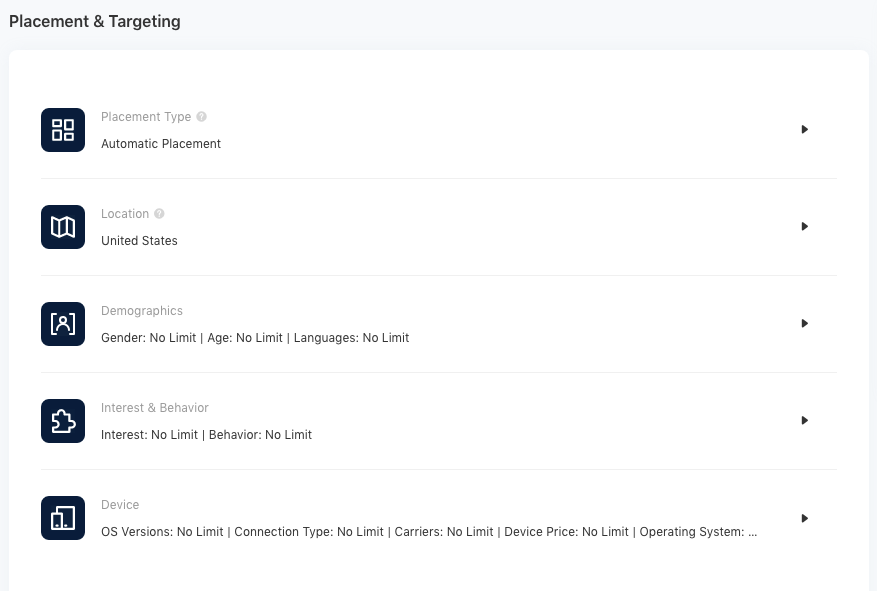 In the Placement Type section, you can choose between Automatic Placement and Select Placement.
Automatic placement means that your ads will be shown automatically across supported placements.
Select Placement offers you to manually choose your targeting placements: TikTok, News Feed Apps (TopBuzz, BuzzVideo, News Republic, Babe), Helo (India only), and the global publisher network Pangle.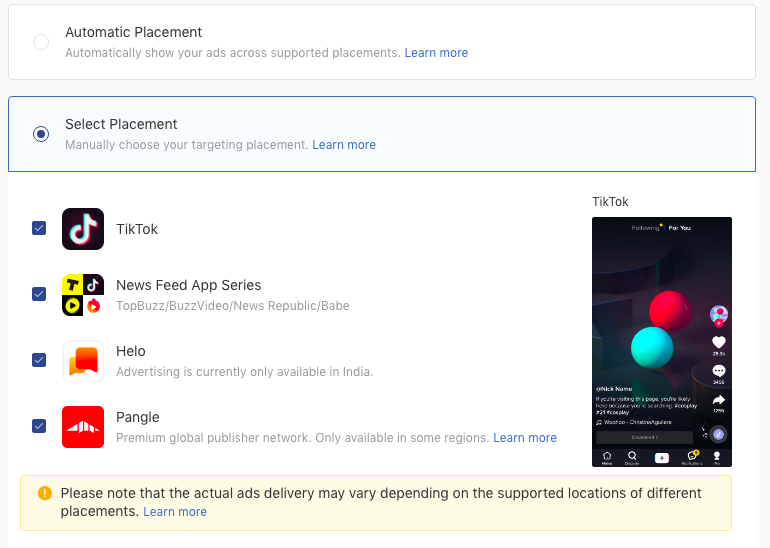 6. Expand the Audience Actions section and decide, if you want to allow users to comment and download your video ads on TikTok.

7. Select your users' location.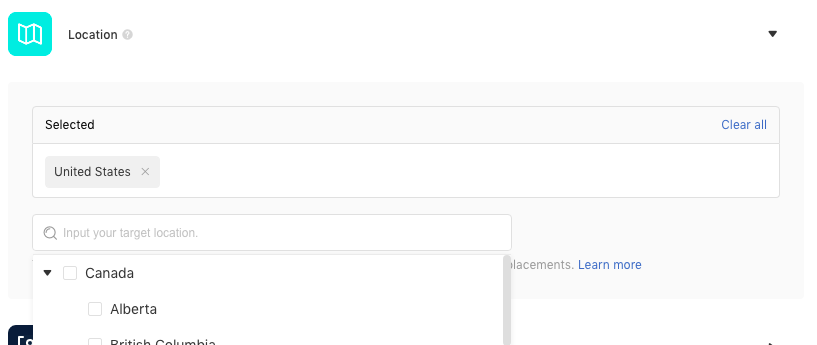 8. Decide on the demographics of your target group: Gender, Age, and Languages.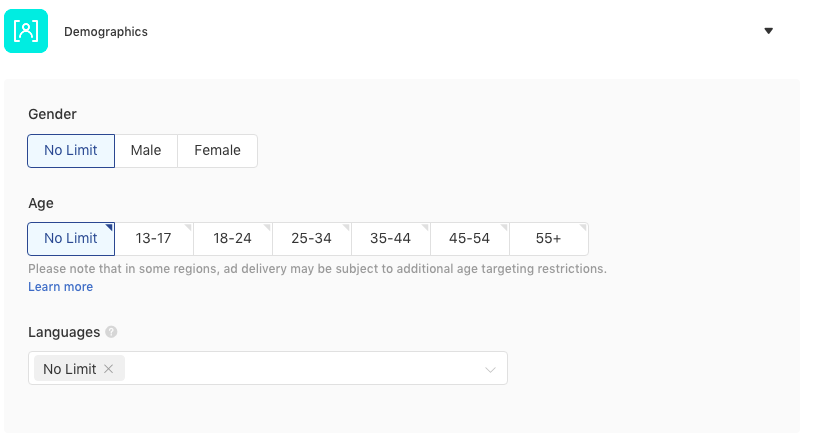 9. In the Interest and Behavior section, you can select from an expandable list of interests. You can also set video-related action targets.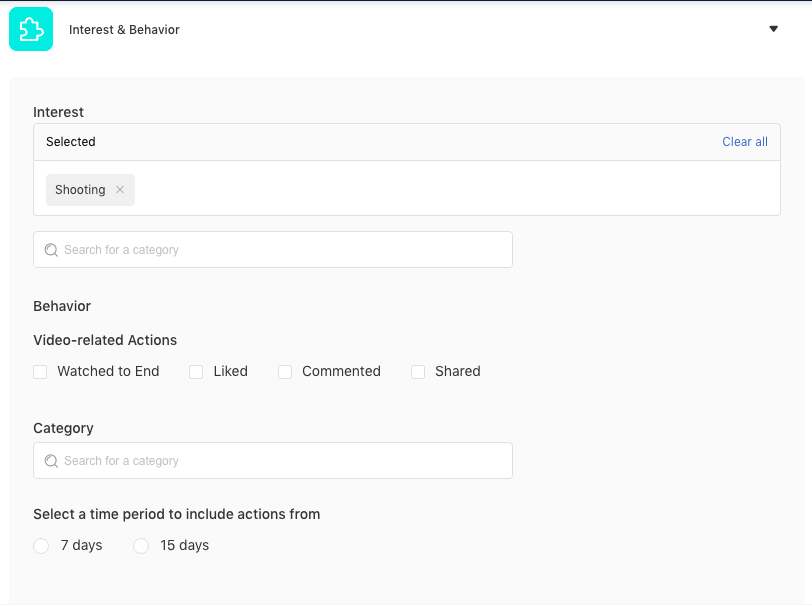 10. Next, choose a video category from the list.
11. Add a time period to include actions from (7 or 15 days).

12. Set the device settings.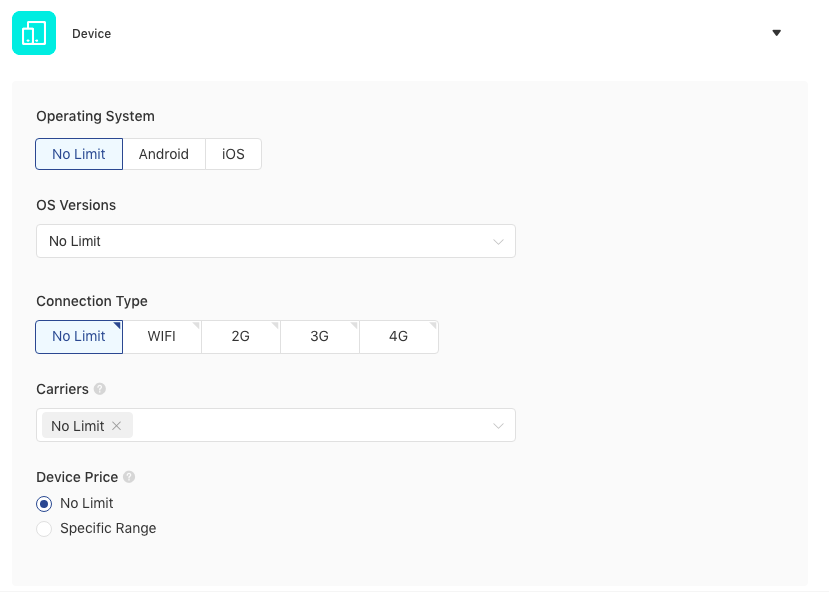 13. Now, proceed to the Budget and Bid Optimization section. You can choose between a Daily and the Lifetime budget. The minimum amount is 20 USD. Next, set a schedule.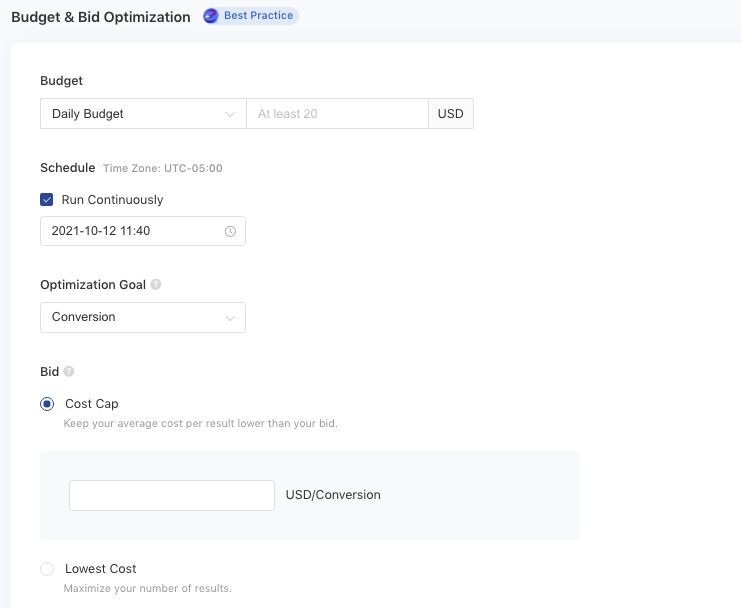 14. Choose your conversion goal: Clicks or Conversion.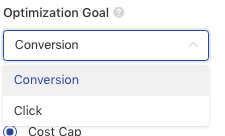 15. Set a cost cap (this means your average cost per result should be lower than your bid) or choose the Lowest Cost to maximize the number of results. Use the second option if you want to spend your budget fully, but keep in mind that the cost per result may rise as your budget increases.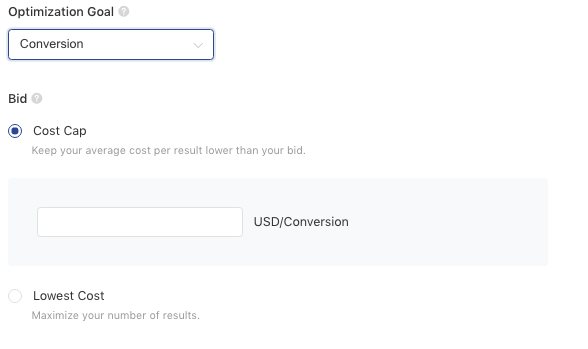 After you have finished this setup process, you can finally create your first ad.
How to Create a TikTok Ad
You can use videos or images as your ad creatives. If you upload images, TikTok will create videos from them. Here are the recommended video ads specifications for TikTok and partner platforms.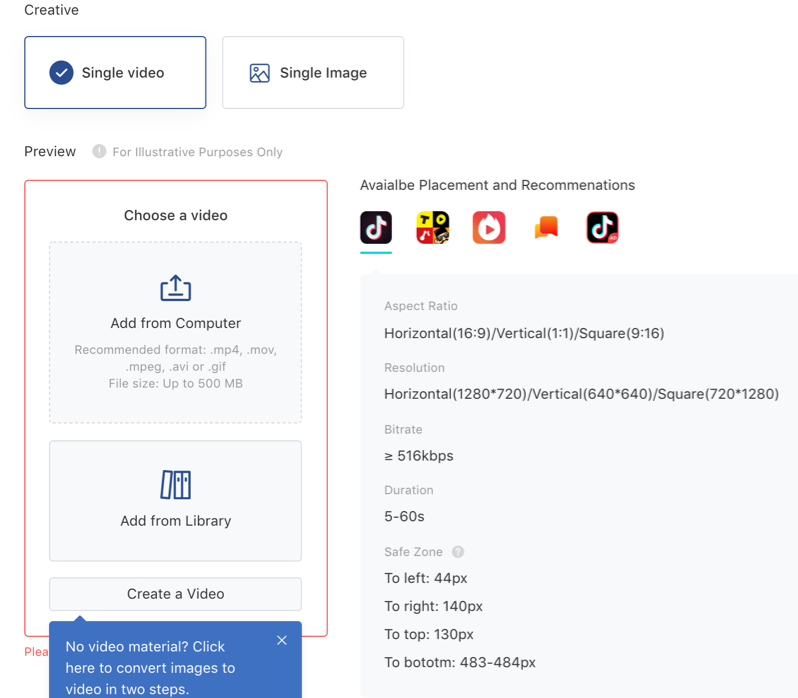 Next, enter your ad name to distinguish it between different ads within the same ad group. Once done, enter your ad text (12-100 characters); your message will appear above your ad.
Finally, you can choose from a call to actions list depending on what you want your audience to do: "Book Now," "Sign Up," "Contact Us," and more.
To finish creating your ad, click on the Submit button.
Your ad will be sent for approval. After successful verification, your ads will start being displayed, and you will be able to track their performance on the dashboard in the TikTok manager account.
How to Measure Your TikTok Ads Performance
TikTok provides native analytics on impressions, clicks, conversions and more. We recommend testing and comparing the performance of different ad creatives and placements to analyze what works best for you.
You will find valuable insights on your Dashboard. From the Reporting section (available from the top menu), you can create customized reports by choosing from Dimensions and hundreds of Metrics: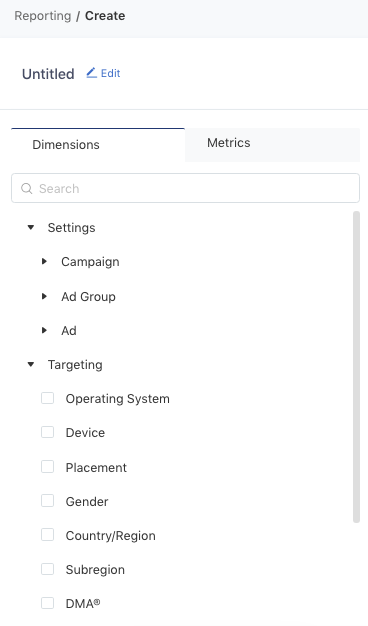 TikTok Ads Best Practices
Now, you are ready to start with your TikTok advertising. Here are 10 tips for making your ads even more effective.
Use a video resolution of 720P or above. Over 80% of top-performing videos have a resolution of at least 720P. Your ads should be clear, sharp, and of the highest quality.
Add audio to your ad. Videos with audio get 16% more impression than videos without any audio.
Use aspect ratio 9:16. Almost 99% of top-performing videos have an aspect ratio of 9:16.
Prefer vertical orientation. Vertical video indicates 40% more impressions compared to square or horizontal videos.
Reference to trends in your ads. Browse TikTok trends on a daily basis and try to include trending music, challenges, etc. in your ads. 
Look for insights on the Inspiration section on TikTok for Business. Browse for top ads, trend discovery, and showcases. You can filter creatives by country, industry, campaign objective, duration, and format.
Use a single call-to-action (CTA) in your ad. Make it very clear what you want from your viewers to do next. Don't confuse them. 
Create authentic-looking ads. Avoid the look of polished advertising, aim for the authentic look of user generated content (UGC).
Get straight to the point. Highlight your product or message early, in the first seconds of your ad. Keep your ad short and direct.
Experiment. Try different ad formats and creative elements to find the mix that brings the most for you.
Add TikTok to your marketing mix to connect with your audience in a fresh authentic way! Stay tuned to find more insights about advertising on TikTok in our blog!
Boost your digital advertising performance! Link your ad accounts to PromoNavi to automate everyday tasks and receive valuable recommendations on how to improve your campaigns.

With PromoNavi, you can do keyword research, competitor analysis, automate reporting, track your PPC performance on the Analytics Dashboard, and get profitable PPC optimization recommendations.