Microsoft Advertising provides a wide range of audience targeting options. You can connect with your customers using location and device targeting, product audiences, in-marketing audiences, and more. One of the most exciting options (unique to Microsoft Advertising) is LinkedIn Profile Targeting.
How to target users based on their professional profiles on LinkedIn? We'll guide you through the whole process!
Are you experienced in managing multiple PPC campaigns on Google/Microsoft? We are searching for skillful PPC specialists to test our PPC automation toolkit. For the testing and your expert feedback, we'll reward you with $100. Are you interested in this offer?
Click for details
!
Quick Links
How LinkedIn Profile Targeting Works?
Why You Should Use LinkedIn Profile Targeting
How to Set Up LinkedIn Profile Targeting
How to Analyze the Performance of Ad Groups and Campaigns with LinkedIn Profile Targeting
LinkedIn Profile Targeting: Best Practices
Target businesses that are on your prospect list
Find the most prospective businesses
How LinkedIn Profile Targeting Works?
LinkedIn profile targeting was first announced in 2018 when Microsoft bought LinkedIn. However, for two years, it was available only in the U.S. in beta. Since September 2020, LinkedIn profile targeting is open for advertisers worldwide, but you can target only users located in the United States, Canada, United Kingdom, France, Germany, and Australia.
You can apply LinkedIn profile targeting at the ad group or campaign level to Search, Dynamic Search, Audience, and Shopping campaign types. The system will serve ads to users based on the information in their LinkedIn profile, like industry, job function, and company.
It's Important: Who Will See Your Ads
The targeting option for LinkedIn profile targeting is "bid only." Unlike with the "target and bid" option, you can't run your ads only for the persona types you specify. For example, by targeting a specific job title, you are not excluding users with other job titles.
Your bid adjustments will increase or decrease your bid for specifically targeted customers. For example, suppose you want to improve the chances of showing your ads to people who work for company X. In that case, you add a 25% bid adjustment for X. Now, with a higher bid, Microsoft is more likely to display your ad when someone from company X searches for products or services you offer.
Keep in mind that bids will multiply if a customer is included in multiple segments. For example, you have a general bid of $1.00. If you target Company=X with a bid adjustment of 10% and also target Job function=Purchasing with a bid adjustment of 25%, the resulting bid adjustment for a user matching both criteria will be $1.37 ($1.10 x $1.25).
Why You Should Use LinkedIn Profile Targeting
You won't find this targeting option anywhere else (except LinkedIn itself). So this is a unique opportunity to reach hot audiences in your niche.
Targeting businesses just with keywords could sometimes be challenging because customers and B2B representatives often use the same search terms but with different intentions. This results in wasted spend on clicks for consumers instead of large companies they serve. With LinkedIn profile targeting, you can focus your PPC budget on specific companies, industries, or job titles.
If you are ready to spend more money for specific audience segments, you can do it extremely accurately. Think of the combinations of job titles, industries, or even companies that can convert into contracts.
Lower-Funnel User at a Lower Cost (Compared to LinkedIn)
Of course, you can advertise directly on LinkedIn itself and target the audience you need. But in many ways, Microsoft Advertising with LinkedIn profile targeting can be a more profitable choice.
Think of advertising on LinkedIn as a quite pricey top-of-funnel tactic to find qualified users that will require an upfront marketing spend. However, advertising on search is associated with lower-funnel users. So, if you combine the targeting options of LinkedIn with search ads benefits, you can aim for a higher ROAS.
How to Set Up LinkedIn Profile Targeting
LinkedIn profile targeting is easy to set up in minutes. You can do it when creating a campaign or ad group, or change targeting settings for existing ad groups and campaigns. 
Let's see how it works. 
Even if you are new to Microsoft Advertising, you don't need to start from scratch. The simplest and fastest way to start here is just to import your existing campaigns from Google Ads. Here is a comprehensive guide.
How to Set Up LinkedIn Profile Targeting When Creating a Campaign
You can set up LinkedIn profile targeting after proceeding to Budget & bids (step four in the setup process).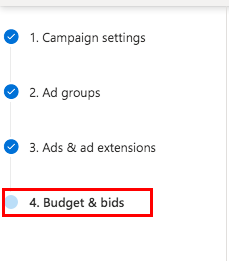 1. Navigate to Campaign targets (it's under the Budget & bids section).
2. Select target categories you want to add. Location and Device categories are enabled by default.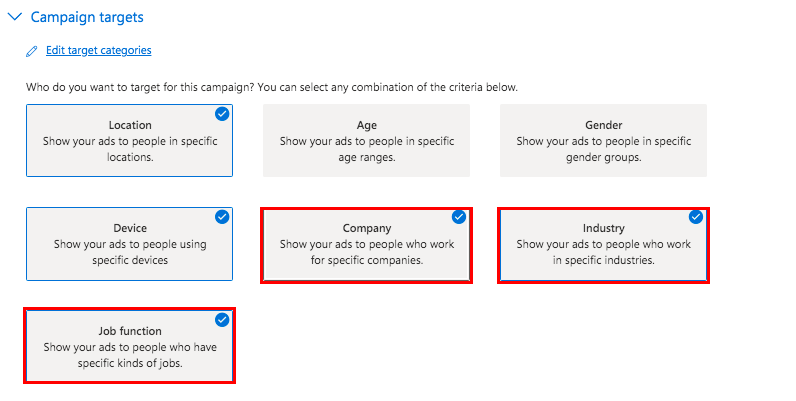 3. Click Edit target categories.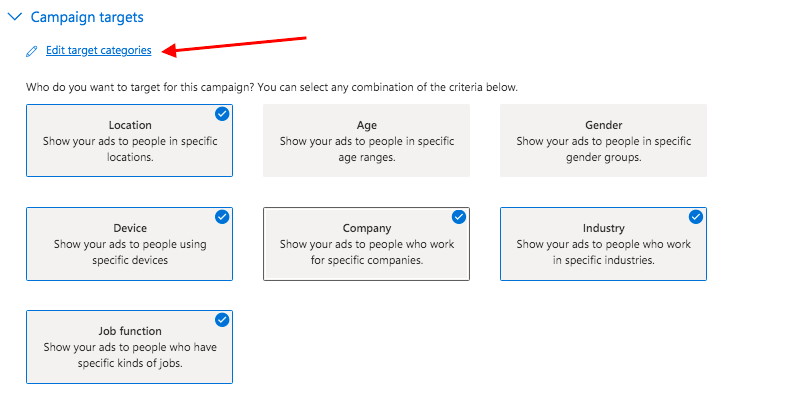 4. For each target, click Edit target.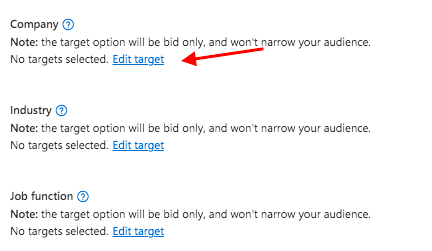 5. From here, you can search for industries, companies, and job functions.
Company: There is no list of companies; you need to enter their names manually. Enter a company name and click Enter; a list with matching options will appear.
You can add a maximum of 1,000 companies in a single campaign.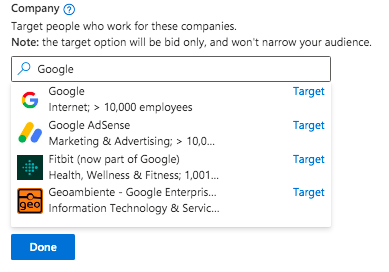 Click Target for the ones you want to choose. The system will build a chart with companies you choose, containing short information about them and the approximate employee number. Then, by clicking on X on the right, you can remove companies from the listing.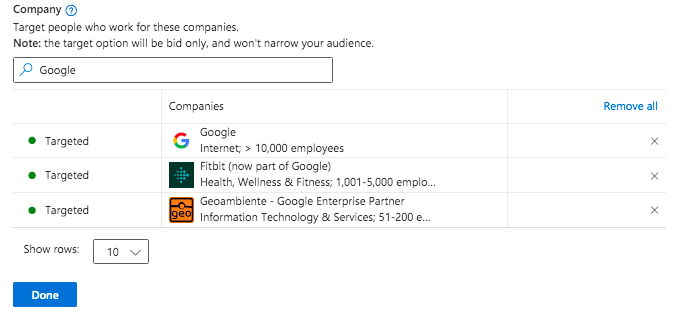 After you have added all companies you wanted, click Done for this target type.
Now, set a bid adjustment for each target. By default, your bid adjustment is set to 15%; it can range from -90% (Decrease) to +900% (Increase).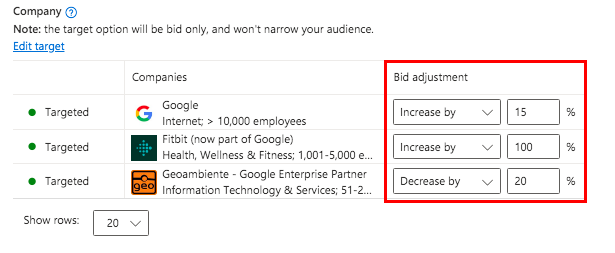 Industry: Choose from a list of 150+ industries and click Target. First, select a higher-level industry, then dig deeper into the more specific subcategories under those.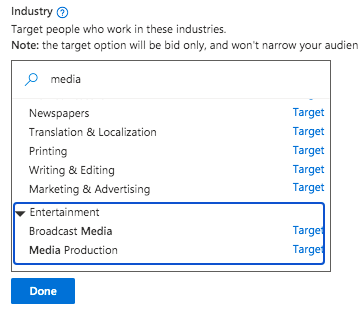 After your target list is ready, click Done.

Set your bid adjustments.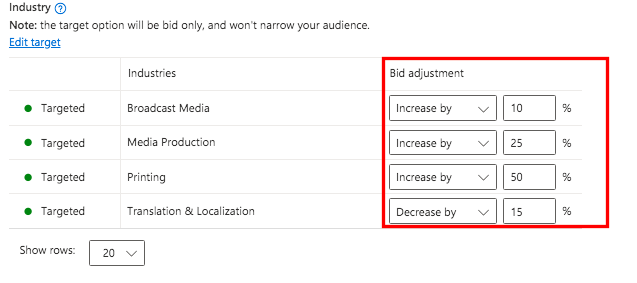 Job function: You can see is a list of 27 job functions you can choose from.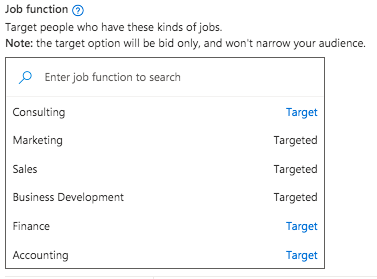 Click Done and set bid adjustments—the same way you did for Companies or Industries.
How to Set Up LinkedIn Profile Targeting When Creating an Ad Group
The setup process is quite similar; you will find the Ad group targets section under Bids & Targets and Advanced ad group settings.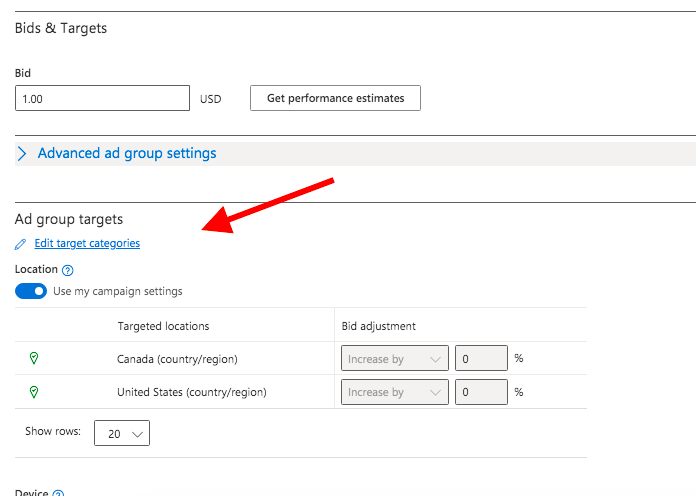 1. Select Edit target categories.
2. Choose Company, Industry, and/or Job function and follow steps 3-5 from the instruction above. Note: you can add a maximum of 1,000 companies in a single ad group.
At this step, if you have already set this target type at the campaign level, you'll see the Use my campaign settings toggle switched on. If you want to edit this target type for this specific ad group, switch it off and select Edit target.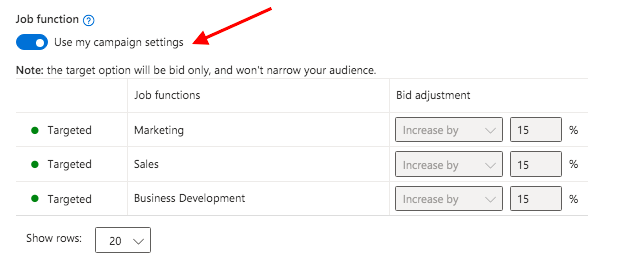 How to Set Up LinkedIn Profile Targeting for an Existing Campaign / Ad Group
You can set up LinkedIn profile targeting for already existing campaigns and ad groups. Navigate to the group's or campaign's settings and select Edit target categories from the Ad group targets or Campaign targets section.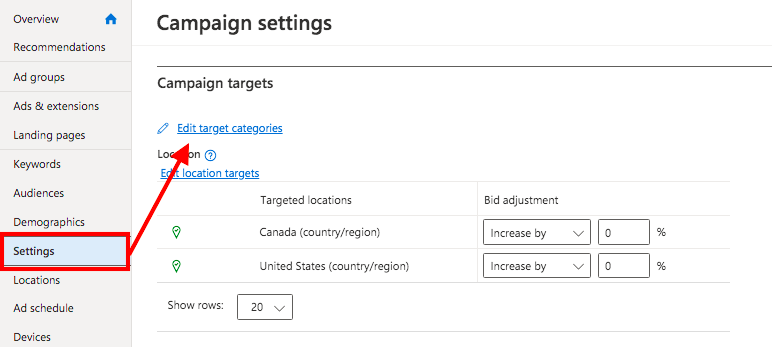 The Demographics tab is one more place to go to set up LinkedIn profile targeting for existing ad groups and campaigns. That's how you can do it:
1. Navigate to Demographics from the left sidebar menu.

2. Select Company, Industry, or Job function.

3. Click Add company, Add industry, or Add job function, and select a campaign or ad group.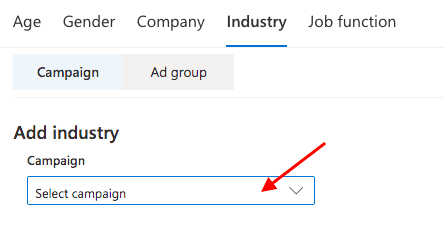 4. Search for a company, industry, or job function, and set a bid adjustment for it.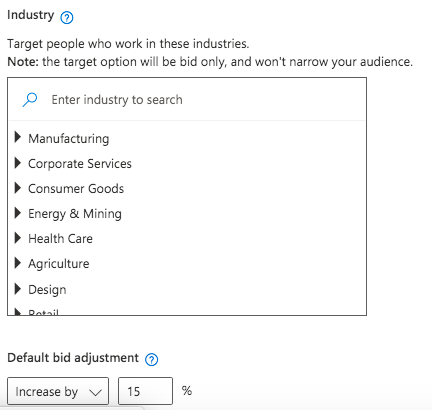 5. Click Save.
How to Analyze the Performance of Ad Groups and Campaigns with LinkedIn Profile Targeting
As you are targeting a quite small audience, don't expect immediate results. Instead, give the system at least two-four weeks to collect enough data, so you can analyze the performance of your campaigns with new targeting settings and make grounded decisions.
On the Demographics tab, you can find all the data you need. Select Company, Industry, or Job function; add filters for attributes, performance, and conversions, and analyze how your ad groups and campaigns perform.
LinkedIn Profile Targeting: Best Practices
Target businesses that are on your prospect list
If you know from which organizations your clients are most likely to come from or have a list of prospective clients' names, you should definitely try LinkedIn profile targeting for campaigns. 
For example, if you sell dental equipment in your area, look for dental clinics in your location. Probably you already have a list of those companies who you are contacting via phone or email. Increase your bids by 100-200% to make sure you outbid competitors, and your prospects will see your ads when searching for new equipment.
Find the most prospective businesses
If you are not sure which companies you should target, expand your list. Start collecting data and observe the click traffic for a while. Look for companies that are converting better and concentrate your marketing efforts on them. That kind of insight can be valuable not only for PPC managers but for marketers in general.
Exclude competitors
If you don't want to spend your money on competitors clicking on your ads, use Company targeting to minimize losses or even don't appear on the ad results because of too low bids. Search for competitors on the Companies list and set a bid decrease of up to -90% for them.
Focus on the industry
Industry targeting can be extremely important to implement your marketing strategy. We would recommend starting with broader targeting, selecting all subcategories from a high-level industry. Later, after you collect some data, you can focus on specific subcategories and increase bids even more for the most profitable ones. 
Reach decision-makers
Use Job function targeting to concentrate your efforts on people who tend to make decisions at your target companies. There are not so many functions on the list, but if you combine them with industries or even company names, you get a valuable pinpoint audience. 
For example, if you sell tableware for HoReCa, increase your bids for Industry = Hospitality, Restaurants, and Job function = Purchasing. 
Find candidates
Try using LinkedIn profile targeting for recruiting. Advertise for available positions and increase your chances by increasing bids with job function and industry targeting. 
Not just for B2B
Though LinkedIn's insights are particularly valuable for B2B advertisers, you can profit from LinkedIn profile targeting in B2C as well. 
For example, if you are selling expensive products or services, you can try to reach out to an audience with a higher income. You may already know that 42% of Microsoft Search users have a household income in the top 25%. Think of job roles those users may have: maybe legal, engineering, real estate, finance? Try to increase your bids for those job functions and analyze what happens. 
Combining different job roles and industries, you can get a better picture of your ideal customer and use these priceless insights in your marketing.
Final Thoughts
LinkedIn profile targeting can be a valuable addition to your audience settings in Microsoft Advertising and a sufficient reason to experiment with Microsoft Advertising in general. However, don't rely entirely on those audiences. Certainly, LinkedIn profile targeting allows you to reach ultra-specific prospects. Still, the technology operates entirely under the assumption that people have their LinkedIn profiles up to date, and that's not always the case. 
But since it's a "bid only" option, you won't lose other audiences, just increase your chances to be shown to the most prospective users. That's why we would recommend giving LinkedIn profile targeting a try anytime soon and seeing how it will work for your business.
Boost your digital advertising performance! Link your ad accounts to PromoNavi to automate everyday tasks and receive valuable recommendations on how to improve your campaigns.

With PromoNavi, you can do keyword research, competitor analysis, automate reporting, track your PPC performance on the Analytics Dashboard, and get profitable PPC optimization recommendations.