Whether you are a beginner or a pro, these 8 ways will help you make money with pay-per-click advertising. From PPC affiliate programs provided by digital marketing platforms to creating landing pages for PPC advertisers—it is certain that you will find the best way to increase your income!
Are you experienced in managing multiple PPC campaigns on Google/Microsoft? We are searching for skillful PPC specialists to test our PPC automation toolkit. For the testing and your expert feedback,
we'll reward you with $100
. Are you interested in this offer?
Click for details
!
Quick Links
What is Pay-per-Click and How You Could Make Money with PPC?
#1: Make Money with PPC Affiliate Programs Provided by Digital Marketing Platforms
#2: Make Money on Google Adsense and Other PPC Advertising Networks
#3: Make Money as a Freelancer by Running Pay-Per-Click Campaigns
#4: Become An In-House Pay-Per-Click Professional
#5: Make Money with Pay-Per-Click by Writing Articles
#6: Make Money by Creating Ad Copies for Pay-Per-Click Advertisers
#7: Earn Money Through Your Own Courses by Becoming a Pay-Per-Click Expert
#8: Earn Money by Developing Landing Pages for PPC
What is Pay-per-Click and How You Could Make Money with PPC?
Pay per click (PPC) means that advertisers pay each time a user clicks on the ads. 
In most cases, when a marketer mentions PPC, he/she means advertising within Google Ads, Microsoft Advertising, Yandex.Direct, and other search engine's native ad platforms. (However, to be precise, there are pay per click options within Facebook Ads and other social networks' ad platforms.)
There are different ways to make money with PPC, from running ads for your clients as a freelancer, to participating in affiliate programs and PPC content creation. Some of these ways work well for newcomers while others need advanced skills. Whatever it is, if you're interested in a full-time job or a side hustle related to PPC, our compilation of ways to earn money with PPC will be helpful for you.
#1: Make Money with PPC Affiliate Programs Provided by Digital Marketing Platforms
PPC affiliate marketing involves promoting digital marketing platforms to drive individuals to affiliate products. Each time a user provides a target action (sign up, pay for subscription, etc.), you receive a payment.
There are platforms like Supermetrics, Unbounce, Leadpages, and PPC Protect that offer affiliate programs. Commonly, they pay 20-40% of your affiliate's subscription payments. Some websites like Semrush pay a fixed price for each trial activation ($15) or every sale (up to $200). Commissions may be recurring or pay one time, depending on the specific affiliate program terms.
If you're searching for the programs paying the highest commissions, look at PromoNavi's Affiliate Program. It's a two-tier program that lets you earn 50% of each subscription sale plus 30% of the sub-affiliate sales. For example, if you attract a user for an Agency Plan, you will receive $39.5 each month (50% of the Agency Plan cost of $79). When your affiliate attracts sub-affiliates, you will additionally receive $23.7 each month for each sub-affiliate.
To become an affiliate, you just need to visit your PromoNavi account and copy the Affiliate program promo code. There are no sign-up fees, and you don't need to reach a minimum sales figure to earn commissions.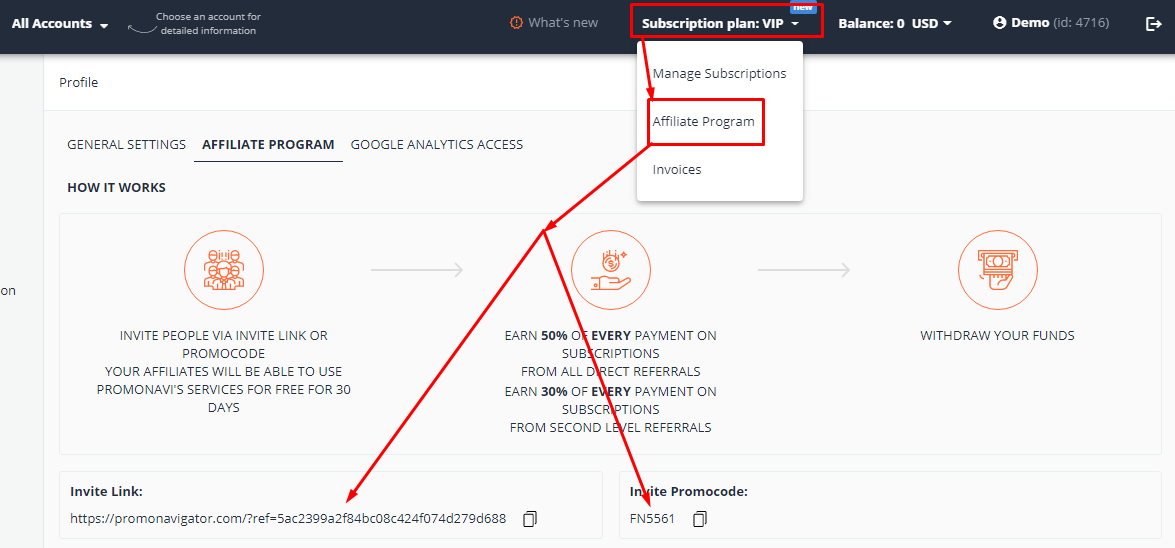 Log into PromoNavi and go to the Affiliate Program section to copy your invite link or promo code
Pros
You don't need to do any investing—affiliate programs are available to you after signing up on the chosen platform.
You can have a regular passive income if you choose a platform paying recurring commissions.
PPC platforms provide you with promotional materials that help you attract users.
Cons
You have to be experienced in affiliate marketing or have your own websites to promote products.
Some platforms may limit the list of promotional channels you can use.
The cookies' lifetime may be too low, so you should consider this while choosing the affiliate program. Alternatively, you can connect to platforms such as PromoNavi that provide you with an affiliate promo code with no expiry date.
#2: Make Money on Google Adsense and Other PPC Advertising Networks
One of the easiest ways to make money with pay-per-click is through advertising networks. Once your website starts receiving traffic, you can earn money without doing any hard work yourself. To start showing PPC ads on your website, you simply need to place a code provided by an advertising platform.
Not all advertising network programs are the same; you are better off working with risk-averse programs offered by Google and other well-known companies. Google AdSense is undoubtedly the top choice, but sometimes it is not easy to get approval. In earlier days, you could earn $30 for 1000 visitors. Nowadays, people earn 15-30 cents on average with each click. If an advertiser's company belongs to profitable niches like web hosting, insurance, and affiliate marketing, you can earn $3-5 per click, and even more. 
Media.net is another website where you can earn more since the ads are pulled from the Yahoo and Bing Network. The RPM here is around $10, but blogging on some in-demand topics like personal finance and credit cards allows you to earn more. 
For even better RPM, you can opt for Ezoic, a website that lets you earn $15 for 1000 visitors. Other potential options include Mediavine, AdThrive, Skimlinks, Propeller Ads, etc.
Pros
You don't need to provide any complicated actions to start earning money.
You don't need to be a PPC pro to make money this way.
If your site drives significant traffic or belongs to profitable niches, you can expect a high income.
Cons
Websites with traffic lower than 400-500 visitors per day commonly do not earn much.
In Google Ads, the minimum payout limit is $100; other platforms have their limitations too.
Plenty of ads on your site distracts attention from the main content and other offers which may be even more profitable than ad network ads.
#3: Make Money as a Freelancer by Running Pay-Per-Click Campaigns
If you're planning to grow as a PPC specialist, you can find the first clients as a freelancer. On sites like Fiverr, Upwork, and Freelancer, you can find dozens of clients. But keep in mind that, for newcomers, it may be challenging—customers don't rush to trust their campaigns to freelancers with no reviews and ratings. 
Alternatively, you can attract clients from your close surroundings. For example, if you have been running an SEO campaign for clients, you can offer them PPC services as well. Since you already have an idea about their online performance, you can give them suggestions about improving their online presence.
Of course, it is a bit time-consuming to look for clients in this manner. That is why you can utilize lead generator websites to scale your lead generation operations. This will help you find prospective clients in your target location and industry. 
You have several options when it comes to selecting payment models for your services. The simplest option is to ask for a flat fee, but this requires you to have some industry experience. That way, you can gauge how much time and effort you need to put in for a particular account or project. For small and medium-sized local businesses, the flat fee typically lies somewhere between $500 and $2500.
You can also charge a certain percentage of the client's ad spending budget. Normally, PPC agencies charge around 10-25% for their campaigns. But for you, this can be problematic if your client's budget is minimal. Another option for a freelancer is to charge a price based on value and performance, however, things can get complicated with this model, so it may be better to choose another option.
Pros
You have flexible working hours.
Working as a freelancer provides you with valuable industry experience.
You can choose who to work with.
Cons
Contracts can get terminated without warning.
Many companies don't want to hire freelancers and cite lack of experience as a reason.
Managing many clients at the same time will be challenging.
#4: Become An In-House Pay-Per-Click Professional
When you work as an in-house PPC professional, you become a part of the marketing department in which other people are working towards the same goals. Since you'd be working with a team and receiving the organization's support, you can coordinate with different marketing departments, get ads approved faster, and test your landing pages quickly. 
Of course, to work as an in-house professional, you must be an expert about FB, Microsoft, and Google ads, and must possess a certification or two. As a PPC professional, you have to create campaigns for different digital channels, monitor existing campaigns, and suggest optimizations. You also need to present data to different audience groups and produce detailed reports about the campaigns.
In the EU, you can find a job as a PPC professional with a salary starting at €32,000 per year. In the US, the average salary for this profession is about $50,000. 
Pros
You have a fixed salary, social guarantees, medical insurance, and other bonuses.
You have an opportunity to work within a team and grow in related fields.
You don't need to find clients on your own.
Cons
In-house PPC professionals are often overworked, so it's challenging to make additional money other ways than working in-house.
Some people feel chained working for companies, preferring to work as a freelancer or start their own PPC agencies.
#5: Make Money with Pay-Per-Click by Writing Articles
Many websites pay content creators and writers a certain fee or a percentage of the ad revenue for every unique individual that clicks on the article or content while visiting the website. There is a lack of quality writing professionals in the industry, so if you are passionate about writing, this is an excellent way for you to make some real money.
To make money through writing, you also have to assume a marketing and sales role, i.e., you have to write content that drives traffic to the client's website. This enhances the website as a whole and helps increase the advertising revenue of the website. 
In the beginning, you may work for a rate of a penny per word or less. But with a published article and a growing portfolio, you can secure better deals in the future. 
The average price per word in the pay-per-click niche is $0.05-0.15. If you're an experienced author with a strong portfolio, you can earn up to $300-500 per article.
Pros
You're free to choose who to work for.
By writing articles, you grow as a PPC professional as well.
This work is quite creative.
Cons
Beginners do not earn much.
The paychecks for flat fees are usually quite small.
It's challenging to scale up your income—there is a direct dependency between your salary and the time spent writing articles.
Are you experienced in PPC and want to try yourself as a content writer? We offer you to write for PromoNavi blog as a guest writer or a freelance ghostwriter. Here is the guide to guest posting on our blog.
#6: Make Money by Creating Ad Copies for Pay-Per-Click Advertisers
PPC ad copies can have a significant impact on quality scores, click-through rates, and other metrics. Writing a good copy takes a lot of time and experience, and there are certain rules and regulations you need to know about. PPC platforms have different formats for their ads apart from having a unique set of rules. You need to study the structure of visual creatives and text ad copies. You can also use ad extensions to know more details about the ad.
Writing good ad copy requires you to conduct thorough research, be transparent, and use proper keywords. Additionally, you must ensure that you use appropriate sentence case and punctuation, as well as proofread and spell-check your work. 
Taking a look at the offers from Upwork, we can see that ad copy freelancers earn an average of $40-60/hour. The fees depend mostly on the experience of the professional. As a beginner, you can hope to make at least $15/hour by creating ad copies for PPC advertisers.
Pros
You can choose who to work for.
The work is quite simple and good for beginners.
Cons
Creating ads may be very routine and dull.
The paychecks for flat fees are usually quite small.
This work won't give you growth potential.
#7: Earn Money Through Your Own Courses by Becoming a Pay-Per-Click Expert
You can apply your PPC expertise by attending Google Ads and other digital marketing courses. After acquiring the necessary skills, you can write your own PPC courses and charge people who sign up for them. For example, courses in the SEMPO Institute cost $400-1400. 
Of course, if you are starting by creating your own courses, you can't earn as much as the best companies in the business, but earning a solid reputation for yourself is the first step toward making money by creating PPC courses.
Pros
If you are successful in attracting many students, your income will be significant.
You can scale your business by attracting new students and adding new specialties.
Cons
You should be a well-known PPC expert whom people trust.
You have to invest in creating courses and promoting them.
#8: Earn Money by Developing Landing Pages for PPC
PPC advertising is not all about correct campaign settings. To get consistent outcomes, the advertisement and landing pages work together seamlessly. 
How can you benefit here? Create converting landing pages for PPC advertisers. You don't even need to be a super experienced web developer—just make use of the landing page constructors listed below:
Unbounce
Hubspot
Leadpages
Instapage
A decent landing page builder earns around $25 to $100 per hour. It largely depends on the complexity of the page and the expertise of the developer.
To Wrap Up
Now that you know the different ways to make money with pay per click, you can create a steady income stream for yourself. This field can rapidly become lucrative with enough determination, paired with the ability to adapt and shift toward new market trends and opportunities.
By seeking information regarding the best PPC practices and with marketing experts' help, you can easily earn money through this medium. With enough experience, this can quickly go from a supplemental income to a full-fledged career.