Looking for the right eCommerce platform to host your online store? So probably Shopify is one of the options you might consider.
In this article, you will learn what Shopify is and what is included in the Shopify subscription plans, which products you can sell and which you can't; what Shopify POS is, and what are the advantages and disadvantages of the platform.
Quick Links
Getting Started: Shopify Trial
What is Shopify?
Shopify is an eCommerce platform that you can use to build your store both online and offline. It's like WordPress, but for merchants, and it doesn't require any coding skills. You can sell both online with your own website and/or in-person with Shopify POS (Point of Sale).
Shopify provides you with everything you need to run an eCommerce business: open a storefront, showcase products, engage with customers, accept payments, manage your inventory, and more. It's a subscription-based software with monthly payments from $9 to more than $2000, depending on your business needs.
Let's look at some stats:
Shopify powers over 1,700,000 businesses worldwide, and the number is growing: Shopify stores increased 15.8% quarter-over-quarter and 91% year-over-year in 2021 Q2.
The top categories on Shopify are Apparel products (28.8%), Beauty & Fitness (10.7%), and Home & Garden (10.5%).
The top country on Shopify is the United States (52.0%), but there is also a solid presence of merchants from the United Kingdom (8.0%), Canada (6.5%), and Australia (5.3%).
Shopify Features: What Do You Get Out of the Box
Storefront: A hosted online store and POS Lite (a point-of-sale app that you can use to sell your products offline).
Payment processor: Choose from over 100 payment gateways, or opt for Shopify Payments, and use Shopify Checkout for sales on your own store or other channels like Instagram.
Shipping partner: You can create the shipping setup that works for you and arrange pickups with UPS and DHL.
Mobile app: With the free Shopify app, you can do everything you can do at your computer from your mobile device.
Analytics and reports: Get detailed insights and reports on your business.
The Shopify App Store: You can extend the functionality of your online store with a collection of free and premium apps.
Marketing platform: With a built-in blog and SEO tools; it also lets you create Facebook and Google Shopping campaigns.
Getting Started: Shopify Trial
If you want to play around and test the platform out for yourself, Shopify gives you a free 14-day trial.
During the trial period, you can build your online store, test Shopify apps, and even make your first sales. You don't have to enter any credit card information to access the trial; you only need to submit contact information and answer a few questions about your business.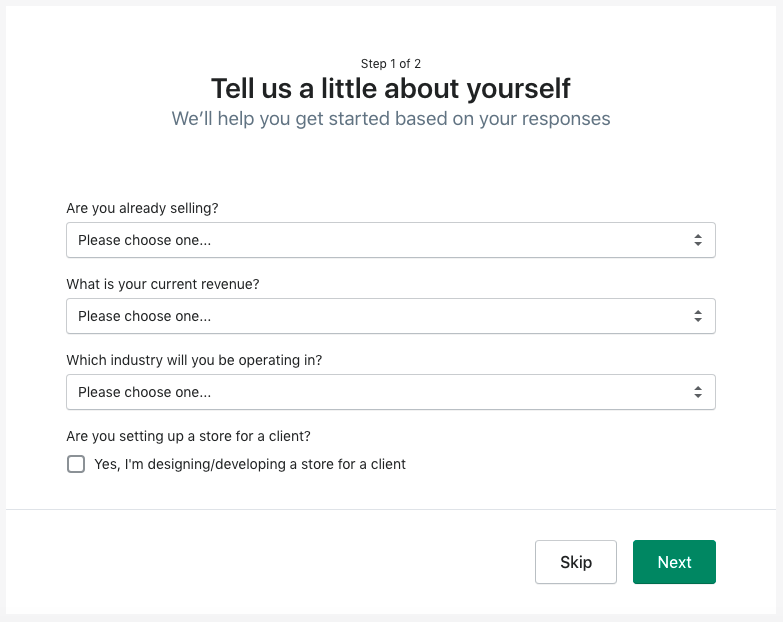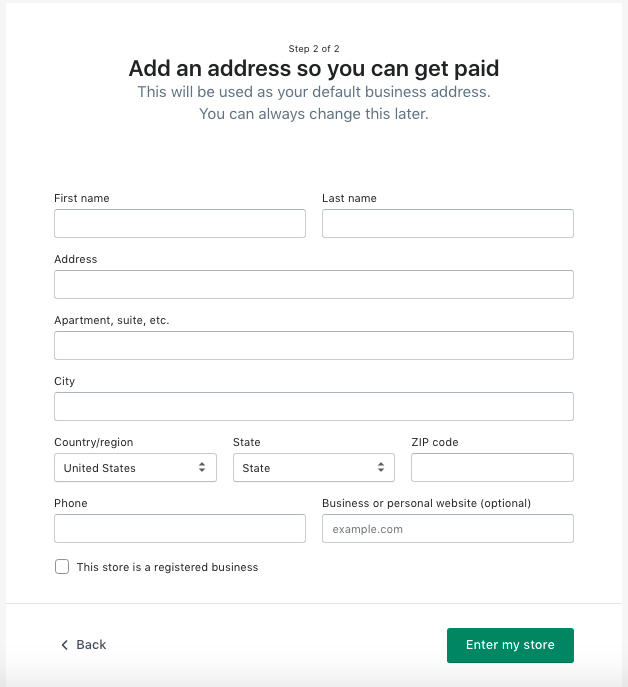 We would recommend that you test every aspect of Shopify's platform during your trial. You can add products, change your storefront design, create marketing campaigns, and add apps. Then, think about advanced features you may need to understand how those additional expenses fit into your budget.
What is Shopify POS?
Shopify POS (Point of Sale) is a platform for unifying online and in-store sales. With Shopify POS, you can:
Use a Shopify card reader or external terminals and accept payments via Visa, Mastercard, American Express, Discover, Apple Pay, and Google Pay.
Accept payments with your iPhone, iPad, or Android using the POS app.
Create discount codes and custom discounts.
Make refunds.
Add an unlimited amount of products and variants in your POS.
Create product collections.
​​Track and share the status of your inventory as products are received, transferred, or as an order is fulfilled.
Create multi-local inventories.
Create customer profiles.
Get reports: Retail sales reports, Cash flow reports, Finance reports, Discount reports, Cash tracking, and more.
Run Email marketing.
Perform social media integration.
And much more.
There are two pricing plans for Shopify POS. Shopify POS Lite is included with all pricing plans; Shopify POS Pro is included in Plus plans, or you can pay an extra $89 per month per location with other plans.
Consider using Shopify POS Pro if you need advanced features, such as:
Unlimited store staff with custom roles and permissions.
Smart inventory management (transfers across locations, inventory counts, demand forecasting, detailed inventory reports including low stock reports, etc.).
Daily sales reports.
Cash tracking report.
Buy online, pick up / return / exchange in-store option.
In other cases, the included POS Lite will be enough for you.
For details, check out Shopify's POS Features and Pricing page.
What Can You Sell on Shopify
On Shopify, you can sell almost anything—from physical to digital products and services. Here are some popular product categories you can consider selling:
Antiques
Art
Bikes
Books and Ebooks
Candy
Car Parts
Cell Phone Accessories
Classes, Lessons, and Workshops
Clothes
Consultations
Digital Gift Cards
Digital Products
Electronics
Event Tickets
Furniture
Games
Handbags and Purses
Handmade Crafts
Jewelry
Makeup and Cosmetics
Memberships
Music
Plants
Rentals
Services
Shoes
Stock Photography and Images
Tools
Toys
Watches
And here is a list of 12 top trending products to sell in 2021 on Shopify: 
Bike saddles
Bookcases and standing shelves
Bookends
Doormats
Hairstyling tools and accessories
Handheld device accessories
Household storage containers
Kitchen towels
Motor vehicle carpet and upholstery
Needlecraft patterns
Temporary tattoos
Toy kitchens and play food
If you are selling anything in these categories, your chances to succeed with Shopify are especially high.
However, Shopify has strict guidelines on what you can't sell. The prohibited categories include
Alcohol
Tobacco and E-Cigarettes
Fireworks
Firearms and Weapons
Gambling products
Intellectual property
Solvents (benzene, gasoline, kerosene, etc.)
Pharmaceuticals
Personal protective gear (masks, sanitizers, etc.).
Any illegal goods or activities.
The general rule is the following: if it is something prohibited or illegal, you can't sell it using Shopify.
Shopify Pricing
Shopify has pricing options for businesses of every size. There are three main payment packages—Basic Shopify, Shopify, and Advanced Shopify, plus two additional plans—the Lite plan and Shopify Plus. 
First, let's see what's inside the three main plans.

With every package, you'll get an online store (e-commerce website and blog), unlimited products, 24/7 support, a free SSL certificate, fraud analysis, POS Lite (point of sale to accept in-person payments instantly), and global selling features (sell in 133 countries and five languages).
Here are the differences between pricing plans:
| | | | |
| --- | --- | --- | --- |
| | Basic Shopify | Shopify | Advanced Shopify |
| Pricing, per month | $29 | $79 | $299 |
| Staff accounts | 2 | 5 | 15 |
| Inventory locations | Up to 4 | Up to 5 | Up to 8 |
| Reports | —  | Standard | Advanced |
| Third-party calculated shipping rates | —  | —  | + |
| Shipping discount | Up to 77% | Up to 88% | Up to 88% |
| USPS Priority Mail Cubic® pricing | — | + | + |
| Online credit card rates | 2.9% + 30¢ USD | 2.6% + 30¢ USD | 2.4% + 30¢ USD |
| In-person credit card rates | 2.7% + 0¢ USD | 2.5% + 0¢ USD | 2.4% + 0¢ USD |
| Transaction fee if not using Shopify Payments | 2.0% | 1.0% | 0.5% |
| International domains | —  | + | + |
| International pricing | —  | + | + |
So, we would recommend Basic Shopify for new eСommerce businesses that don't need international domains and pricing adjustments and have only occasional in-person sales. 
The middle option (Shopify) is a solution for growing businesses selling both online (in several countries) and offline.
Advanced Shopify is an appropriate solution for scaling businesses that need advanced reporting and advantageous credit card rates.
What is Shopify Lite?
Shopify Lite is a plan for sellers who want to add a buy button to their existing website or sell in-person via POS lite. Shopify Lite costs just $9 per month. 
With Shopify Lite, you can turn any website into an eСommerce website with Buy Buttons. There are easy to integrate solutions for Weebly, Wix, WordPress, Squarespace, and more.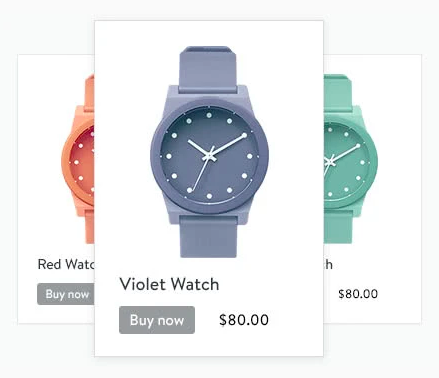 Shopify Lite combines access to the Shopify Admin to manage your business, the Buy Buttons, and Shopify POS Lite sales channels. You have access to the following features:
Overview dashboard
Finances reports
Customer profiles
Order management
Product management
Mobile POS and hardware accessories
Email carts
QR code product details
In-store inventory
Gift cards
Split bill
Custom discounts and discount codes
However, you can't build an online store with Shopify Lite—this is a solution for merchants who already have a website. Using Shopify Buy Button, you can generate embeddable product cards and checkout for any type of website.
What is Shopify Plus?
Shopify Plus is a commerce platform designed for high-volume, enterprise-level brands. The Shopify Plus plan starts at $2,000 per month for standard integrations and setups. 
The main advantage of Shopify Plus is that the platform can handle serious traffic. This can be especially important during such events as Black Friday or massive promo campaigns. 
Another big plus about Shopify Plus is that it allows you to create multiple storefronts for different regions. You can create up to 9 additional stores alongside your main store and have up to 10 stores in total. Each storefront has its own backend so that you can manage content, inventory, and orders separately.
Here are some more advantages of this pricey option:
The store is fully customizable (including the checkout process) through editable CSS files and scripts.
You can automate a lot of sales and marketing processes, such as adding customer tags, identify high-risk orders, reorder inventory, hide out-of-stock items, etc.
You can profit from omnichannel marketing features, like social selling. 
Shopify Plus is future-ready with built-in AR, video, and 3D media on product pages.
You can enhance your Shopify Plus with tax automation from Avalara Avatax ($250 per month).
However, this is a solution not for small or medium-sized businesses but for established companies with a stable large turnover.
Shopify Pros and Cons
Here are some reasons you should consider using Shopify: 
1. Everything You Need for eCommerce under One Hood
With Shopify, you can save time and money because it offers all the tools you need to run your e-commerce business from a single place, from showcasing your products to shipping, managing financial operations, and inventory management.
2. Shopify is on a Cloud Network
Unlike physical servers, clouds are more reliable. Servers often crash at the wrong times, and Shopify is proud to guarantee that their websites are up 99.99% of the time.
3. Detailed Admin
Shopify's admin provides you with reports and other features that help you understand how your online store is performing. You can find your best-performing pages, view the number of orders, watch a real-time view of your website visitors, and more.
4. Beautiful Easy-to-Edit Themes
You can choose from a variety of free, mobile-responsive themes. However, if you are looking for more options, try premium (paid) themes. 
Using simple drag-and-drop design tools, you can rearrange pieces of your web pages and edit the look of your homepage.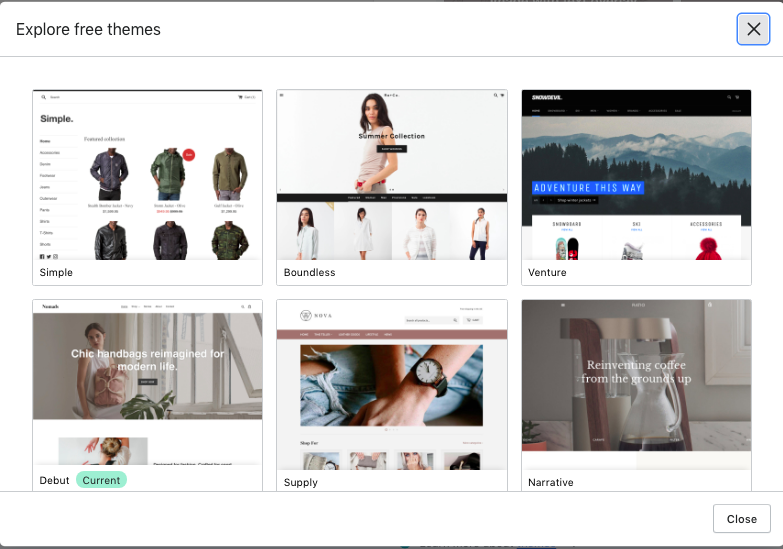 5. Lots of Free Features
On Shopify, you can choose free themes, fonts, color schemes, and photos.
6. Apps for Almost Everything
You can use Shopify without extra apps, but if you want to get even more from your e-commerce website, you will find everything you need. There are apps in these categories: Sourcing and selling products, Store design, Merchandising, Marketing, Conversion, Fulfillment, Shipping and delivery, Customer service, and Store management. Just browse the Shopify App Store. 
There are both free and paid apps.
7. Multi-Channel Selling
You can sell not only on your website but also on Instagram, Facebook, Pinterest, Amazon, and through Messengers.
8. 24/7 Support and Free Training
Shopify's support center works great, but you can also learn from their helpful blog, podcasts, forums, and other learning materials. Merchants can profit from Shopify Compass — a free learning platform with courses, webinars, tutorials, and articles from established Shopify entrepreneurs.
However, there is always a fly in the ointment. For the most part, Shopify is intuitive, but it takes some practice. Because the platform covers almost every need of an e-commerce merchant, it takes some time to learn where every section of your store is located in the admin. Therefore, you need to experiment to create your ideal store that works flawlessly. However, you will figure it out quite fast.
A more significant issue can be the transaction fees. Depending on your pricing plan, Shopify has 0.5% to 2.0% transaction fees. You can spare the fees if you accept payments through Shopify Payments, but the system has its fair share of complaints. 
You should also consider that Shopify is more a B2C solution, and there is a lack of wholesale (B2B) selling options.
Keep in mind that it can become quite costly if you add lots of pricey add-ons to customize your shop.
Want to save time creating Google Ads campaigns for your Shopify store? Try PromoNavi's AI-powered automation app! The robot will collect keywords for you, group them, create ads, and set the optimal budget. All you need is to check settings and run campaigns. Start saving time and boost your sales right now!