Automation is an ongoing trend in paid advertising. Google, Microsoft, and Facebook enhance AI-based opportunities and roll out new automated features to make it easier to manage campaigns and deliver data-driven results.
Besides, more and more third-party automation platforms and toolkits for specific PPC tasks enter the market. By leveraging them, you can significantly reduce your time spent and boost PPC performance, even if you're not seasoned in paid advertising.
However, when it comes to PPC automation, small businesses who set up PPC campaigns in-house often face a range of issues, from lack of expertise to tight marketing budgets that restrict paying for various third-party tools.
How to keep balance when choosing the automation solution for PPC? How do you not overpay for tools and features that you won't use? We'll walk you through key PPC automation opportunities for small businesses and highlight the pros and downsides to help you get exactly what you need.
In-Built Ad Platforms' Automation Features—It's All about Expertise and Time
Ad platforms allocate huge resources to make advertisers' experiences easier and increase the ROAS of their campaigns.
For example, in Google Ads, as a PPC leading platform across the world, you can benefit from using machine learning and in-built tools to drive more conversions at an optimized cost.
First of all, you should pay attention to Google's Smart Bidding, an automated bid strategy that considers a wide range of signals, including the user's unique context and the probability of conversion.
At first sight, Smart Bidding is super easy-to-use—you just set your Target ROAS or CPA, and wait until the system drives your conversions. But the reality is that many advertisers after enabling Smart Bidding see their campaigns underperforming. There are various reasons for that, from incorrect attribution models to low tCPA or tROAS values. To boost your performance with Smart Bidding, you should be experienced in PPC and understand what you're setting and why. 
Instead of Smart Bidding, Google has a variety of automation tools and features such as:
These tools are free, but you need to dive into how they work and how to make the most of them. However, Google leaves a great part of routine tasks to advertisers, even when they use the features mentioned above. For example, for aggregated PPC reporting and in-depth competitor analysis you should do by yourself; keyword research with Google's tools is not as deep as it could be, and so on.
That's why advertisers commonly opt-in one or several additional toolkits to automate specific tasks. 
Pros
The tools and features are free.
You can benefit from using machine learning algorithms and closed audience data.
The tools are connected directly to your campaigns.
Cons
You need strong expertise to leverage the tools.
Most of the tools are applicable within only native advertising platforms.
Ad platforms don't handle all the tasks throughout the advertising process. 
Automation Tools for Specific Tasks—Be ready to Pay for Unnecessary Functions or Several Subscriptions
There are different tools for PPC advertisers. Some of them allow you to solve highly specialized tasks such as:
Keyword collecting—Keywordtool.io, Answerthepublic, Ubersuggest, etc.
Analytics and reporting—Supermetrics, Kissmetrics, etc.
Competitor Analysis—iSpionage, SpyFu, etc.
Fraud protection—TrafficGuard, PPC Protect, and others.
Some of the tools are easy-to-use, while others need some time to delve into. But keep in mind that you should pay at least for 3-4 tools to automate all the actions throughout the advertising process.
Alternatively, you may take a look at the tools with wide functionality, such as SemRush, Serpstat, or SimilarWeb. They provide you with both SEO and PPC data and allow you to solve most of the tasks.
The main downside of these tools is that they work apart from your PPC campaigns—you can't link your accounts to them to get profitable insights, create reports, set up alerts, and perform bulk actions. So, when you opt-in for such tools, keep in mind that they are not about multi-level PPC automation.
Pros
You can automate almost all the tasks you need to handle.
The tools are suitable for various advertising platforms.
When it comes to keyword research and analytics, specialized marketing tools are more functional than ad platforms' in-built features.
Cons
You have to shift between various scattered tools. 
You need to pay for several subscriptions.
Most tools don't support linking your advertising account.
PPC Automation Platform—Accessible Solution for Small Businesses
If you're a marketer or a small business owner who doesn't want to overpay for a number of scattered tools, the best solution would be to leverage a single platform that allows you to automate most of your routine actions and provide you with profitable insights.
Such platforms are created exactly for PPC advertisers who need an all-in-one accessible solution. With an automated platform, you don't need to dive into scripts, automated rules, and other complicated Google features; you don't need to overpay for various specific tools and waste time on aggregating the data.
According to the poll run by PromoNavi, a digital platform for marketers and small businesses, here are the main reasons why entrepreneurs start using it:
86% of users say that PromoNavi provides them with data that they can't get using default Google's, Microsoft's, or Facebook's features (e.g. competitors keywords and ad copies, real-time analytics across specific goals, keyword recommendations based on behaviour metrics, etc.)
79% of users consider that PromoNavi saves their working hours on performing day-to-day actions (keyword research, campaign monitoring, reporting, etc.)
72% of users say that the platform helps them manage campaigns within a single interface—meaning that users don't need to shift between various platforms and tools.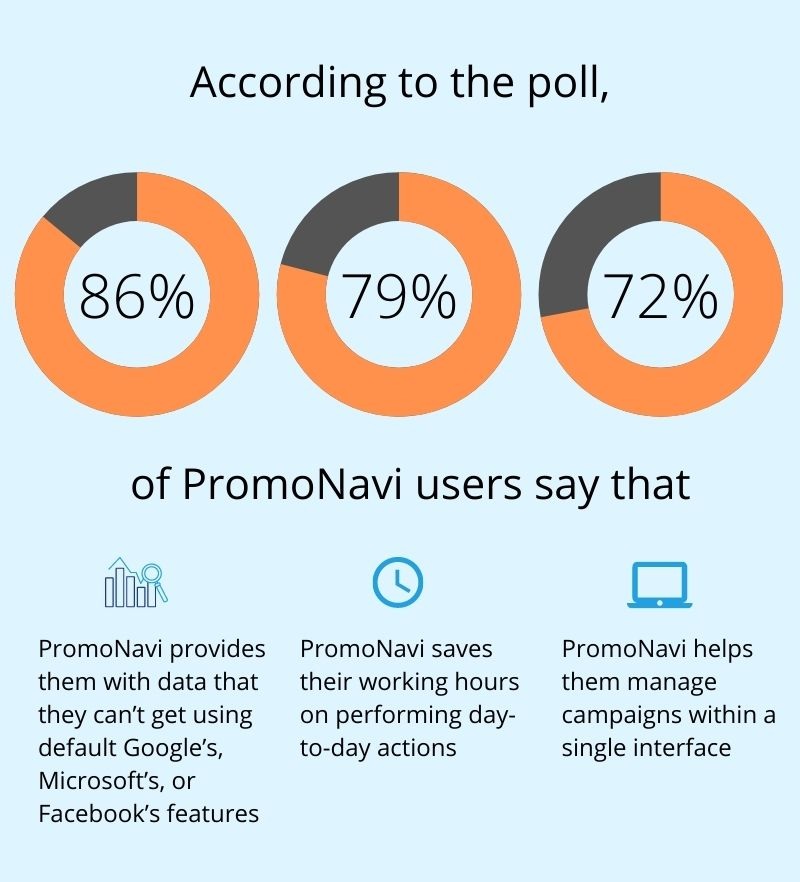 When you choose an automation platform, keep in mind that its features should cover all stages of the advertising process:
Research: Before you run a PPC campaign, you should be able to discover your competitors' PPC strategies, understand their PPC advertising scopes, and find their keywords and ad copies. Hence, every decent automation platform should include a competitor analysis tool. 
Monitoring: You should keep track of your campaign's performance in real-time; receive alerts when something goes wrong (for example, abnormal performance changes are detected, or your balance is about to exhaust, or your daily budget is depleted); stay notified when your competitors run new ads or keywords.
Optimization: An automation platform should consistently analyze your accounts and recommend improvements to boost your campaign's performance. Some platforms allow you to imply these improvements straight from their interface without applying changes via Google Ads Editor. 
Summarizing: With automated reporting features, you don't need to create reports in Excel or use scattered templates—all the data you need is already aggregated and visualized. 
Pros
You can link your advertising account.
You pay just for one subscription.
You get all the tools you need when creating, running, analyzing, and optimizing your campaigns.
You don't need to shift between various sites.
Support for all the popular advertising platforms.
Cons
Not all platforms provide an exhaustive toolkit for PPC advertisers.
Some platforms may cost more than several specialized tools.
To Wrap Up
If you're a small advertiser, whether an in-house marketer, freelancer, or a small business owner, you should make a step towards multi-level PPC automation to save time and gain better results.
Experienced PPC pros often prefer using free tools provided by search and social advertising platforms. However, they subscribe to third-party platforms to solve specific tasks, such as competitor analysis or reporting.
If you want to save money and manage all the campaigns within a single interface, the best solution is to opt-in to the PPC automation platform. It allows you to quickly prepare a campaign, launch, monitor, and optimize it. What you need is to link your advertising account, and you'll start getting better results.