Overpaying for PPC advertising is annoying and frustrating. You understand that your competitors get conversions at a lower cost but can do nothing about this… Or you can? Of course, you can! In this article, you will find 12 tips to cut off your misused ad spend. 
#1: Do Not Struggle for the Highest Position at the Expense of a Higher Maximum Bid
If your industry is not urgency-dependent (taxi services, emergency lock opening, etc.), you don't have to strive to appear at the very top of the search results page and overpay for clicks. In lower positions, you can also get traffic. Find the bid level that is enough to enter the top ad section and set the maximum bid in Google Ads below this level.
Let's take an example. We run an active Google Ads campaign in the UK for the keyword «wellness employee programs.» Here are the actual metrics: 
CTR—5.38%
Average CPC—0.54 €
The maximum bid is limited to 0.55 €

Now let's check how much you need to pay per click for your ads to appear at the top of the page for the keyword "wellness employee programs." Google Keyword Planner tells us that the minimum bid to show above the search results is 4.12 €.

In our example, the maximum bid is 7.6 times lower than the entry threshold, so the ad doesn't appear on the first line. But we save money and get traffic. If your budget is limited, this method works.
#2: Switch to the Pay-Per-Action Pricing Model
The pay-per-click (PPC) pricing model is the most widespread and is eligible in such cases:
You advertise a high-margin product/service
You have already tested your ads, and they are getting a high CTR
Your landing pages are well-performing and show a stable conversion rate.
If one or more of these parameters fails (for example, the product has a low margin, and the landing page converts unstably), the conversion cost may be higher than acceptable.
In such cases, the more profitable (and safe) payment model is pay-per-action (PPA), when you pay directly for the target action, rather than for a click on the ad.
How to set up payment for conversions in Google Ads
You can apply this pricing model when you launch a standard Display Network or Smart Display campaign. The option to use pay for conversions is available for campaigns with Target CPA automated bid strategy.
You can select payment for conversions at the campaign settings in the Bidding section.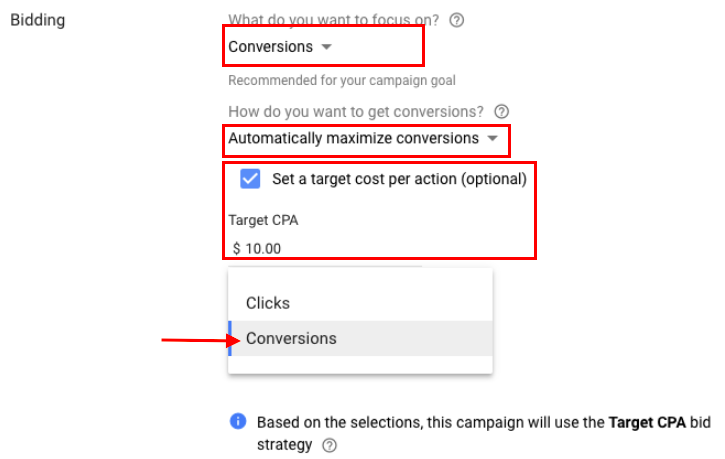 The PPA model isn't available for all accounts. There are three reasons why this model can be not available:
Your Google Ads account uses offline conversions («Import: Clicks» and «Store Visits»). Remove them to use a PPA.
Your account can be ineligible for PPA due to undisclosed reasons in Google Ads. In this case, you will see an error message. But the situation can change daily, and an option that is not available today may become available tomorrow.
The delay in target actions is more than seven days. 
#3: Adjust Your Bids by Device, Location, and Other Parameters
Сonversions can be cheaper or more expensive in relation to placement, location, user devices, and audiences.
You should track and analyze your campaign's performance in terms of conversion rate, the number of conversions, and cost per conversion. Based on the results, you can optimize your budget: for example, lower bids for audiences that drive expensive conversions. Or you can even stop targeting inefficient segments at all.
Let's analyze a Google Ads campaign across devices using PromoNavi Analytics Dashboard. We see that Desktops show the highest Conversion rate and the lowest cost per conversion, but the total ad spend for this type of device is more than twice lower as for Mobiles. So we can increase bids for Desktops, for example, by 20% and track whether these changes will help get more conversions from Desktops.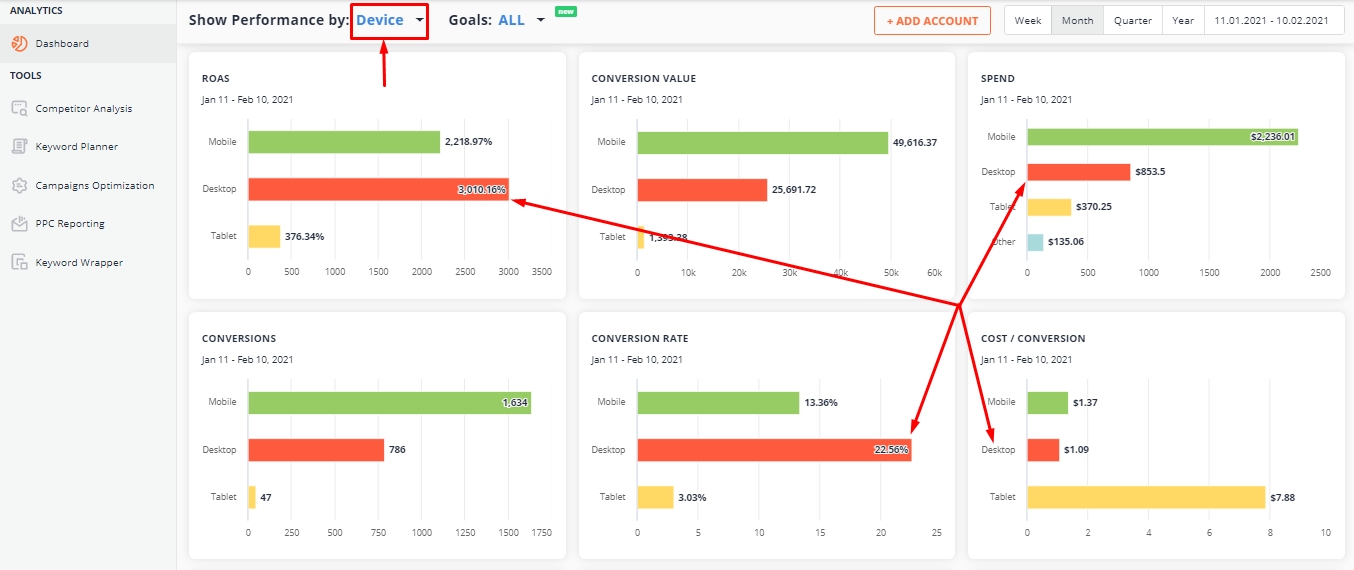 To make use of Analytics Dashboard, you should link your Google Ads account to PromoNavi. You will get real-time data that will help you refine your PPC strategy and overtake your competitors.
We highlighted only the particular example. In practice, you can adjust bids by gender, age, Network, locations, and other segments. Here are the types of bid adjustments in Google Ads and their ranges:
Type of bid adjustment
Where you can use them
Range
Device (computers, tablets, mobile)
CampaignsAd groups
-100% to +900%
Location
Campaigns
-90% to +900%
Ad scheduling
Campaigns
-90% to +900%
Top content (On YouTube and the Display Network)
Ad groups
0% to +500%
Targeting methods
(topics, placements, etc.)
CampaignsAd groups
-90% to +900%
Remarketing lists for Search ads
CampaignsAd groups
-90% to +900%
Interactions (call adjustments)
Campaigns in the new Google Ads experience
-90% to +900%
Demographics (age, gender & household income)
Campaigns in the new Google Ads experience
-90% to +900%
Don't want to manually track campaign insights and calculate potential savings from bid adjustments? To automate this task, use the PromoNavi Device Bid Adjustment and Location Bid Adjustment tools. They suggest either an increase or a decrease to the current bid for each targeted device or location.
#4: Consistently Top-up Your Negative Keyword List
If you run ads for keywords in broad match, you will get a lot of traffic for irrelevant queries.
How to increase traffic quality?
1. You can add keywords to your campaign in exact or phrase matches. This way, you get more targeted traffic without working with negative keywords. However, this strategy has its downsides:
Exact match keywords narrow your audience reach
Broad match keywords often drive cheaper traffic than keywords in exact match
Targeting on exact-match keywords requires in-depth keyword research
2. You can run campaigns for broad match keywords and consistently top up your negative keywords list.
Please note: it is not enough to provide a general negative keywords list at the campaign level when you create it. Typically, this list will be quite sketchy. At the initial stage of setting up a campaign, it is challenging to predict most of the requests that will drive low-quality traffic. That's why the list of negative keywords needs to be updated regularly.
To check the search queries that users enter when they see and click on your ads, go to Keywords → Search terms in your Google Ads account.
For example, when we run a campaign for PromoNavi, the term "job description keyword finder" drives irrelevant traffic, so we should add it to the negative keyword list.

To dive deeper into match types performance across your Google Ads account, we suggest you look through the PromoNavi GDS Report. In the Search term section, you can see the aggregated charts that show the number of impressions, cost, and conversions for each search term group. These insights are helpful for you to understand which match types drive cheaper conversions.

The right strategy for working with negative keywords is to track irrelevant queries every day and add them to the negative keyword list. To automate this task and save time, you can use PromoNavi's Add Negative Keywords tool. The suggestions are based on search terms that drive traffic but have high bounce rates and low average time on site. 
#5: Use Cross-Group Negative Keywords
A negative keyword list within an ad group helps to exclude non-targeted impressions. A cross-group negative keywords lists have other goals: they ensure that keywords do not compete with each other within one campaign.
Let's see how it works. Let's say the campaign has three ad groups; they contain the following keywords:
| Ad group 1 | PPC services |
| --- | --- |
| Ad group 2 | PPC services price |
| Ad group 3 | PPC services agency |
If a user searches for "PPC services," we expect that he will see the ad from Ad group 1. However, the ads from the other ad groups are eligible to show on that query—meaning that the user may see the irrelevant ad. Another problem is that the ads from the same campaign start to compete with each other, which lead to bid increases.
If you want Google Ads to display the most relevant ad in response to a user's search query, you need to configure cross-group negative keyword lists.
In our example, we need to make sure that the ad from the "PPC services" group will not show for queries containing the words "price" or "agency." To do this, we add negative keywords "-price" and "-agency" to Ad group 1.
Finding cross-group negative keywords is time-consuming. You can automate the process with PromoNavi's Keyword Planner & Campaign Builder. Just check the box for the option Cross-Group Negative Keywords when creating a campaign. The tool will generate negative keywords for ad groups to avoid competing between them.

#6: Improve the Quality Score of Your Ads
The actual bid isn't the only factor that affects your ad position. Other factors are:
The quality of your ad and landing page
The competitiveness of an auction
The context of the person's search (the search terms, location, device type, time of the search, etc.)
The Ad Rank thresholds 
The expected impact from your ad extensions and other ad formats
That's why it's not enough to raise the bid to overtake your competitors at the auction. Your ad will get a chance to appear higher than competitors with the same bids if your ad's quality is higher.
High-quality ads not only give you a chance to rank higher but also increase the conversion rate. For example, let's compare these ads: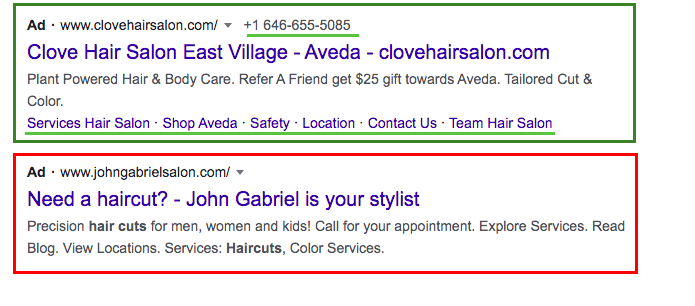 The first ad stands out from the second one: with sitelinks and call extensions, it provides more useful info for the potential client.
How to improve the ad quality
When creating ads, fill in all available fields: titles, descriptions, and display URLs.
Add extensions. Sitelinks with descriptions are a must-have. We also recommend using other Google Ads extensions, e.g., call, callout, price, and promotion extensions.
Insert keywords in ad titles (you can automate it with the Dynamic Keyword Insertion feature—we've highlighted how to set it up).
Remember that the quality of your landing page also affects the ad quality. The basic rule is that the landing page must be relevant to the ad. To increase your landing page quality, we recommend you split-test your landing page copy elements.
Make sure your landing pages are working correctly and are filled with content.
Provide useful info in the ad texts. Mention the UPS, write about the delivery and warranty terms, discounts, etc.
Monitor broken links in your ads. For instance, sometimes webmasters mistakenly can delete landing pages or change URLs, and users land on the 404 page. Keep in touch with the site owners and stay up-to-date with changes.
If your Google Ads account is linked to PromoNavi, the Broken Links Checker will notify you as soon as it detects the broken links. Learn more about detecting broken links in the PPC ads and how to fix them from our guide.
If you already have active campaigns with accumulated statistics on impressions and conversions, review your ads. Find ads that drive cheap conversions. Analyze them, and modify other ads or create new ones using high-performing ads as an example.
#7: Split Test Several Ad Variations
Ad quality is important, but so is the number of ads.
It's nearly impossible to create the perfect ad text from the first guess. To find an ad that shows good CTR and conversion rates, you need to test various options: titles, descriptions, display URLs, and extensions.
Create at least two text ads and one responsive ad for each ad group when you launch a campaign. Then leave the most effective ad copies and continue testing.
To optimize your ad copy elements, make use of PromoNavi's Optimize Ads tool. The tool checks if your ads meet the best practices for PPC ad copies and alerts you if something goes wrong. The good thing is that you can apply changes to your ad copies in Google Ads directly from PromoNavi.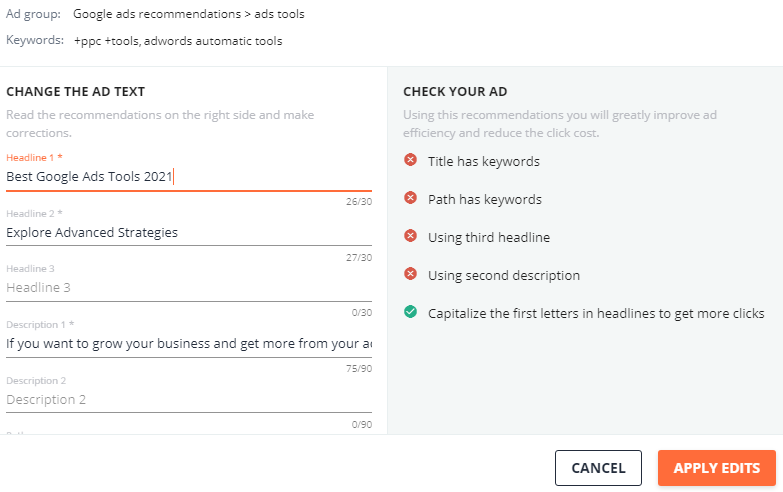 #8: Make Sure Your Keywords Meet with a Clear Search Intent
If you want to make the most out of your ad budget, a good strategy is to attract customers closer to the bottom of the sales funnel—users who know exactly what they are searching for are about to convert into customers.
To get this traffic, you should run ads for keywords with clear search intent.
Here is an example. The first user's query has a clear intention—the user is searching for a competitor analysis tool. The second query is not so straightforward—we can't exactly know what the user is searching for, whether advertising platform, specific tools, or knowledge base; Cost per conversion for this search term is much higher than in the previous case.

Please note: long-tail keywords may drive conversions at a lower cost, but don't get rid of more general keywords at all. High- or mid-volume phrases help expand your audience reach; especially they are essential when you advertise for a product or service in a narrow niche.
To conclude, if you have enough of a budget, run ads for all types of keywords. Then track performance and disable keywords that have no conversions (or they are too expensive). If you are on a tight budget, choose the most accurate keywords.
#9: Do Not Use Dynamic Lookalike Audiences in Remarketing
If you are starting a remarketing campaign for a new brand, the audience can be relatively small. For more reach, Google automatically sets up lookalike audiences. It can be tempting to enable them, but such an approach is quite controversial. With a broader audience, your goal changes from actual remarketing to reach out to new users. Typically, the conversion rate is lower, and the conversion price is higher for a new audience than for remarketing audiences. 
If your budget is limited, be careful with аutomatically created lookalike audiences.
#10: Do Not Blindly Follow Automatic Recommendations
Google Ads and automation services offer recommendations to improve your ad campaigns. It would be equally wrong to ignore or blindly accept all of them. 
Google's goal indeed is to make you spend more money. But that also means it wants your ads to be more relevant and appealing to users. For example, one of the controversial Google's suggestions is to shift your exact or phrase match keywords to broad match. However, you can get recommendations on using ad extensions or creating Dynamic Search Ads for a wide inventory.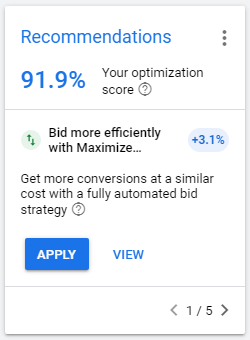 We always recommend that you keep in mind that all automation tools are created to help managers make their own choices. The final decision on the adjustments should be based on the current campaign goal.
This advice concerns not only Google's recommendations but other platforms as well, including PromoNavi. For example, our Device Bid Adjustment tool can suggest lowering your bids to 50%, based on the data from the Google Ads and Google Analytics reports. But it is better to avoid such drastic changes in the account and not to change the bids by more than 20-30 percent at a time.

Regardless of the tool you use, make sure you pay attention to performance metrics like Impressions, Clicks, Cost, CPC, Average Time, % Exit, Conversions, and keep in mind your overall goal.
#11: Exclude Irrelevant Сategories & Placements on Google Display Network
Running ads on Google Display Network (GDN) without setting up exclusions can be a huge budget waste. 
You can set up content (categories) exclusions at the account or the campaign level. 
How to set up categories and content at the account level
Go to All Campaigns and click Settings —> Account Settings. 
In the Content exclusions panel, click Excluded content and select content categories you want to exclude.
In the Excluded types and labels panel, select content types and digital content labels you want to exclude. 
How to set up categories and content at the campaign level
Select Additional settings in your Display campaign. To open the panel, click Content exclusions. From here, you can select exclusions you want to apply to your campaign.
For more precision, you can exclude specific placements at the account level. Consider this: there is no way to exclude youtube.com and mail.google.com.
To exclude specific websites that are not appropriate for your brand, go to Placements —> Exclusions. Click the plus button and select Account from the drop-down menu. From here, you can enter one URL or multiple URLs (click «Enter multiple placements»).
#12: Exclude In-App Advertising
By default, your Display ads will also appear in various apps, including games. Often they lead to irrelevant traffic as a result of accidental clicks. If you don't want to waste your budget, make sure you exclude them.
Unfortunately, the Mobile App Exclusions feature is no longer available in Google Ads. But you can still save your budget. 
There are two ways to do this. The first one is to exclude app categories. 
Select the Display сampaign, and in the Placements section, click the Exclusions tab. Choose whether you want to exclude placements at the campaign, ad group, or account level. Then choose the App categories you wish to exclude.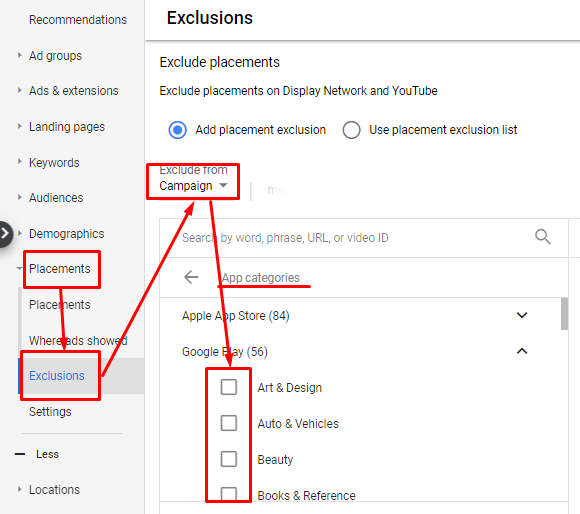 The second way is to exclude specific apps manually. Сlick the Exclusions tab in the Placements section, and select Add placement exclusion. Under Exclude from, choose Campaign.
Then click Select a campaign and choose the campaign you'd like to exclude apps from.
Click Enter multiple placements. To exclude an iPhone app, enter the iTunes ID for the app after the code:
mobileapp::1-
To exclude an Android app, enter the app's package name after the code:
mobileapp::2—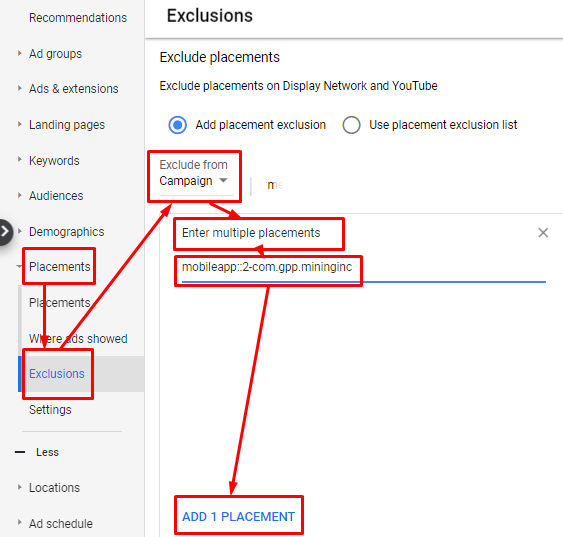 On Google Ads Help, you can find detailed instructions on excluding individual iPhone and Android apps from your campaign.
___
Now it's your turn! Use our life hacks and tools to optimize your campaigns. We hope they'll save your budget and improve your ads' performance.