A new year allows businesses to review their marketing strategy. There are always channels that get out of fashion and those that rapidly grow in popularity. Therefore, to avoid wasting resources on old-fashioned platforms that no longer sell for you, you need to follow the trends. And even if you think your marketing team is working brilliantly, it's worth checking what's in at the moment, where people shop, and which platforms your competitors choose or avoid.
This article lists the most popular social media platforms, and search engines that we predict will grow and flourish in 2023. Read about them and choose those that would work best for your business. Depending on your business's industry and size, advertising on different search engines and social media platforms could work more or less efficiently.
What are you looking for? Is it a facial recognition search engine or social media that would allow you to connect with your customers in China? No matter what your goals are, we have selected the best of the best for you and analyzed each of them through the advertisement lens.
Social media platforms worth investing in 2023
1. Facebook
Facebook was the first social media platform to gain widespread popularity. Today 2.91 billion users are active on Facebook every month. 72% of active users check Facebook daily! On average, users spend about 33 minutes a day on Facebook.
Facebook has everything now: groups, advertisements, stories, a marketplace, and more. Meta has created endless possibilities for businesses to be discovered through Facebook. The company offers a variety of advertising opportunities on the platform.
In part, Facebook owes its popularity to Facebook Messenger, which allows instant messaging between users. It is particularly convenient for businesses selling through the Facebook marketplace and those who run private Facebook groups and connect personally with their clients.
With its many built-in services and features, Facebook is the number one social platform today. It's excellent for developing personal connections with your customers. Yet Facebook users are often older than those of TikTok or Instagram, for example. Facebook does not cover the entire world's population. Thus It is not the best choice for those targeting Asia, for example.
2. Youtube
YouTube is an online video-sharing social media platform. It was launched in 2005. Today it has 14.3 billion monthly visits. It is one of the most visited websites in the world!
People mostly come to YouTube for entertainment and education. There are a few advertising options on YouTube. The first one is to upload videos that get a lot of views. The second one is to collaborate with popular vloggers, who would advertise your products in their videos. The third one is through YouTube itself. In this option, those watching YouTube will see your ad as a separate advertising video.
YouTube is one of the leading video advertising platforms and is also great for influencer advertising.
3. WhatsApp
WhatsApp is an instant messaging and voice-over-IP platform. This social media connects people from all over the world, allowing users to send each other text messages, voice messages, images, documents, locations, and videos. There are also audio and video call options.
WhatsApp has 2 billion active users monthly and is predicted to reach 3 billion by 2027.
For businesses, WhatsApp offers easily manageable business profiles that make it possible to communicate with customers and send them notifications, messages, and promotions. WhatsApp business pages can also be embedded in many client database programs and managed through those.
WhatsApp also makes money through WhatsApp pay, a service similar to PayPal. In 2021 WhatsApp brought in an annual revenue of $8.7 billion.
4. Instagram
Instagram is a photo and video-sharing social media platform. It was founded in 2010 by Kevin Systrom and Mike Krieger.
The app allows users to upload pictures and videos in different formats. For example, photos and videos posted to Stories are only visible to Instagram users for 24 hours. Reels, on the other hand, can reach millions of views and be discovered based on the users' interests. There are also options for adding hashtags, locations, music, and tagging brands in posts.
Instagram has 1.22 billion monthly users, most of them between the ages of 16 to 34. Instagram offers many advertising possibilities managed through Facebook. It is great for visual content, raising brand awareness, and finding new younger customers.
5. WeChat
WeChat is a Chinese instant messaging social media and mobile payment app developed by Tencent Holdings in 2011. It's known as China's app for everything. Therefore, if you work with the Chinese market, this is the social media to join.
6. TikTok
Tiktok is a short-form video hosting platform owned by ByteDance, a Chinese internet technology company. TikTok has been on the market since 2016; however, its popularity skyrocketed in 2020 during the Covid-19 pandemic.
Many brands have shifted their marketing strategy's focus to TikTok since and have succeeded. Funny, entertaining, and educational content worked the best. Many brands successfully collaborated with TikTok influencers and gained their popularity this way. TikTok attracts a younger crowd, and many people go to TikTok to search for recipes, travel advice, restaurant booking, and so on, making it more popular than Google's search engine.
7. Douyin
Douyin is the Chinese version of Tiktok. Tiktok and Douyin are both owned by the same company. The two platforms are virtually the same but deliver different content. And you would have to register twice if you wanted to be a user of both platforms. Douyin also has some extra features, such as in-video search and tap-to-purchase.
8. Snapchat
Snapchat is a multimedia instant messaging app. Three former Stanford University students developed the platform. Snapchat users can send pictures and messages to each other that are only available for a short time. The content is deleted permanently after a while. And While Snapchat hit the peak of its popularity ten years ago, some people still use it today.
9. Telegram
Telegram is a multi-platform messaging service founded by Russian entrepreneur Pavel Durov. Telegram now has an estimated 550 million monthly users. Most of Telegram's features are similar to other chat apps. Telegram users can message each other, create group conversations, call and make video calls, and send files and stickers.
A few specific features make Telegram stand out. Telegram's headline feature is privacy, and to ensure this, it employs end-to-end encryption. Telegram offers an option of 'secret chats' that automatically delete content. There is also an option for Telegram's users to send each other 'video messages' that can be up to a minute long and look like telescopes.
Telegram is great for privacy and boasts unique features. Telegram has overtaken WhatsApp in the Russian social media popularity stakes,Therefore, it would be the best choice if that is the market you sell to.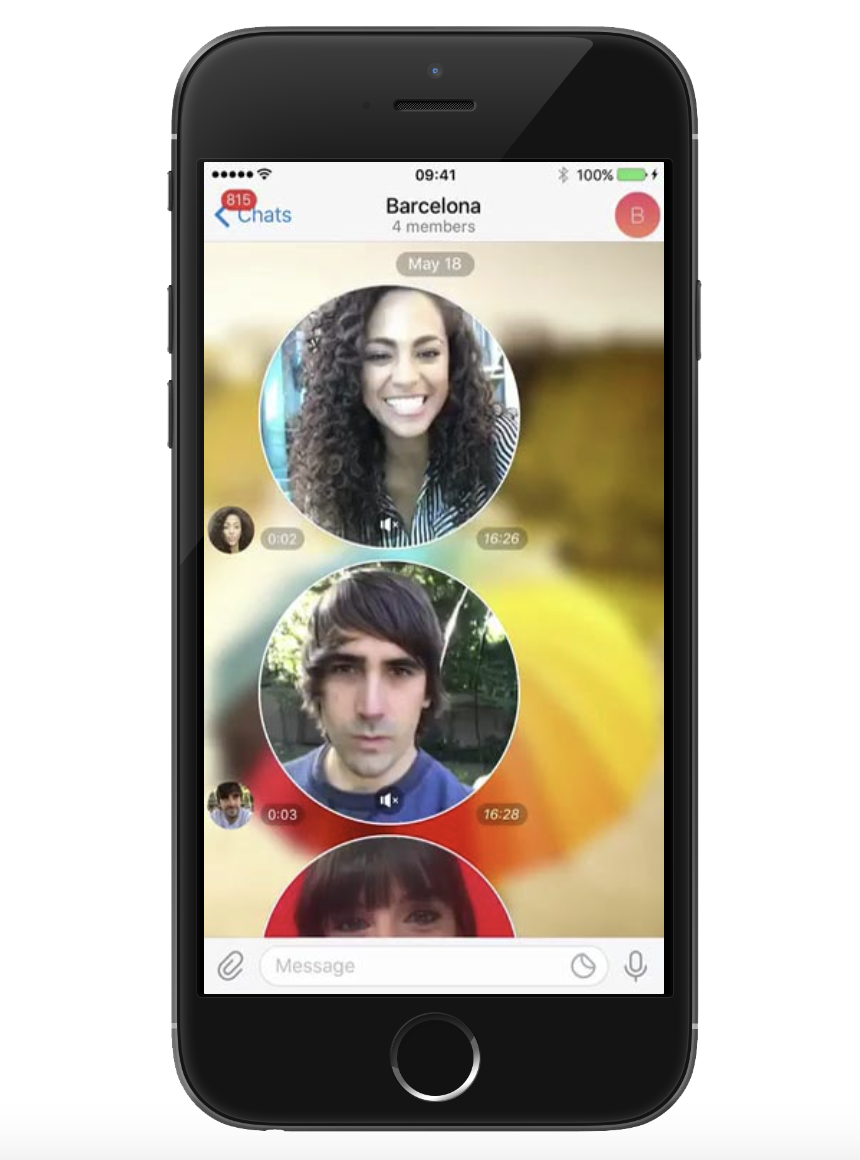 Image from telegram.org.
10. Pinterest
Pinterest is an image-sharing social media service. Users can discover and save information through Pinterest using images, graphics, and videos. Users can organize the collected data and keep it on their pinboards.
11. Twitter
Twitter is an American microblogging social platform where users can post and interact by publicly posting so-called 'tweets.' There is a word limit for each 'tweet.' Thus users are encouraged to write concisely and get straight to the point.
Tweets can be funny, opinionated, political, and educational. Many brands love Twitter because users can retweet and add each other's microblogs to their pages. There are comments, likes, hashtags, and private messages as well. Twitter is commonly known as the favorite social media platform for males over 40.
12. Reddit
Reddit is a discussion website with social news aggregation and content rating. Registered users can post content through links, text, images, or videos. Posts can be voted up or down by other users. This is a great website to scroll through and see what people are saying about your brand.
13. Quora
Quora is a social media website where users can ask and answer questions. Users interact by submitting answers and comments to other users' queries. Quora is great for researching and understanding what your customers need.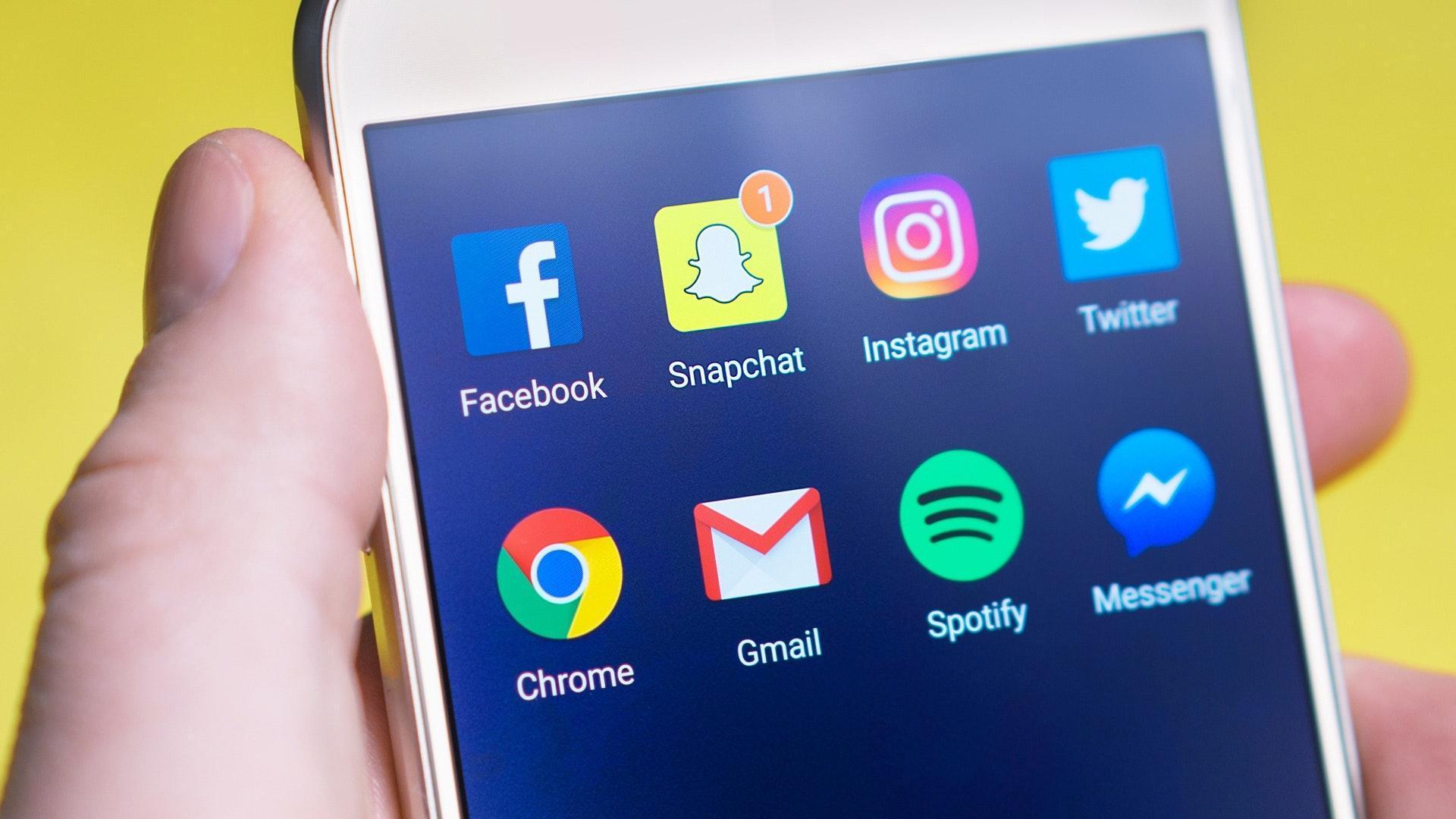 Best search engines in the world in 2023
While Google maintains a market share of over 85%, it's not the only search engine out there. In fact, some people prefer other ones for a variety of reasons . Some show better image results; others value privacy and security more, and some offer gift card rewards for using them. It is essential to know which search engines your customers use and why they choose them when considering advertisement possibilities.
1. Google
There's a reason Google is the top search engine in the world. Due to its advanced algorithms, Google always provides the best, most accurate search results. What users love about Google is that it tends to show authentic images, Shopping items, related news articles, and video results as well.
2. Bing
Microsoft Bing is a web search engine owned and operated by Microsoft. Bing is the second-largest search engine globally by market share. Some people prefer it to Google. When searching with Bing, one can join Microsoft Rewards to earn points for every search on Bing. Over time, points add up and can be redeemed for gift cards.
For example, the video results tab in Bing is more visual than in Google. Bing video results are arranged in a grid instead of the regular list-style results that Google shows.
Also, Microsoft Bing Shopping often offers results different from Google.
3. Yahoo
Bing owns Yahoo, yet the search engine results differ between the two sites. Results may vary even more for more specific searches, particularly results beyond the first page. The interface is also different.
When one makes Yahoo.com their default homepage, they get access to sports, news, entertainment, and tech tips. Yahoo Finance provides accurate financial information.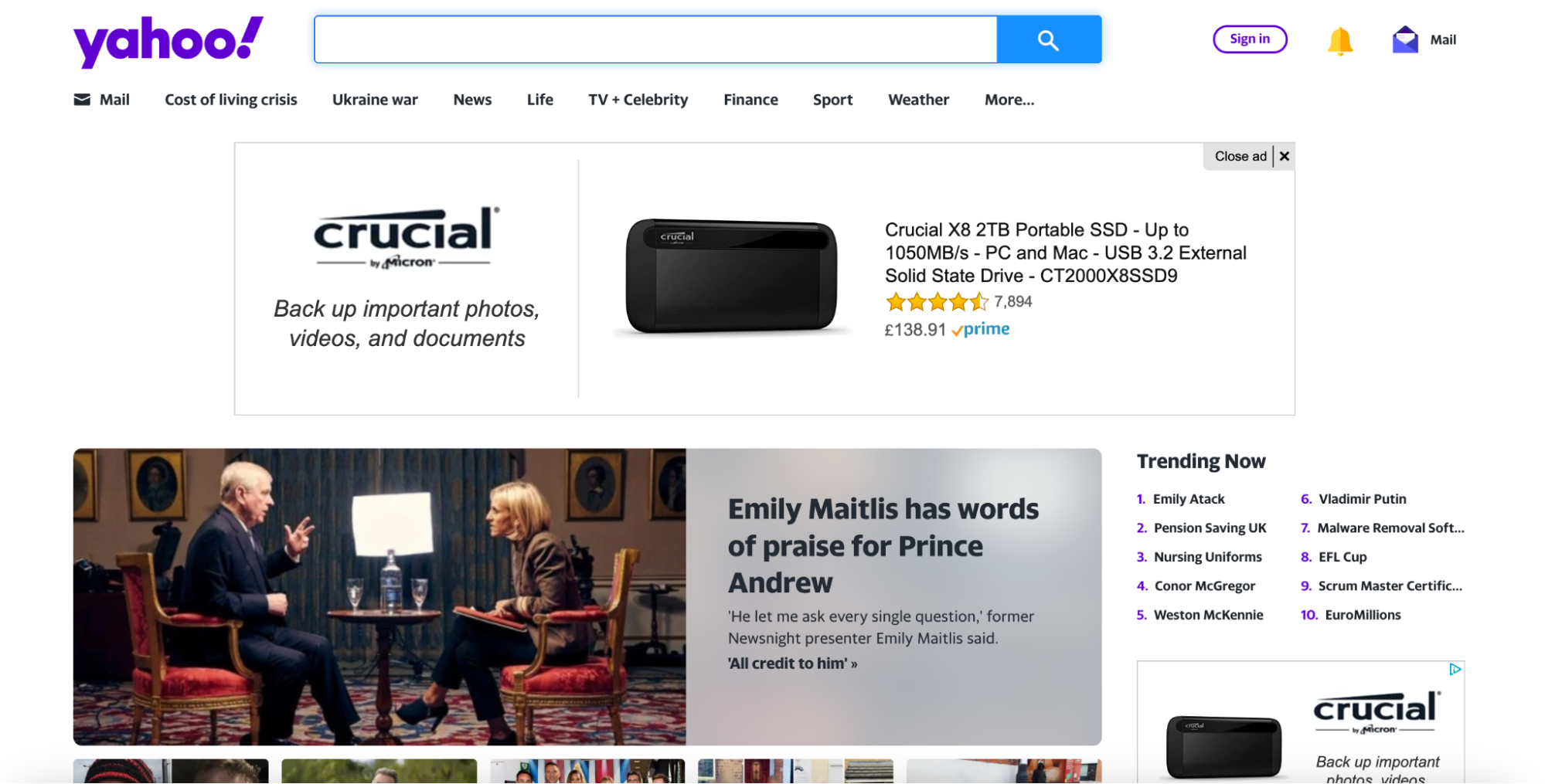 Yahoo interface.
4. DuckDuckGo
DuckDuckGo stands out from other major search engines because it doesn't track users' search history and activity. Unlike others, DuckDuckGo does not show personalized results or targeted ads.
It doesn't collect any personal information or IP addresses. And therefore, those who value their privacy and disapprove of tracking choose DuckDuckGo.
5.Yandex
Yandex is a Russian search engine that can produce results in English based on the user's location. It has a map service that is more accurate than Google in certain regions, for example, in Eastern Europe.
Yandex is a leading search engine for image searches. Yandex's algorithms are built to recognize images and faces better than others. For example, if you upload a photo of a person, Yandex will be able to find results featuring the same person, even if the background is entirely different.