Google Ads allows businesses to create ads for Google search results pages and other services, including YouTube and Gmail. More than 1 million marketers use Google Ads today. This leading digital marketing service has become highly competitive. At first, it might seem overwhelming, but it gives you much freedom and endless possibilities of increasing traffic and ROI.
While Google Ads tends to give its users a fair chance to appear at the top of the search inquiry, the competition is so high that the markets use all the available ways to stand out. Those who don't use all the resources are less likely to succeed.
Google famously prioritises the wishes of its users. Therefore, it's no surprise that the websites that seem most relevant and accurate to Google appear at the top of the search inquiries. While it might seem so, luckily, it's not all up to Google's algorithms to decide what websites get the most views.
We've got a few secrets about appearing high in searches and, therefore, for your content to be discovered. With businesses fight for ranking, it's important to be creative to separate yourself from the crowd. This guide will share some less conventional methods of standing out on Google Ads.
1. Use Keywords to Your Advantage
Keywords are words or phrases people type into a search engine to find out more about a particular topic. Keywords are an important part of your content marketing and SEO strategy. Everything on the Google search engine starts with keywords. When people are looking for something, be it presents for a newborn or a plumber, they type some words relevant to what they want to find into a search engine.
The top results that appear in a Google search are based on the quality of the content.
A highly rated steak restaurant with an easy-to-navigate website with a lot of information and positive reviews will appear first on Google. However, serving good food is not enough for that restaurant to appear at the top. Its website has to implement well strategically chosen keywords. For example, if the user searches for 'the best steak restaurant in London', those words must appear on the website and on the advertisement.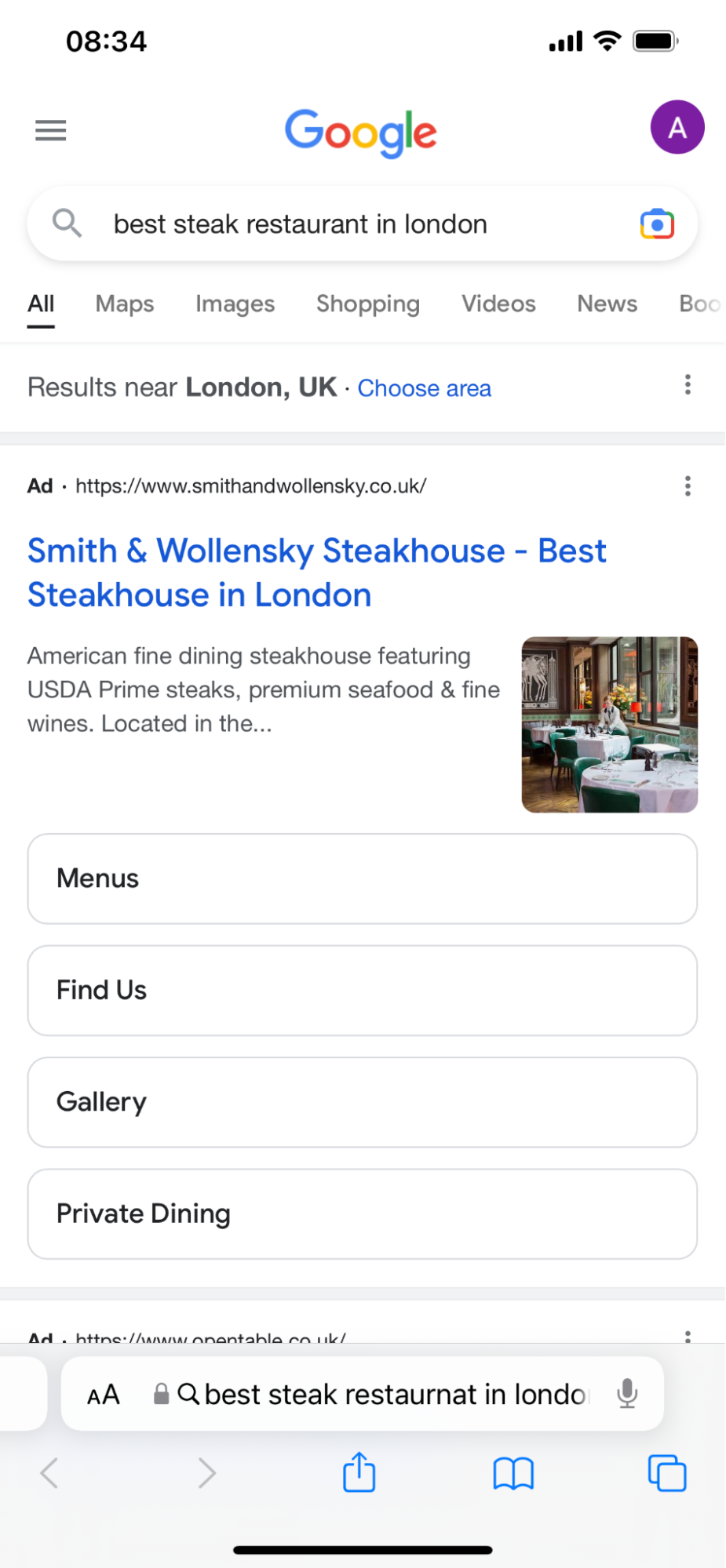 A top result when searching for the 'best steak restaurant in London' on Google
Therefore, using the right keywords that align with your website content is the first trick you must master when working with Google Ads.
Many businesses try to use keywords on their websites; however, not always effectively. The trick with keywords is not to use broad or niche terms but find the golden middle. Using too general keywords will only hide your ad among many others that use those exact phrases. Similarly, keywords that are too unique and extraordinary will be rarely typed into the search engine and will decrease the number of viewers.
If unsure, make a keyword research. It will ensure that you use the right keywords to attract your audience and increase your brand's online visibility.
For example, when entering a keyword into Google Keyword Planner, the service offers you a list of suggested words related to the one you typed. Moreover, it will show you particular search volumes of a specific keyword, which will help you to find a term that's not too broad or niche. Google Keyword Planner also allows you to customize your search.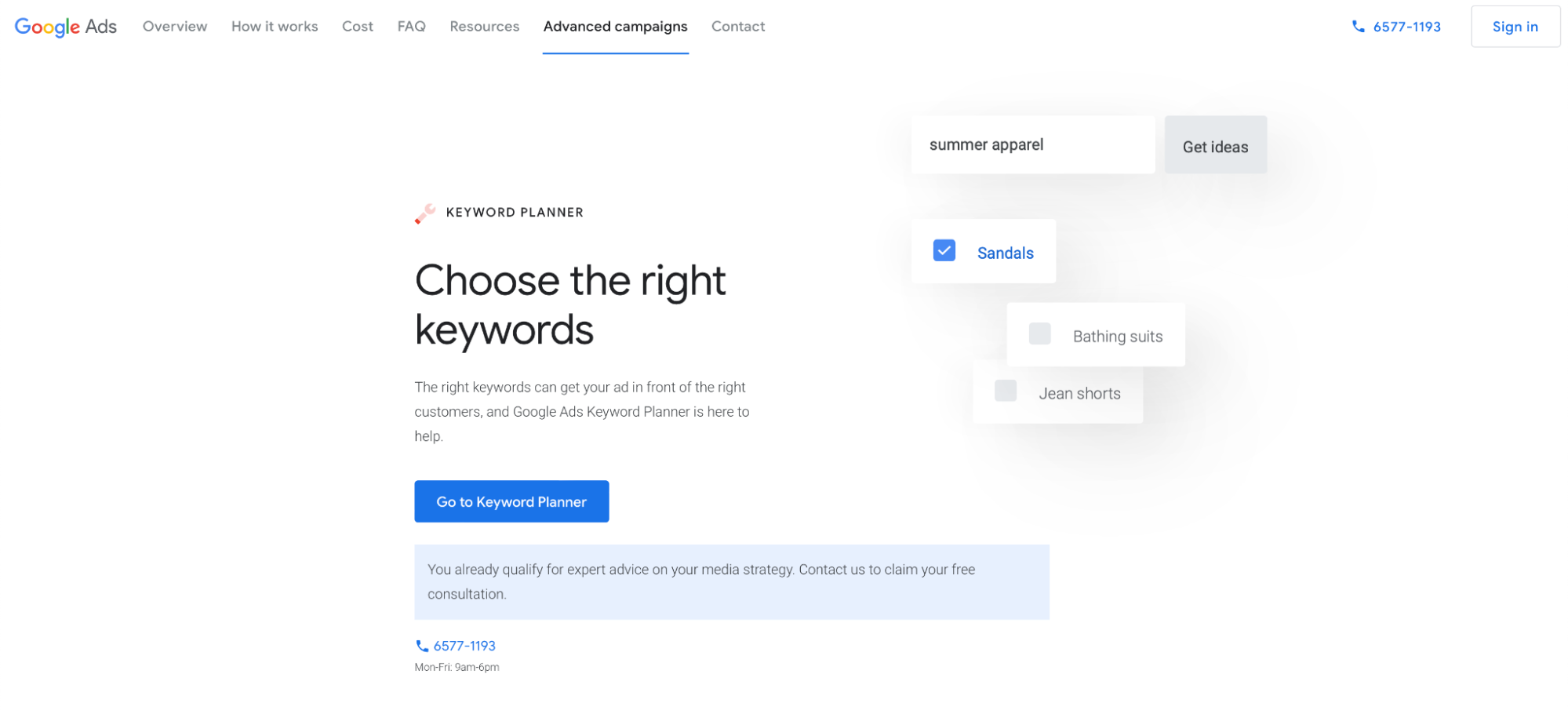 Google Keyword Planner
Play on Negative Keywords
Keywords are excellent not only when you include those on your website but also on your ads. And the better the keywords – the more chances you have to be discovered. However, there is also a negative scenario when users click on your ad and don't get what they want. It often happens when Google suggests users view ads that do not have negative keywords. 
For example, if you sell white women's t-shirts, you don't want customers looking for 'black shirts with long sleeves for men'. If you pay per click, you will pay for those imperfect matches. Moreover, you don't want unsatisfied customers, do you? They would blame your brand for bad advertisement and for wasting their time clicking on your ad and not finding what they wanted. 
You can use the Google Ads Keyword Planner tool to find the right negative keywords. After entering a list of keywords, you will see a list of related terms. You can then add relevant negative keywords to your campaign.
Taking the time to add negative keywords to your ads will save you money and the loyalty of your clients. As a bonus, Google appreciates it when you use negative keywords and will give you a better score for your ads and a higher ranking.
Make Mistakes on Purpose
We all do it – accidentally miss letters or don't press the right button on the keyboard, especially when we type something in a rush. Yet even when we type something like 'resyairant' instead of 'restaurant', Google knows what we want to search for. Of course, autocorrection is there for us, and more often than not, the search engine would suggest a proper spelling for us. However, you wouldn't necessarily correct your mistake if you saw the results in front of you.
Bidding on a potential misspelling in people's searches is an unconventional tactic that often pays off. You could add those typos to your keyword or your website. For example, if someone has left a review of your restaurant, don't correct their typos and just keep it the way it is. Therefore, your website would appear at the top if someone made a similar mistake.
A free tool allows you to enter keywords to generate the most common typos — Rankwatch. Search for your competitor's misspelt names, your products and their descriptions.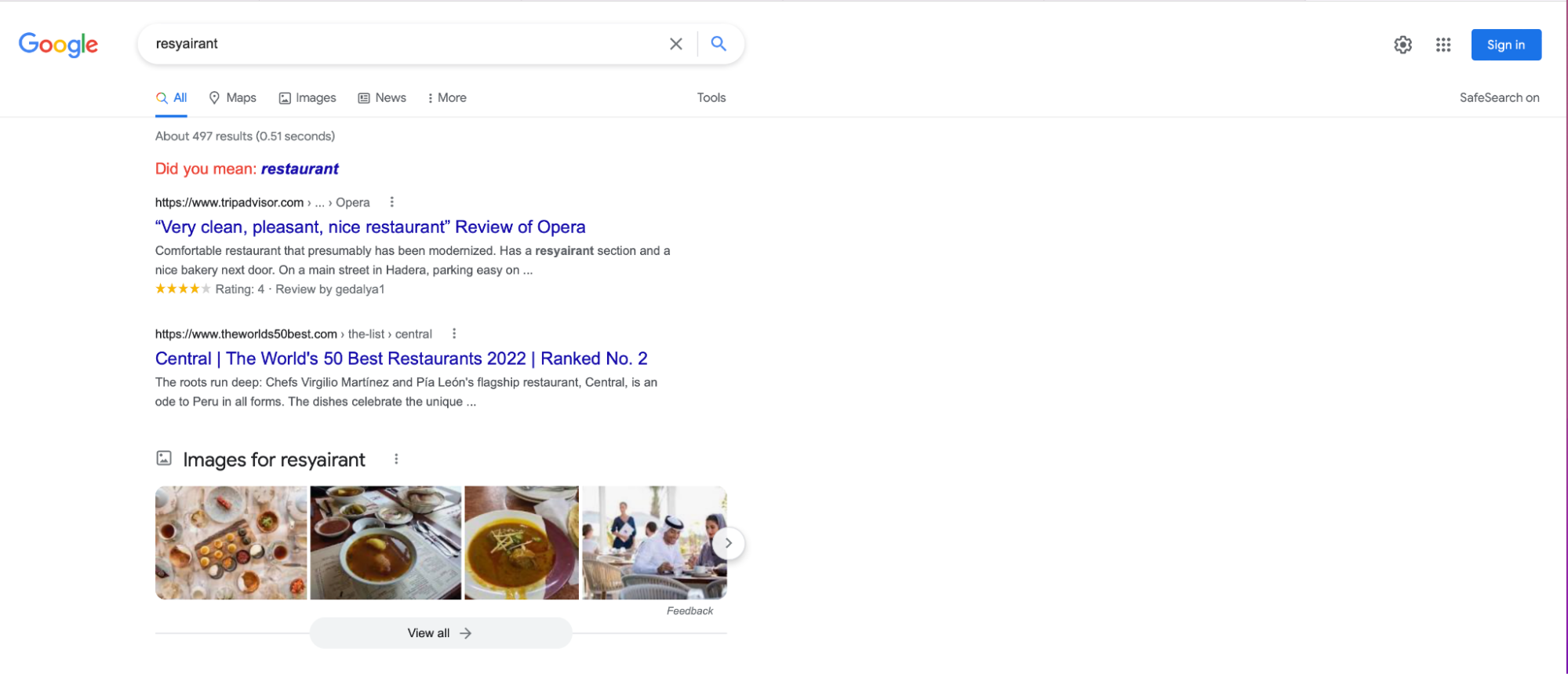 An example of a typo in Google search
Include Your Competitors' Names
As crazy as it might seem at first sight, including your competitor's brand names in your campaigns is not such a bad idea. Think about it. Firstly, users who type a brand name in their search most likely know what they want. And if you sell something very similar, but, let's say, less expensive, you might interest them with your suggestion.
Secondly, if you use your competitor's brand names as your keywords, you can use their features, popularity and even negative aspects to your advantage. For example, you could create an ad that would question your competitor's quality and take the user to your landing page, where you explain your statement and why your quality is better. The idea is to engage the user. Beware that these clicks might be pretty expensive for you if your competitors are doing the same, and the users don't end up buying from you.
Don't Underestimate the Organic SEO
Search engine optimization is the process of improving the quality and quantity of website traffic to a website from search engines. Unlike ads, SEO targets unpaid traffic.
While it might take months to get up in rankings working solely with organic results, the effort pays off. Google always notices high-quality content. And if your website is relevant and full of carefully chosen keywords, it will succeed its competitors. Working closely with your PPC ads, you'll be building towards something great, and Google will notice and reward your effort with a high ranking.
You can use Google Ads to find the best keywords and incorporate phrases that get the most clicks into your content.
2. Perfectioalize your Landing Page
You must view the customer's experience as a journey to speed up your Google Ads campaigns. All the steps that the customer takes until buying must be connected. The first engagement with the ad must lead towards the call-to-action button and bring the customer straight to the relevant landing page.
As we've mentioned, high-quality content brings your pages to the top like no other when working with Google, a user-friendly company. The first page the user sees after clicking on the ad is a landing page. It is the face of your company, the opportunity to interest a potential client in your brand. Therefore, improving your landing page would only benefit you and your customers.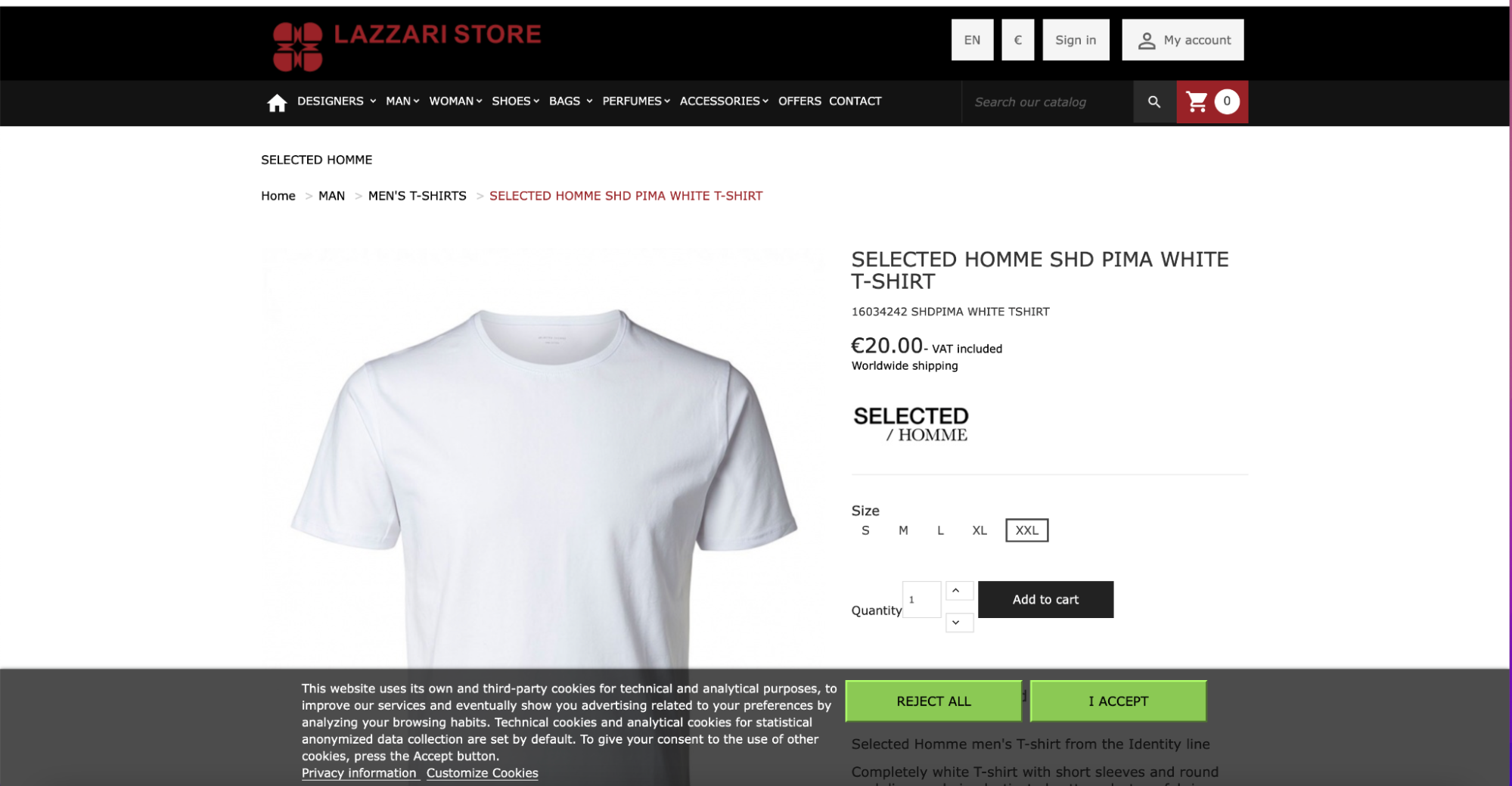 An example of a good landing page
A few core things to pay attention to when evaluating your lending page are the relevancy of content and the ease of navigation. Ask yourself, does the page's content feel like a continuation of your ad? Is it a natural next step in the customer's journey? The golden rule here is to give the customer what they want. If they clicked on an ad that featured a t-shirt, the page they are redirected to must be of that exact t-shirt, not your home page or any other item. As obvious as it may seem, it is extremely important. Take your customer right to what they are looking for or provide a solution to a problem, and they will be grateful and will return to your brand in the future.
Once the golden rule is taken into account. You may think about other features of your landing page. Does it stand out among your competitors? Is it unique? Moreover, make sure to include the policies of the brand and the website and make them transparent on the landing page.
One way of making that marketing journey evident to the customer is by repeating the points made in the ad on the landing page. It would be best if you also repeated keywords from the ad on the destination page. This strategy works because, firstly, this way, the customer understands that they've got precisely what they wanted: not just any wooden toy, but exactly the one they typed into the search engine. And secondly, the keyword consistency will improve your conversion rates while lowering your CPC.
3. Be Creative
People love sharing funny, engaging, and interesting content online. You should consider it when creating your ads. Remember, your campaigns don't have to be boring. Spend a little bit more time making your ads unique and sit and enjoy afterwards when people share them for free on social media.
The easiest way to go viral with an ad is to make a successful video. People love watching and sharing videos. So why don't you give them something wow and impressive while promoting your brand?
4. Use Geotargeting
Sometimes it's better to focus on one region rather than trying to sell to everyone. You can make more profit from the ad targeted to a specific location. With geotargeting, you can choose what region to spend your budget on; therefore, on your ad, you can also include location-related information. This approach is perfect for local stores, restaurants, and hair salons.
Select a campaign in your Google ads account to target a location, scroll down to the 'Locations and Languages' section, and click on edit under Locations. You can then select 'add', 'exclude' or 'nearby'. As a bonus, you can also play with geotargeted bids, such as weather and season.
It's crucial to do your research before targeting a specific location, though. Otherwise, you would be spending your money on something that's simply not working. However, finding the right content, place, and time is always profitable.
5. Use Ad Extensions
Ad extensions allow you to add additional information to your campaigns, such as your phone number, website address, product images, and customer reviews. The extensions appear directly below your description and don't cost extra. Many marketers don't bother adding this information. Yet extensions are a great way to increase the visibility of your ads and improve your click-through rate.
For example, a message extension makes it easy for the customer to contact you. It's up to you, but you can even add the cost of your product with a price extension. For example, if you are sure you have the lowest price, this is the extension worth adding.