With almost 3 billion users, Facebook is one of the most attractive advertising platforms for marketers and business owners. Tailored targeting options and relatively low CPC can make Facebook a great lead source for almost any business.
However, sometimes the performance of Facebook ad campaigns doesn't meet your expectations, and you may wonder what you are doing wrong. There can be a lot of minor issues stopping campaigns from significant results. This blog post will go through the most likely reasons and explore ideas for better performance.
Quick Links
Why Your Facebook Ads Don't Perform
There Are Some Issues With Your Facebook Pixel
You Don't Have The Right Objectives For Campaigns
You Ignore The Stages in The Marketing Funnel
You're Not Reaching Your Audience
You Don't Use Facebook Retargeting
You Don't Use Email Addresses For Custom Audiences
Your Creatives Are… Not Creative
Your Ad Formats Are Not Engaging
Landing Pages Don't Match The Ads
You Don't Know Your Perfect Customer
You Don't Analyze Ad Performance Regularly
More Ideas For Great Performing Facebook Ads
Share Customer Reviews in Your Creatives
Advertise for Free Features to Gain Leads
Adjust Campaigns for Holidays And Special Events
Show What's Inside Your Product
Use Text Images For Bold Statements
Encourage Your Custom Audiences With Special Promotions
Why Your Facebook Ads Don't Perform
If you are sure that Facebook users can see your ads, but you still don't get leads, analyze your campaigns step by step. You can use this article as a checklist to examine every aspect of your Facebook ad campaign to achieve more with your ad activities. Let's start!
1. There Are Some Issues With Your Facebook Pixel
With Facebook pixel, you can not only track conversions on your website from Facebook ads but also retarget people who have visited your website. If it doesn't work correctly, you may experience some ad problems.
If you don't have a Facebook Pixel yet, go to Meta Business Help Center. It will walk you through the pixel installation process.
If you already have installed a Facebook Pixel on your website, ensure it works correctly. To do this, install a Chrome Browser extension, Pixel Helper. This troubleshooting tool will tell you whether your Facebook Pixel works correctly. If everything is fine, you will see a marked green message: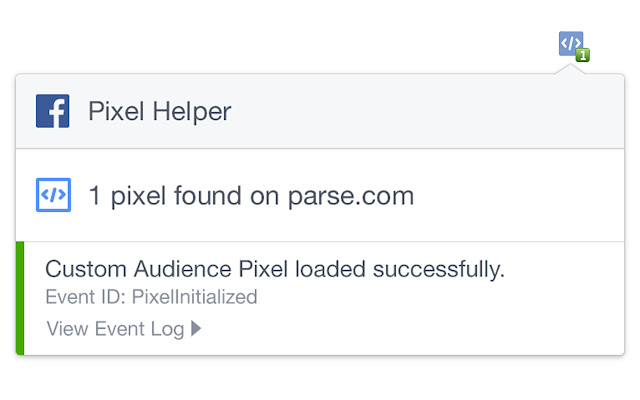 If not, you'll get an error message with details on the error type: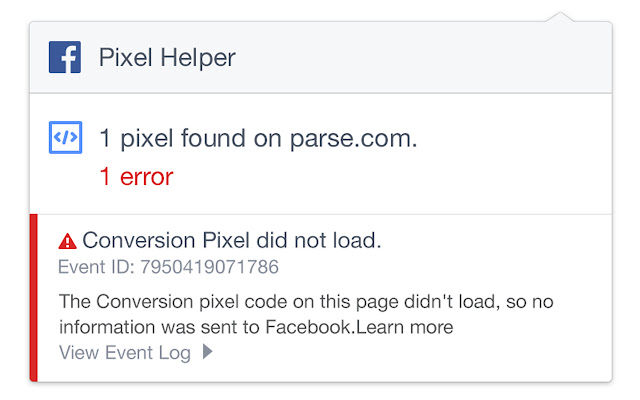 2. You Have Set Wrong Objectives For Campaigns
Before you start a new campaign on Facebook, think of goals you want to achieve with your ads. Sometimes marketers are dissatisfied with results just because they don't have clear goals.
On Facebook  Ads, you can choose from three objective types: 
Awareness — Reach more people and increase brand awareness.
Consideration — Drive more people to your website by reminding them of your offerings.
Conversion — Get more sales and phone calls.
In each category, you can choose from several objectives. You can hover over each objective to get information about it. For more details, visit Facebook's Ad Guide.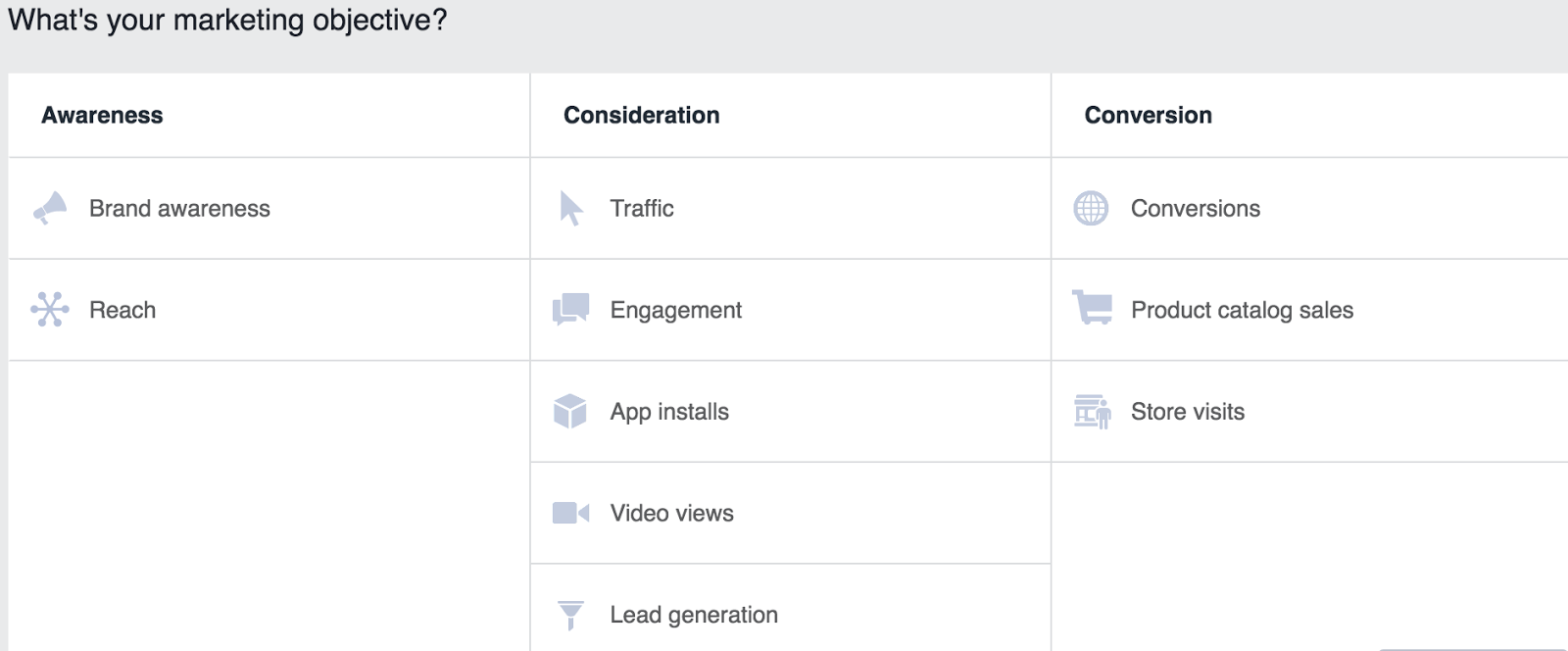 The objective you choose will preset some specific features that Facebook will use to reach your goal. If you select the wrong objective, you may miss out on some features that could help your ads.
For example, there are different CTA (call-to-action) buttons for each objective you can choose from: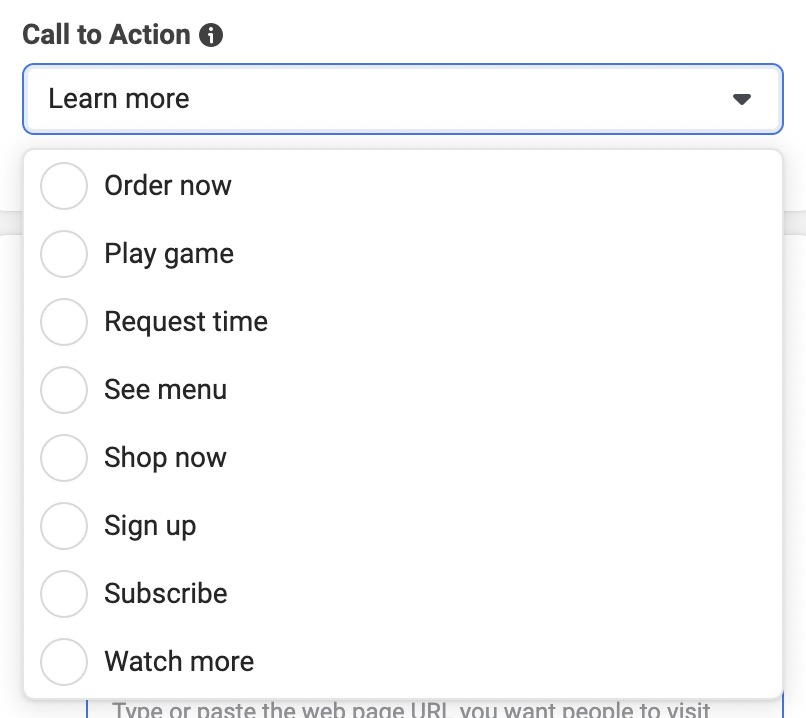 Please note: Choosing marketing goals that reflect your business needs is crucial. For example, new businesses can focus on brand awareness, and their KPIs will be Page Likes and the number of new followers. A local store can select Store Visits as its primary marketing objective and evaluate the increase in customers.
3. You Ignore The Stages in The Marketing Funnel
Marketers may miss opportunities when their ad campaigns don't correlate with their potential customers' stage in the marketing funnel. For example, showing a brand awareness message to your previous customers or page fans is not a good idea. Or the opposite: ad creatives with product details may annoy users who don't know your brand. Both will waste your budget and sales potential.
It has no sense showing a sale proposal to users who see your brand for the first time – they won't get the message: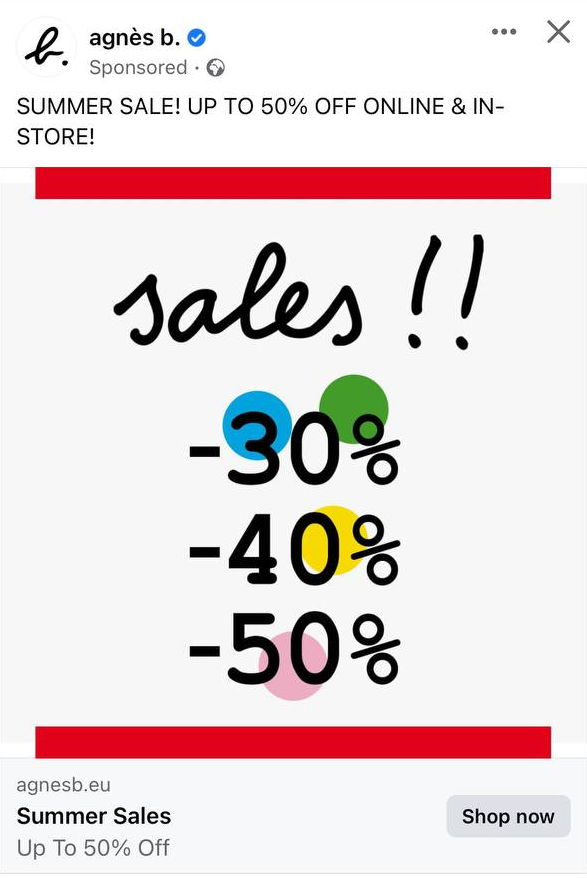 How to fix it: Create ad campaigns for every step of your customers' marketing journey. Develop different creatives for new and old customers. 
Pro Tip: Use Custom Audiences to run conversion-centred campaigns. You can import your email lists to target specific customers who are most likely to make a purchase. 
4. You're Not Reaching Your Audience
Every time we like some content, share posts, or check in at places and events, Facebook collects data to learn more about our interests and preferences. Later, this data will be used to assign us to some audience segments. However, Facebook's assumptions may not always be 100% accurate. You can look into your ad preferences and compare them to your interests. Sometimes (actually, in lots of cases), they don't match. That's why you often see irrelevant ad messages. The same may happen to your campaigns.
How to fix it: 
Experiment with audiences. Try different interests and demography combinations.
Sometimes it's better to start with a broader audience to reach more potential customers. Target your campaigns depending on the stage of your customer's journey: as you move from awareness to consideration and conversion, target your ads to more specific audiences.
Work in small steps: add one targeting criteria at a time, and measure performance at each stage.
5. You Have Just One Ad Set
It may be tempting to put all your ads in a single ad set to simplify the ad management process. But this simplification can harm your ads' performance. If all of your ads are in the same group, they have the same targeting criteria, running schedules, and budgets. Your ads won't be flexible, and you will probably not reach your perfect audience. 
How to fix it: Group your ads into smaller sets with tailored settings. You should not have more than 3-5 ads in one ad group.
6. You Don't Use Facebook Retargeting
Retargeting is one of the most effective ways to convert interested individuals into customers. On Facebook, you can target users who have already demonstrated interest in your business and show them messages that may encourage them to make a purchase. These may be sales, promotions, special offers, etc.:
7. You Don't Use Email Addresses For Custom Audiences
This is one more way to focus your Facebook ads efforts on users who have already shown interest in your business. If you have an email list (your customers or subscribers), you can upload it to Facebook Ad Manager, and the system will match emails with Facebook users. That will be your Custom Audience. Use it to create a consistent brand experience for your perfect customers. The more users interact with a brand, the more likely they will purchase. 
8. Your Creatives Are… Not Creative
People scroll their Facebook feeds with no buying intention. They are there to have fun, communicate with friends, read the news, and explore random stuff. Anyway, their attention span is about 8 seconds, and you must be creative to grab their attention. Otherwise, users scroll down without noticing your product or brand.
How to fix it:
Create outstanding messages that will appeal to your target audience.
Use high-quality images and videos, and look for creative ways to convey your message. Avoid stock or stock-looking visuals.
Experiment with ad formats: single image, carousel, collection, and video ads.
Here are some excellent Facebook ad examples: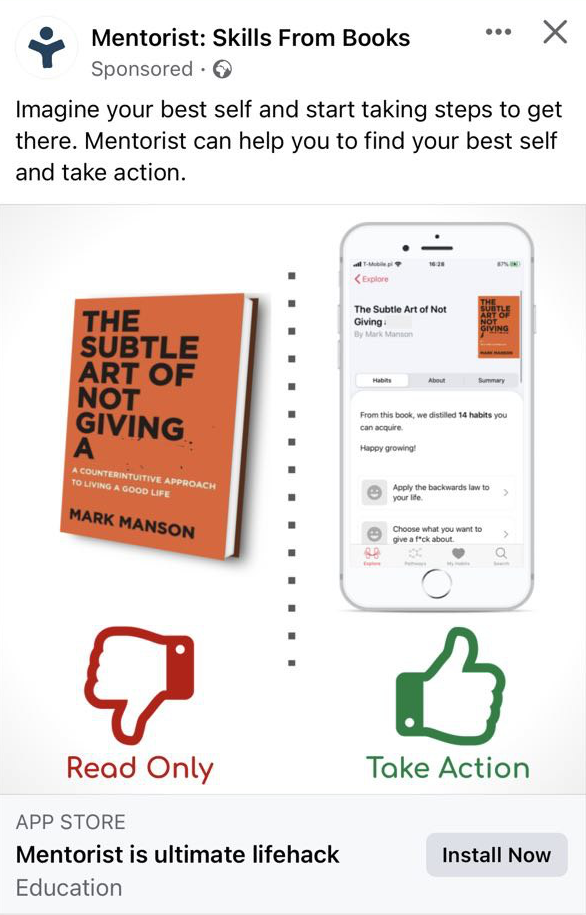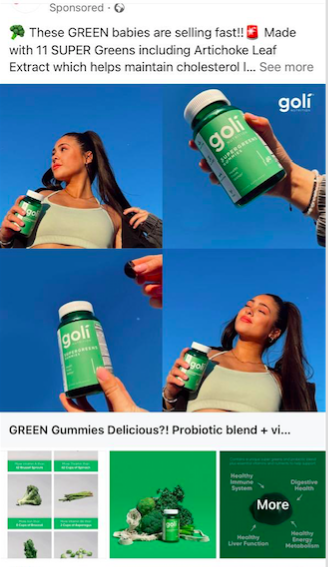 9. You Don't Use Text Overlays
Images are great at turning attention, and it's best practice to put some text on them to maximize impact. Use text overlays to highlight your message's most important details, like value proposition and call-to-action. Don't rely on the ad text; the image should contain all the primary information.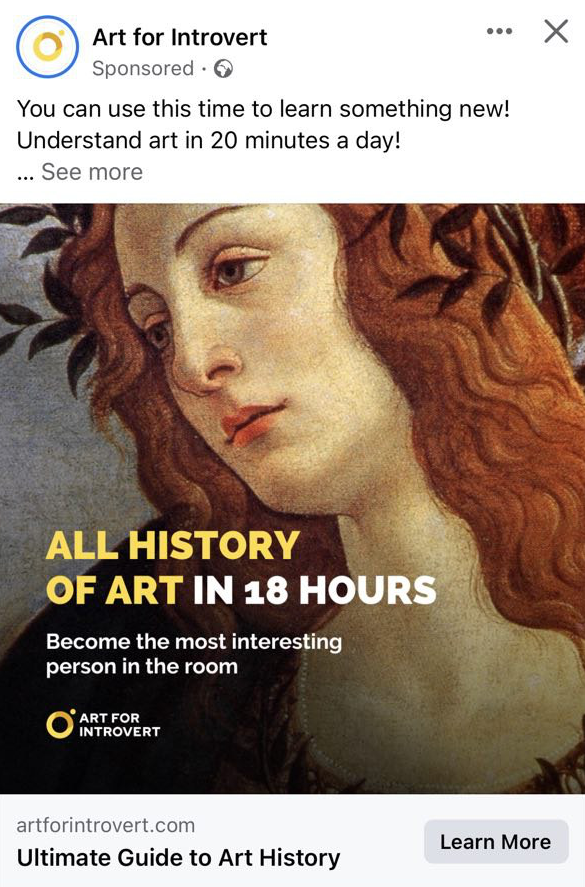 10. Your Ad Formats Are Not Engaging
It isn't easy to stand out in a competitive environment like Facebook feed. There are tons of Image ads that just don't grab the user's attention. Result: you spend money for impressions but end up with low CTR. 
How to fix it: Don't limit your campaigns to Image ads; try other formats.
Video ads: draw customers' attention with sound and motion. You can upload custom videos or create one in Ads Manager with Facebook's video creation tools. For an immersive experience, give 360 videos a try.
Carousel ads: you can add up to ten images or videos to a single ad, each with its own link. With a carousel, you can show different items, multiple pictures of the same product or its variants, explain a process in steps, or even create a long image that the user can swipe.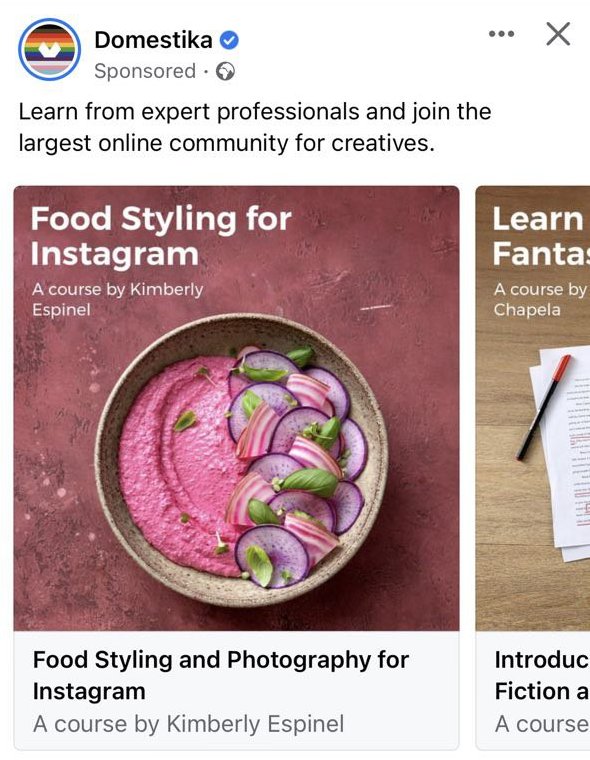 Collection ads: Each collection ad has an introductory video or image with three smaller accompanying photos below in a grid-like layout. After users tap on a collection ad, they will be taken to a particular page powered by Instant Experience. You can learn more about Collection ads here.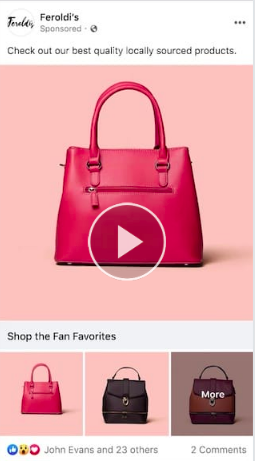 11. Poor Ad Copy
An ornate, wordy, and unclear text is not suitable for advertising. Your copy should raise interest and make users follow the link to your website. But it should also be clear enough for users to understand what to expect. Do not try to mislead potential customers with false promises: not only will this not help with sales, but it can also be a reason for penalties from Facebook.
How to fix it:
Pay attention to the ad copy in all three sections: headline, text, and newsfeed link description.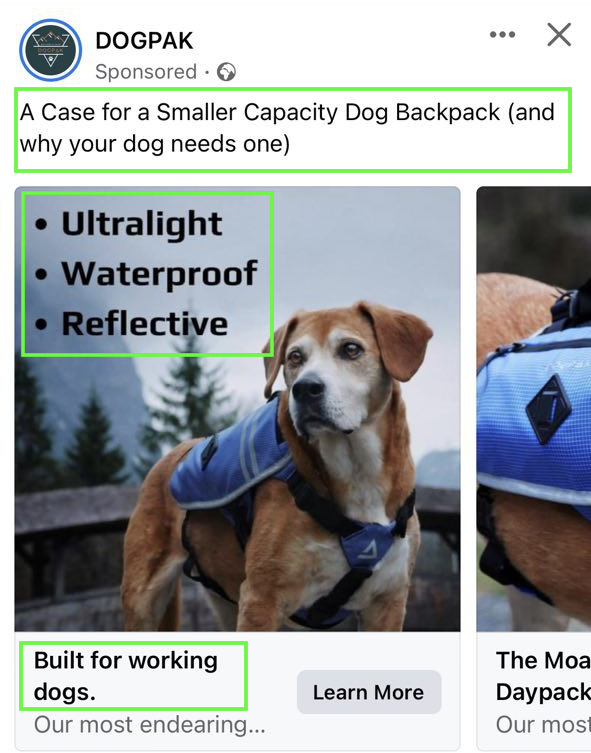 Your headline should be short and clear, up to 5-6 words.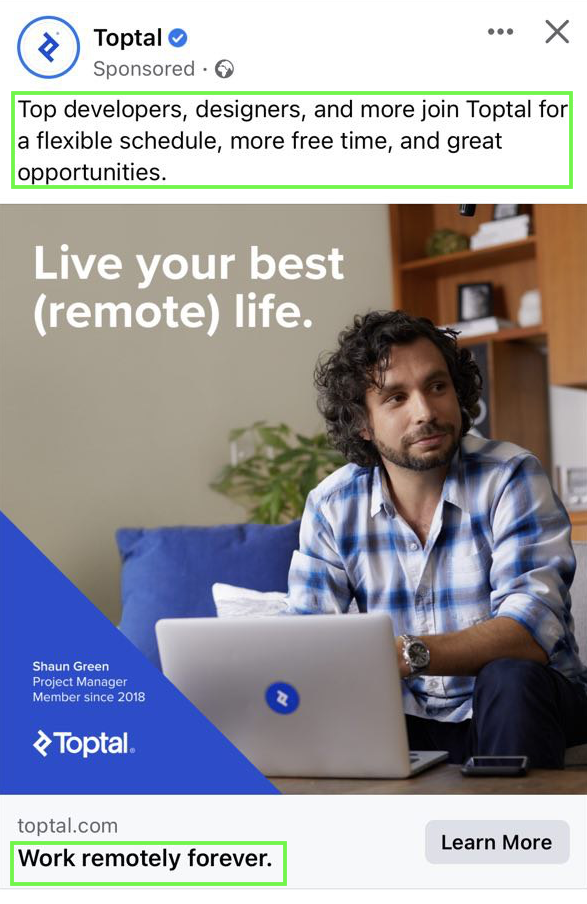 Do not repeat headline text in your ad; don't waste space.
Don't write long paragraphs; keep it short.
Try adding emoji to your copy to structure and enliven ad text.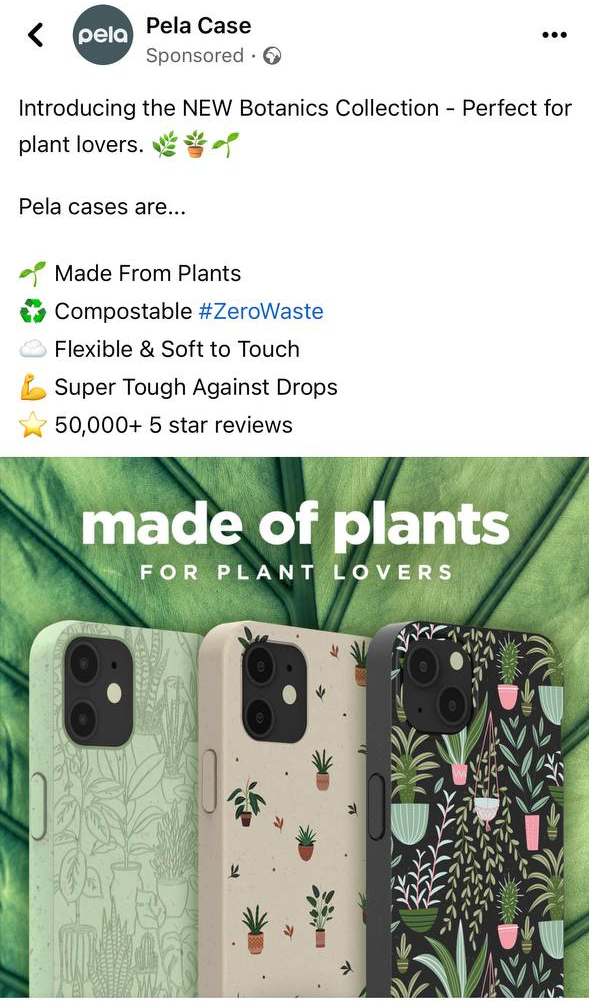 Make your copy more user-focused. Reduce words like "I," "we," "us," and "our," and rewrite the ad in a user-centric manner. Use more words like "you," "your," and "yours."
Appeal to customers' pains and needs in your ad text.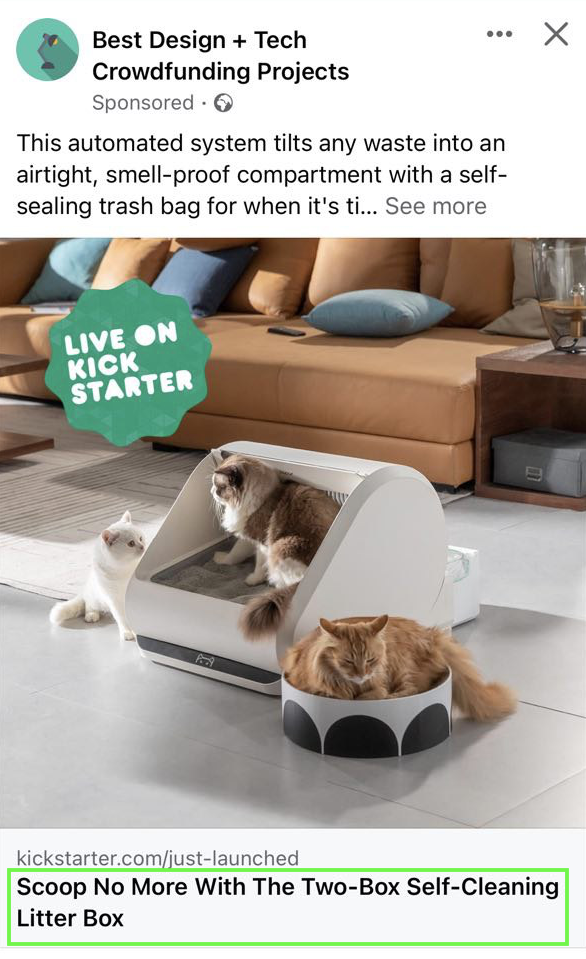 Include a clear call-to-action into your ad text. Don't rely entirely on Facebook's predefined CTA buttons.
12. Landing Pages Don't Match The Ads
If you click on an ad highlighting a specific product, you probably expect to land on a page with the same item. And it may be pretty frustrating when you end up on a category page or even a website's homepage. 
Driving users to your homepage results in a poor user experience and affect your Relevance Score. If Facebook sees that people are quickly bouncing after clicking the ad, you'll get a low Relevance Score, which leads to fewer impressions.
How to fix it: Create custom landing pages for products you are advertising for. You should build a consistent user experience using the same images, terminology, etc., in your ad and landing page.
13. Ad Budget is Too Low
Facebook may underdeliver your ad if you run on a very tight budget. If you see low or declining impressions in your ad stats, that's a clear sign that you are not spending enough. 
How to fix it: Invest more money. 
For manual bidding: increase your maximum cost-per-click
For automatic bidding: increase your daily budget.
14. Bad Scheduling
First, think of when your audience is most probably on Facebook. For example, if you run a B2B campaign, scheduling adverts for the weekend makes no sense. You can look into your Facebook Page Insights to discover when your subscribers are active.
RELATED ARTICLE: WHAT IS THE BEST TIME TO SHOW ADS ON FACEBOOK
You should also consider the buyer journey: how much time does your customer need to decide? For example, don't start your campaign on Friday if you are promoting a Saturday night event. Create enough time for your audience to make their decision. 
15. You Don't Know Your Perfect Customer
If you are used to Google Ads, you may think you can apply the same approach to Facebook. But Facebook Ads are very different to Google. On Google, you bid on keywords and target a buying intent. This means the system shows your ads to people who are already searching for something close to your product or service, and ads are relevant to their searches. 
However, on Facebook, there is no buying intent. People just browse through their news feed and see some ads based on their demographics and interests. On Facebook, you need to understand who your audience is deeper. In other words, you should predict who will most likely buy what you offer. 
How to fix it: Create buyer personas. They will help you understand your target audience's demographics, interests, and other characteristics to target them on Facebook. Compared to Google Ads, you need to change your focus. Instead of thinking about what your customer would search for, think about what your customer would be interested in.
16. You Don't Test Your Ads
Split testing is a must for every marketing campaign, and Facebook ads are no exception. You can run multiple ad sets with minor differences between them, which will be shown randomly to your audience. That's how you will understand which ads resonate better with your audience and get more conversions.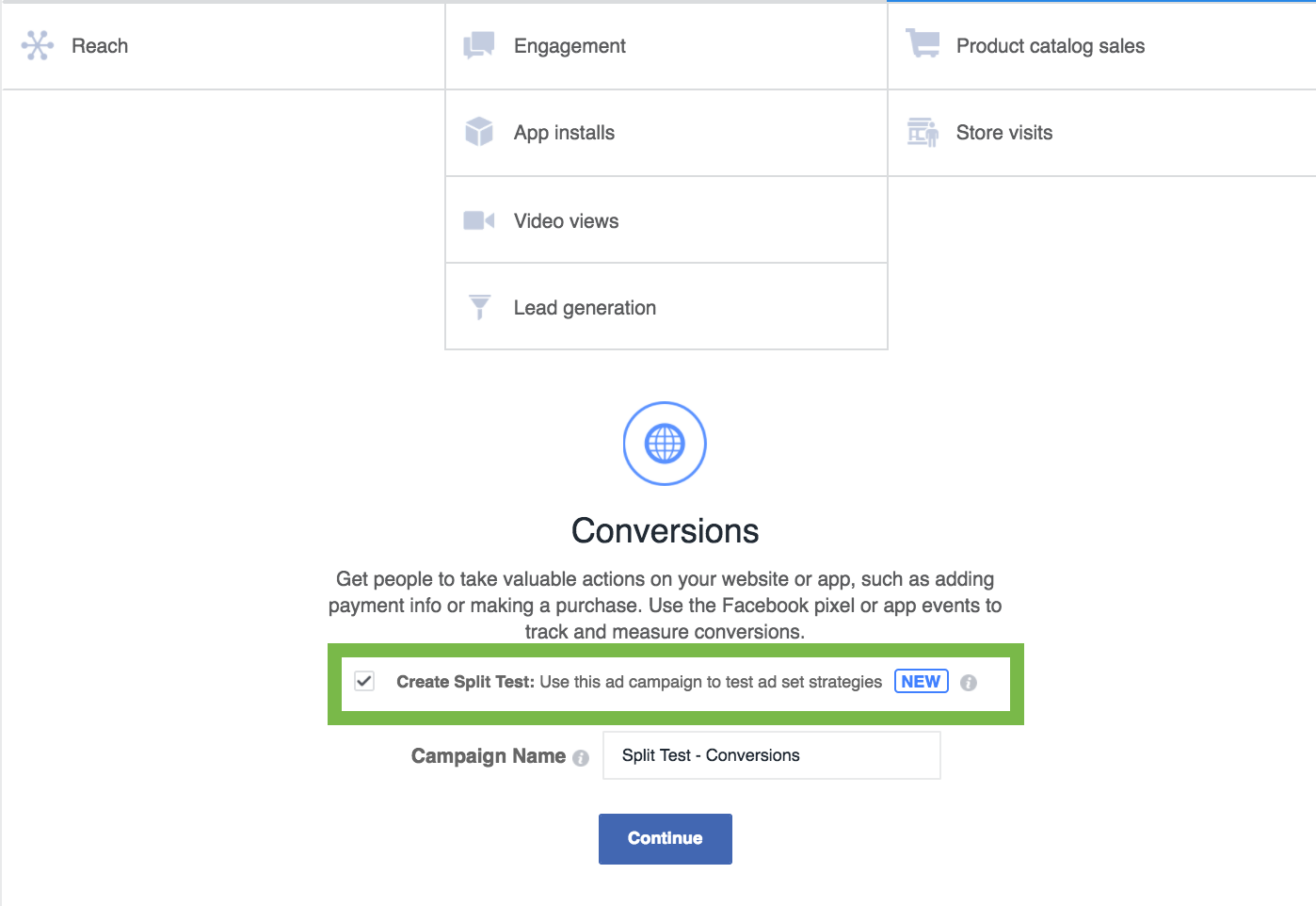 You can test different ad formats, audiences, copy, and visuals to find your perfect formula. Start with small budgets, and scale budgets for the best-performing ads. 
17. You Don't Analyze Ad Performance Regularly
It may seem time-consuming always to keep an eye on your ad performance, mainly if you use more than one marketing channel. But If you miss analytics, you lose control over budget and performance.
However, it's much easier to have everything under control with Promonavi's tools. You will see all the main metrics right on your Performance Overview Dashboard after adding Facebook Ads as a marketing channel. You have all your advertising activities in one place: Google Ads, Microsoft Ads, and Facebook Ads.

More Ideas For Great Performing Facebook Ads
After analyzing possible mistakes, you probably already have a plan how to improve your Facebook ads. But before you start implementing that plan, we want to share some more creative ideas for outstanding campaigns.
1. Share Customer Reviews in Your Creatives
People like stories other people tell. And they especially pay attention to stories that resonate with their lives and pains. You can use it in your ads by including customers' stories into ad text, like here: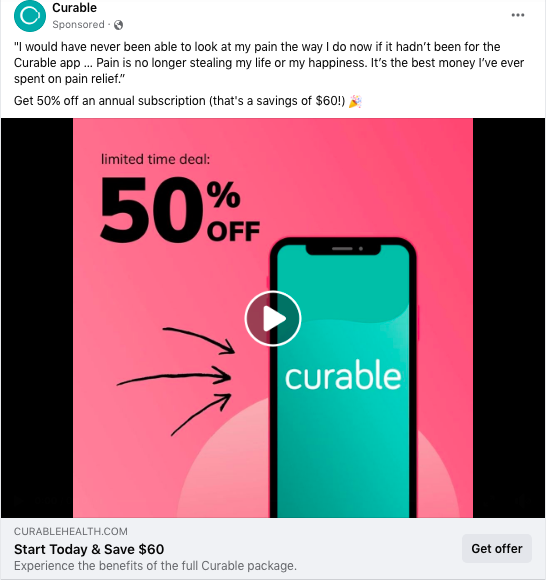 Go a step further and add a picture of your product taken by a customer to the review. It looks not like a professional studio photo and makes the ad look more trustworthy: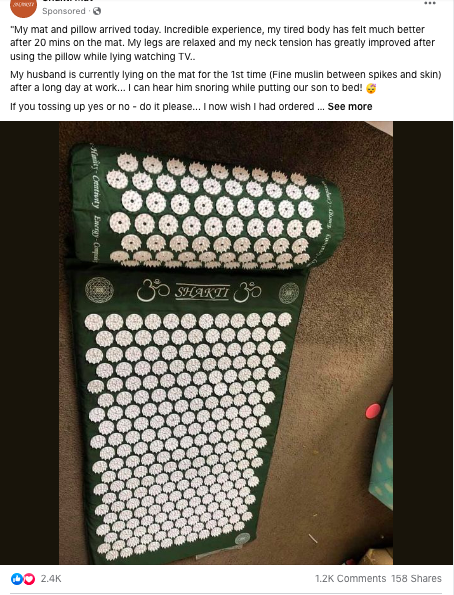 2. Advertise for Free Features to Gain Leads
If it's possible for your business, run a campaign featuring something free for your audience. Yes, you won't earn anything immediately, but you can gain leads and make them later to your customers.
Here is one very attractive offer: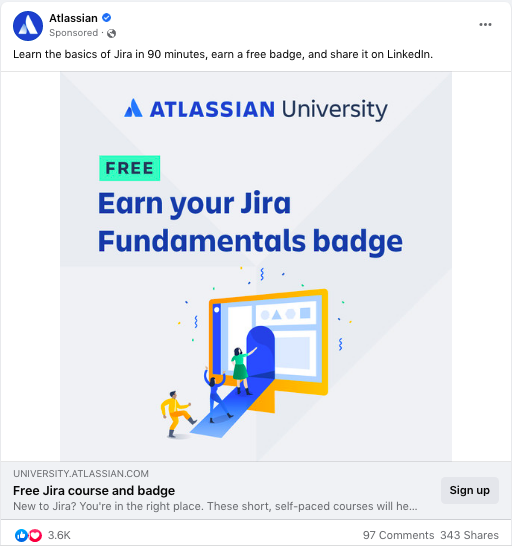 3. Adjust Campaigns for Holidays And Special Events
Look for inspiration on the calendar. Use the time before holidays and other special days to make something different or to advertise seasonal products. Here is an example of an ad with a pride flag-colored watchband during Pride month: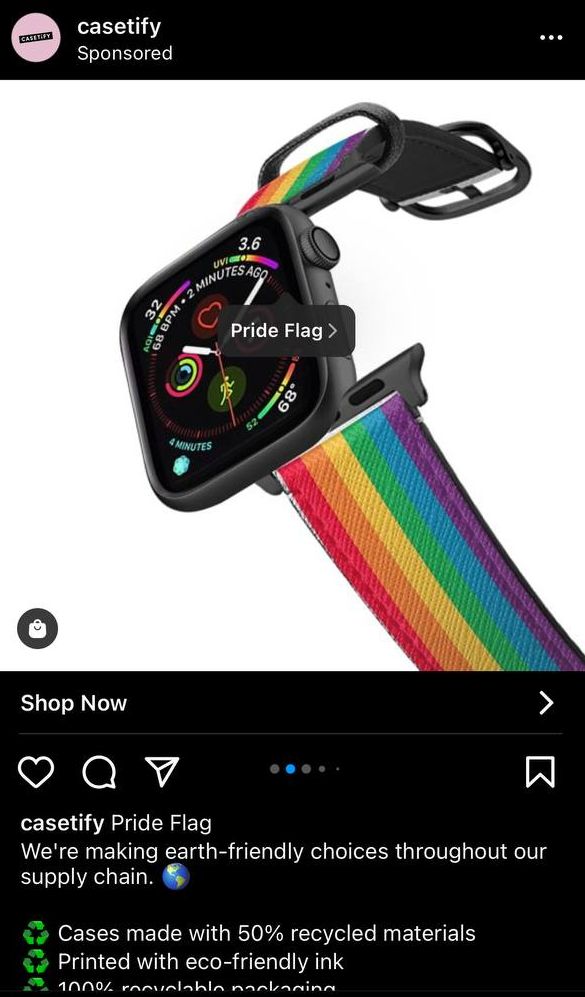 4. Show What's Inside Your Product
Demonstrate to your audience what they can expect from your product. For example, many fitness apps show exercises from their programs, diet examples, etc.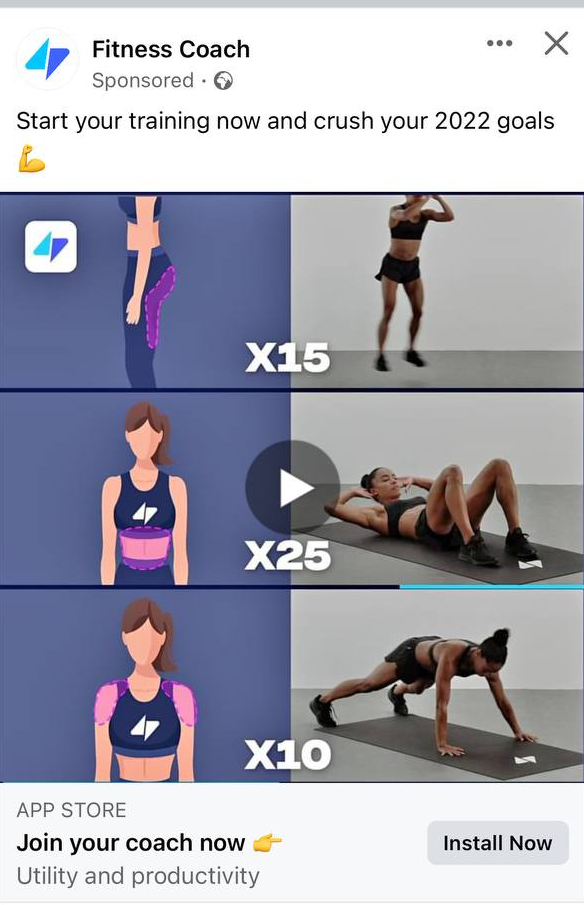 5. Use Text Images For Bold Statements
Since Facebook has cancelled its 20% rule, text may take even the whole image. Make a profit from it and attract the attention of your audience with a bold statement, as 42 Wolfsburg does: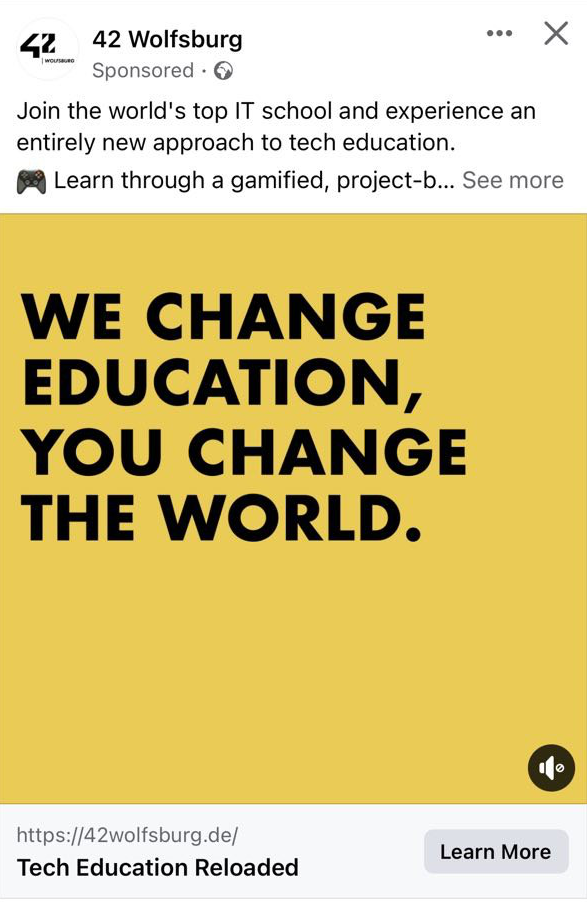 6. Encourage Your Custom Audiences With Special Promotions
Promoting can be a great way to encourage users who already know your brand to make a purchase if you target custom audiences. Evoke their interest with short-term sales or coupons: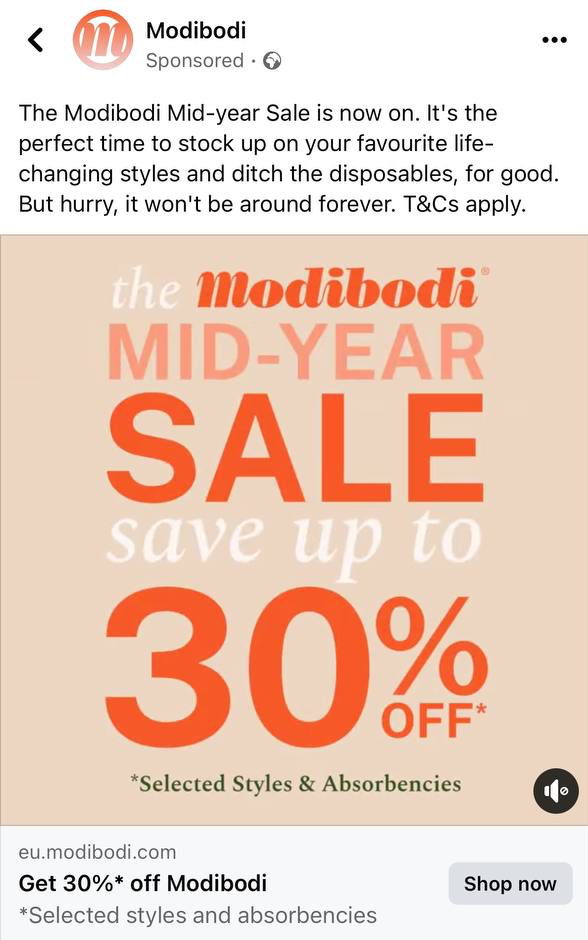 Wrapping Up
The main idea behind every successful marketing campaign is knowing your audience and giving them what they need. The key to success with Facebook advertising is the same: you need to target the right people with the right message, attract their attention with copy and pictures, and encourage them to make the next step — to your website. 
We hope this blog post will help you attract customers from Facebook and have a high ROI. Stay with us for more valuable insights and tips for PPC marketers and business owners.