Every Facebook advertiser knows and hates this message: "Your ad wasn't approved. Edit the ad to try again." Quite frustrating, huh? We are here to help you minimize such messages. Read this article to find out why Facebook can reject your ad and how to avoid it.
Quick Links
How Does Facebook Review Ad Copies
Why Your Facebook Ad Could Be Rejected
Facebook Ads' Industry-Specific Rules
8 Examples of "Good" and "Bad" Facebook Ads
What to Do if Your Ad Was Rejected
How Does Facebook Review Ad Copies
Facebook usually reviews advertising within 24 hours after submission. During this time, the ad status will be "In Review." The system analyses your advertising automatically against its Advertising Policies. Then, it checks not only your targeting, copy, image, or video but also the landing page.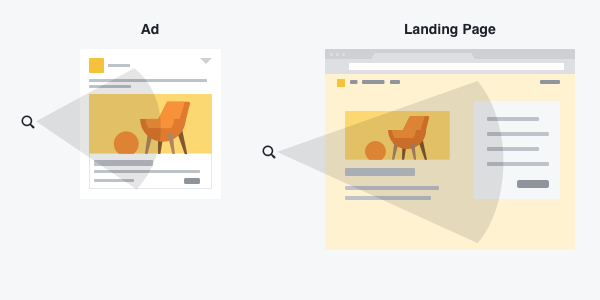 Image Source: Facebook's Advertising Policies
Once your ad is reviewed, you will receive notification. If approved, your ad will start running; if not, you will receive feedback as to why your ad has been rejected. Next, you can edit your ad and resubmit it for a new review.
Why Your Facebook Ad Could Be Rejected
Facebook's Advertising Policies have dozens of pages, so we decided to make a summary of the most important rules. However, in specific cases, you may need to read the original Facebook documents.
Prohibited content
Any illegal products or activities.
Drugs and drug-related products.
Unsafe supplements (anabolic steroids, chitosan, comfrey, dehydroepiandrosterone, ephedra, human growth hormones, etc.).
Weapons, ammunition, or explosives.
Tobacco and related products, as well as electronic cigarettes and vaporizers.
Adult content, including nudity and depictions of people in explicit or suggestive positions.
Sensational or shocking content.
Penny auctions, bidding fee auctions, or other similar business models.
Discrimination or encouragement to discrimination based on personal attributes (race, national origin, religion, age, gender, sexual orientation, medical or genetic condition, etc.).
Restricted content
Alcohol advertisements must comply with local laws and have corresponding age targeting. Alcohol advertisement is forbidden in Afghanistan, Brunei, Bangladesh, Egypt, Gambia, Kuwait, Libya, Lithuania, Norway, Pakistan, Russia, Saudi Arabia, Thailand, Turkey, United Arab Emirates, and Yemen.
Ads for dating services, online gambling and other games with money, online and offline pharmacies, cryptocurrency products and services, drug and alcohol addiction treatment are only allowed with prior Facebook's written permission.
You can target only users who are 18 years or older with the following content: sexual and reproductive health products or services, like contraception and family planning; online gambling and gaming with money; financial and insurance products and services; cosmetic procedures and weight loss; social casino games.
Targeting and personal attributes
You are not allowed to refer to the user's personal attributes such as race, ethnic origin, religion, beliefs, age, sexual orientation or practices, gender identity, disability, medical condition (including physical or mental health), financial status, voting status, membership in a trade union, criminal record, or name.
Keep in mind that you shouldn't use the word «other» to reference a personal characteristic, for example, «Meet other Christians!»
Here are some more examples for this rule:
| NOT ALLOWED | OK |
| --- | --- |
| Are you a Buddhist? | Meet young Buddhists online now! |
| Do you have depression? | Depression counseling. |
| You are broke, but we can help! | Check out our financial services for every need! |
Text on images
Text on images includes:
Logos and slogans
Watermarks
Images edited with text comments (product highlights etc.)
Facebook used to have a rule that if your ad image had over 20% of it covered in text, the system would deny it. Now, the system will just scale back the reach of your ad based on how much of your image is covered in text.
Use of the Facebook Brand
You are allowed to mention Facebook in your ads, but there are strict rules to follow. 
You are not allowed to:
Use Facebook's logo instead of the word Facebook.
Use Facebook as a verb, make it plural, or abbreviate it.
Use an altered version of the Facebook logo (change color, font, etc.).
Making the word Facebook standing out from the text (font, size, color, style). 
Capitalize the word Facebook or write it with a lowercase. 
Facebook Ads' Industry-Specific Rules
Some industries are especially tricky to find the right balance between attractive creatives and Facebook's policies.
Health and beauty
Forbidden are:
Before-and-after images
Ad images focusing on zoomed body parts
Content that promises unlikely results
Content that generates negative self-perception
Vaccine discouragement
Instead, you need to focus on your product or service and its results.
Here are some examples from Facebook's guidelines: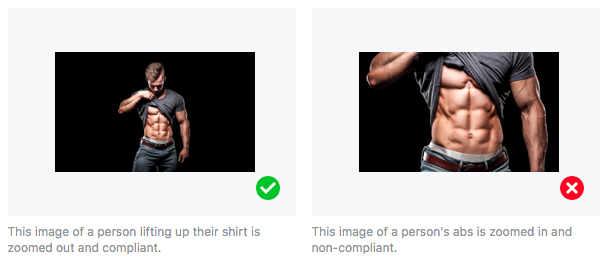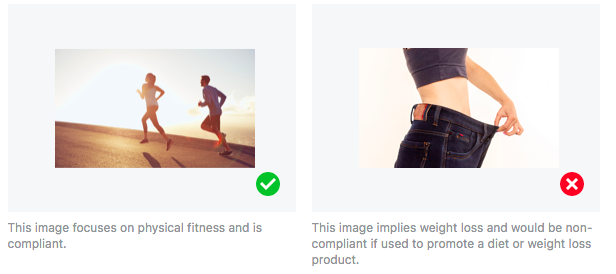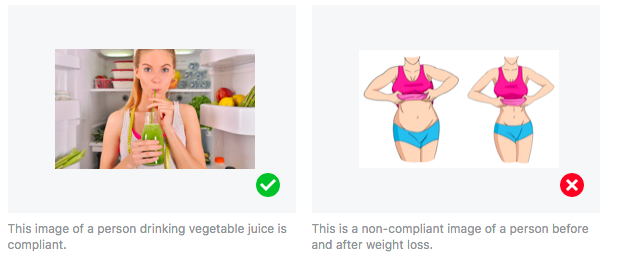 Regarding the Health category, there are special rules for COVID-19 themed advertisements. 
Prohibited are: 
Sale of COVID-19 vaccines
Urgency tactics
Categorical prevention claims
Medical masks (temporary prohibited)
Allowed are:
Non-medical masks and hand sanitizers (for accounts with an advertising history of more than four months)
Information related to COVID-19 vaccines
Ads for insurance products and services as long as they don't incite fear or indicate urgency in light of COVID-19
Ads that inform consumers without a commercial purpose
Weapons, Ammunition, and Explosives
Forbidden are: 
Firearms, including firearms parts, ammunition, paintball guns
Firearm silencers or suppressors
Weapons of any kind, including pepper spray, non-culinary knives, or weapons intended for self-defense
Fireworks and explosives.
Depiction of any violence directed at the viewer or a weapon aimed at a real or animated person's head.
Depiction of blood splatters in both real and animated content.
You can advertise for:
Blogs or groups connecting people with weapon-related interests
Safety courses, books, and videos about firearm safety, training, or licenses
Toy weapons
For audience 18 years old or over: mounted flashlights, scopes, and sights for firearms; hunting, self-defense, and military clothing; gun cases and safes
Dating
You are not allowed to:
Advertise without Facebook's written permission
Target dating services on users under 18 years of age
Use pixelated or blurred images
Use nudity and seductive pictures
Promote products or services primarily promoting sexual encounters, infidelity, non-monogamous connections
Targeting settings must be set to:
Age: 18 years and over
Relationship Status: Single or Unspecified
Interested In: Dating
Please note, dating advertising policy doesn't apply to social apps without matchmaking elements (for example, meetup apps).
8 Examples of "Good" and "Bad" Facebook Ads
1. No clear picture of the product
Why was the ad rejected: it's not clear from the picture what exactly you are selling. Users can be confused.
What to do instead: change the picture and show your product.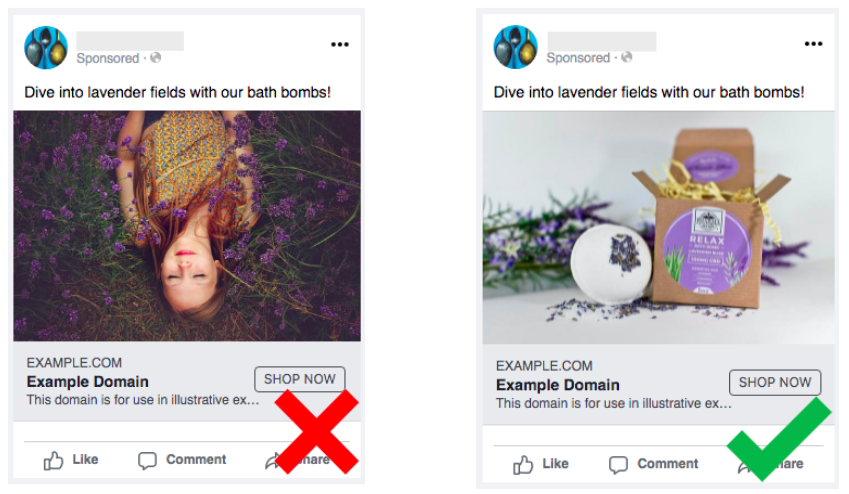 2. Unrealistic claims
Why was the ad rejected: the ad promises you can lose 20 pounds in 10 days, which is unrealistic. Facebook protects its users from such content and will reject this ad.
What to do instead: change your copy and focus on the product.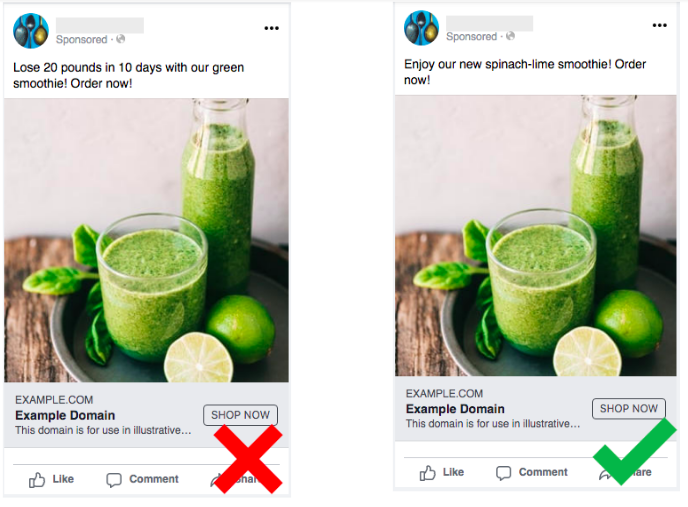 3. Potential of negative self-perception
Why was the ad rejected: using a tape measure around a person's body may put excessive focus on a weight loss number.
What to do instead: focus on a healthy diet or highlight testimonials from people who have already tried your diet.
4. Nudity
Why was the ad rejected: this bikini ad shows too much of the naked body and a seductive pose.
What to do instead: to play safe, show bikinis or underwear without a model.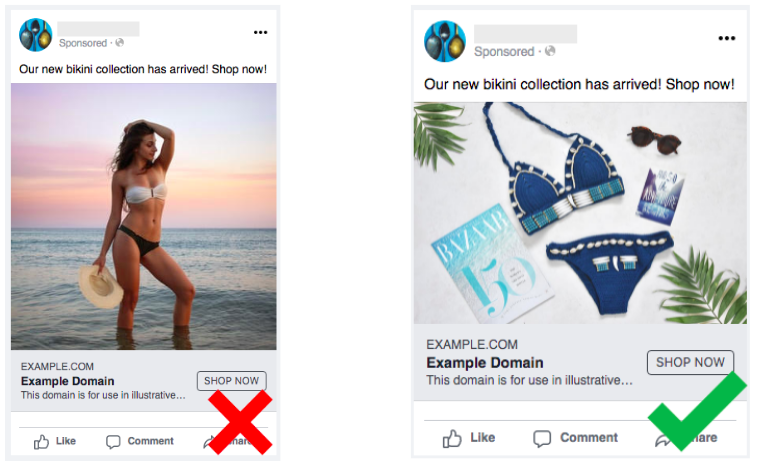 5. False use of Facebook's brand
Why was this ad rejected: The word Facebook is written in uppercase and a different size and color.
What to do instead: Write the word Facebook in the same way as the rest of the text.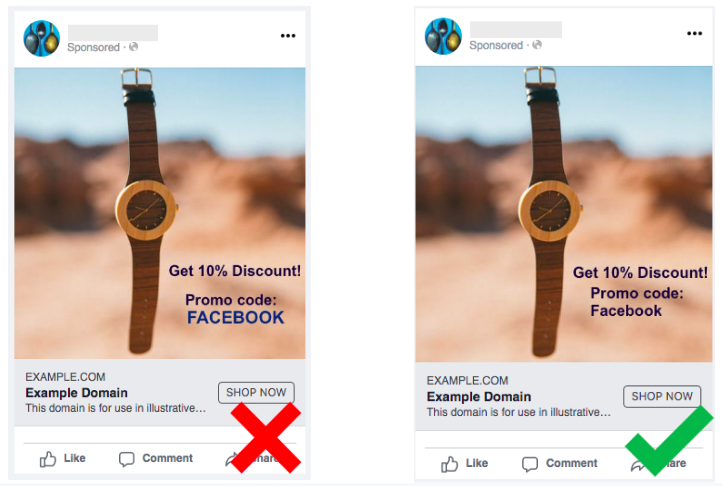 6. Hiding information
Why was this ad rejected: it's a typical clickbait that hides the most important information from the user and provokes him/her to click on the ad.
What to do instead: tell the audience directly what to expect; don't hide the information.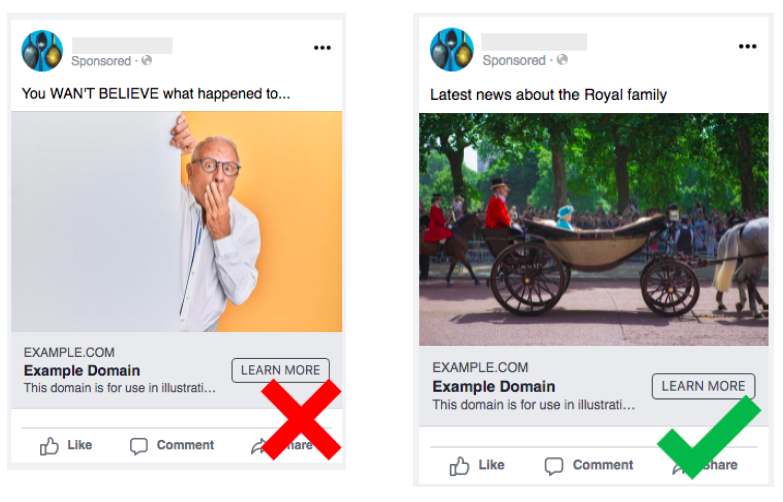 7. Violating COVID-19 temporary restrictions
Why was the ad rejected: temporarily you are not allowed to advertise medical masks.
What to do instead: it's allowed to advertise for non-medical masks if your ad account is four months or older.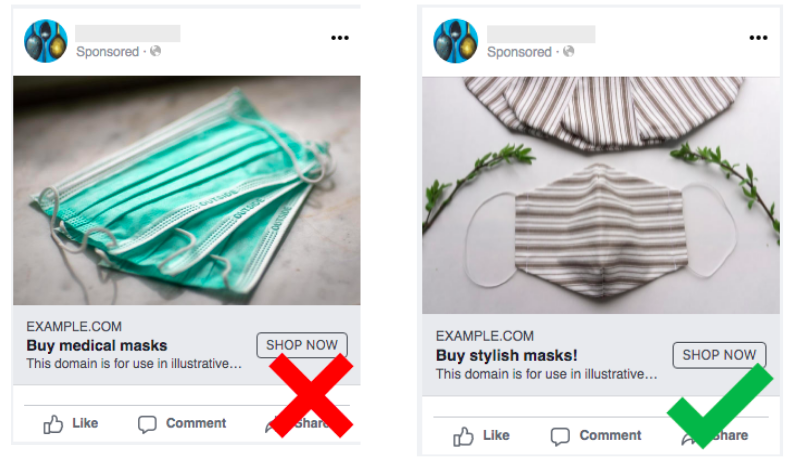 8. Appealing to personal data
Why was this ad rejected: it uses the word "other," supposing that the reader is Jewish.
What to do instead: don't use the word "other" to reference a personal characteristic.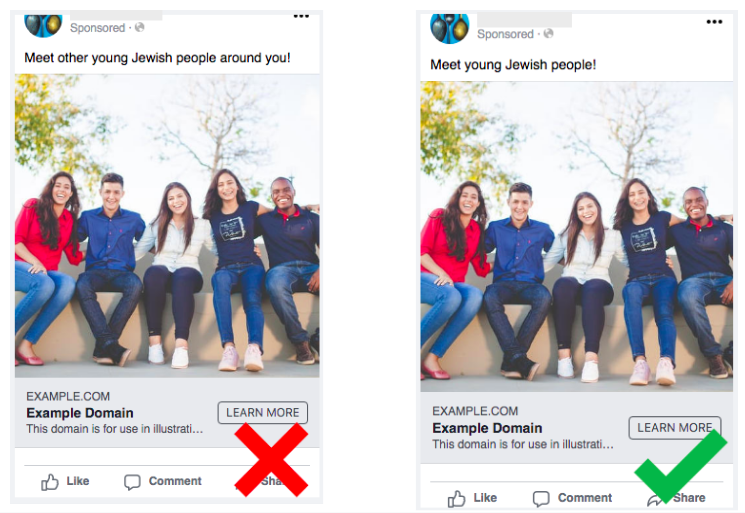 What to Do if Your Ad Was Rejected
If your ad is rejected, Facebook will send you an email notification and link you to Account Quality, where you can find the reason for the rejection. You can then edit your ad or create a new one to comply with Facebook's policies and send it for review.
However, if you believe that your ad was incorrectly rejected, you can request another review of the same ad.
To do this, go to Account Quality and select your account or catalog with the rejected ad(s). Now, select ad(s), ad sets, or campaigns that you think were incorrectly rejected. Click Request Review and select Submit.
We hope the article was helpful, and Facebook will reject your ads as rarely as possible.