It's always good to learn from your own experience, but you should never pass up the opportunity to learn from someone else. That is also true for your PPC efforts, including, among other things, keyword collecting.
Keep reading to learn how to quickly find paid keywords used by your competitors and what to do with these keywords after. 
Let's start!
Why You Should Spy on Competitors' Keywords
You can learn a lot from your competitors: their strategy, landing pages, creatives, and, yes, keywords they target. 
Competitors keywords will help you:
Understand what keywords your competitors are targeting and how many keywords they use.
Find new keyword ideas to enhance your keyword lists.
Discover missing keywords—those that your competitors use and you don't.
How to Find Your Competitors' Keywords with Google Ad Preview
There are not many free options to find paid keywords used by competitors. Maybe the most apparent solution is Google Ads Ad Preview.
Enter your keyword, choose location, language, and device. The system will show you Google's search results page with paid ads.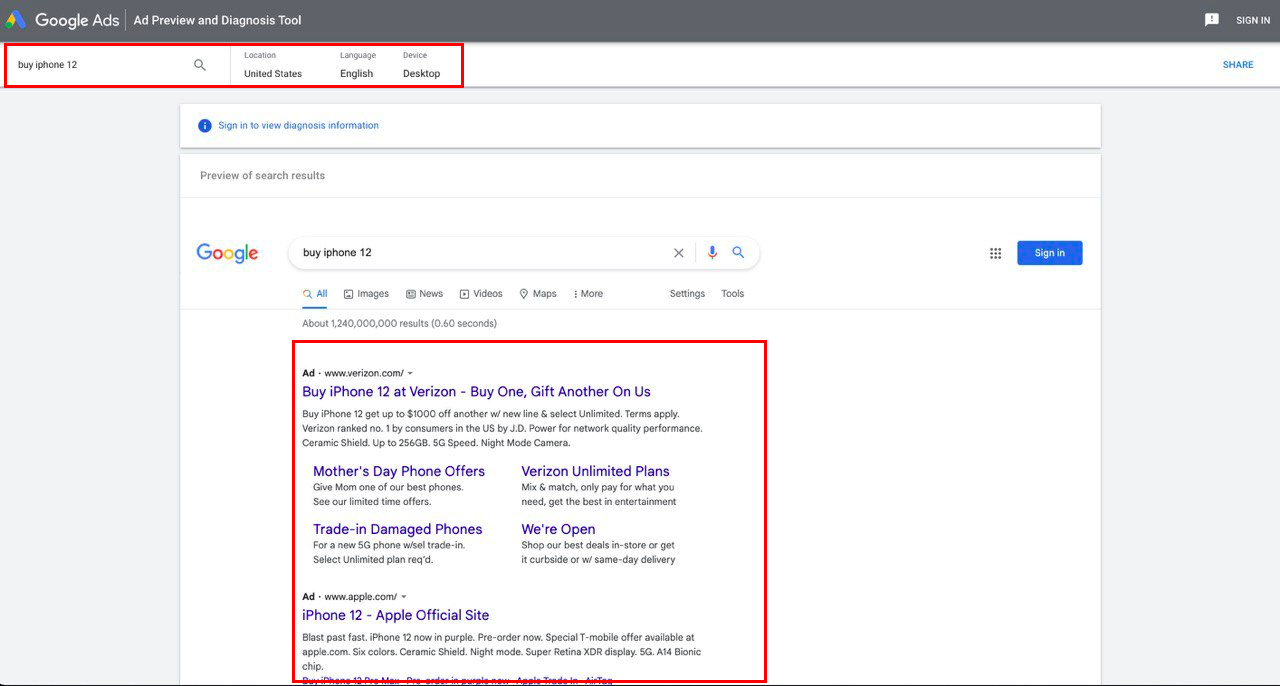 However, this tool may be helpful only for some tasks, for example, finding your competitor domains. But it's not powerful if you need to discover competitors' keywords. Ad Preview doesn't provide you with new keyword ideas; you enter only keywords you already know. And the most frustrating thing is that you need to do tons of work manually: you should iterate and search for different locations, devices, and languages.
Luckily, some tools can do the job for you in an easy way. PromoNavi's Competitor Analysis tool will come in handy for you for this task.
How to Find Keywords Used by Your Competitors with PromoNavi's Competitor Analysis Tool
To leverage the tool, you should log into PromoNavi. If you haven't signed up yet, you can start a 14-day trial. 
During the trial you're not limited in your use of PromoNavi, so you can test out all the available features.
Step #1: Find your competitors
Enter your website URL, and the system will suggest your potential competitors. You can choose competitors' suggestions or enter any other domain. Choose a country and click Run Analysis.

Step #2: Discover new keywords
For new keywords, scroll to the bottom of the page. From here, you can discover paid keywords overlaps and a Traffic-keywords map with a comparison chart of you and your competitors based on the domain's paid traffic and the number of paid keywords.

In the table below, you can see all the keywords used by you and your competitors. You can also choose only missing or shared keywords. For every keyword, you can see average monthly searches and CPC.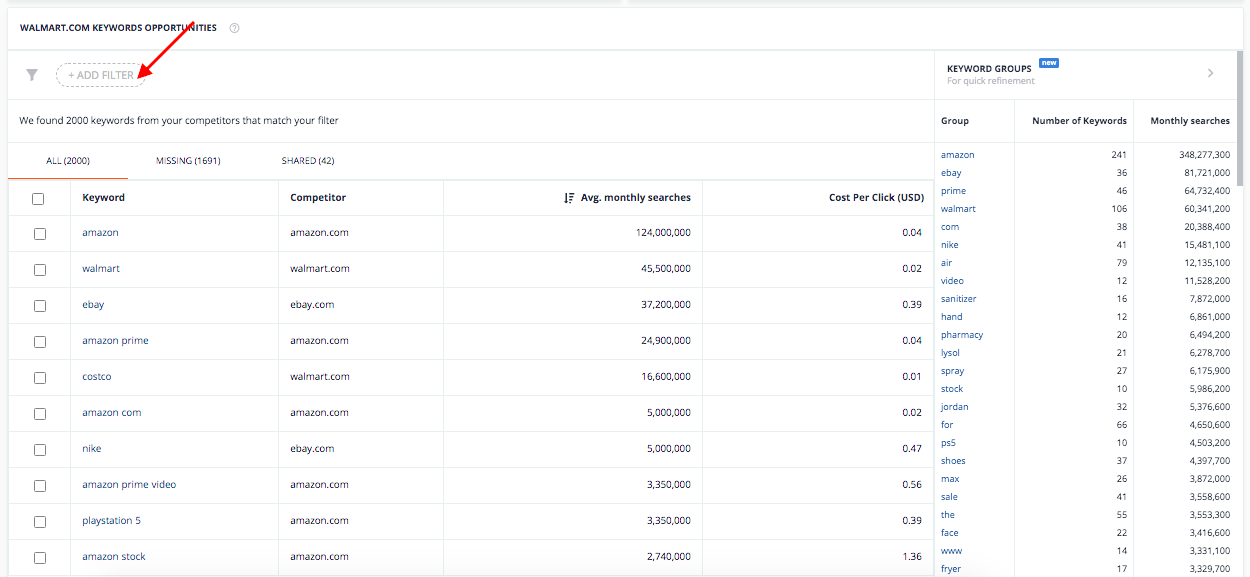 To choose relevant keywords, use the filter option. For example, you can exclude all keywords containing your or your competitors' brand names. To do this, click Add a new filter, select Keyword contains, and enter brand names.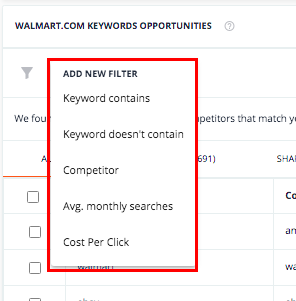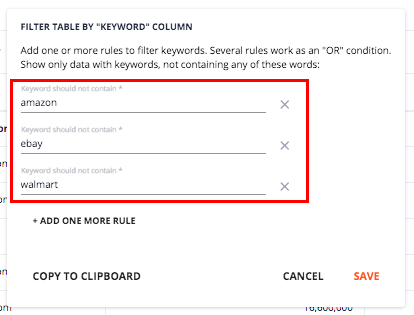 Now, you've got a list of the most popular keywords (sorted by Average monthly searches) without the competitors' brand names.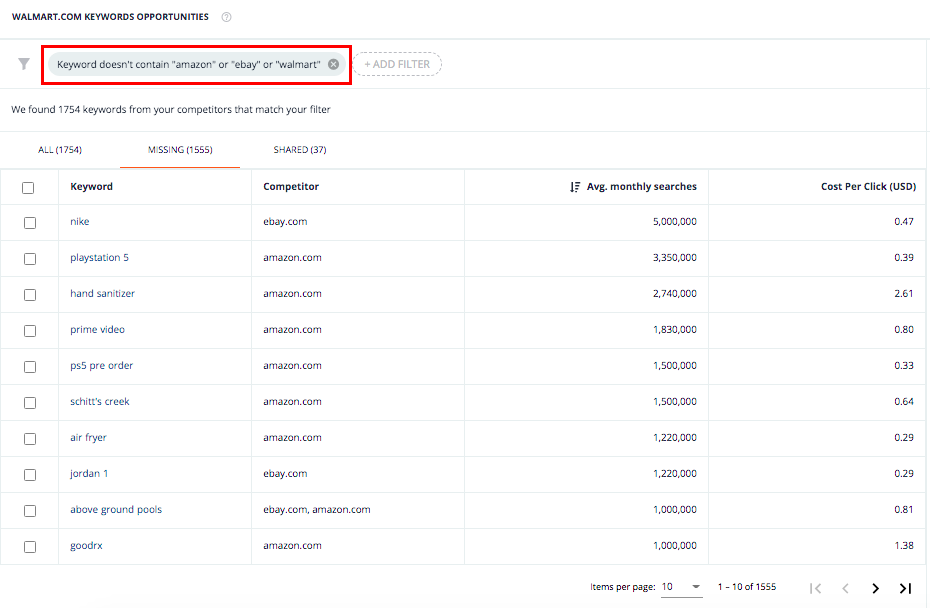 Step #3: Create a campaign based on competitors' keywords
Let's select all keywords containing "playstation" or "ps." To do this, we add another filter, choose Keyword contains, and enter the words you're interested in.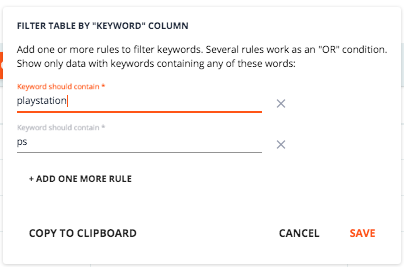 Otherwise, you can use the Keyword groups option, select groups you need, and choose Show only keywords that contain.
Now, after you tick the keywords you need, a new menu will appear. From here, you can build a campaign, save keywords to a list, export to XLS, or copy to clipboard.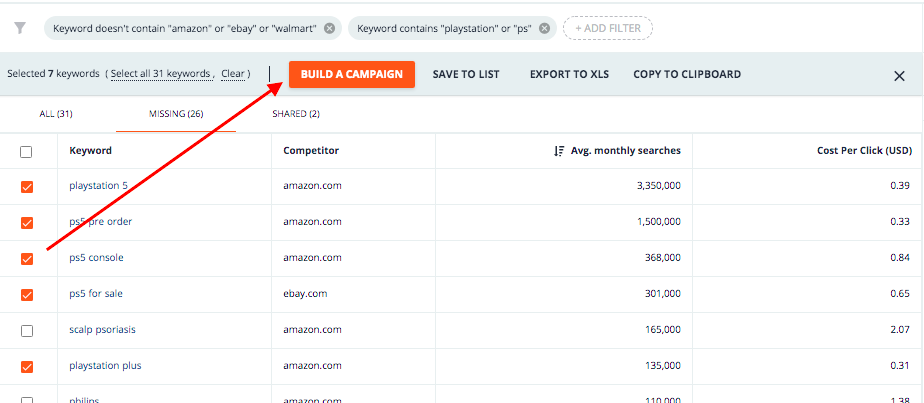 Click Build a campaign and choose an account where you want to add keywords.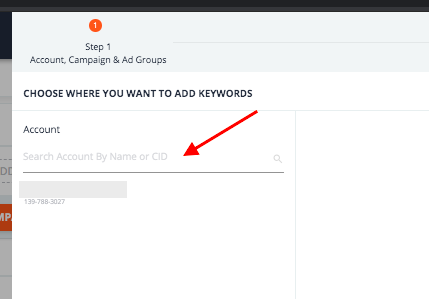 Choose a campaign from the list or create a new one. If you create a new campaign, enter its name and budget.
The system creates single keyword ad groups (SKAGs) by default, if you don't deactivate this option.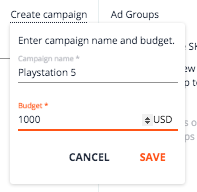 In the Keyword creation settings, you can select match types for your keywords. The system can also generate cross-group negative keyword lists to avoid competition between your ad groups.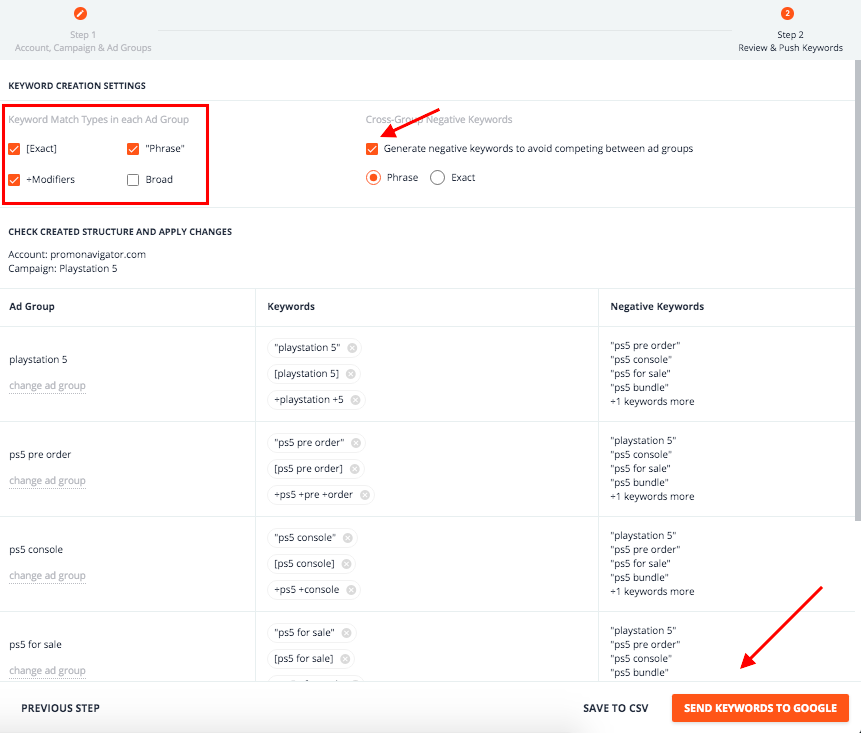 From here, you can save your campaign to CSV or send keywords directly to Google Ads.
Discover even more competitor insights
Finding keywords used by your competitors is only one option among a variety of features of the Competitor Analysis tool.
For example, you can see a comparison summary with Paid Traffic Overview, Paid Add Overview, and Paid Keyword Overview.

If your Google Ads account and URL are connected to PromoNavi, a report section with Auction Insights data will also be available:
In the Competitors Paid Ads section, you will find a paid ads overview grouped by four types:
Search ads
Display ads
Image ads
HTML ads
For each ad, you can see the headline, description, URL, competitor's name, Impressions, and other insights. Use these data to discover new creative ideas.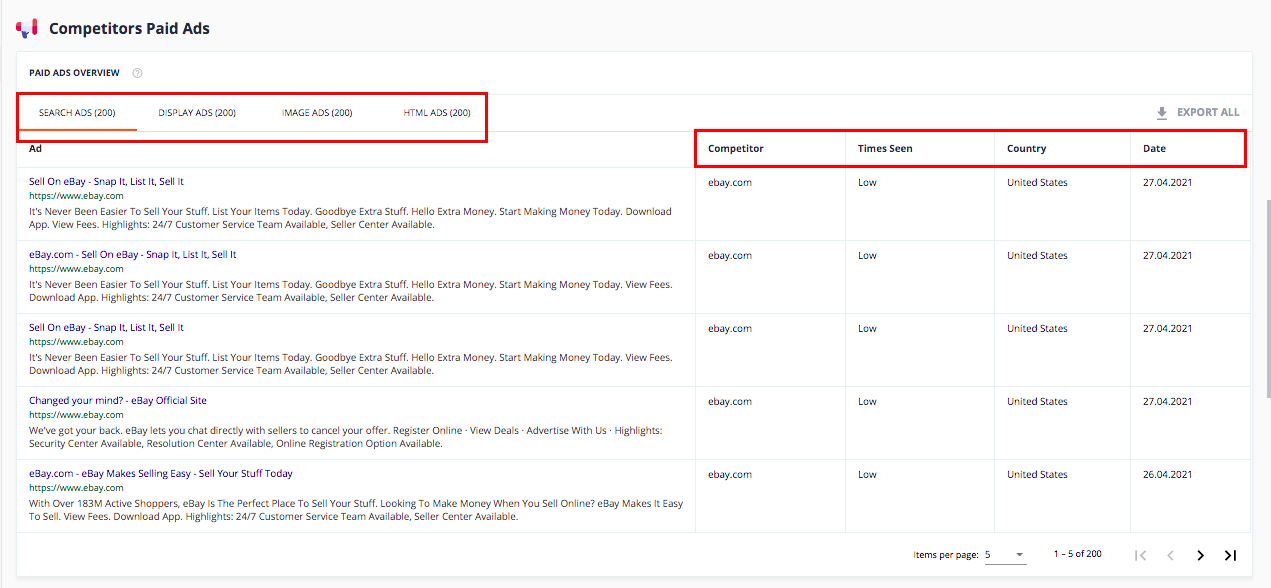 As you can see, it can be simple to find competitors' keywords, if you are leveraging a professional PPC automation platform. And keep in mind: your goal is not to replicate what your competitors did; the aim is to create better campaigns than the competition.