Are you a business targeting other businesses? If so, LinkedIn Ads could be an excellent addition to your marketing arsenal. With over 900 million members, and 40% of visitors engaging with a page every week, LinkedIn Ads is a powerful platform to boost your visibility. B2B companies especially stand to benefit from their granular audience targeting options, with 93% of B2B marketers already advertising on the platform. 
Not sure where to start with your LinkedIn Ads campaign? Read on for our tips on how to run a successful campaign.
LinkedIn Campaign Manager and advertising formats
The Campaign Manager is like a Swiss Army knife for advertisers. It simplifies the whole process so that even a newbie can get started. It allows advertisers to create, measure, and optimize campaigns. The organizational hierarchy is similar to other platforms and includes an account, campaign groups, campaigns, and four general ad formats. Let's look at them in more detail.
Sponsored Content Ads
Sponsored Content Ads allow you to connect with a highly engaged audience in the news feed. These ads come in different formats, each offering unique advantages for showcasing your products or services.
Single image ads use a single image to attract potential customers while conveying a concise message.
Carousel ads are swipeable, and they allow you to share multiple offerings and insights that can deliver value to your audience.
Video ads are known to be particularly effective today as the average consumer in the US watches 157 minutes of video content every day.
Event ads help deliver your event to your ideal audience, thereby maximizing attendance or increasing registrations.
Document ads enable reading and downloading valuable content directly in the user's newsfeed, while marketers collect lead information to measure the audience's interest in the content.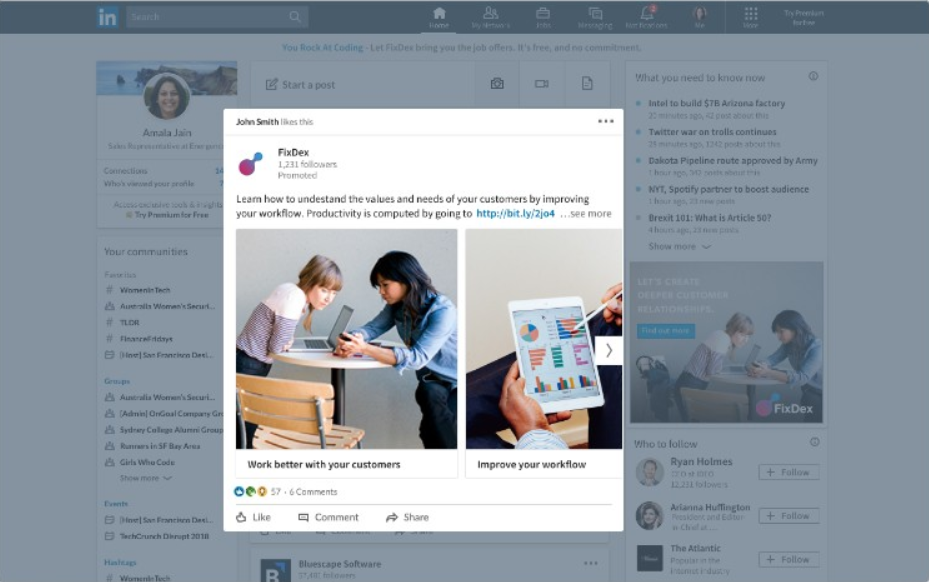 Example of a Sponsored Content Ad (carousel). All photos are from business.linkedin.com
Whatever format you choose, it is important to have a "conversion goal" or a measurable call-to-action (CTA) in place. A conversion goal will help you determine how to best follow up on leads generated after someone interacts with your content, thereby making the most of your investment.
Message Ads
Sponsored InMail may seem like spam at first, but when done properly, it can actually lead to higher conversion rates than other ad options on LinkedIn.
One of the reasons is that InMails are sent from personal profiles, which helps create a more personal connection between your business and potential customers. Because these messages are also highly personalized for your target audience, they can be an excellent tool for lead generation.
Besides, sponsored InMail has a 100% delivery rate and is only sent to users when they are online, meaning that your message will appear right at the top of their inbox.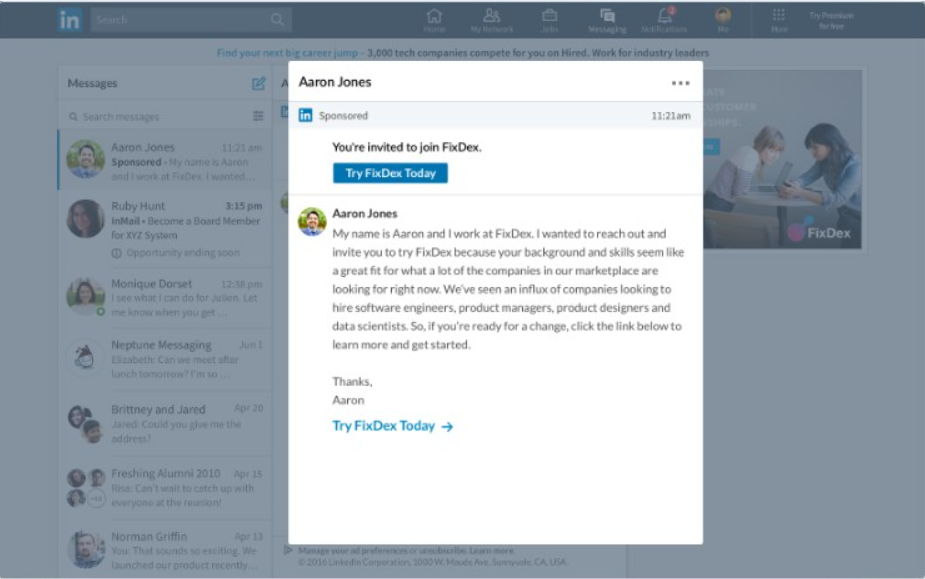 Example of a LinkedIn Message Ad
Make sure to avoid using generic templates and instead put the effort into creating personalized messages that will resonate with your audience.
Dynamic Ads
There are 3 types of dynamic ads:
Spotlight ads feature your product, service, event, or newsletter to drive traffic to your website or landing page with a CTA;
Follower ads expand your following for your LinkedIn Page and enhance your online influence when users interact with your organic content;
Jobs ads help you find top talent by personalizing ads to relevant applicants.
Dynamic ads on LinkedIn drive traffic to your page by using the information from user profiles. They work well for promoting job openings or increasing followers of a company page. Users can easily send you their contact information through the ad and download your content automatically on their devices. LinkedIn only shows two visual ads at once, so your ad stands out more.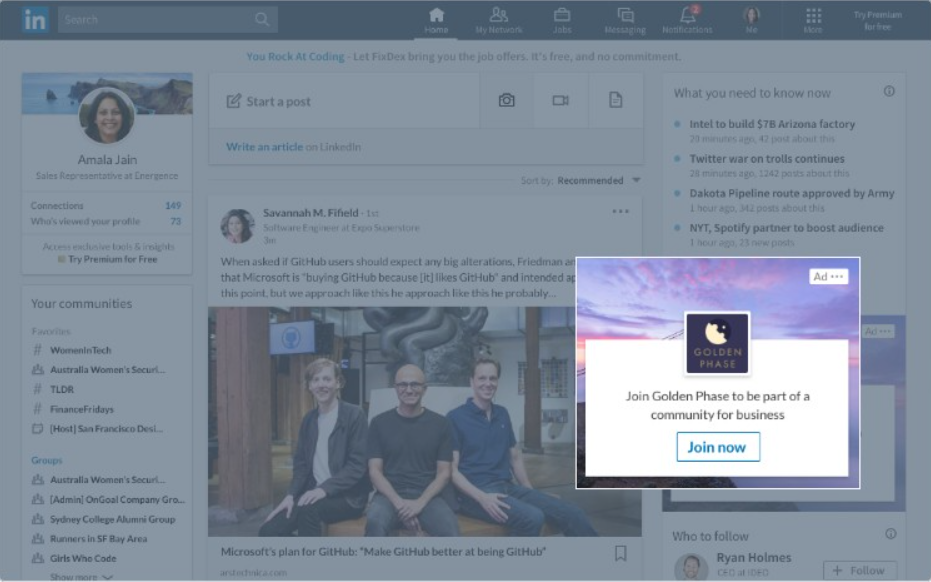 Example of a LinkedIn Dynamic Ad
Text Ads
LinkedIn Text Ads are similar to Google/Bing search ads and can be found on the right side rail or underneath the "People You May Know" section. These ads can have multiple variations per campaign, making it easier to test out the best-performing images and copy. They only run on desktops and offer a cost per click (CPC) or cost per thousand impressions (CPM) model. Text ads are easy to design and test, making them ideal for a quick and easy campaign for brand awareness with a lower CPM compared to other LinkedIn ad formats.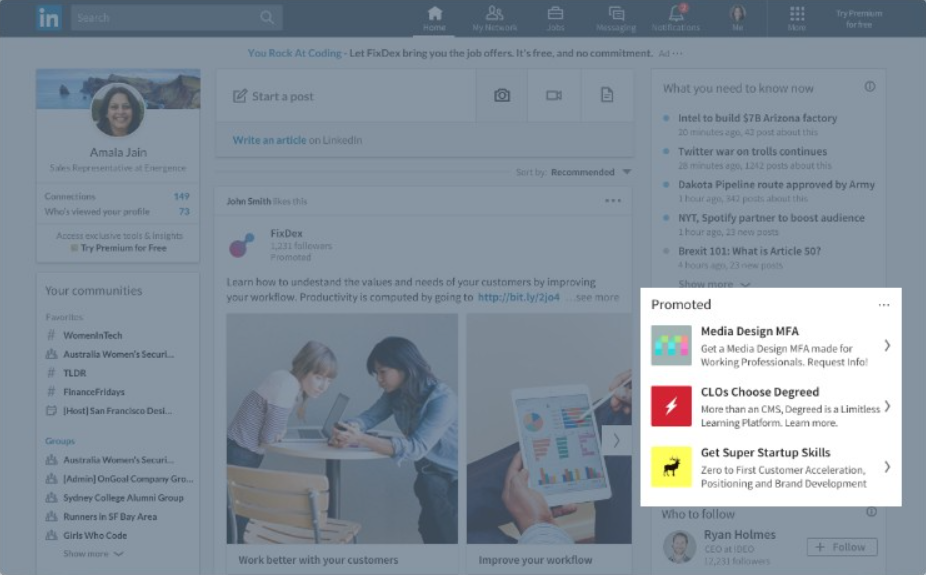 Examples of LinkedIn Text Ads
Advertising costs
LinkedIn ads are expensive. They generally cost more than ads on other social platforms like Twitter and Instagram. To decide if they're worth investment, you should know your company's customer lifetime value (CLTV). This considers how much revenue a customer brings in over a set period:
CLTV = spend x frequency / time.
You also need to know how much it costs to turn a prospect into a client. By calculating how many leads convert down the funnel and the value of a customer, you can determine how much money it is feasible to spend on an ad. This type of reasoning is essential to figure out how much you can afford, knowing the exact figure you are willing to spend on a lead.
How to set up a campaign in 8 steps
Step 1: Identify your target audience
Undoubtedly, LinkedIn's ad platform provides powerful targeting capabilities, but they're pointless if you can't optimize and leverage them toward your marketing goals. Creating a buyer persona is the key to unlocking the full potential of your targeting efforts. Buyer personas are crucial in all types of marketing plans, as they help you identify your target audience accurately. To create a buyer persona, you should focus on: 
customer background,
key demographics,
relevant identifiers & buzz words,
ultimate goals,
problems and challenges,
solutions you can offer.
To achieve an effective buyer persona on LinkedIn, you can assess current customers or/and identify key traits. By analyzing these patterns, you can create an advertising campaign persona that resonates with your target audience.
Step 2: Study your competition
Researching your competitors' actions is important to spot effective practices and implement them in your company. Start by making a comprehensive list of your competitors, including their company names and employee details. A quick online search or visiting their LinkedIn profiles can help with this task. Organize the information by creating a spreadsheet listing the competitors' names, reviewing their LinkedIn pages, and studying their ad campaigns to get inspiration on how to enhance your marketing.
Step 3: Set your objective and KPIs
Establish your goal: brand awareness, consideration, or conversions.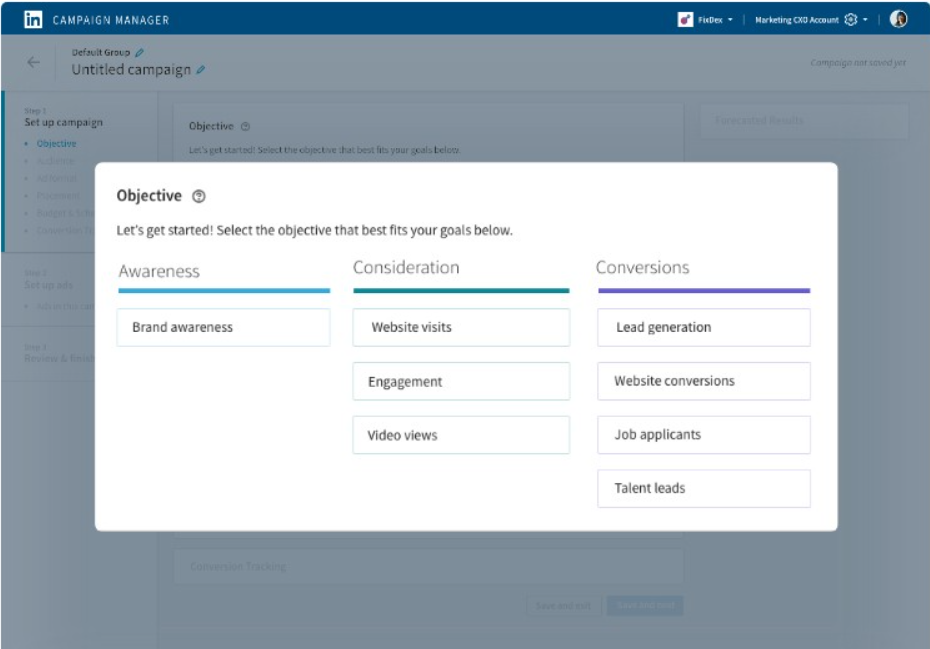 Setting the objective in the Campaign Manager
This also implies setting your KPIs to measure progress and determine what you can improve. Here are some parameters you can adhere to:
Engagement rates demonstrate whether your ads are hitting their mark and help tailor future campaigns to maximize ROI.
Page views measure how many times your LinkedIn page has been viewed by users during a given period so that you can make informed decisions about future content.
Video views are also an essential metric, as having a steady stream of video views can boost your brand's visibility.
Post views indicate how many times a user has viewed your post in the feed. Note that a post view doesn't mean your post was read, only that it was seen.
Click-through rates measure the percentage of those who click on your ad or link out of all the people that have seen it.
Impressions measure how many times people see your ads, stories, posts, or your profile in their feed. Every time one of your ads appears in the home feed, it counts as an impression.
Reach measures how many individual users get to see your ads in their feed. Growing the reach helps increase engagement from new prospects and spread brand awareness.
Conversion rate is the percentage of visitors to your ads who take the target action: click the link to your site, sign up for a newsletter, or make a purchase. It is vital for enhancing engagement and brand loyalty.
Cost per conversion shows how much you are spending to acquire a new customer and allows you to make timely adjustments if it exceeds your projected budget.
Step 4: Set your targeting options
Here are some tips on how to effectively target your message on LinkedIn:
Avoid hypertargeting. While it's natural to want to select as many targeting options as possible, choosing too narrow an audience may limit your reach significantly. Consider targeting the individual contributor and manager audiences, but combine it with years of experience to focus on experts in their field.
A/B test. Start with 2–3 essential criteria for your first experiment. As you add different targeting options, consider that most successful campaigns have an audience range between 60k and 400k. Also, choose at least 1–2 suggested keywords to capture relevant audience members you might have otherwise missed.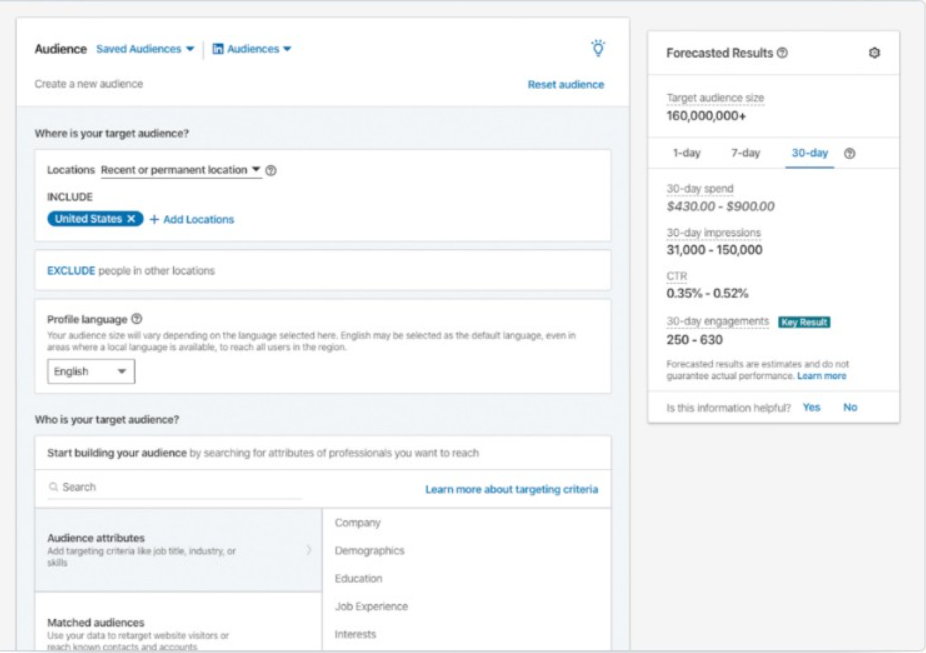 Setting the targeting criteria
Enable Audience Expansion. If your campaign is not getting the scale you need to achieve your goals, consider enabling Audience Expansion. This will find audiences that are similar to your selected targeting criteria, even serving impressions to more members who are most likely to click on your content.
Incorporate industry into targeting. For instance, "Geography/Titles" is used to target seasoned professionals, "Geography/Company Size/Seniority" — to adjust for seniority levels depending on company size/industry, and "Geography/Industry/Function" — to focus on employees who work at a company within that industry.
Refine and improve. Make sure to monitor the analytics dashboard closely after selecting the target audience. Based on the response received, you can consider narrowing or expanding your criteria, adding more restrictions as necessary, or targeting a more comprehensive audience.
Step 5: Select your ad format
With all the ad formats considered earlier, let's see which ones are better for various marketing objectives. LinkedIn Ads guide recommends organizing the objective-based advertising options in a table:
Objective
Marketing goal
Supporting ad formats
Brand awareness
«I want more people to learn about my business.»

Single Image Ad
Document Ads
Carousel Ad
Video Ad
Text Ad
Dynamic Ad

Website visits
«I want people to visit a website destination off LinkedIn.»

Single Image Ad
Carousel Ad
Video Ad
Text Ad
Dynamic Ad
Sponsored Messaging

Engagement
«I want more people to engage with my content posts.»

Single Image Ad
Document Ads
Carousel Ad
Video Ad
Dynamic Ad

Video views
«I want more people to watch my videos.»
Lead generation
«I want more quality leads on LinkedIn.»

Single Image Ad
Document Ads
Carousel Ad
Video Ad
Dynamic Ad
Sponsored Messaging

Website conversions
«I want more purchases, registrations, or downloads.»

Single Image Ad
Carousel Ad
Video Ad
Text Ad
Dynamic Ad
Sponsored Messaging

Job seekers
«I want to promote job opportunities at my company.» 

Single Image Ad 
Dynamic Ad
Step 6: Set your budget and schedule
There are three options: cost per send (CPS) for Message Ads campaigns, CPC for action-oriented campaigns, and CPM for brand awareness.
You can set a suggested bid, daily budget, start and end dates, and total budget for your campaign, and cancel any of these at any time. LinkedIn uses an auction system for bidding that rewards engagement and works as a second-price auction. This means that if you win your bid, you will only pay the amount necessary to outperform the runner-up. You won't be charged anything beyond that, no matter how high your maximum bid is. The winner is determined based on the highest bid combined with past ad performance.
Setting the budget for a LinkedIn Ads campaign
Step 7: Bring on the content
As a social marketer, your primary objective is to create an immersive experience for your audience, one that will make them stop scrolling and pay attention. This requires your advertisement content to be meticulously crafted: it plays a vital role in grabbing the audience's attention and persuading them to engage with your brand. To gain maximum exposure for your campaign, we advise creating 4–5 ads. The key creative elements to account for are imagery, copy, formatting, and testing.
Step 8: Track how it's going
Having clear goals and metrics documented, you can launch your campaign and monitor its performance by accessing analytics through Campaign Manager. Overall impressions, clicks, social actions, and budget can be tracked, with social actions being the free engagement from LinkedIn members who interact with your content. By evaluating each ad's performance within the campaign, you can make necessary adjustments, such as refining targeting, editing ads, or toggling ad variations based on their performance. To see which campaign best achieves your goals, make URLs in your ads unique and use different tracking codes for each variation within your campaign. This will help you gain a more complete picture of each ad variation's performance, such as discovering that an ad may generate fewer clicks from LinkedIn but a higher percentage of those who click complete the offer and make a purchase within a shorter period.
Conclusion
LinkedIn Ads platform is the dark horse of social advertising. Despite being costly compared with other social advertising platforms and less popular than Facebook Ads, it's still powerful, with a wealth of information about business people. Leveraging these data can bring you a whole new layer of quality prospects and leads. Besides, the LinkedIn Campaign Manager makes the process accessible even for a newbie, and there are four ad formats to choose from, depending on your marketing objective and the content available. So if you're looking for new opportunities to market your B2B company, take a closer look at this tool — and if you find it worth a try, now you know where to start!