Microsoft is launching a new, AI-powered Bing search engine and Edge browser, the company announced in February. Experts say it is Microsoft's biggest-ever play to take on Google. 
While Microsoft's search share is about an estimated tenth of the market, many investors see new technology as promising. After the new Bing presentation, Microsoft's stock closed 4.2% higher.
Microsoft is modernizing its Bing search engine and Edge Web browser with artificial intelligence by adding an intelligent chatbot to work alongside Bing's search results. Microsoft said the artificial intelligence would serve as an 'AI copilot'.
Integrating OpenAI's GPT-4 model into Bing provides a ChatGPT-like experience within the search engine. The chatbot can summarize web pages and find answers to more complex queries.
"It's a new day for search," said Microsoft CEO Satya Nadella at a press event in Redmond, Washington. The company claimed that there are 10 billion search queries daily, but an estimated half of them go unanswered. Therefore, an AI is needed to find answers to more complex questions and tasks. "AI will fundamentally change every software category, starting with the largest category of all – search," said Satya Nadella.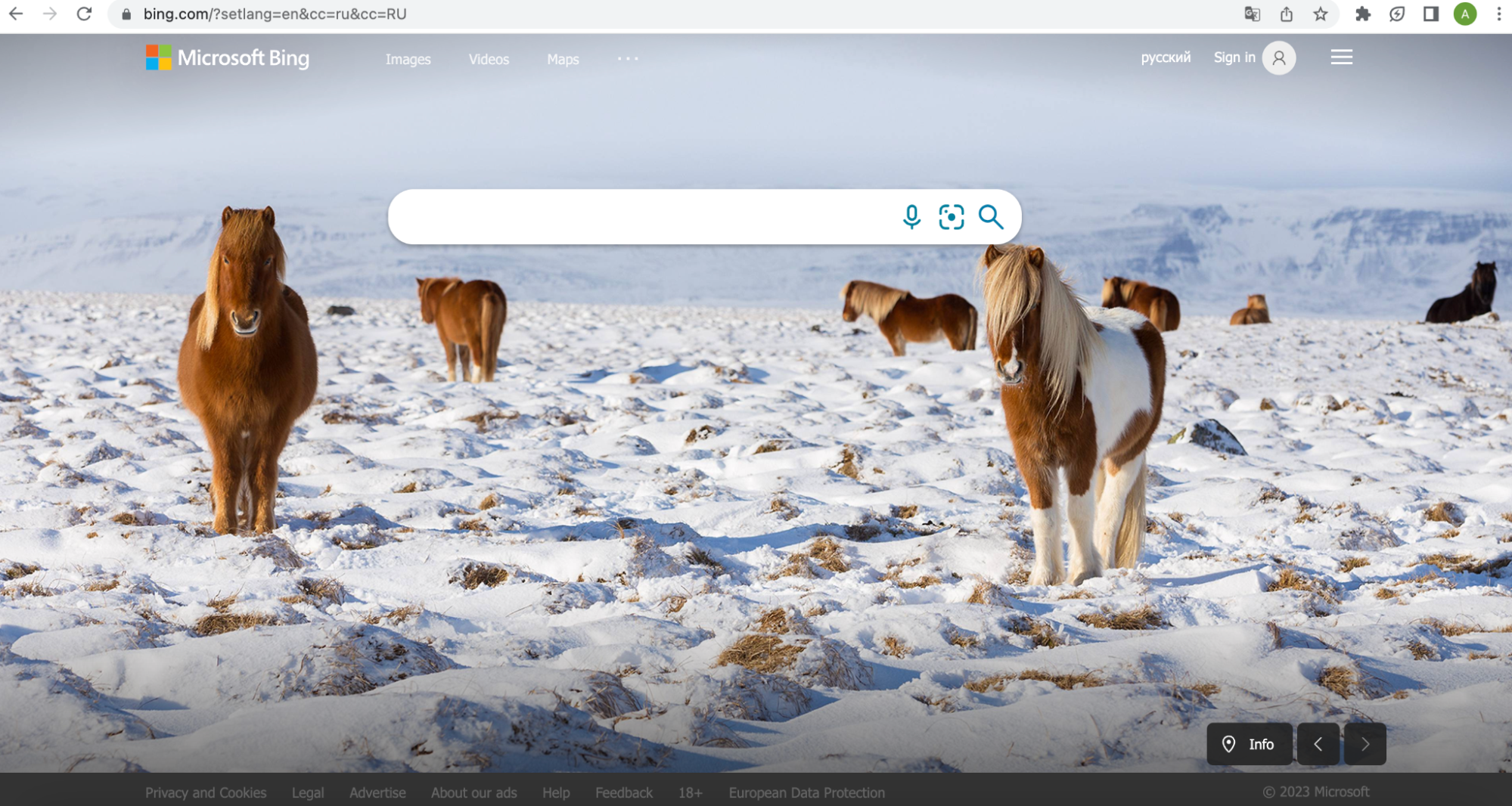 Microsoft Bing search engine.
What is ChatGPT?
ChatGPT is a natural language processing tool that can create content, images, and code on demand via conversations with a chatbot. The AI-driven tool is built on OpenAI's GPT-3 family of large language models. Launched in November 2022, ChatGPT reached 100 million users in its first two months.
The new Bing is running on a new, next-generation OpenAI large language model that is more powerful than ChatGPT and customized specifically for search. It takes vital learnings and advancements from ChatGPT and GPT-3.5 – and it is even faster, more accurate and more capable.
How does it work?
The new Bing now features the option to start a chat in its toolbar, which brings you to a ChatGPT. Chat will pop up when you enter a query to which Bing knows the answer. Microsoft will show these GPT-based results in a box on the right side of the search results page.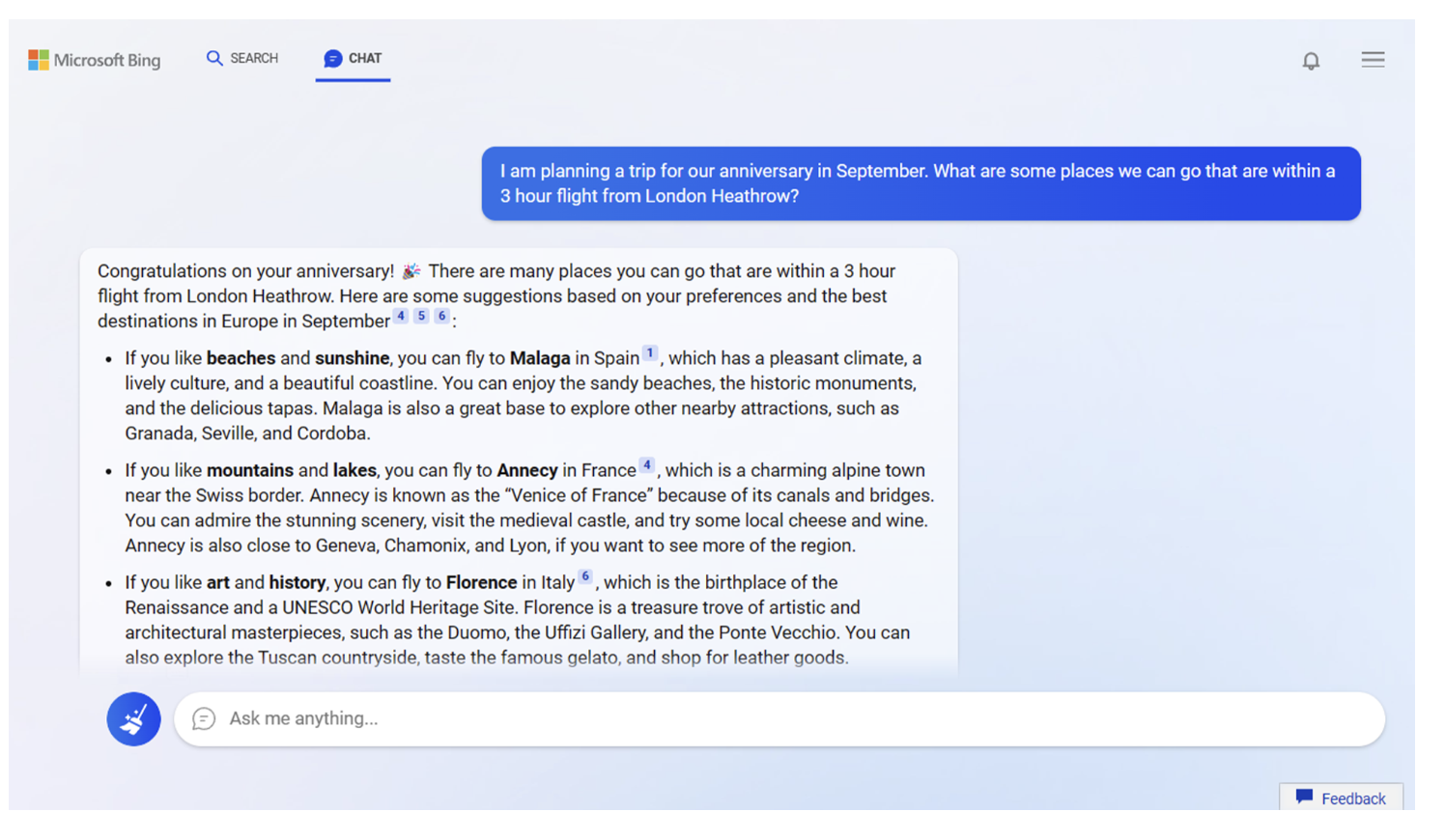 Image from Bing.
While OpenAI's ChatGPT bot was trained on data covering only 2021, Bing's version is up-to-date. Therefore, in the chat, you can ask questions about recent events. Bing will cite its sources and allow users to explore the links under the 'learn more' section.
The new experience is live on Bing but still limited to a preview format. For the whole experience you'll have to get on the waitlist.
According to Microsoft, with the new Bing exploring the web isn't just more accessible, it's also more fun. Forget well-thought-out queries; imagine you are talking to a know-it-all friend and not a search engine. Try the new feature for yourself and ask it things like:
My anniversary is coming up in September, help me plan a trip somewhere fun in Europe, departing from London.
Will the Ikea Klippan loveseat fit into my 2019 Honda Odyssey?
I like electronic music and want to go to my first festival this year. Do you have any recommendations or tips for me?
What are the benefits?
After the announcement, the Independent wrote, 'Bing is now better than Google'. Why is that? What groundbreaking changes did the AI integration bring to Microsoft? Below are the main reasons:
Better search. Microsoft claims the new Bing shows more relevant results for sports scores, stock prices, and weather.
Updated core search algorithm. The AI model has been applied to core Bing search engine results, resulting in better relevance. Now even basic search queries are more accurate.
Complete answers. Bing reviews search results from across the web to find and summarize the answer. For example, you can get detailed instructions for substituting eggs with another ingredient in a cake you are baking without scrolling through multiple results.
A new chat experience. For more complex searches – such as for planning a detailed trip itinerary – the new Bing offers new, interactive chat. The chat experience allows you to ask questions and clarify until you get the complete answer you are looking for.
Generated content. The new Bing comes in handy when you need inspiration or help to create something. It can generate content to help you. For example, it can help you write an email or make a quiz for a trivia night.
Updates to Microsoft Edge. With the Edge Sidebar, you can ask for a summary of a lengthy financial report to get the key takeaways. You can also ask Edge to help you compose content, such as a LinkedIn post, by giving it a few prompts to get you started. After that, you can ask it to help you adjust the post's tone, format and length. Edge can understand the web page you're on and adapt accordingly.
Are there any negative aspects of the Bing AI integration?
As Microsoft CEO Satya Nadella noted, the team wants to stay true to its AI Principles and acknowledged that, as with every new technology, it's essential to remain mindful of the potentially harmful consequences. "It's about being clear-eyed about the unintended consequences of any new technology," he said. He stressed that Microsoft wants to use technology that enhances human productivity and that is aligned with human values.
With OpenAI, Microsoft has intentionally implemented safeguards to defend against harmful content. Teams are working to address issues such as misinformation and disinformation, content blocking, data safety and the promotion of harmful or discriminatory content.
Are there advertisement possibilities?
The question that PPC advertisers are interested in is marketing possibilities with the new chat option rather than the regular search engine.
Microsoft advertisements work so that if a customer types 'red shoes' into the Bing search, the engine will suggest shopping options from different shops. How that would work in an AI-generated version is still unclear. However, Microsoft did mention that the chat feature will show ads for some queries, including those about shopping.
Microsoft expects that every percentage point of market share it gains will bring in another $2 billion in search advertising revenue.
What are the future plans?
Working with the startup OpenAI, Microsoft aims to claim vast returns from the tools that the integration promises.
Microsoft first invested $1 billion in OpenAI in 2019 and more in 2021 when the startup worked closely with Azure, Microsoft's cloud service. This year Microsoft has already invested an estimated $10 billion in OpenAI, valuing the company at $29 billion.
The motive for significant investment goes beyond search. Experts say the AI technology can be integrated into Microsoft's productivity tools, including Outlook and Office 365. The numerous possibilities include digital assistants, bot-suggested PowerPoint content and formatting, email sorting and suggested replies based on previous interactions and more.
Microsoft also announced its intention to integrate ChatGPT into Microsoft Teams in a premium plan. ChatGPT can summarize meetings, calls and webinars into chapters, assign them titles and flag specific names and content.
Final thoughts
People probably won't say 'Bing that' instead of 'Google it' anytime soon, yet Microsoft's desire to leapfrog its competitor in the intelligent search game is evident and fierce. As users, we are only pleased to get more relevant answers to our queries and a copilot for the web. And as advertisers, we are happy to expand our campaigns with the intelligence of ChatGPT.