January is upon us. While some are sorry that the holidays are over, others are relieved and enjoy an opportunity to shop in post-Christmas sales. However you might feel about January, We see it as a great marketing opportunity. You could build your advertising campaign around many things, starting with snow and finishing with Dr. Martin Luther King Jr. Day. Read on and get inspired! Below We have collected all the best January non-cliche marketing ideas.
New beginnings strategy
The first and most straightforward strategy for your January marketing campaign is the association with the new year. Take advantage of this time to play with plans, aspirations, goals, and New Year's resolutions. Add words such as 'fresh start,' 'renewed,' 'clean,' and 'beginnings' to your social media posts to evoke the feeling of an inevitable change that comes with the new year.
Share your business's resolutions and plans for the upcoming year. Are you planning on expanding your market? Is there a conference you are hosting or attending? Announce some of the most significant plans to connect with your customers personally. You could also talk about some events that are happening in a month or two from now. What are you doing for Valentine's Day this year?
Motivate your customers to achieve their goals and resolutions. For example, a fitness center could run a 15-day challenge, or a cooking school could create a masterclass on making healthy packed lunches.
A great tool to experiment with here would be Shopify's free Slogan Maker. An AI generator that finds appropriate slogans that include words you type into it. While some word combinations don't make sense, others are great and perfectly usable in your next advertisement. Below is an example of a few generated slogans for the 'new beginning' search.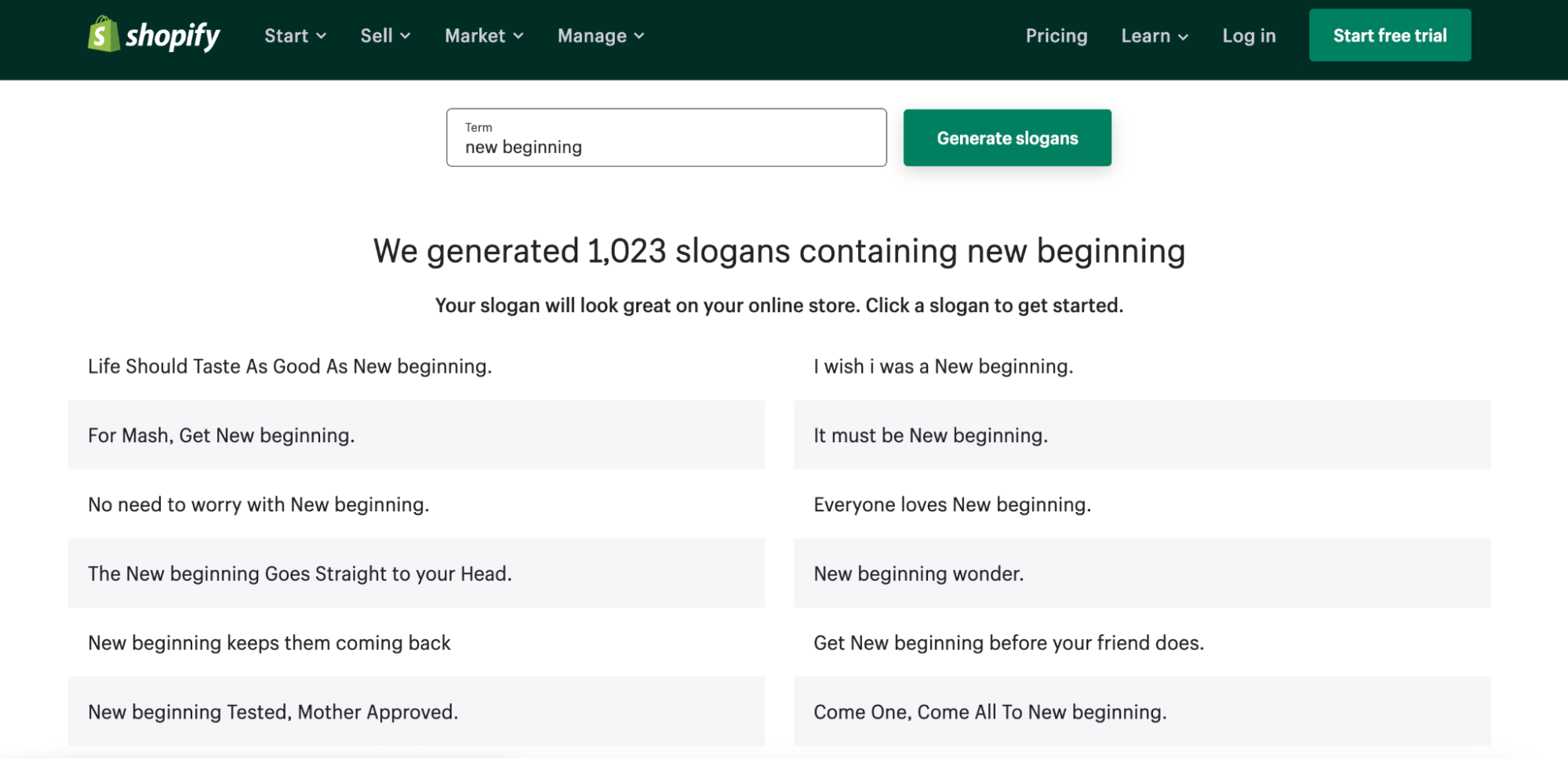 Screenshot from Shopify.
Prolonging the holiday mood strategy
Bear in mind that not all holiday gifts have been given yet, and holiday songs still slip into the radio airwaves. Many people want to continue the holidays and the Christmas mood. So give them that! Yes, it might be too late to post Santa Claus and wishing a Merry Christmas. However, it is the right time to create holiday roundup posts.
For example, you could post photos from your company's Christmas party or personal pictures of some employees spending New Year's Eve with their families. The images will evoke lovely memories from your customer's celebrations; therefore, it is an opportunity for you to ask them to share! Encourage your customers to write a few lines about their holidays in the comments. Alternatively, create a unique hashtag that customers could add to their posts on social media.
It is even better if your services or products can be somehow logically connected to the post-holidays time. Be it a cleaning service or drink that cures hangovers, make sure to post something to which the customers could relate.
If you choose post-holiday nostalgia as your January marketing strategy, make sure not to slip into posting about Christmas and New Year's too much. Stick to what comes after the holidays not to rub the wrong way those people who do not enjoy winter holidays as much.
Chinese New Year
In some cultures New Year's celebrations take place way past December. Chinese New Year, for example, starts on January 22 and lasts seven days! Do you sell for a Chinese market or work with Chinese products? If the answer is yes, it is a must for you to post about the Chinese holidays. However, even if you do not directly work with China, it is still a great idea to post about it.
For example, you could post the Chinese zodiac chart or the year's animal and its history. 2023 will be the Year of the Water Rabbit. You could market around that animal if it is appropriate for your business. For example, for a pet shop, it is an excellent opportunity to sell more rabbits or treats for them.
You could also partner with a local Chinese-owned business and offer special deals for the holidays.
Weather-based strategy
If there's something special about January, it is the weather. You could always refer to the temperature in your marketing strategy. Depending on the location of your customers, it could be different; however, the main idea is to create fun weather-based posts.
For example, a hot yoga studio could invite customers for a warming class when it is freezing outside. A Brazilian restaurant could post to remind customers that it is summer in Brazil.
And if you need help finding a connection between your business and the weather, consider creating weather-based promotions! For example, you could give a free hot chocolate to all the visitors on a snow day. Or make a 20% discount on a day when the temperatures hit -20°C.
Random holidays celebration strategy
You can find fun every day if you look for it! Festivity can occur on something other than bank holidays. If you Google the month's holidays, you'll see that almost every day of January is devoted to something. You don't have to celebrate every single one of them. Just choose a few that would work the best with what you are selling and include those in your marketing strategy.
For example, you could create an event in honor of National Compliment Day on January 24. Compliment everyone! Make sure your customers compliment each other and reward them for doing it.
Talk about your approach toward data privacy on the respective holiday on January 28.
Month-devoting strategy
You could also devote a whole month to something! It can be something unique to your brand or recognized worldwide. For example, you could focus on charity for a month and give 5% of your sales to different organizations. It could also be as simple as a month devoted to traveling and would require you to post traveling tips and extraordinary destinations throughout the months. This will allow you to post more facts and statistics, which everyone enjoys and likes to repost or send to friends.
If you need some inspiration, look for the official data. For example, you could get involved with January as a Blood Donor month! Your whole team could participate in a local blood drive; this way, you might encourage your clients to do the same! You could also run special offers for those who donate and do more to inspire people to give it a go.
Inclusive marketing strategy
Inclusion should always be a part of your brand strategy; however, there is no better starting point for implementing it than January.
Inclusion means embracing everyone regardless of race, gender, sexuality, or disability. Your customers are expecting you to take on the fight against inequality. And simply voicing your opinion about the necessity of diversity is not enough; you must take action to resonate with your customers.
Luckily, there are plenty of diverse holidays you can use as a starting point to leverage your inclusive marketing strategy in January.
For example, Dr. Martin Luther King Jr. Day falls on the third Monday of every January to commemorate his birthday on January 15. Dr. King influenced America's civil rights movements during the 1950s and 1960s. His legacy is just as important today as we fight for equality. You can implement his story into your marketing strategy by sharing his biography or speeches with your customers.
You could also celebrate the International Day of Acceptance on January 20. The day was only established in 2010 to honor individuals with disabilities. How can you make your clients with disabilities feel welcomed and accepted ? Could you create new products keeping every ability level in mind? Could you update your website so that visually impaired people can browse it? Another way to include more people would be by posting an advertisement featuring people with disabilities.
Final thoughts
The main takeaway from the article should be that while it might seem challenging to advertise effectively in January, there are plenty of great opportunities you could jump on. Choose a strategy that you like and go with it. No matter what your choice is, be it a Chinese New Year's celebration or blood donation, your main goal is to connect with your customers on a personal level. This way they are much more likely to buy from you!