Everyone wants to succeed, people in the business world even more so. And while it drives competition, it also often creates a partnership. When good business collaboration happens, it creates a win-win situation and benefits all parties. Reaching new customers, increasing brand awareness, and inspiring your work are among the many benefits of collaborations, even for small businesses. And most importantly, great collaborations happen regardless of the company's size or industry. They don't have to take a lot of time or money, as long as you choose the right partner and think outside the box .
Collaboration is a working practice where individuals or companies work together towards a common purpose of achieving business benefits.
Adidas has recently collaborated with Gucci. Kendra Scott has launched a jewellery collaboration with Barbie, celebrating Kendra Scott's 20th anniversary and 60 years of Barbie. Apple has launched a major partnership with Nike. All of these collaborating brands have shared values but different audiences.
This article will discuss what collaborations work and what don't and what challenges are associated with working together with another brand. We will also cover how to choose a brand to collaborate with.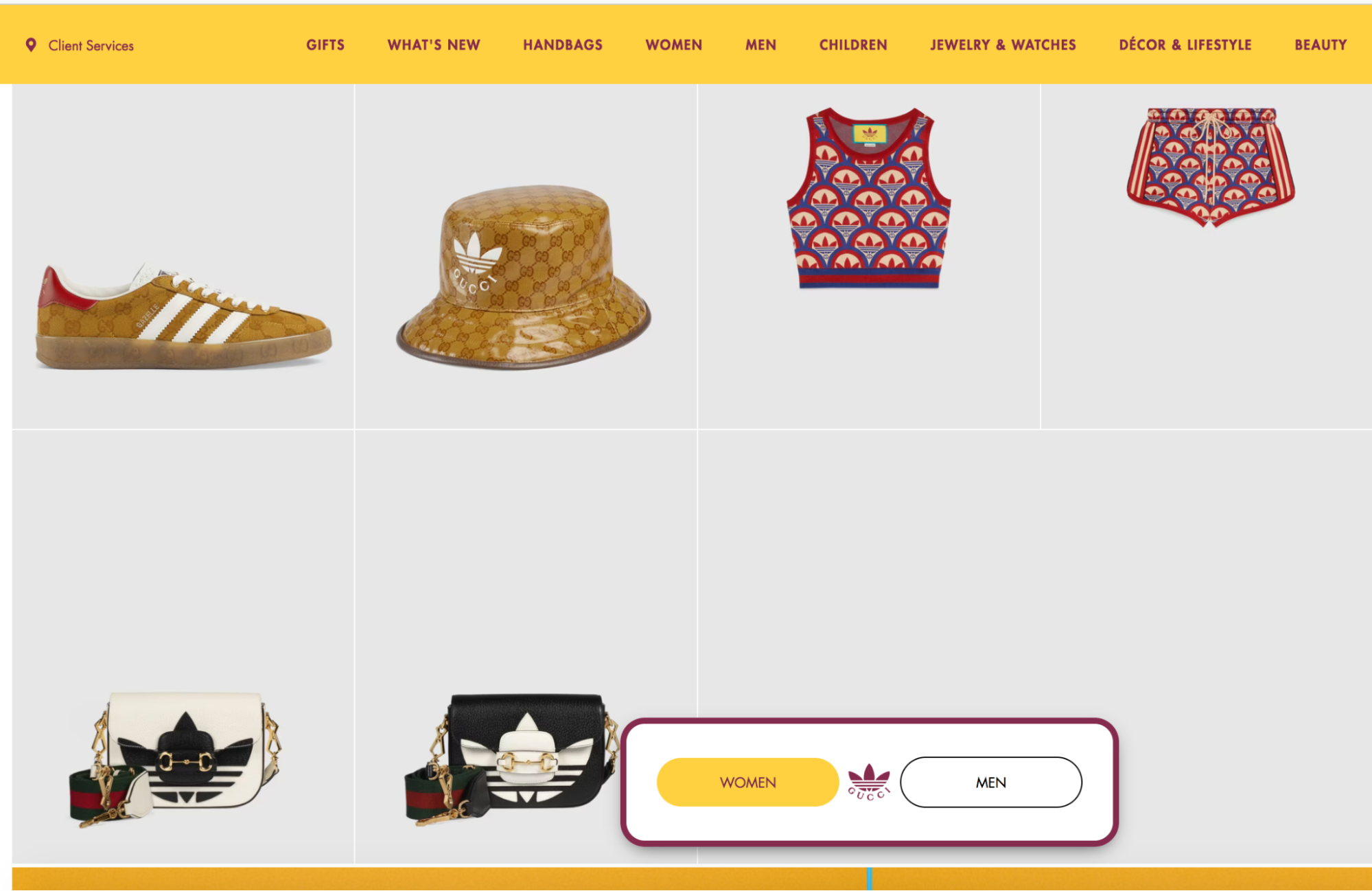 Adidas x Gucci Collaboration. Image from Gucci website.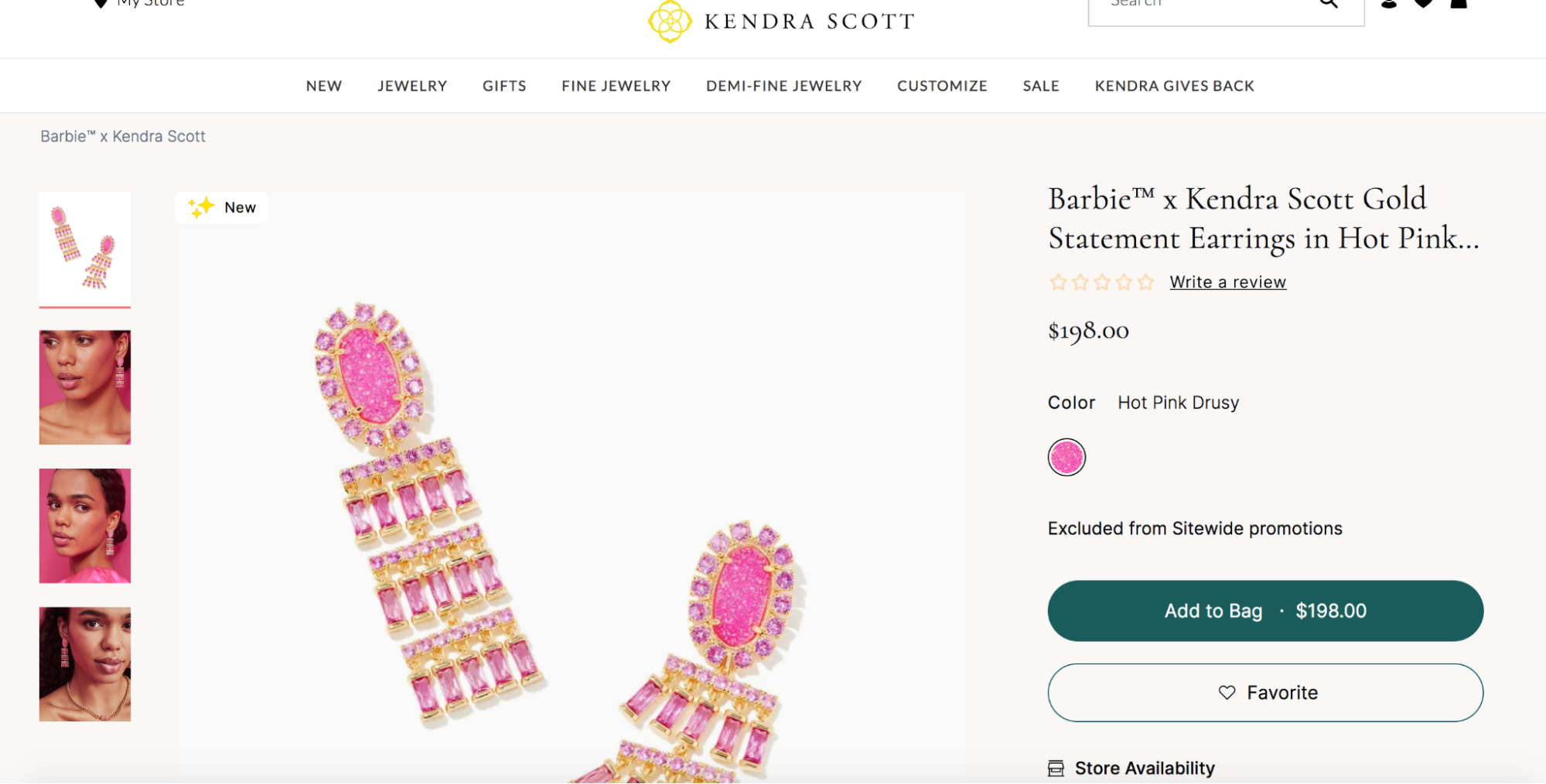 Kendra Scott x Barbie Collaboration. Image from Kendra Scott website.
Benefits of business collaboration
If you are not convinced that collaboration is worth time and effort, here are the main reasons why you should partner with another business.
1. It is inspiring
Teamwork is in itself exciting . Great things happen when you work with and among new people. Brainstorming together with someone cool may be incredibly inspiring and lead to some fantastic discoveries.
2. It will help you expand your network and marry your customer data
Collaboration is about meeting new people, building contact bases, and expanding networks. Even if the partnership does not turn out to be as great as you anticipated, you are bound to meet amazing new people, hear their ideas and maybe even collaborate with them later.
Moreover, you will exchange your customer data! This will help you in the marketing that you will do later on. Marrying your data will help you both develop a successful advertising strategy and sell to more people.
3. It is educational
Collaboration is always a learning opportunity. If you want to succeed, you'll have to learn from your partner, and you will have to teach them too!
When you collaborate, you share your knowledge, resources, and ideas. And the more you share, the more you get from the partnership. Aim to Learn from your partner as much as possible, especially if they are from a different sphere or work with clients you don't.
4. It triggers innovation
When businesses collaborate, their employees bring different skill sets, talents, visions, and ideas. When working together, you celebrate those differences and get the best out of everyone. Therefore, collaboration triggers innovation.
5. It Helps you achieve mutual growth
Collaboration helps small businesses compete with bigger brands. When two businesses partner, they pool knowledge, multiply your team's effectiveness and exchange technology. In this shared effort to help each other, they often cut costs and achieve mutual growth.
6. It saves time
Time is precious. And you can save it by collaborating! You'll have more people working on the same project and more brain power looking for solutions .
7. It saves you money
You share the expenses with your partner when you collaborate on a project. It does save you a lot of money! Usually you would split marketing costs as well, which is a bonus.
8. Collaboration is always a win-win
Collaboration does not always have to be about two businesses creating a new product. It can also be as simple as a flower shop exhibiting flowers at its partner restaurant. It is a win-win situation for both business owners. The flower shop gets a free advertisement spot, and the restaurant receives beautifully decorated tables.
As long as both businesses see a benefit and get a profit from the collaboration, it's worth doing.
How to choose who to collaborate with?
You may now be convinced that it's a great idea to collaborate. However, the question is, 'Who should I collaborate with?' Find the answer in this section!.
First and foremost, you need to look for a business with similar values to yours. Someone who is likely to be interested in working with you towards a common goal. Why is this so important? For one , working with like-minded people is always easier, and it minimises conflict. If you are working towards the same goal, you both will be interested in the success of the collaboration.
Secondly, you need to be looking for someone with skills you don't have. You need to complement each other. What resources does your potential partner have that you don't?
Thirdly, make sure that your audiences are different! You would want to gain new customers from the partnership. Therefore, while having common values and goals is great, having the same customers is not ideal . Best collaborations occur between brands that do not compete and have different customers.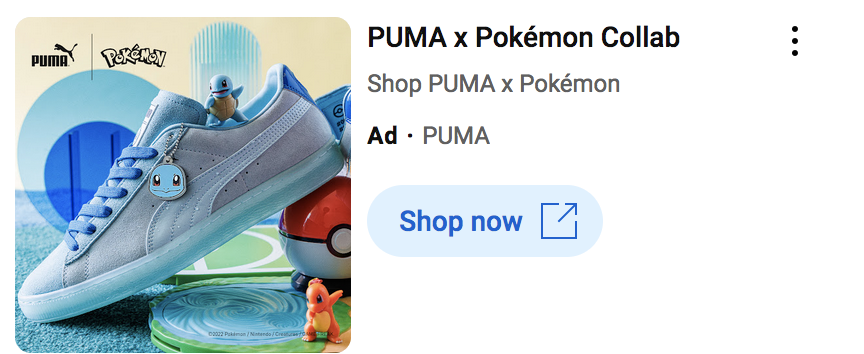 Advertisement for PUMA x Pokémon collaboration.
Collaboration Challenges
Despite the many benefits, there are certain risks that the collaboration might bring. Here are some of the most common ones and how to overcome them:
1. Misunderstanding
Misunderstanding is one of the most common workspace challenges, especially when you invite strangers to work with you. While some misconceptions are easy to dispel , some may be more harmful to the project and your well-being.
If you want to minimise the number of conflicts between you and your colleagues when you collaborate:
Be honest, open and transparent from day one.
Make sure your team members are all on the same page and no secrets are kept from either side.
Remember that you are collaborating and not competing; you are working towards the same goal.
2. Miscommunication
Miscommunication is likely to occur when new people work together. If the communication channels are unclear, team members won't be able to talk effectively, which in turn may lead to delays in the process.
Communication is the key to success. Make sure that everyone is connected, people share their ideas, and different departments work together.
3. Low trust
Working in a low-trust environment will only lead your employees to find faults and mistakes in each other's work and will negatively affect the project's success.
On the other hand, mutual respect and trust will create a friendly environment where people don't mind receiving criticism and are not afraid to voice their opinion. Remember that feedback is very important.
Make sure you promote trust and respect yourself; as a result, you will get a creative and hard-working team.
4. Difference in culture
One of the most significant workspace collaboration challenges is the inability to deal with cultural differences, especially in today's world, where people come from different backgrounds and countries and look and think differently.
You must ensure everyone feels welcomed, heard, and supported in the workspace. Hold talks about different religions and throw international parties, if necessary. It does not matter how you go about it, but it is vital to overcome cultural differences.
5. Keeping employees engaged
It is almost impossible to produce something great if your employees are not interested in the collaboration or the successful outcome.
Make sure to engage everyone. Explain why you are doing this and what you are looking for. Listen to what your employees have to say as well. They might have some great ideas about the workflow organisation or the product itself.
6. Promoting your partner
One of the most important features of collaboration is cross-promotion. Cross-promotion is a form of promotion where one brand features products or logos of other brands across numerous platforms. You and your partner are supposed to promote each other on social media, websites, newsletters and the products you create. It is crucial to the success of the campaign. Otherwise, you won't fully benefit from the collaboration.
It might be obvious that cross-promotion is everything. However, some brands do not agree about this and face significant challenges later. Make sure that you promote your partner's brand consistently in addition to any specific co-marketing campaigns.
Final thoughts
Collaboration is great. It is just as profitable for small businesses as it is for bigger ones. Through the partnership, you can achieve mutual growth, expand your networks, fuel innovation, save time and money, and even get inspired! Make sure you choose the right brand to collaborate with and that you are not afraid of misunderstandings and other challenges that might occur.
So why is Nike and Apple collaboration so successful? Because the two businesses share similar values, yet very different customers.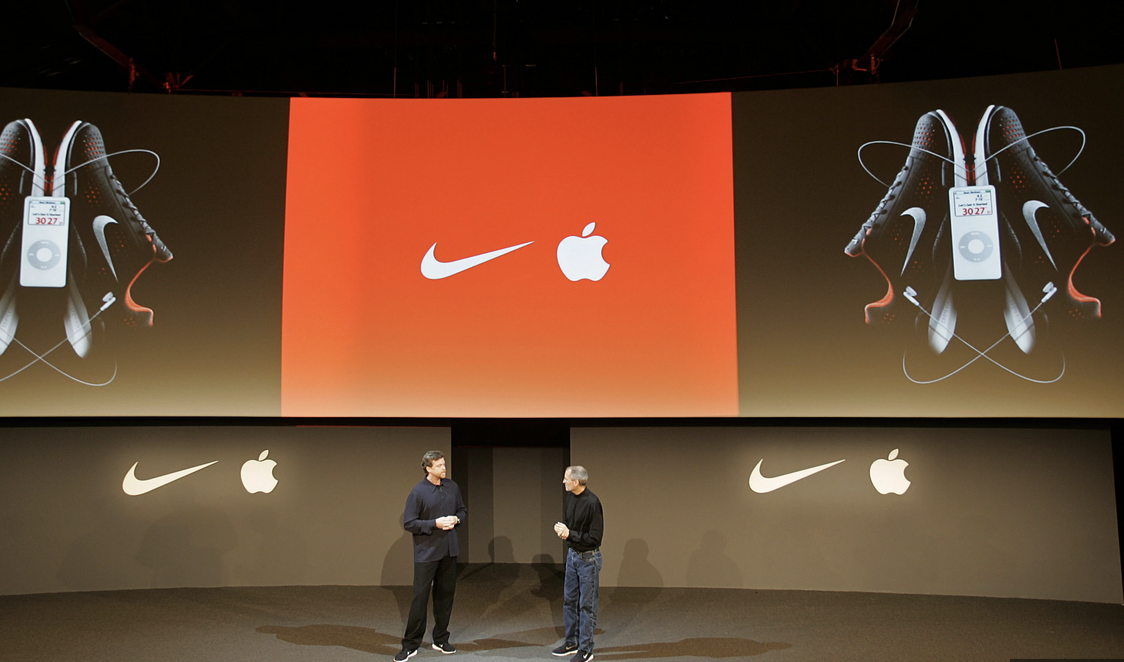 Apple x Nike Collaboration. Image from TIME magazine.