According to the March eMarketer forecast, worldwide ad spend can decrease by $20B compared to initial estimates for 2020 before the coronavirus outbreak. Google is trying to support small and midsize businesses with ad credits to help them survive the crisis. Otherwise, the platform risks losing a significant part of their active advertisers.
We've gathered some insights into the current state of Google Ads, user behavior changes and the impact on PPC performance across industries. At the end, you'll also find our recommendations and ideas to handle new challenges.
Quick Links
Google is Adapting its Ads Policies
User Behavior Changes since COVID-19 Outbreak
How Advertisers Should Respond to the Changes
Google is Adapting its Ads Policies
COVID-19 related topics fall under Google's Sensitive topics policy, but the rules are changing on the fly, so it's worth checking up on them regularly. Here is the situation as of April 12th 2020:
"We are enforcing a temporary restriction on personal protective equipment to prevent advertising that may capitalize on coronavirus disease (COVID-19) […] We are also taking additional steps to prevent artificially inflated prices that limit or prohibit access to other essential items on Google's network."
With some exceptions:
"In order to ensure our users have access to essential information while navigating coronavirus disease (COVID-19), some entities are now eligible to run coronavirus disease (COVID-19) related ads. We are currently allowing ads from government organizations, healthcare providers, non-governmental organizations, intergovernmental organizations, verified election ads advertisers and managed private sector accounts with a history of policy compliance who want to get relevant information out to the public."
Google has also published special guidelines for users to evaluate and adopt their ad campaigns during the COVID-19 pandemic. It is recommended to consider context and tone and to be careful about double meanings of words like "protection," "checkup," "prevention," or "virus." It is also advisable to think about the appropriateness of images and videos that show large gatherings of people or human interaction. Google also reminds businesses to edit their Business Profile on Google if necessary and notify customers about delivery and in-store pick up options.
Google is highlighting the need to adapt ad campaigns according to dynamic market conditions. Advertisers need to:
Review performance metrics and make adjustments to Smart Bidding targets,
Consider pausing some ads or ad groups if the products or services are strongly affected by COVID-19
It is also advisable to look into the Google Trends page to understand the local context of a specific user area.
User Behavior Changes since COVID-19 Outbreak
The COVID-19 pandemic has changed the way people spend time online and businesses need to adjust their Google Ads campaigns to these new trends. Here are some insights into Google search trends in the U.S. shaped by coronavirus based on data from WordStream and Acquisio.
Mobile Search Traffic is Down by 24%
People staying indoors are using mobile devices less for search. Since the middle of March, search mobile traffic is suffering from an average 24% drop compared to the end of February, and tablet traffic has been down 19%. However, search desktop traffic is more stable: though there is an 18% decrease on weekdays, on weekends it's only down 7%.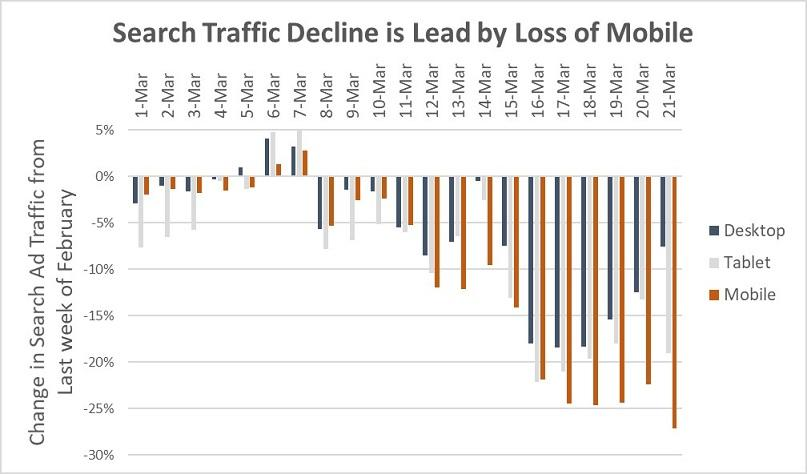 Overall Internet Usage is up 50%
While people tend to spend less time on search and shopping, overall internet usage has dramatically risen up 50%. This rise is caused by remote work and distance learning, as well as an increasing media consumption.
YouTube Ad traffic has grown by 21%, while Google Display Network has increased by 13%. Google Search Partners get almost the same traffic (just a 4% decrease). Meanwhile, Google Search and Shopping dropped by 20% and 15% respectively. These trends are a good reason to focus on cross-network advertising, remarketing and display ads.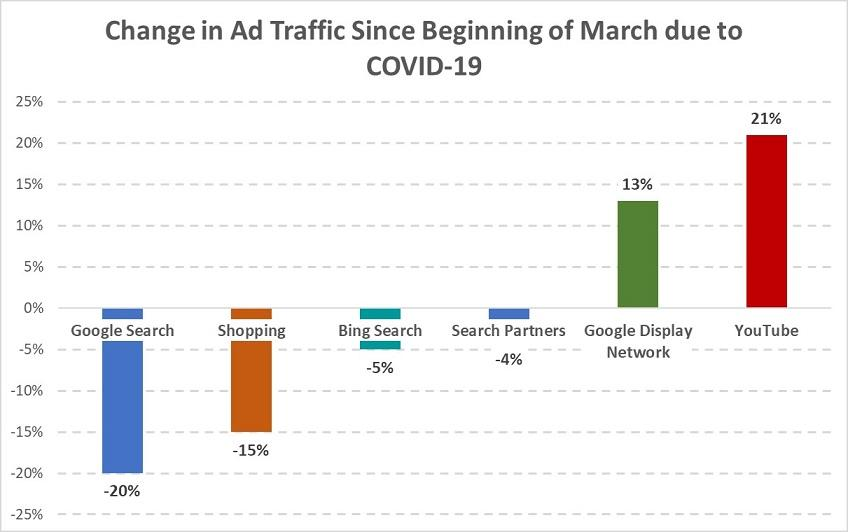 More Search during Late Night Hours
Though the overall search volume and ad impressions have dropped, there is a large peak (up to 20%) between 12 a.m. and 3 a.m. The rest of the day shows a strong decrease in search volume, especially on weekdays.
Significant Conversion Rate Drop at Night
Don't be misled by the increase in late night search traffic. Although the volume has risen, advertisers have noticed a 30% lower conversion rate than they typically expect at night hours. To explain this, we should consider one more trend: searches related to COVID-19 have a clear spike around midnight. So, we can assumе, that after reading bad news people are less likely to make purchases.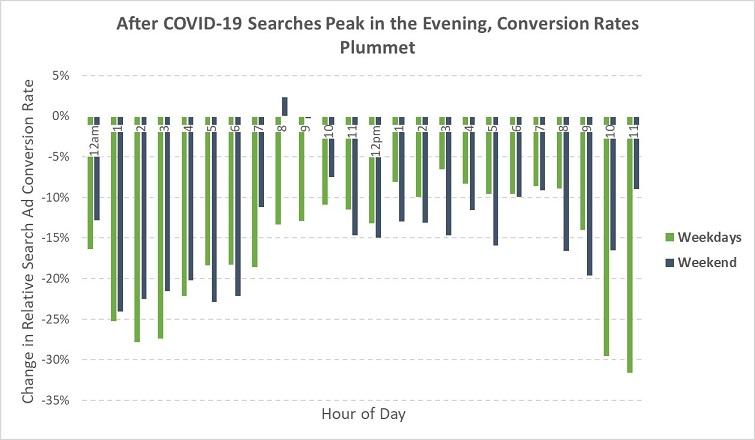 COVID-19 across Industries
Now let's look into the Google Ads benchmarks across industries shaped by COVID-19.
Accordingly to data from Wordstream, the most negatively affected industries are:
Travel and Tourism
Live Entertainment and Conferences
Sports and Fitness
Building and Construction
Industrial and Manufacturing
Some branches are seeing mixed impact on their ad campaigns from coronavirus. There are potential big changes in coming weeks:
Real estate
Bars and Restaurants (Dining)
Home Improvement and Furniture
Automotive
Retail
Jobs and Education
Legal Services
Finance
And there are even some industries that may see a positive impact on their PPC activities:
Nonprofits and Charities
Health and Medical
Business Management
Beauty and Personal Care
On-demand Media
Greetings, Gifts, and Flowers
Now, let's dig deeper into a few metrics from some of these industries demonstrating the most notable stats.
Quick Links
Travel and Tourism—Branches that Struggle the Most
Travel is one of the industries suffering the most since the COVID-19 outbreak. Many companies have put their ad campaigns on pause, and those who haven't are seeing a strong conversion decrease.
Conversion rates (CVR) have dropped dramatically, (an average of 27%) and it's especially severe for booking services and vacation packages, who are witnessing a decrease of 50%.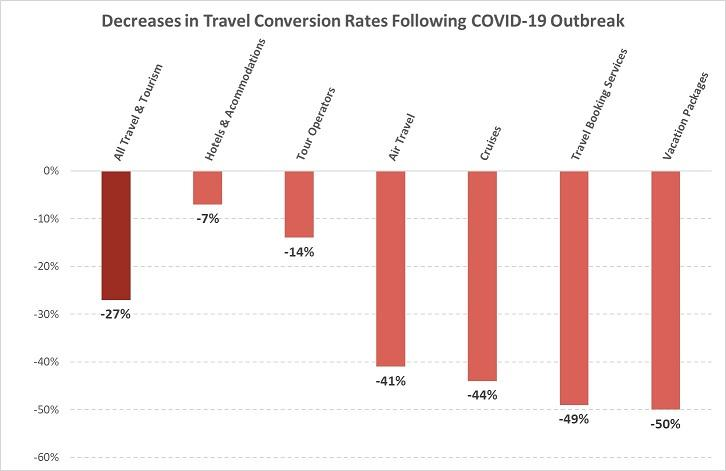 The COVID-19 outbreak coincided with the start of (typically) peak travel season so the search traffic drop compared to 2019 is dramatic: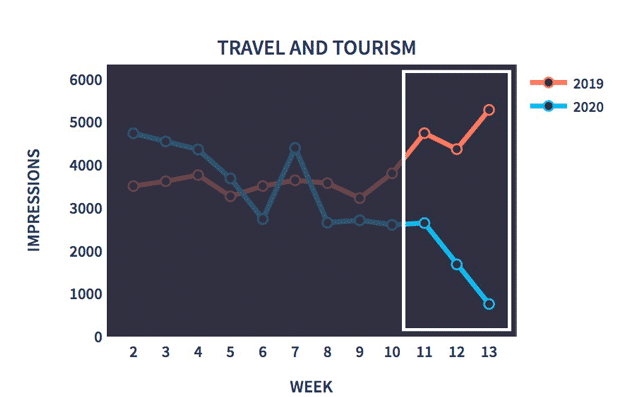 Though the CTR is relatively high (about 10%), it can still be a bad sign: consumers are searching for travel and tourism companies to cancel their bookings and ask for refund. If you suspect this is the case for your users, it could be reasonable to exclude returning users from ad campaigns to avoid paying for their visits.
Dining, Retail (incl. Grocery) and Finance: Branches with Mixed PPC Performance
Dining
The dining industry is strongly affected by COVID-19. Local restaurants are trying to adjust to the new reality and switch to takeaway and delivery, as people stuck at home tend to use this offer. The CTR and CVR for dining ads are the highest across the 21 industries analyzed by WordStream.
The average Google Search Ads CTR for March was 5.9%, while dining is getting 11.76%. The conversion rate is also impressive: 15.64% compared to an average of 5.63%. But daily budgets in the dining industry are quite modest: $16.55 for Google Search.
However, аccording to other data from WordStream (middle of March), the metrics for the dining industry are not so optimistic. Small businesses are suffering from social isolation, and they are getting significantly fewer impressions and lower conversion rates compared to the time before the COVID-19 outbreak.

Retail
Due to social isolation rules, e-commerce is supposed to be one of the most successful industries, but many families nowadays are unsure about their future income and tend to cut down to basic necessities. This results in 14% lower conversion rates.
The good news for advertisers (but maybe not for Google) is that Amazon and some other large retailers are reducing or even stopping their Google Ads campaigns (due to huge demand) and the CPC is dropping, so local retailers get a chance to compete.
Grocery companies probably have the highest search volume among retailers. The demand in 2020 is growing rapidly compared to 2019.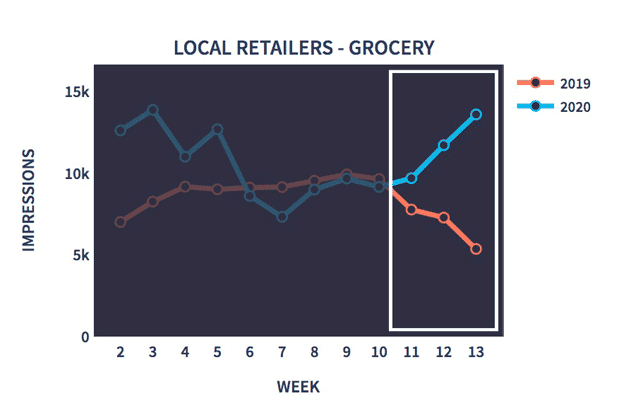 The average CPC for grocery ads was about $0.82 on Search and $0.12 on Display (per March 2020). The CTR was 8% and the conversion rate 7.63%. The average cost per action for grocery retail was under $10.
Finance
As jobless rates increase and businesses struggle, people are looking for financial assistance. But, after a growing interest in financial services, there was a steep decline in the last weeks of March.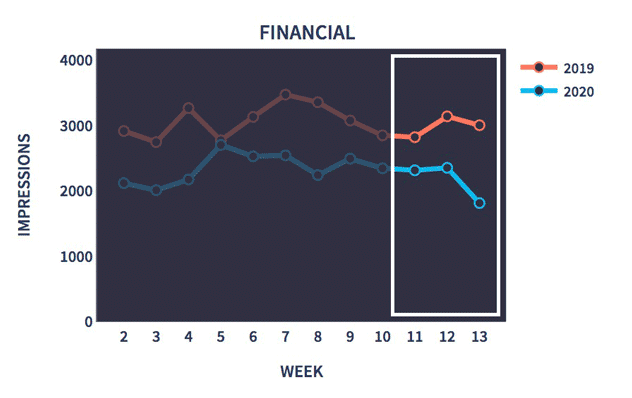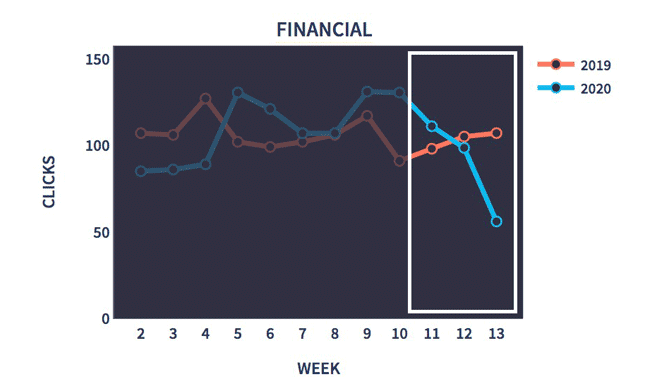 While the finance industry normally has some of the most expensive keywords and a high CPC, now costs have fallen: 19% for accounting, 27% for finance and 33% for insurance. The average CPC for the finance industry was $3.55 on Google Search and $0.60 on Display (as of the end of March 2020).
Meanwhile there is an increase in CTR and CVR, especially significant for accounting-related ads: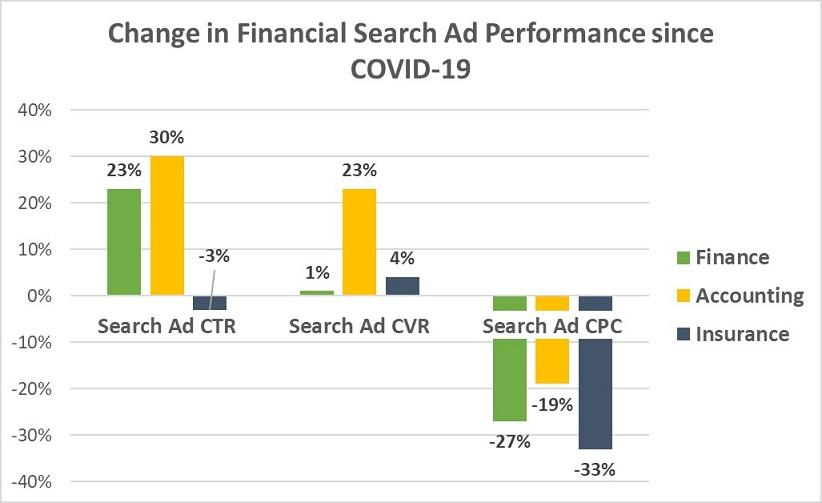 The conversion rate for the financial industry was around 7% and the CPC slightly below $55 (March 2020).
Booming branches: On-Demand Media and Personal Care
On-Demand Media
Due to quarantine measures, people are stuck at home and desperately looking for entertainment. They not only need some distraction from their fears and anxiety, but also have more time for it. So on-demand media like Netflix or Prime are booming with a 102% increase in search ad conversion.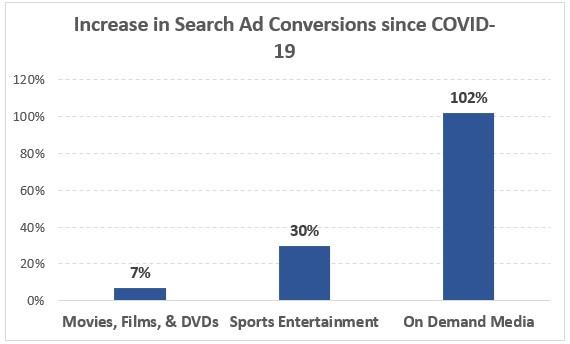 Beauty and Personal Care
Some personal care items like soap and hand sanitizer have been in especially high demand since the COVID-19 outbreak. One more reason for increased searches was panic-buying when people were feeling insecure. Others wanted to relieve stress and indulge themselves, so they were purchasing spa care items.
This led to a 41% increase in searches for beauty and personal care. Moreover, conversion rates have risen, and the CPC has fallen:

How Advertisers Should Respond to These Changes
Considering the aforementioned trends, advertisers need to adjust their campaigns to the new reality. Here, you can find recommendations based on current trends and user behavioral changes.
1. Avoid COVID-19 context
According to Google policies, advertisers are not allowed to mention "COVID-19" in their campaigns (even if you are not using them for profit-seeking). But it's also worth shifting your ads actively away from the new coronavirus related context. Add "coronavirus" and "COVID-19" as negative keywords and make a coronavirus exclusion list for Google Ads. The point is to stop reaching irrelevant, stressed searchers and not to waste your budget appearing close to the news about pandemic.
2. Adjust your PPC campaigns for less mobile traffic
Since mobile traffic is significantly dropping, it may be worth revisiting your current device-specific bid adjustments. You may have set up a mobile bid adjustment in the past, but now it's time to shift back to desktop.
To check the efficiency of device bid adjustments, use PromoNavi's Device Bid Adjustment Tool. The tool suggests ways to correct bids for different device types: PC, mobile, and tablet.

In this tutorial, you can read more about how the tool works and how to use it.
3. Revisit your ad schedule
The higher search volume between midnight and 3 a.m. is also less likely to convert, so it's advisable to bid down or even stop ad campaigns during these unprofitable hours. Consider day-parting strategies and use Google Ads Scheduling to fine tune your campaign performance by hour of the day and day of the week. Take a look at your actual metrics: a schedule with perfect performance in February can waste your money in May.
4. Consider Smart Bidding
Google's Smart Bidding can help advertisers adjust their CPC bids during this challenging time and shifting trends. It may be reasonable to rely on Google's machine learning algorithms that consider a wide range of contextual signals like a user's device, location, demographic, site behavior, etc., and then optimize your bids for conversions or conversion value. This could be helpful in digesting all the rapidly changing data.
5. Analyze your ad creative
People holding hands, laughing families, friends and coworkers, pictures from vacations and the like may not be the best visuals in a time of social distancing and quarantine. Pause those ads and develop new designs with people staying indoors and messages like "stay home" or "stay safe".
Also, conduct an audit of your ads, find ineffective ones, and fix them. Use PromoNavi's Optimize Ads Tool to find such ads. You can learn how to work with this tool here.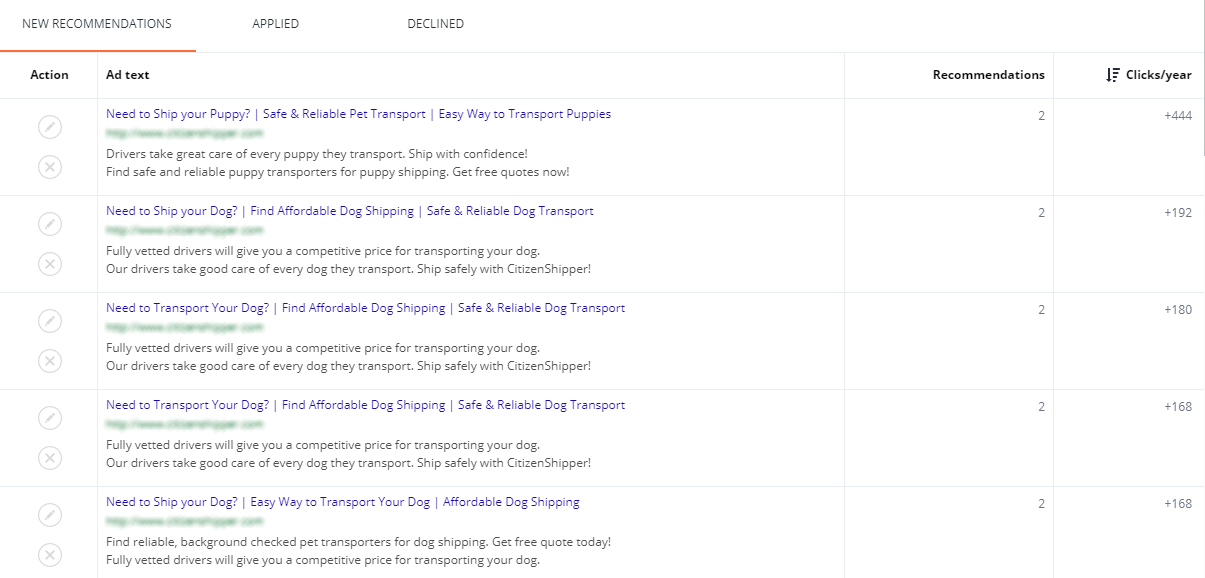 6. Do more display and YouTube ads
People tend to spend much more time watching videos online and scrolling their social feed, so advertisers need to adjust accordingly and put their efforts into display and YouTube ads right now. If your budget is quite tight, use these campaigns primarily for remarketing to bring past customers back to you. Return visitors are more likely to convert than new ones.
Ready to boost your Google Ads campaign performance? Link your accounts to PromoNavi and get recommendations on how to save budget and drive more clicks!
Sources