2020 was challenging for digital marketers. The COVID outbreak in spring resulted in a crucial drop in ad spend and forced PPC agencies to tighten their belts and revise their marketing strategies drastically.
What are the major challenges for this digital community in 2021?
We've projected the key trends that will influence marketers, PPC specialists, and business owners in their decision making in the following year. Keep on reading to stay up to date!
1. Increase in PPC Ad Spend, Despite the COVID-19 Outbreak
One can say that the uncertain path of COVID-19 and lockdown policies makes any of our predictions inaccurate. Nevertheless, we can say for sure that the end of 2020 is much more optimistic than the initial months of the year.
According to PromoNavi's Google Ads Spend Research provided in November 2020, we observe a clear recovery trend across all industries. Moreover, many of them have already achieved pre-COVID ad spend, while others will have to catch up soon.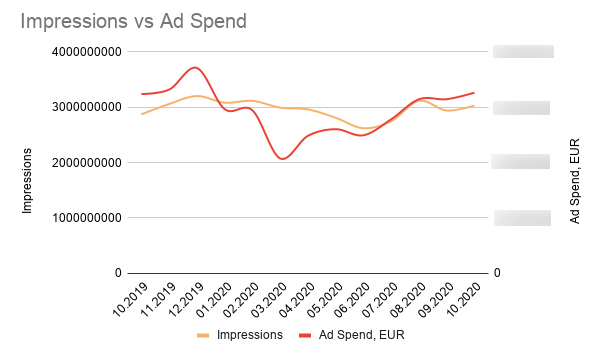 Even niches such as Travel & Tourism, which have dramatically dropped in spring, are now performing much better.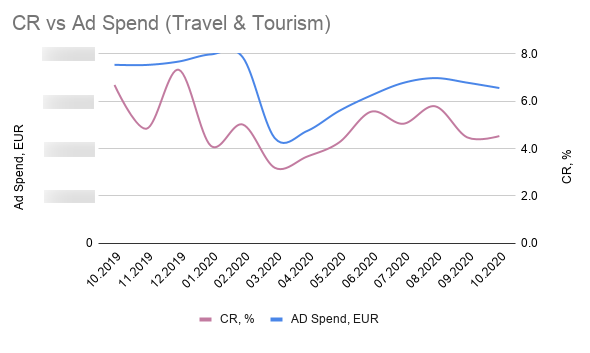 Why it matters. Consumers' expectations are essential for business growth. An increase in PPC ad spend is a clear signal for advertisers that the market is adapting to a new reality and leaving the crisis behind — meaning they can be more optimistic in developing growth strategies, instead of extreme cost-cutting.
2. In-Depth PPC Automation
The ongoing trend for PPC automation will be even more notable in 2021. Interestingly, the COVID crisis pushed advertisers to optimize their campaigns, which is why, despite the overall ad spend decline, conversions remained at the same level.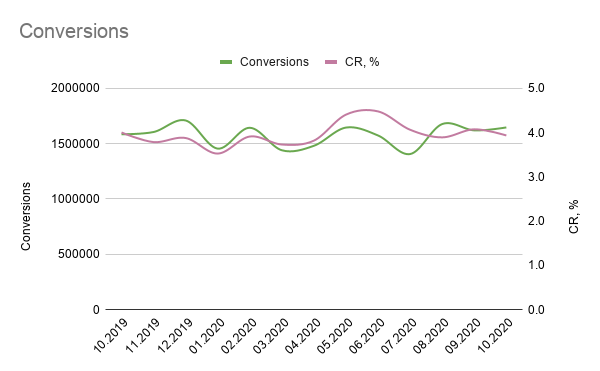 Why it matters. To catch up with your competitors, you shouldn't miss opportunities for PPC automation and optimization, from Google's Smart Campaigns, Automated Bid Strategies, and Dynamic keyword insertion to third-party tools that automate specific PPC tasks.
For example, with PromoNavi, you can automate the following tasks, saving hours each month:
Keyword collecting, grouping, and campaign building
Competitor analysis, including missing keyword research and ad scraping
PPC reporting with scheduled PDF reports and Data Studio template
Cross-account PPC performance tracking with interactive dashboards
PPC optimization, including effective keywords and negative keyword recommendations, broken links tracking, etc.
The other reason automation is essential is the new set of rules for Google Partners that will roll out in 2021; and this is another trend that is important to discuss.
3. The New Rules for Google Partners
In 2021, Google updates the requirements needed to be considered for Partner badge status.
Here is what will change for Google Partners:
| 2020 Requirements | 2021 Requirements |
| --- | --- |
| A company needs at least one Google certified specialist | At least 50% of eligible users should have updated Google Ads certificates |
| A company has to spend at least $10,000 across all managed accounts for the last 90 days  | The total ad spend across all managed accounts needs to be more than $20,000 for the last 90 days |
| The customer base and ad spend should grow sustainably  | The partner has to meet the performance requirement by applying at least 70% of the Google Ads recommendations. |
The requirements for Google Premier Partners:
2020 Requirements
2021 Requirements
A company needs at least two specialists certified in Google Ads
A company has to earn the new Partner badge
A company has to spend a certain amount depending on the country and media market
Annual ad spend across managed accounts, client growth, client retention, and other factors are taken into account
The customer base and ad spend should grow sustainably 
Why it matters. The new requirements are much more strict than in 2020, and you should be ready to meet them. For example, Premier status will be granted only to the top 3% of participating companies each calendar year.
Another point is the focus on the optimization score and recommendations. To become a Partner, you need to meet at least 70% of the provided performance requirements. At the same time, not all the requirements would be appropriate for PPC professionals. For example, one of the newest recommendations is to switch keywords to broad match. For many PPC marketers, the suggestion of using broad match keywords is frustrating. 
4. More Search Queries Hidden in a Black Box
In September, Google cut the Search Term report, explaining that this measure will protect users' personal data. We've analyzed the increase in traffic on unidentified search queries and uncovered up to a 40-60% decrease in search terms' visibility. 
For example, for the HoReCa online store, the decrease in visibility was about 50%, seen by the sharp rise in unknown search terms as follows:

For the online advertising platform, the decrease in search term visibility was lower – about 40%, but still significant:

For the online baby store, the drop was stunning – about 60%:

Why it matters. It looks like advertisers become blind in one eye because they can't control ad spend for up to 50% of their search terms. 
The associated problems with that are:
Less low-volume and super relevant keywords from the Search Query report are available.
Narrowing opportunities for negative keywords collecting from the Search Query report.
Google continues to pack PPC data into a black box, forcing users to shift to Smart Campaigns where they don't need keyword research at all. In truth, it's not a bad idea, considering limited open data and the new rules for Google Partners that will obligate them to meet at least 70% of Google Ads recommendations. 
Nevertheless, if you're skeptical about Smart Campaigns, you can find a solution in third-party automation tools that allow you to uncover relevant keywords and negatives. 
For example, with PromoNavi Keyword Planner, you can find keywords from three sources in one click. Various metrics for each keyword, including trend charts, filtering and grouping features, make keyword research fast and effective.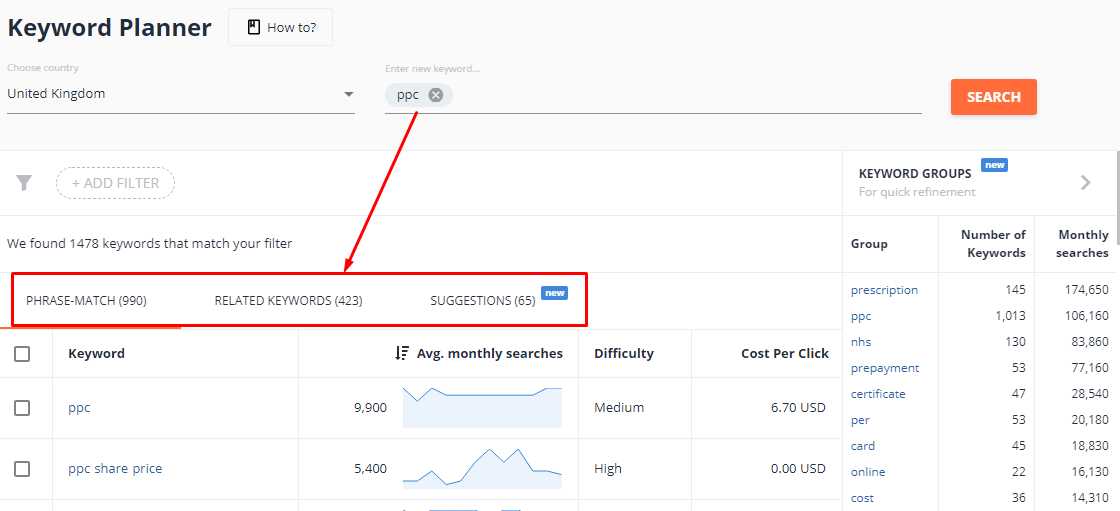 The other source of well-performing keywords is your competitors' PPC campaigns. You can scrape their keywords using the Competitor Analysis tool. The tool separates missing keywords, so you don't need to do additional work in Excel.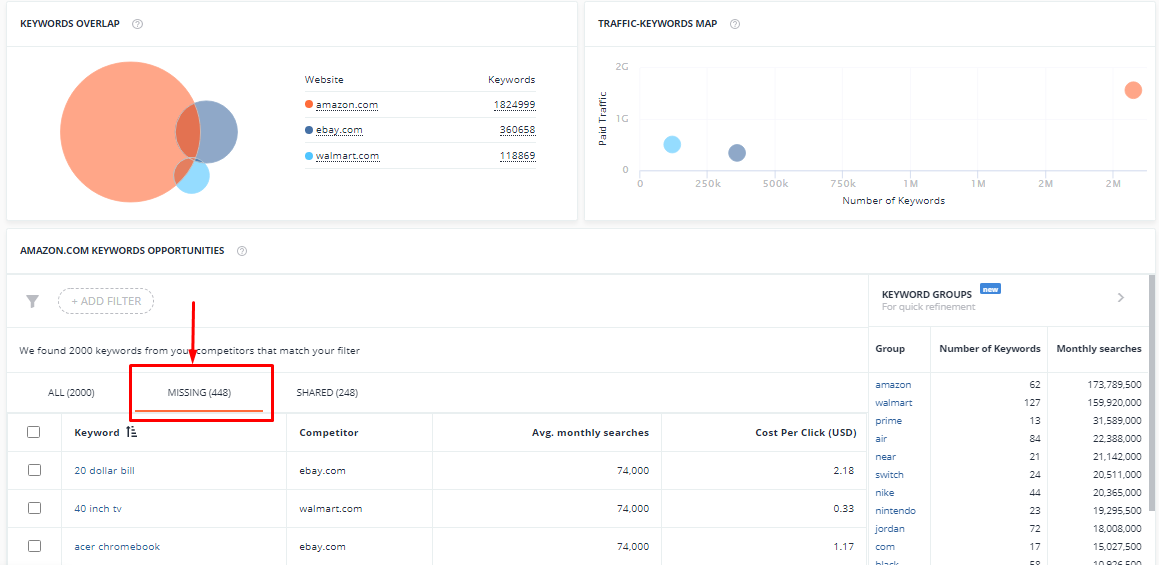 5. Google Analytics 4 Enters the Stage
On 14 October 2020, Google introduced the next generation of Google Analytics. Google Analytics 4 (GA4) is a totally new platform that allows users to track both website and app data in one place. 
GA4 is built around events, not sessions. Based on machine learning at its core, the new platform provides you with a complete understanding of your customers' behavior across devices and platforms.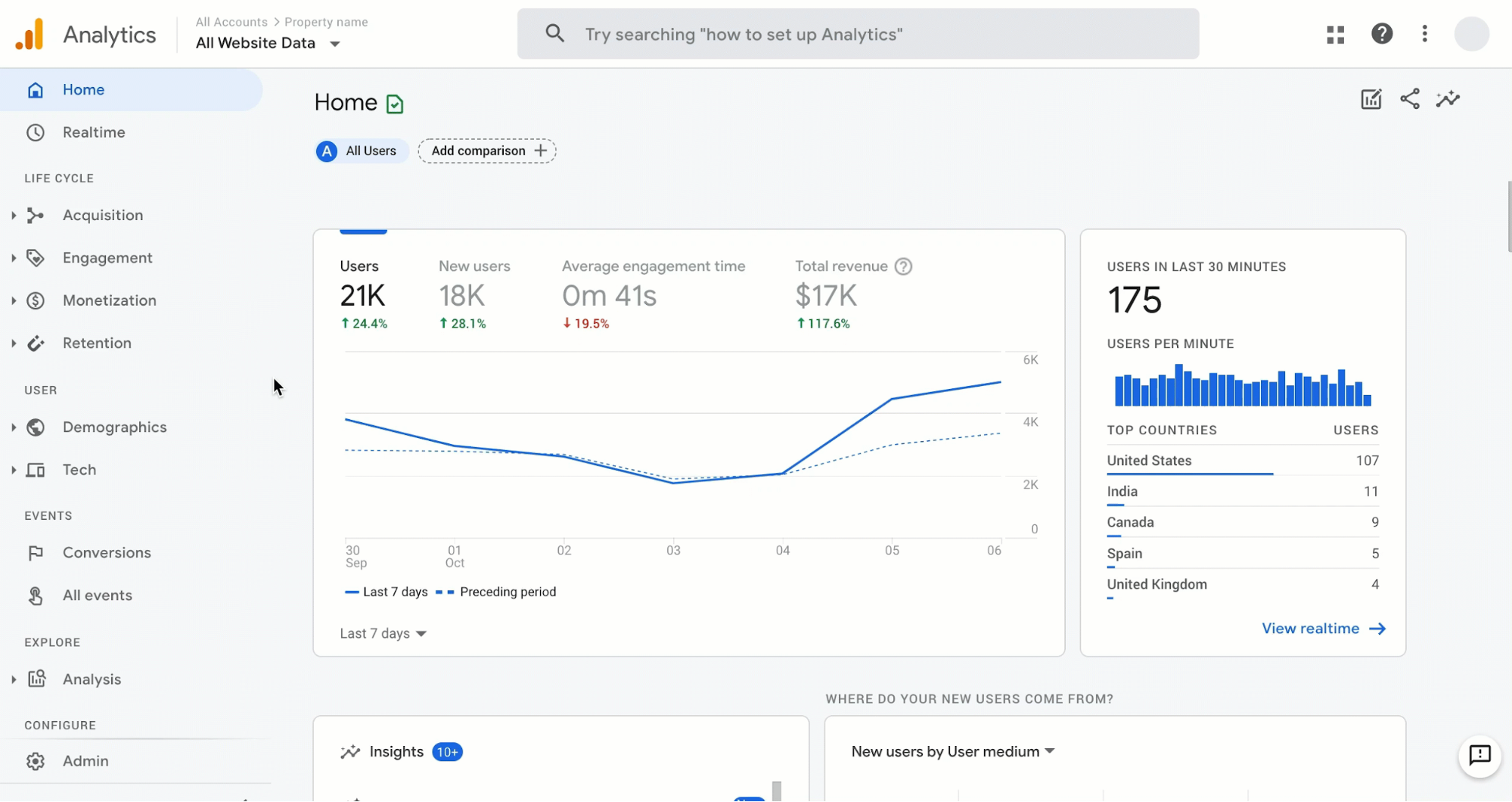 An example of a new reporting structure organized by the user life cycle (Source: blog.google)
Why it matters. GA4 offers marketers new opportunities that were previously unavailable.
Firstly, you can build and maintain audiences for Google Ads from the website and app visitors. Let's say the user qualifies into an audience list of users who didn't complete a purchase on the website. You set up remarketing on this audience. Later, the user completes the purchase on the app; the platform automatically removes this user from the remarketing list.
Here, GA4 reports on actions from YouTube-engaged views that occur in-app as well as on the website.

YouTube engaged-view conversions in GA4 report (Source: blog.google)
Also, GA4 provides marketers with more granular user data controls, codeless event tracking, reporting based on customer life cycle, and other features.
At the same time, all these advantages don't mean that you should forget about Universal Analytics. Even Google suggests using a GA4 property in parallel with Universal Analytics.
There are a few reasons for this:
The GA4, while functional, is still raw. For example, there are no views yet, so it is not well-suited to multiple teams; also, you can't upload data from non-Google campaigns and analyze their spend and ROAS.
Implementing GA4 will not be effective if you don't have a common data structure for both your website and app. 
Your website includes many subdomains tracked separately from each other.
Whatever shape it may currently take, GA4 is moving business to an era of predictive marketing, instead of a reactive one. You should be ready to follow the new trends.
To migrate to GA4, we recommend reading Google's manual.
To get profitable analytics insights across Google Ads accounts, link them to PromoNavi. On the Analytics Dashboard, you will see the essential performance data, visualized and interactive.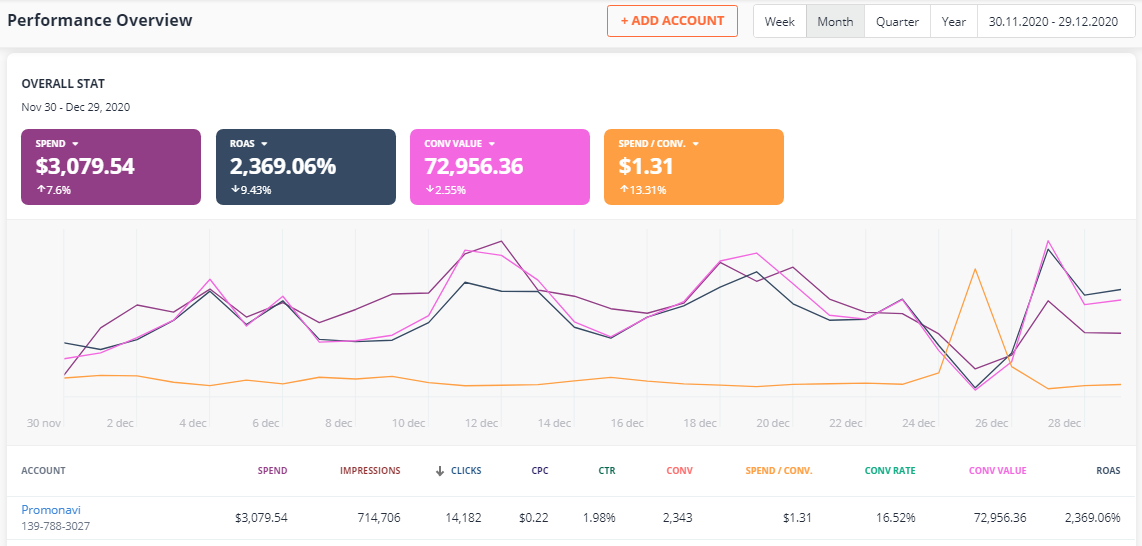 6. Enhanced Video Marketing Opportunities for YouTube Advertising
A Wall Street Journal study found that 83% of videos in Google search results come from YouTube. This video platform remains the most popular in the world, and every year it presents marketers with more and more opportunities. 2020 is no exception. This year in particular gave advertisers many more insights into YouTube campaigns, new ad features, and the ability to create ads directly in the YouTube interface.
Let's take a closer look at some new features.
In April 2020, YouTube launched Video Builder, an ad creation tool for businesses. It allows users to create 6- or 15-second ads using animated static assets (images, text, and logos).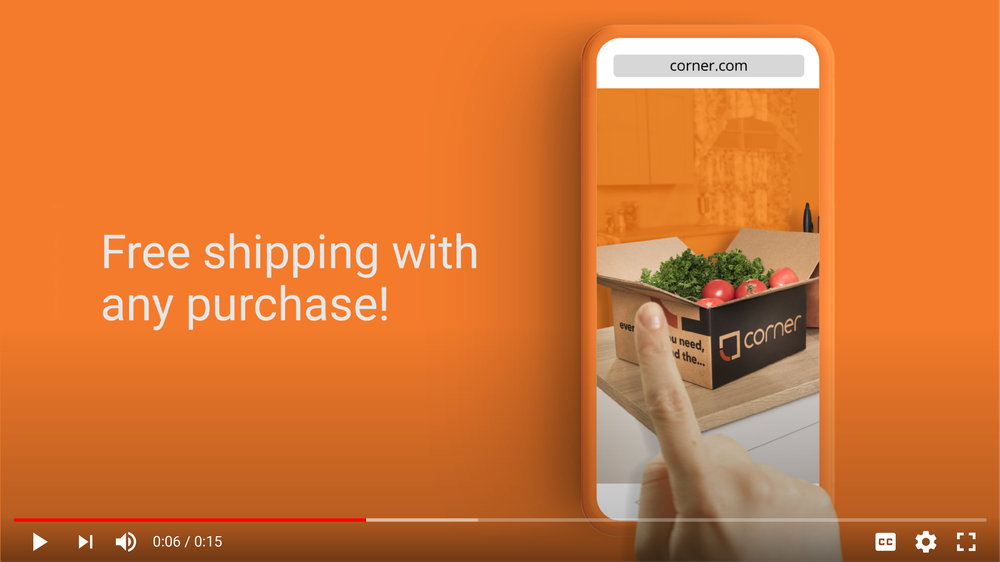 An example of a Video Builder layout
Notice that Google extended lead forms to YouTube Discovery ads. So, advertisers obtain one more way to connect with targeted audiences.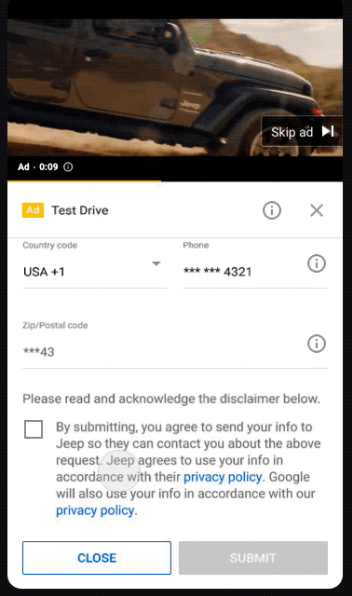 An example of a lead form on YouTube
One more long-awaited update concerns cross-network attribution. In October, Google Ads rolled out in beta YouTube ads in attribution reports. Within the Measurement > Attribution section of Google Ads, you can analyze the impact of YouTube ads, alongside Search and Shopping ads.
Why it matters. With these features, YouTube becomes more friendly to small advertisers who don't have many resources for video production. At the same time, new ad features such as lead forms and Shoppable TrueView for action drive more opportunities to attract customers. In addition to this, the YouTube ads data becomes more integrated into Google Ads attribution reports — meaning that you will clearly understand the impact of YouTube advertising. Considering this, we strongly encourage you to try YouTube ads in 2021, if you haven't run them before, and see how it can expand your opportunities in PPC advertising.
7. Free Opportunities for E-Commerce
The COVID crisis pushed the major social platforms and search giants to make a step towards online stores. 
In April, Google opened its Shopping search results to unpaid, organic listings. This measure helps retailers reach their audience, regardless of whether they advertise on Google. 
The next big shake up for Google's commerce efforts this year is commission-free access to Buy on Google, as well as integrations with third-parties such as PayPal, Shopify, and WooCommerce.
In August, Bing followed Google's example and opened up its Shopping results to free product listings. Social networks did not stand aside, as well. In May, Facebook launched Facebook Shops, a free service that allows businesses to create an online store on Facebook and Instagram. Also, Pinterest rolled out commerce features to its mobile app, including a new «Shop» tab. 
Why it matters. Whether your marketing budget is extensive or low, you have access to a variety of free marketplaces. For example, you can sell goods on Google Shopping for free, while Amazon charges 8-15% per item sold. It's good news, especially for small businesses with low advertising budgets. We recommend you to try new free features for e-stores to expand your audience reach.
Boost your Google Ads efficiency! Link your PPC accounts to PromoNavi to automate everyday tasks and receive valuable recommendations on how to improve your campaigns. With PromoNavi, you can do keyword research, competitor analysis, automate reporting, track your PPC performance on the Analytics Dashboard, and get profitable PPC optimization recommendations.