Briefly about the importance of a PPC report to evaluate the performance of an ad campaign.
The golden rule is that you should not launch a PPC campaign without first preparing reports to reveal the performance of your investment. Smart marketers prepare report templates long before starting work on the ad campaigns themselves. And the rest have to face budget waste because they didn't prepare reports in advance.
The PPC report is important for determining ROI and the performance of other KPIs. PPC report templates are used by digital agencies running advertising campaigns for clients, as well as by paid search marketing professionals who need more than simple Google Ads report templates. As opposed to creating reports from scratch or working with PPC spreadsheets manually, there are clear benefits to using automated report templates.
In this article, we'll cover what a PPC report is, what metrics you should include in it, and the difference between a regular report and a digital agency report. You'll also learn about ready-to-use automated PPC templates that are specifically designed to make marketers' work faster and easier. You can use these reports to analyze PPC campaigns, optimize budgets and conversion costs, manage ad campaigns, and make business decisions.
Difference Between a Regular Report and an Agency Report
To understand the difference between a regular report and an agency report, you need to know what a PPC report is. A PPC report is a marketing tool used to show and analyze results of ad campaigns. This is a clear way of presenting key PPC and KPI metrics to clients from multiple data sources.
If a simple report contains data from only one source, then an automated report collects data from several channels, compares it with each other and highlights the most effective ones. A simple marketing report is created and used by all marketers. But the digital agency's report covers all advertising promotion channels at once and represents a complex analysis of a large amount of data.
What is a PPC report
A PPC report is an analysis that reveals the performance of your pay-per-click ad campaigns. The PPC report completes the process of collecting, organizing and interpreting advertising metrics to improve the effectiveness of ad campaigns and strategies. The report shows how PPC campaigns are helping achieve business goals and what can be improved.
It includes the following essential metrics:
click-through rate (CTR)
cost per click (CPC)
conversion rate
return on investment (ROI)
Whether you're a small business or a marketing agency owner, a director or a marketing manager, you should include these metrics in your report to show the value of your PPC campaigns to stakeholders. The difference between a simple PPC report and an agency PPC report is that the first one is usually created manually and contains limited data, while the second one is an automated template with a large amount of data.
Why an Agency Needs a PPC Report Template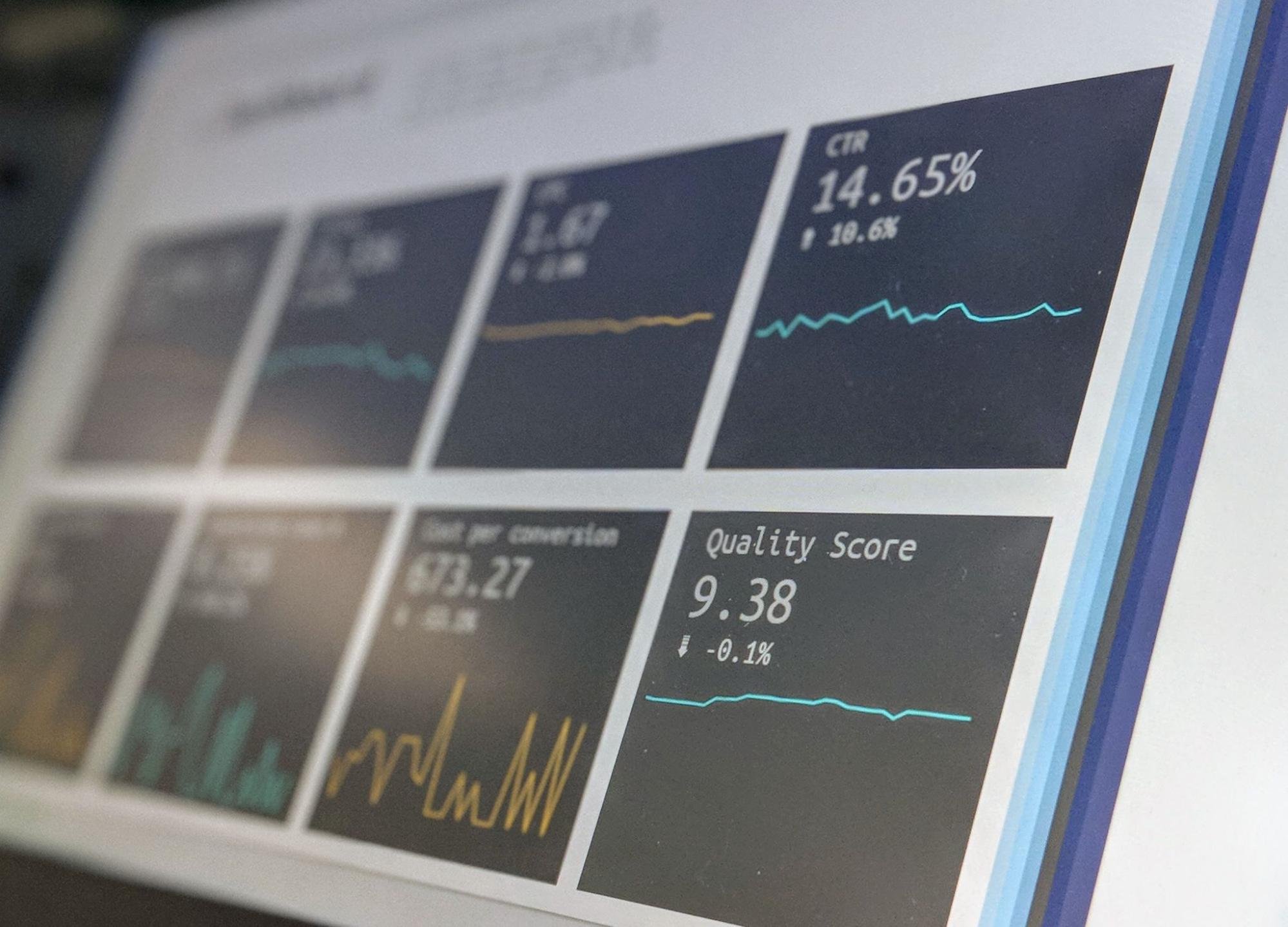 Photo by Stephen Dawson on Unsplash
Paid advertising data can be challenging for newbies without marketing experience. This is especially true for PPC campaigns with a significant amount of data, metrics, and acronyms. However, a PPC report template for collecting and presenting this data helps make the analysis easier to understand.
There are 3 main reasons for PPC professionals to use templates in their reports:
One benefit of using PPC report templates is that they're ready to go. You just need to decide if the set of graphs and tables suits your needs better. Also check the sources used in the report and the availability of all necessary PPC data. Then simply use the report in the familiar interface.
Possibility to personalize or deconstruct any premade report. Although your PPC reports are unique, you can still find plenty of ideas for your own PPC report by browsing through ready-made templates. The best reports are always a compilation of other successful reports.
Easy to use and multiple reporting platforms. With the platforms, you can easily share, edit, access and explain any template that works with your data. Some templates are easy to work with, others are more difficult. It all depends on the experience and skills of the marketer.
What Should a Report From an Agency Include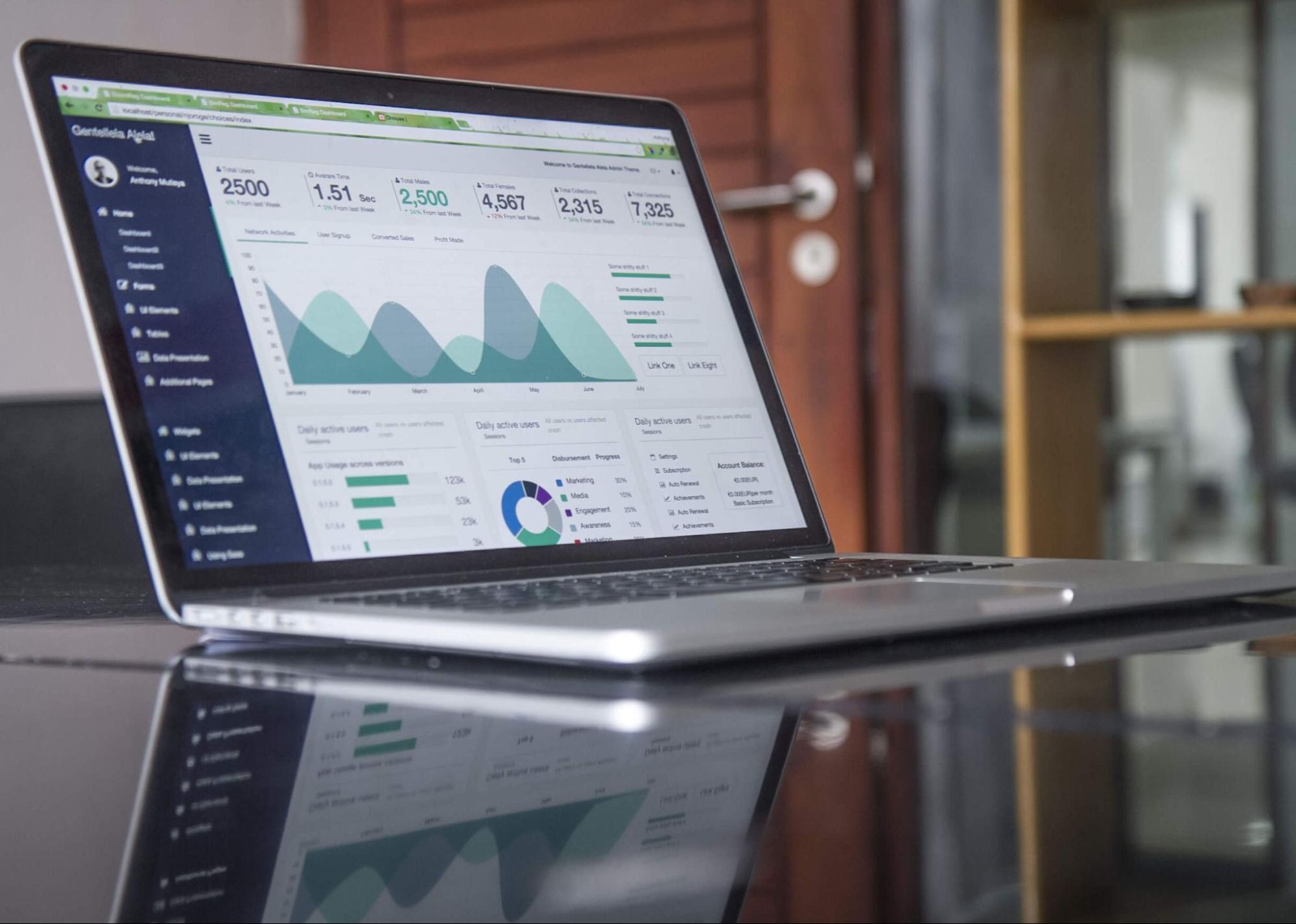 Photo by Carlos Muza on Unsplash
Depending on the metrics and KPIs you need to track, the PPC report template includes the most common:
Goals widget to always stay up to date with your results and see how you are achieving your goals.
Key metrics such as cost, impression, conversions, keyword performance, clicks, cost per click.
Necessary comments on the report explaining any performance spikes or drops.
Tables, graphs, and charts make it easy to track customer behavior and learn about current trends.
But this is not all the data that a complex PPC report for a digital agency should include. Let's talk in more detail about the metrics that should be reflected in the report. Depending on the type of report, the final analysis will include different information and metrics.
PPC reporting typically focuses on cost per click and cost per acquisition. It is also recommended to include separate graphics for the most important aspects of an advertising campaign. To be clear, you should include a variety of visual elements, such as different types of graphs for different metrics.
Dates and timeframes
The PPC report provides regular updates on ad campaigns, their KPIs, goals and other information. Keep track of the advertising process for proper reporting. For more accurate results, you should indicate when the ad campaign began, how much time passed before adjustments were made, and when it ended.
Campaign goal
Every campaign has a specific goal that needs to be achieved. Common objectives include improving brand awareness, generating leads and prospects, targeting existing customers, boosting social media, and increasing conversion rates. The goal should be included in the PPC report.
Previous campaign data
Including some data from recent campaigns allows for a brief discussion of what went wrong, what went right, and why it happened. This can be used to compare the current performance with that of a previous campaign. You can also track patterns that have developed over time as well as strategies to eliminate or use in your future campaigns.
Attribution models
Attribution modeling data allows you to give credit to the touchpoints and marketing channels that have converted a lead. Taking note of the attribution data helps to determine what's currently working, how to improve the customer's path, and what to tweak in your PPC campaigns. Tracking revenue from multiple attribution models provides insight into how an ad campaign is driving sales. It also shows more accurate ROAS and quickly identifies which ads are winning over new customers and which ones aren't.
PPC metrics
A PPC report wouldn't be complete without a set of metrics that measure the success of your ad campaign. Depending on your goal, you can display key metrics such as click-through rate, cost-per-click, conversion rate, cost-per-acquisition, return on ad spend, etc.
CPC
Cost per click (CPC) should be included in your reports. A good CPC is determined by the cost of earning on each conversion. If you have a high CPC and a good conversion rate at the same time, you will still get a good ROI.
CPA
The most important metric is the cost per acquisition as it affects business value. Keeping an eye on this number starts a discussion with the sales department about what needs to be changed to maximize each incoming lead's value.
CTR
Another related metric to include is click-through rates (CTR). CTR shows the performance of your PPC campaigns. CTR under 2% indicates that you are losing revenue.
ROAS
The metric that is closely related to CPA is return on ad spend (ROAS). It often makes sense to optimize both of these metrics. Every business wants a PPC report to show the number of conversions received over a specific date range, as well as the value of those conversions and the total revenue they generated.
Conversions
A PPC report should be able to answer the question of whether the campaign achieved the desired result. This is why you should track conversions, as this is a key PPC metric. By comparing current conversions with the previous results, it is easy to evaluate the effectiveness of advertising. These conversions may include phone calls, contact form submissions, sales from ecommerce, etc.
Targeting
To run more than one ad, it is essential to segment a PPC report by ad groups or targeting. This will help you understand your audience to strategize future spending, as well as understand your customer as a business.
Monthly data
It should be easy to view your PPC campaign metrics over time. Beside the key performance metrics it's important to evaluate month-over-month data. This helps to analyze the change in results and find out the reasons for the change in performance compared to the previous month.
How to Automate a PPC Report For a Digital Agency
Paid search campaigns include a wealth of data, from ad costs and conversions to CTR and ROAS. We offer you easy access to two types of PromoNavi PPC reports that meet your demands, regardless of your needs. They are Looker Studio Reports and Scheduled
PDF Reports. With our automated PPC report template, all you have to do is plug in your data and you're ready to start reporting.
The benefits of Looker Studio Reports:
A complete dataset for in-depth analysis
Always available online
Interactive and customizable
Real-time data
Filtering options
Data analysis in more than 15 unique pages
The benefits of Scheduled PDF Reports:
White labeled
Scheduled & automated
Contains all key metrics & charts
Include competitor comparison
Include work done on account history
Previous reports remain saved and available for you at any time
Our PPC report templates meet your and your clients' reporting needs. Using these reports, you can view data from popular platforms and collect relevant metrics in one place. Create engaging PPC reports in PromoNavi in minutes and deliver them automatically.
Looker Studio Report Features
Dashboard with easily visualized data on key metrics and daily details with an overview of performance compared to previous periods.
Dynamic charts by day, comparing trends and periods for quick understanding of your main competitors' performance.
A total overview of statistics by target group discovers the difference among audiences that interact with the different ad campaigns.
A sales funnel helps you quickly analyze the most important information for you and your customers.
Promonavi PDF Report Features
Contains all key metrics
Compares your performance with competitors
Displays the history of work performed in the account
Customized reports to reflect your branding with a complete white label solution
Scheduled reports in PromoNavi interface to be emailed directly to your clients
Improve your PPC strategy by having access to accurate, automatically pulled data. Track and analyze clicks, CTR and CPC as well as customer behavior and their demographics. Highlight your campaign results to quickly identify ad performance. Measure current and previous performance data to recognize key trends and customer behavior patterns. These automated PPC reporting templates will help you determine which ads are generating the most clicks and conversions across different platforms.
Conclusion
Analysis and reporting is the final PPC piece in the big picture. PPC reporting is critical to your digital marketing strategy, as it shows your ad campaigns' performance and helps you make data-driven decisions. Understanding key metrics and using PPC reporting tools leads to successful optimization of PPC campaigns, attracting more leads and increasing sales.
After investing time and effort in keywords optimization, bid strategies, ad copy and landing page design, it's time for reporting as a way to monitor ad performance. Collecting, presenting and decoding PPC data can be difficult due to the big data, but with the right knowledge and tools you can get powerful insights. Businesses who take time to implement effective PPC reporting practices will be better positioned for success.