People are spending more time on their mobile devices than ever. People shop, read books, search for recipes, and make hair salon appointments on their smartphones. Not to mention how religiously people check their phones for new notifications, messages, and emails. Screen time varies, of course, depending on age, location, occupation, and interests, but it is true that reaching someone is easier when it involves a mobile device.
As a marketer, you'll probably agree that we must take advantage of the world's obsession with their smartphones and maybe you already have plenty of mobile marketing ideas. Keep in mind that You could use different tactics to reach your customers, including apps, messages, notifications, etc.
The global pandemic has changed the way people shop. Time spent on shopping apps on mobile devices increased by 45% worldwide in 2020 compared with the previous year. Whether you decide to run a mobile app or not, the opportunities are there.
In this guide, we've collected the trendiest mobile marketing strategies and the pros and cons of using them. Read on and take notes on how to drive traffic to your brand.
What Is Mobile Marketing
Mobile marketing is a digital marketing strategy that uses multiple channels for advertising to consumers using smartphones and tablets. Mobile device features such as SMS, push notifications, social media, and mobile responsive websites are used in mobile marketing.
Mobile marketing is one of the most effective methods to use. It is also less expensive than other common marketing strategies. It is immediate, highly personalized and can be location-specific and targeted. Studies show that 79% of smartphone users have made a purchase online using their mobile devices in 2022.
Mobile Marketing Strategies
There are many ways of using clients' mobile devices in marketing. This guide will focus on the seven most important ones, including mobile websites, SMS, social media, location-based marketing, apps, in-game advertising, and notifications.
1. Mobile Websites
We like to think that most brands have already optimized their websites for mobile. And if you have not, you must do it ASAP, as it is crucial for the success of your marketing strategy. It is not just a suggestion but a new norm in today's digital world.
Not having a mobile-friendly website will not only discourage users from browsing your website if they happen to open it on their smartphone but will also put your website at the bottom of the search engine. Make the user experience your top priority and optimize your website for mobile browsing.
2. SMS Marketing
SMS marketing is marketing via text messages. It is a permission-based mobile marketing strategy, in which brands send promotions, deals, coupons and other alerts straight to potential customers' phones via text messages of 160 characters or less.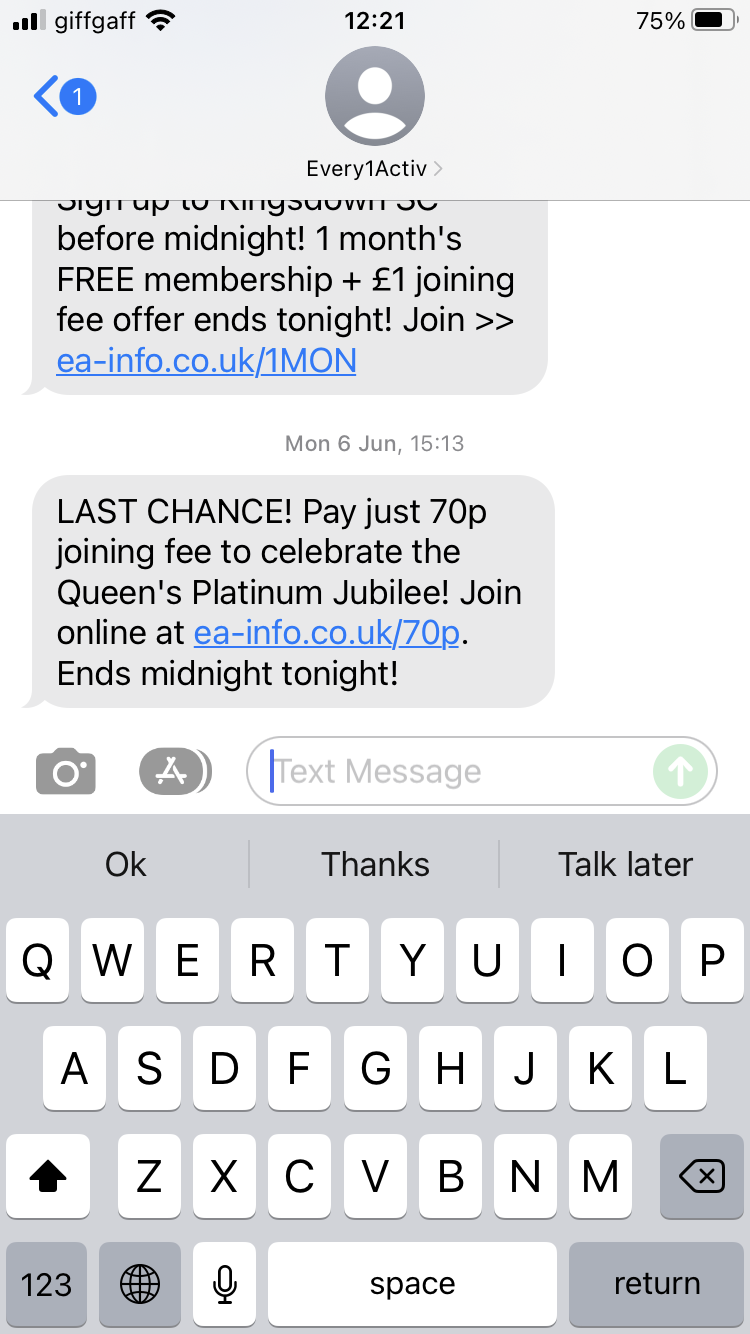 Example of SMS marketing.
A Finnish news company shared the first mobile ad via SMS as early as 2000. Texting was still new back then, but marketers were already thinking ahead and seeing its potential. Only eight years later, big brands started creating text messaging campaigns. Since then, SMS strategies have changed, but their effectiveness is still the same.
SMS open rates range from 90-99%, which means people will see your message. 90% of SMS messages are opened within 3 minutes, and 99% – within the first 20 minutes. That's because most people have their phones with them most of the time. If you are advertising a time-sensitive deal, SMS is the way to go! There's always a feeling of urgency associated with text messages.
Also, more than 50% of companies still don't use SMS marketing, which puts you ahead of the competition.
Make sure there's always an opt-out option to make the most of your text marketing. And don't overuse SMS! Otherwise, you are at risk of being ignored. But when you do send a text message, include coupons, promotions or discount codes. Since text messages are so short, many marketers include a link where recipients can get more information.
3. Social Media Marketing
While SMS might seem like something from the last century, social media is still pretty much in. New platforms like TikTok are becoming more popular, and new advertising formats emerge, including influencers and in-app purchases. With social media, you can reach many customers simultaneously, and with the targeting options, you can make your message personal and connect with your customers. All of it signals that it makes sense to use social media as one of your main mobile marketing strategies.
Some companies still decide to focus on organic (not sponsored) media posts, and it is one strategy. Yet, it's better to use social media advertising to guarantee that you'll get the most out of your posts and get your message in front of the right customers. Facebook, Twitter, Instagram, and even Pinterest and LinkedIn allow you to customise and promote your ads for a fee.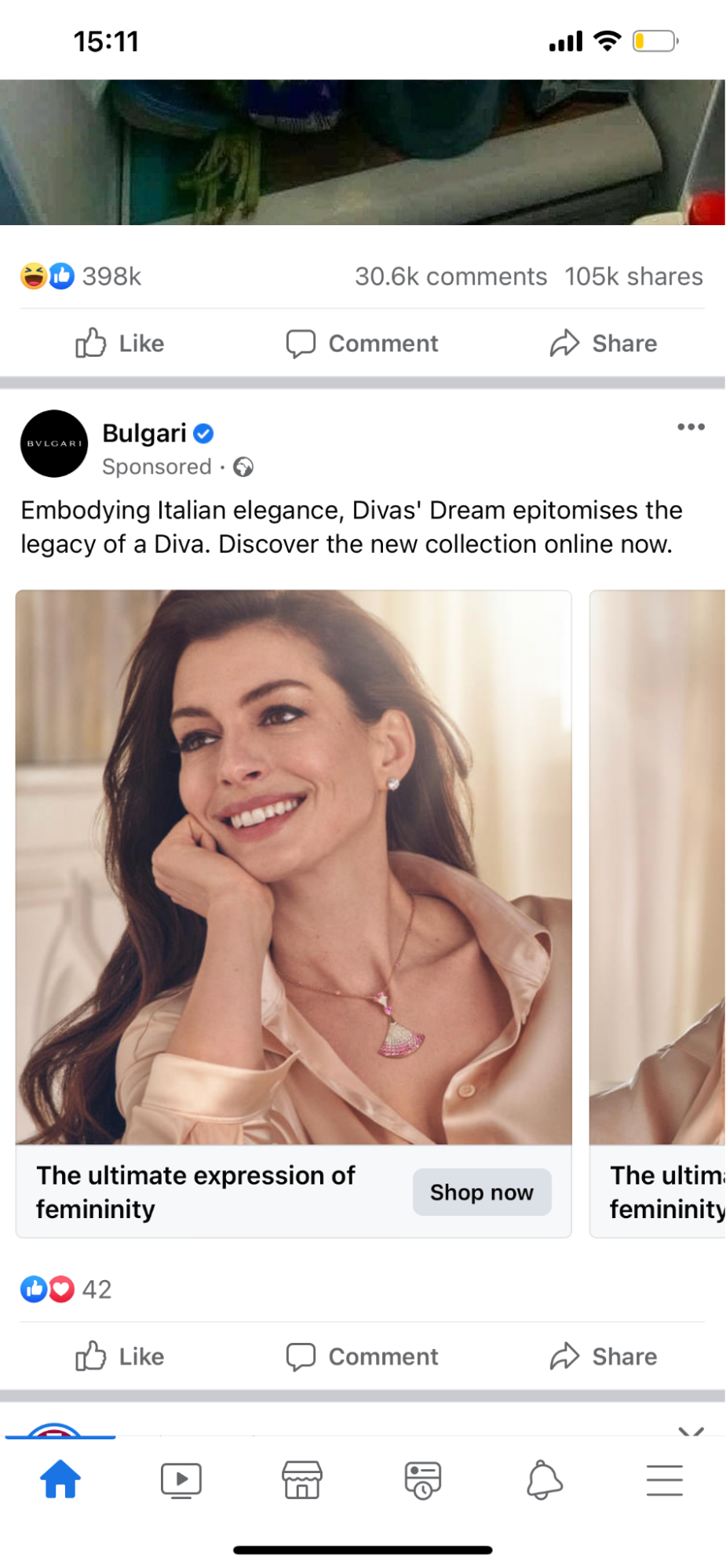 An example of a sponsored Facebook ad within a user's feed.
One of the things that would benefit your social media campaign would be finding out what channels your customers use the most. Surveying your existing customers could be one way to do it . With that information in mind, you'd be able to focus your energy and budget on the social media with the most potential.
Whatever social media you choose, ensure that there is a clear branded profile with relevant content. Don't post too much or too little. Consider partnering with influencers, collaborating with other brands and running giveaways.
The most successful social media marketing campaigns encourage user-generated content. Don't forget that people have their mobile devices with them all the time and, therefore, can take a photo or make a video and immediately upload those to social media.
For example, KitKat's #HaveABreak campaign works this way, encouraging people to post when eating a chocolate bar. And people do post a lot; they want to be a part of it. And to be a part of it, you need to buy a bar. And after seeing your friend eating that chocolate, you might also want to buy one…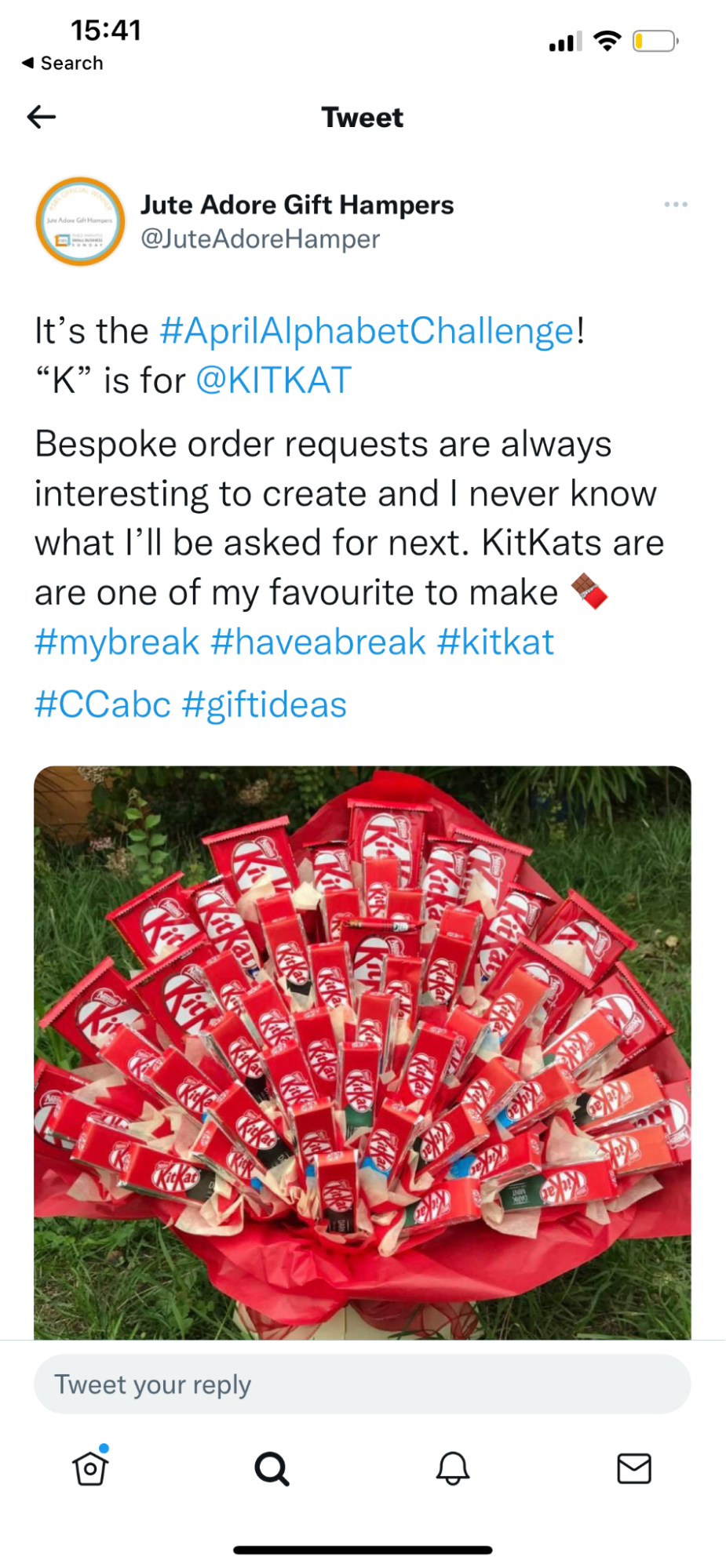 KitKat's user-generated #haveabreak Twitter campaign.
4. Location-Based Marketing
The most significant benefit of using mobile marketing is that it's location-specific. It allows you to create offers based on the location of your customers. Research shows that the global location-based advertising market is expected to grow by over 17% from 2022 to 2027. It is not surprising, as knowing where your customers are located allows you to send more personalised and engaging messages.
There are many ways to use location data when advertising. It is effortless if your business runs an app. For example, you may send a customer an invite to visit your store when they are nearby or send them a promotion when they are at your competitor's restaurant.
There are two ways to find the user's location – with the GPS function on smartphones or Bluetooth, also known as proximity marketing. Remember to read about customer data privacy and keep in mind that being stalked would scare your customers and hurt your campaign. Therefore, only use location-based marketing carefully and on rare occasions.
5. App Marketing
When you create an app for your business, you make it easier for your clients to shop, listen to audiobooks, or follow your workouts. You also make it easier for yourself to reach your clients by quickly notifying them about upcoming sales and promotions. Your clients will also have an option for in-app purchases, even if your brand does not sell goods but offers services.
However, it's also important to note that creating an app doesn't make sense for every business. You should carefully consider whether there's a need for an app and if you have the budget for it. Will it be profitable for your business to have an app? Will people be using your app, or will they forget about it after opening it once?
6. Notifications
Notifications are probably the one thing that mobile device users get all the time, several times a day, from different apps and even cards in their Apple wallet. Brands send a notification to users, mainly consisting of just a few words and advertise a promotion or invite to open the app.
You can send two types of notifications via mobile (push and pull notifications), and it's important to know the difference between the two to use them effectively. It's also worth knowing that users may not allow your app to send them any notification (without you knowing), which makes it difficult to track the success of this marketing strategy.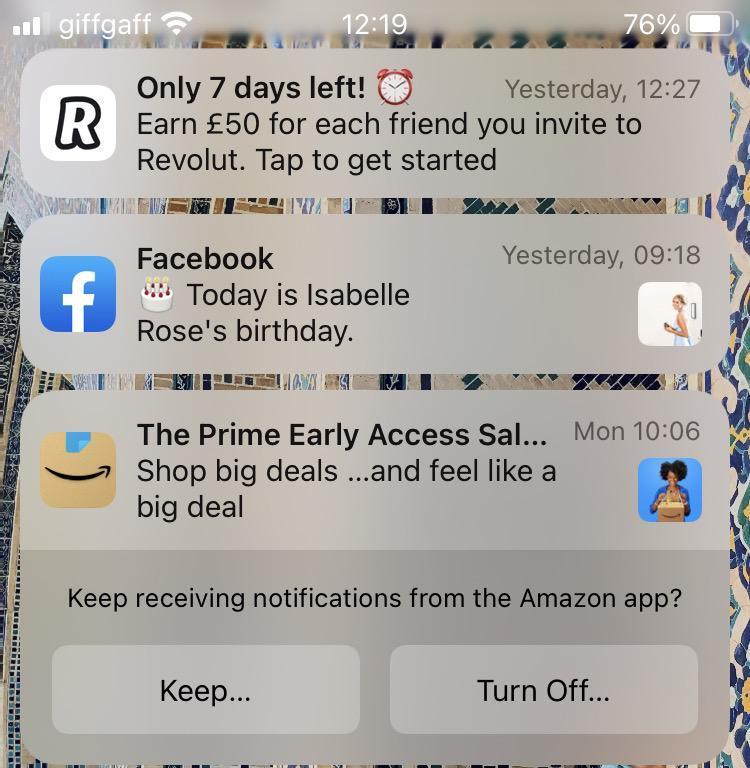 Example of push notifications.
Pull notifications
Pull notifications are received when you have already interacted with an app. Pull notifications are usually an update of some sort. For example, when a taxi app sends you a notification that your car is arriving, it is a pull notification. It is very personal and is not trying to sell you anything.
Push notifications
Push notifications, on the other hand, are less personal and aim to interest you in a new product, promotion or offer. When a business sends a push notification, they want the user to click on it and visit the app. For example, when an app of a clothing brand sends you a "Hurry up! Today is the last day of the Summer 22 sale.", they send you a push notification. It is not as urgent as SMS, but good, catchy wording can help you attract as many clients as possible.
7. In-Game Advertising
Did you know that 43% of smartphone use is spent playing games? Games dominate the app world, and most of them have free versions. How do they make money? They get it from advertising. If you've ever played a free game on your phone, you most likely have seen the ads yourself.
The truth is, a pop-up ad could irritate you as much. So bear in mind that if you choose in-game advertisement as your mobile marketing strategy, your ad will need to be fresh, catchy and maybe even funny not to prompt get a negative response from the players.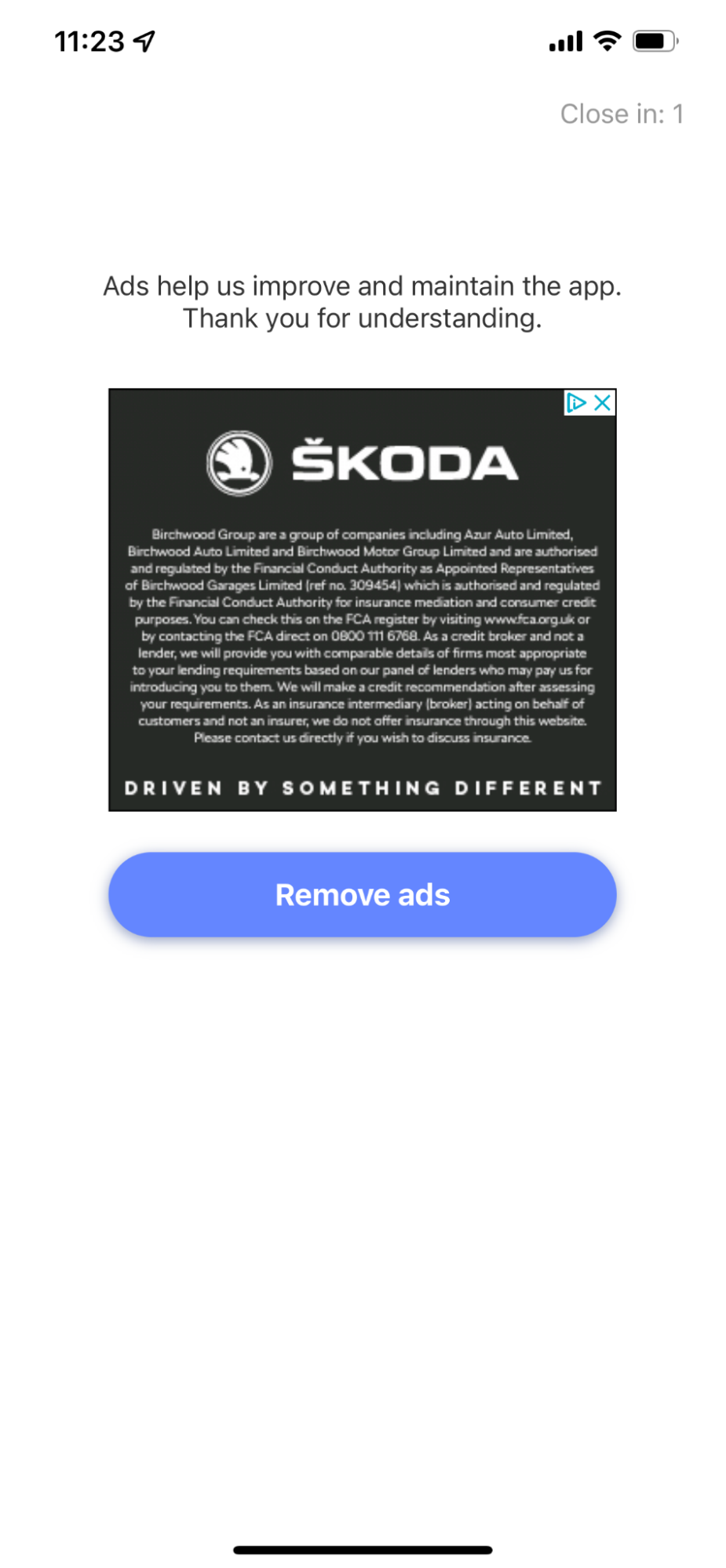 Example of an in-game ad.
Advantages and Disadvantages of Mobile Marketing
To sum up, now you know the top 7 mobile marketing strategies and might be ready to incorporate those to promote your business. Carefully choose what feels more natural for your brand, try it out and, if it works, invest more. Now, let's quickly go over the main advantages and disadvantages of mobile marketing.
Advantages:
Access to a lot of people
Cost-efficiency
Immediacy
Allows you to make the most of location
It can be personalised and it creates connections with customers more easily
Possibility of user-generated content
Constantly developing, new platforms emerge
Disadvantages:
No room to fix mistakes (it's already out there)
Risk of annoying customers
It does not reach those who do not use smartphones
Users must agree to opt-in to receive location-based marketing as well as notifications
Some techniques might seem invasive