At their first global event last year, Canva, a graphic design software company, claimed that the future would be visual. And in fact, 90% of the information processed by the brain is visual.
Traditional graphic design and illustration software, such as Photoshop and Illustrator, are expensive and require significant learning time and resources. However, free visual design tools come in handy if you are not a professional graphic designer and need to create an event invitation or an Instagram story.
Among free online design platforms, Canva is a leader. The platform offers room for creativity as well as some valuable design suggestions. Even though Canva's free version provides fewer elements than the paid one, it is easy to use and has a wide range of features. From its interface and a wide variety of templates to color-matching techniques, it is a go-to tool for people looking to create professional visual content. 
This article will review Canva's unique features and compare it to its competitor Adobe Сreative Cloud's free design tool.
How Canva works
Canva was founded in 2012 in Australia. More than 100 million users around the world use the platform today. In 2022, the company exceeded $1 billion in revenue.
Both free and paid versions of the platform are based on a point-and-drag approach to graphic design, making it easy to use even for those who have yet to gain experience.
Users can choose a template idea and customize the design using the platform's editing tools or create an image and text from scratch. The designs can then be exported as image files or PDFs.
Designed images are often created for social media posts, advertising campaigns, magazines, menus, and leaflets.
The platform's rising popularity has created a new way of earning for designers. Some designers sell their designs or posters on a third-party platform like Etsy or Amazon. Others have learned to sell their Canva templates, images, and files to those who want to do something other than design themselves.
Not long ago, Canva launched its Creators program, a platform for professionals to share and sell their works, and connect with other designers. The program provides access to exclusive content, templates, and tools, offering one-on-one coaching if required. Through the Canva Creators Program, developers have access to Canva's design engine and, therefore, can create new apps, features, integrations, and workflows.
Canva vs. Adobe Express
As we've mentioned, Canva and Adobe Express are competitors as both offer many excellent design features for free. Graphic designers love both. Let's compare the basic features of the two.
1. Templates
Unlike Adobe Express's rather limited free template library, Canva offers more than 250,000 templates. Some are for social media posts; others are for presentations, brochures, and more. Suppose you want to see only free templates, type in "brand:BAAMOuJH0Ec" or "brand:BAAAAP7rQ8M" in the search box. These secret codes will bring up only the accessible elements in Canva.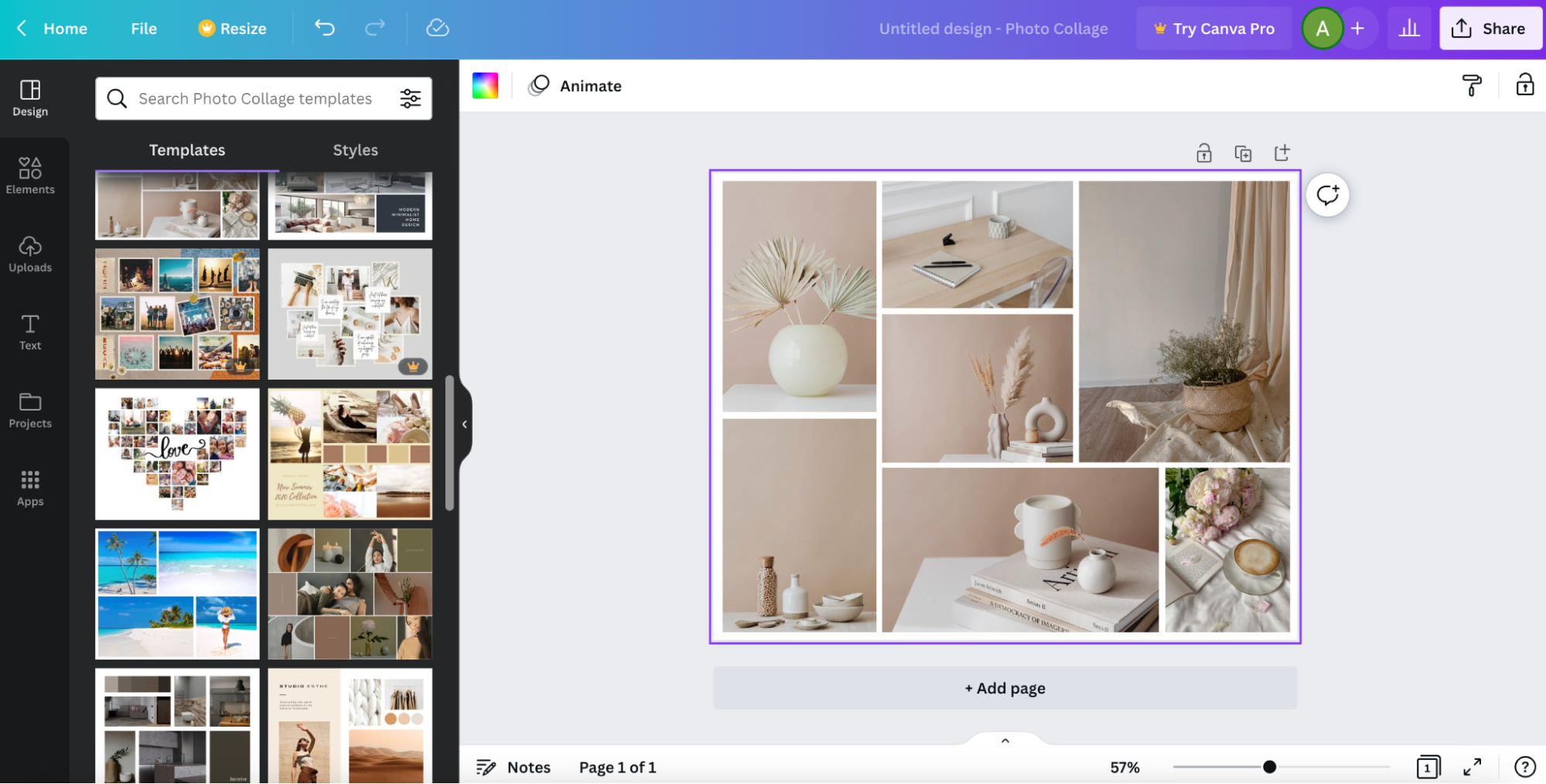 Canva's templates.
2. Image filters
When it comes to editing images, Canva allows adjusting brightness, contrast, and saturation as well as offers a lot of effects, such as blur, paint effects, and pixelating. Adobe Express also provides effects and filters, but the options are limited compared to Canva.
3. Interface
In terms of user-friendliness, Canva is a lot easier to use. The web interface is clean and intuitive. Canva's layout is easier to get used to than Adobe Express's; therefore, it is recommended for beginners.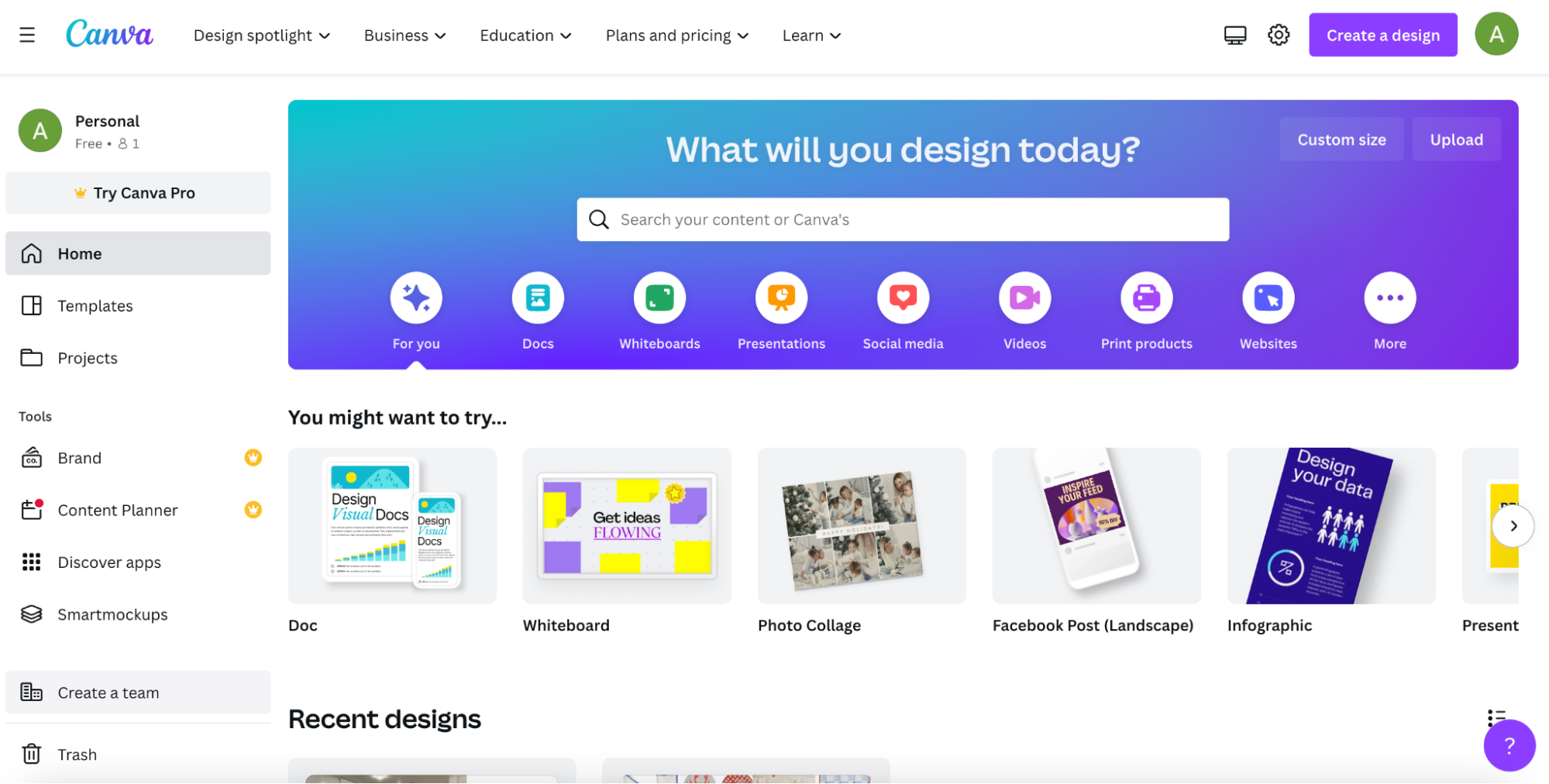 Canva's interface.
4. Video editing
Both platforms have a video section dedicated to creating videos using templates. Adobe allows designers to add elements, such as text, images, and effects, to the video, while Canva is better for creating videos from scratch or through its huge template library. Last year, Canva introduced a one-click video background remover to its paid version.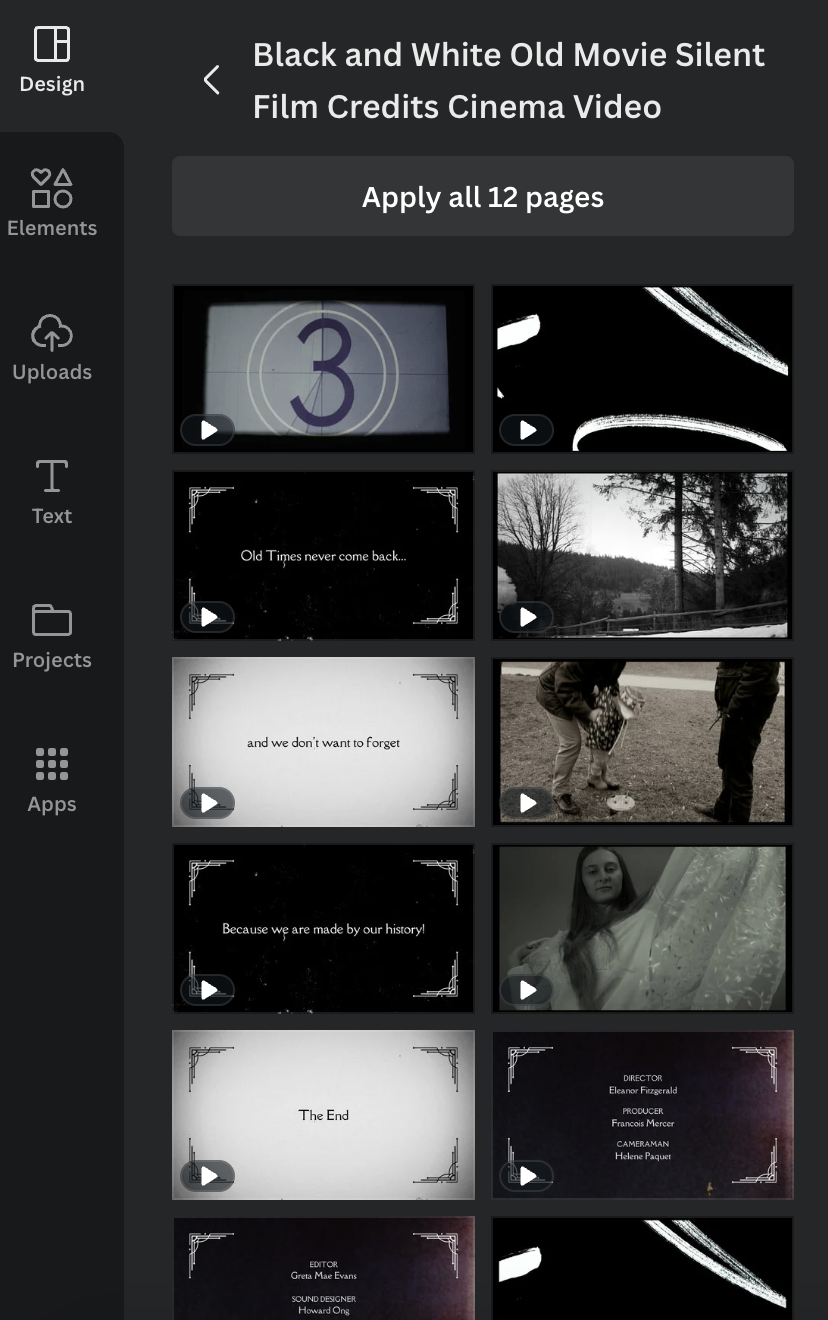 Canva's video templates.
5. Stock photos
Photos are crucial for graphic design. Canva and Adobe Express both provide a lot of stock images for free. While  users can access the enormous Adobe image library through Adobe Express, Canva offers designers more than one million photos and graphics.
Canva recently launched a text-to-image generator. The idea is that artificial intelligence can help designers find the images they are looking for, be it an 'a girl exiting a car' or 'a purple elephant'; the machines promise to generate the required images.
Here's how to use it:
Visit TextToImage.app in a web browser or search Canva for the «Text-to-Image» app.
Click to open the Text-to-Image app. It will appear next to the project you're working on.
Type in a phrase or use one of the suggested defaults to test it out. Wait for a few seconds. You'll be presented with four image options.
Drag a generated image into your project.
Adjust the image with Canva's built-in photo editor to your preference.
Download it or share a link to show off your new AI-assisted creation.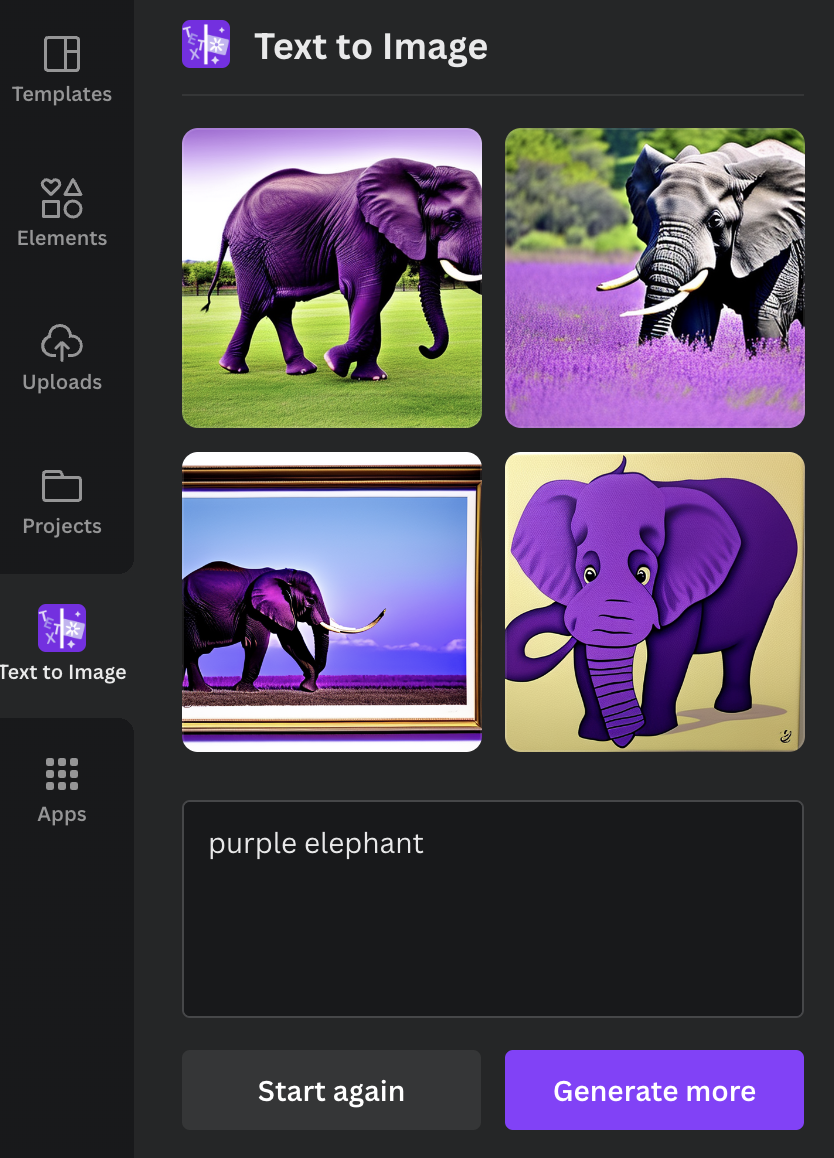 Canva's text-to-image tool in use.
6. Fonts
Canva and Adobe Express provide tons of fonts for free and even suggest interesting font combinations. Adobe Express categorizes their fonts, while Canva doesn't. To add a text box to the template you are working on, press the 't' key on your keyboard and get a text box immediately.
7. Color
Both design platforms offer great selections of colors and their shades. However, in this section, Canva went the extra mile and surpassed its competitor. Canva's color palette generator lets its users upload photos to the site, and it will automatically create a palette of shades based on the picture.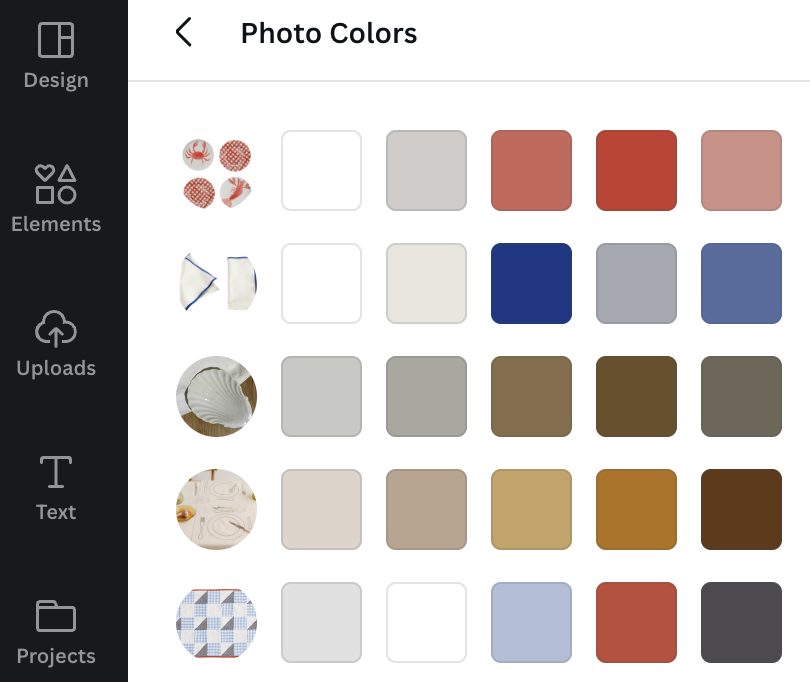 Canva's color palette generator.
Another exciting tool (which is often underrated) is Canva's color meanings feature. It is an excellent resource for adding symbolism to the design. It also comes in handy when explaining a color scheme to clients. In addition to explaining the meaning behind a color, the feature recommends shades that match the color.
Other unique Canva features and programs
Canva for Education
With Canva for Education, a free online platform owned by Canva, students can create presentations, posters, and other visual projects and assignments. Teachers can create custom templates for their students to use. The platform is great for educators and learners with its unique learning tools and image gallery.
Canva Print
Canva print enables high-quality, professional prints. Designers get to preview how their products would look on different paper types. Moreover, there is an option to prepare designs for prints on t-shirts, business cards, photo books, and more.
Canva Websites
You don't need to be able to program to create websites anymore! Canva website builder has hundreds of templates. With Canva Websites, you can turn your documents, presentations, and PDFs into simple, responsive websites. This feature allows for seamless content sharing. It is visual, modern, dynamic, beautiful, and secure.
If you want to add a QR code to your website that will take your clients to a social media profile or will give more information about a product, the Canva QR code generator will help you with that. The tool is in the design dashboard's 'More' section. It is easy to use: paste a URL in the text field, and it will create a QR code that you can insert into your design.
Whiteboards
Canva Whiteboards is the collaboration solution, allowing colleagues to brainstorm digitally in real-time. Whiteboards enable teams to work together on one project. Some unique tools that help to work productively in a group include concept maps, sticky notes, and diagrams.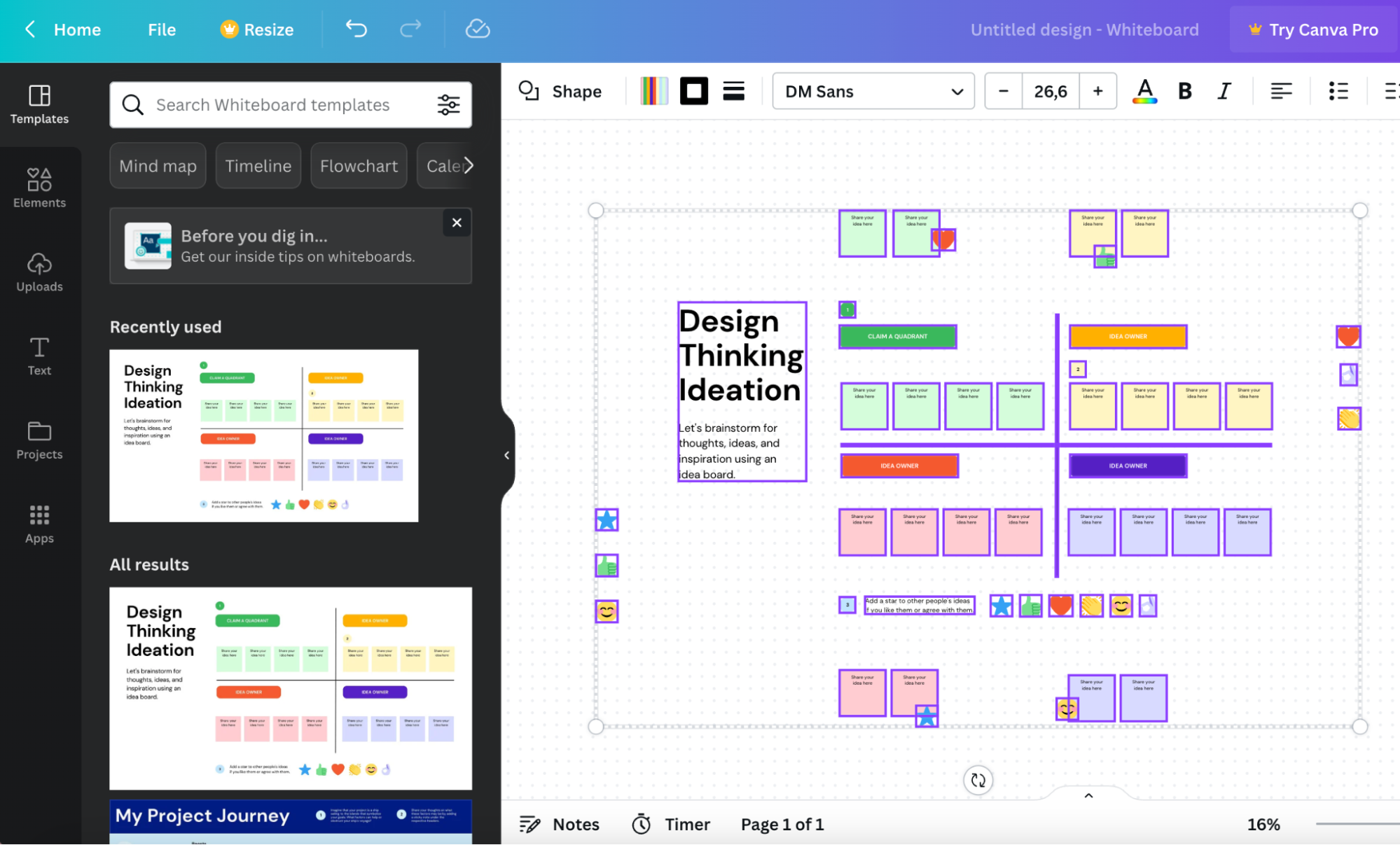 Final thoughts
Canva is easy to use; it has many features, templates, fonts, colors, and stock images. It is a great design tool for businesses and individuals who want to create high-quality designs without spending much money. If you need to create a visual quickly and you've never used design software before, Canva should be your starting point. Moreover, due to additional features like a one-click text-to-image generator and the possibility of turning PDFs into responsive websites, Canva skills are totally worth adding to your toolkit.