As a business owner, you probably have tried many advertising channels: billboards, Facebook, Instagram, Google search, you name it. We know sometimes it feels like there's nowhere else to go and that you have tried everything you possibly could to get new clients. But have you ever considered LinkedIn?
Yes, LinkedIn is a website that was long believed to be solely for the needs of job seekers and was underestimated by advertisers. Since then, it has amassed  850 million members across the globe and is now  the  social media platform that professionals use even when they are not looking to change their careers.
LinkedIn is a place where you can market your business without competing with the content made for entertainment. An ad on LinkedIn can reach 14.6% of the world's population. If someone is on LinkedIn, they  already have  a business mindset. The average income of that platform's user currently stands at $46,644 per year. You should consider adding LinkedIn advertising to your marketing strategy if your target audience is Millennials, as LinkedIn is known to be very popular among 18-24 year olds. LinkedIn is one of the best platforms to promote job-related products and services. It works incredibly well with B2B.
In this article we will go over advertising on LinkedIn. However, before we can get there, make sure you have  a great-looking and fully filled-out business page, as it is crucial for a successful start.
Creating a LinkedIn business page
It would be best if you invested considerable time in creating your LinkedIn business page. It shouldn't take more than an hour, so don't be put off , but still do it diligently. Why is it so essential to provide all the information LinkedIn asks for? Because according to LinkedIn itself, complete business pages get 30% more views. Fully completing your business profile also unlocks great advertising tools like Content Suggestions.
Once you are logged into your personal page, find the Work tab in the upper right-hand corner of your home screen, click on it, and at the very bottom, choose to Create a Company Page.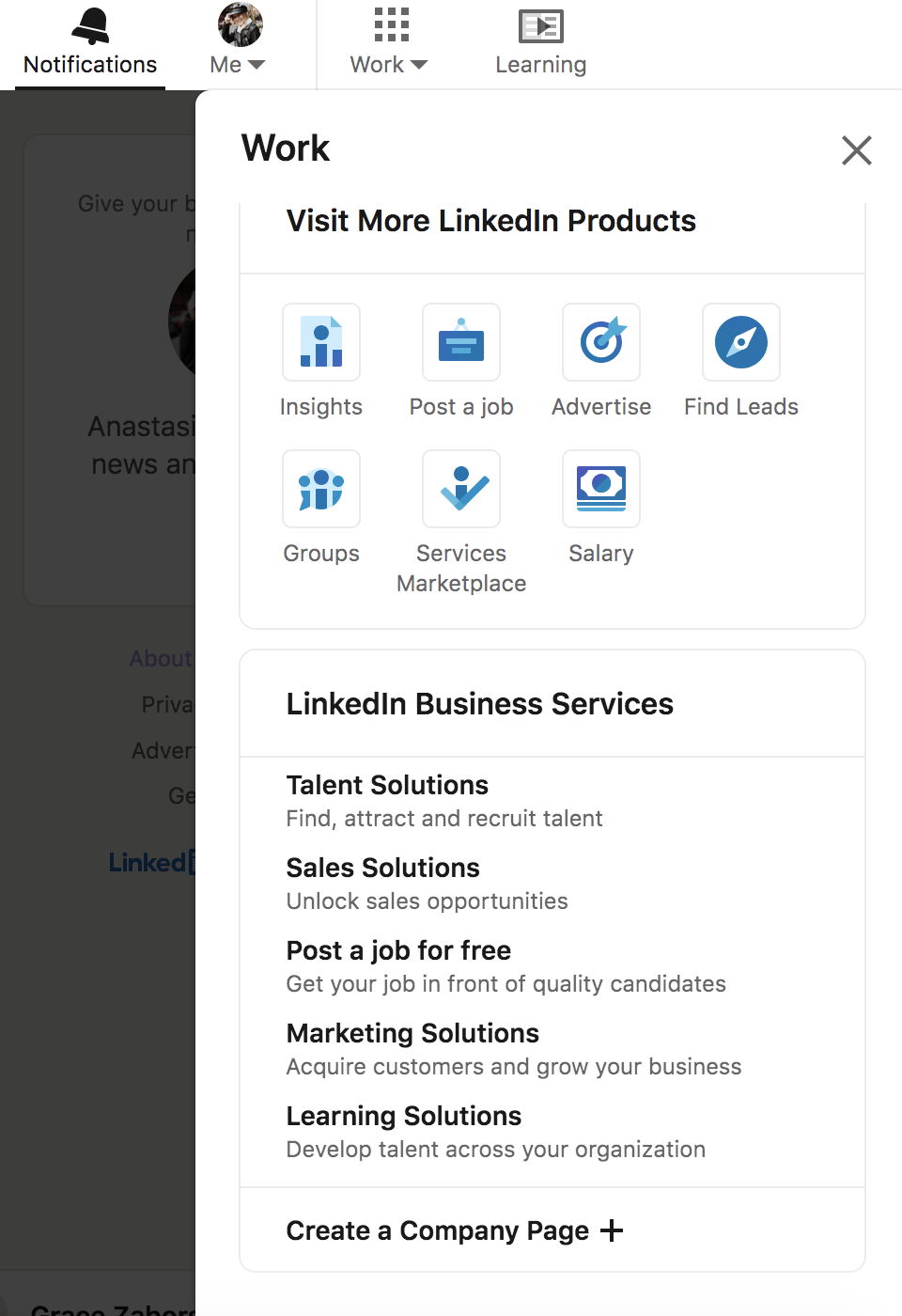 The providing information part in itself is straightforward: you'll be prompted to type in the name, website, industry and similar information, as well as to upload a logo. Pay attention to the Public Profile URL (your unique LinkedIn address). Instead of a URL with confusing numbers at the end, it should include your company name. For example, http://www.linkedin.com/in/bestwebsiteever.
We also suggest adding a LinkedIn background photo to your profile. Many businesses fail to do so and miss the chance to immediately grab the attention. The background photo should be relevant to the field your company operates in.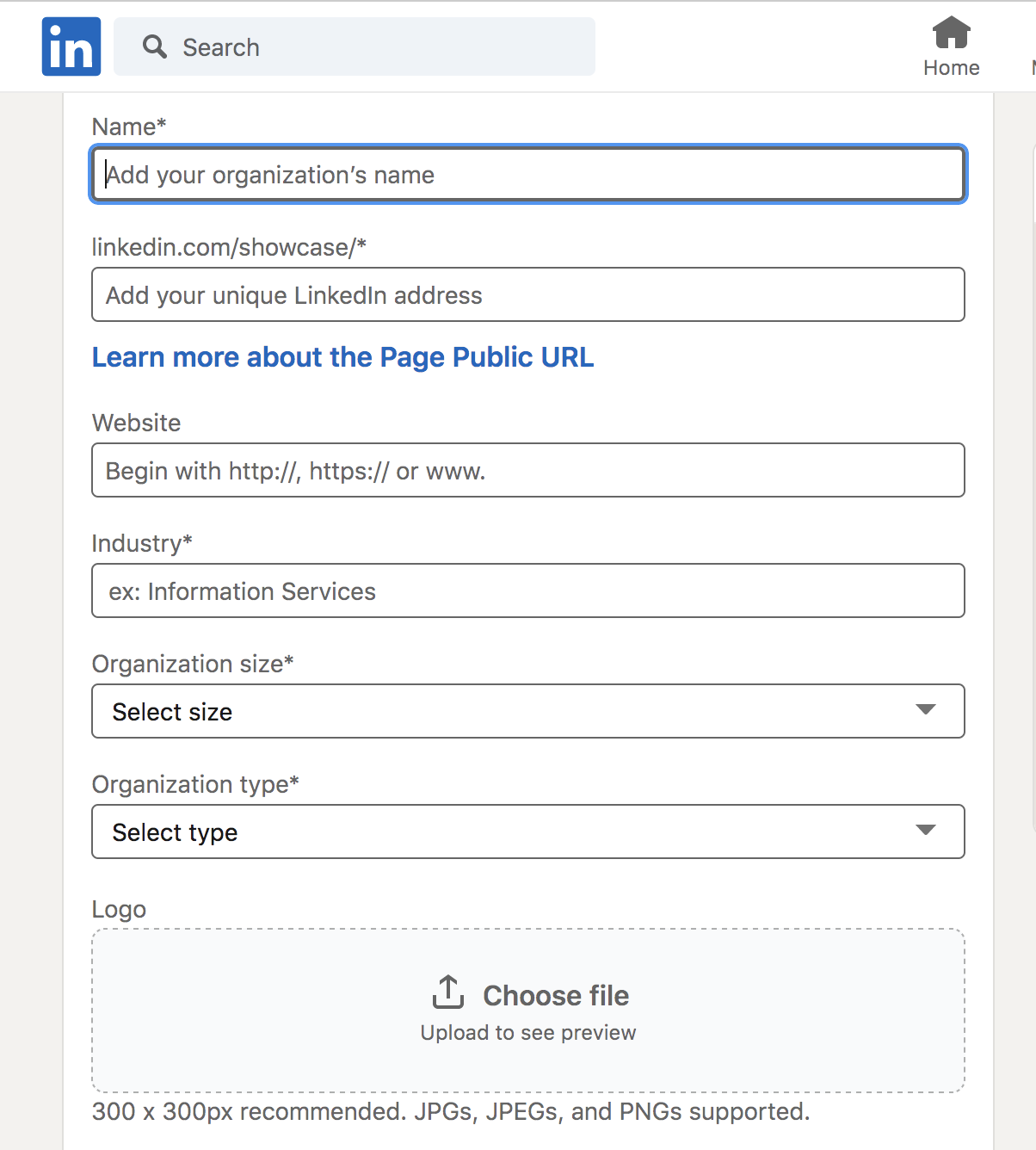 Once you've created your page, you can start inviting people to follow it. Here's how LinkedIn lets you promote your business page: each page gets 100 credits that can be used to ask your personal LinkedIn contacts to follow your page. So 100 people are the most you can invite at once. Every time someone accepts your invitation, you get that credit back, and you can use it to ask someone else. Anyone with super admin and content admin roles can invite their followers to your LinkedIn page. Therefore, giving access to your salespeople, marketing team, and other top managers is a good idea.
Building content for your business page
However, before you decide who to invite and before inviting anyone, it's important to build some content. So that when someone receives your invite and goes to your page, there is already something for them to see.
In a way, you should run your LinkedIn business page similarly to how you would run any other social media channel. Remember that not all content works on LinkedIn, though. For example, vertical TikTok videos simply don't work for LinkedIn. But some content works better on LinkedIn than on other platforms, for example, an in-depth research paper.
Plus, LinkedIn has some great tools for content creation that other platforms don't. This includes the Content Suggestion tool. To get to the Content Suggestion tool, click on the Content tab of your business page. It is located at the top, next to the Home and Analytics tabs. Once you're in, you'll see three subcategories: Trending Articles, Employee Milestone, and Company News.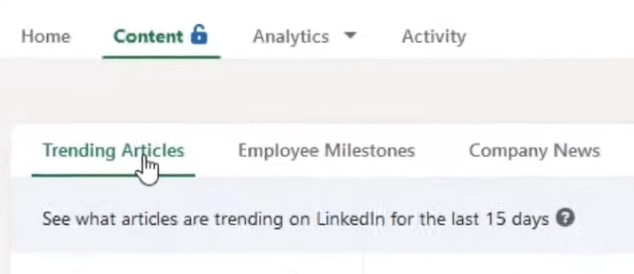 The 5-3-2 LinkedIn rule
Before getting to each of these, we need to discuss the 5-3-2 LinkedIn rule. It is the  rule that LinkedIn suggests their users apply for the most involvement of their followers. The 5-3-2 stands for 5 shared posts, 3 original pieces of content, and 2 fun ones. In other words, 5 Trending Articles, 3 Company News, and 2 Employee Milestones.
Trending Articles is a list of suggested content from other sources that you might like to share with your followers. You can filter the articles based on industry, location, job function and seniority. You can also choose pieces that are trending all over LinkedIn. Following the 5-3-2 rule, your content should mainly include trending articles. You could also repost exciting content you find browsing and posts that mention your brand.
Company News is pretty self-explanatory and is up to you to interpret.These could be literally any updates you wish to share, announcements or videos.
Employee Milestone is usually the 2 in the 5-3-2 LinkedIn rule. It refers to the fun, unique content that gives your brand character, adds the human element, and engages your followers. This could be a funny meme related to your industry or an employer announcement you want to share with the world, such as work anniversaries and promotion announcements. This type of content is excellent, not only because it helps humanize your brand but also because it encourages your employees to engage with the content that you share. 
You should share between 2 to 5 posts weekly, aiming for Tuesday through Friday, during business hours. You don't need to post more often than once a day and you should keep your publishing schedule consistent.
How to promote your business page
As we've mentioned, sharing extended articles on the platform is fair game and will make your page look professional. Here are a few more free tools and features to keep in mind.
Optimize your LinkedIn profile for search engines. Make sure to add the keyword you'd like to be discovered by.
Add the right hashtags to your posts. Think carefully about what would represent your post and your industry the most. Before including any hashtags, though, please do your research. See what comes up under a particular word and whether it is a popular one or not.
List job opportunities on your page. This is a good strategy to get more followers. Everyone thinks about changing their jobs once in a while, and the fact that from time to time you post job listings will make people want to follow you.
Duplicate your LinkedIn announcements on Twitter. The two social media platforms should be interconnected.
Don't forget to check who's viewing your LinkedIn profile and maybe send them a message or an invitation.
Talk to the audience, and send private messages to people in your industry with an idea for research in mind. What do people want? What problems are there in your field?
Take advantage of LinkedIn's search options. You can filter out and find perfect clients by simply spending some time reading through their profiles.
Read LinkedIn Marketing and Advertising blog; the company often posts great tips there.
Join LinkedIn groups. Make connections at a place where your potential customers connect. Find the groups from your industry and establish yourself as an expert in the field.
LinkedIn Marketing Options
LinkedIn business pages allow businesses to promote their websites, job openings and products for free. However, they are limited in their functionality and in the number of potential clients from the outside they can attract.
Therefore, there are great opportunities with paid LinkedIn ads. Different types of LinkedIn ads help you research what the clients want, interest passers-by who haven't heard of your company, and, most importantly, attract new talented employees to join your business. You can run four types of ads on Linkedin: message ads, dynamic ads, text ads, and sponsored content. Each one aims to help achieve different goals for your business.
LinkedIn ads are a powerful way to advertise your business on the world's most popular professional network. You could go through our step-by-step guide below and promote directly from LinkedIn, which would involve creating another account.
Another option, however, would be to target LinkedIn profiles through Microsoft Advertising. It is very effective and easy, especially if you already have a Microsoft Advertising account. You can read about its success and how to do it here.
To create ads directly on LinkedIn, click on the Advertise button in the upper right-hand corner of your home screen. From there, you'll be prompted to create a LinkedIn manager account. You'll need to provide all the necessary information, including the business pages you want to link to. After that, you'll be able to create a campaign.

Once inside the Campaign Manager, you can build your first campaign. Follow the subsequent 5 steps every time you create an ad on LinkedIn:
1. First, you need to choose your objective. Are you creating this ad for awareness, consideration or conversions?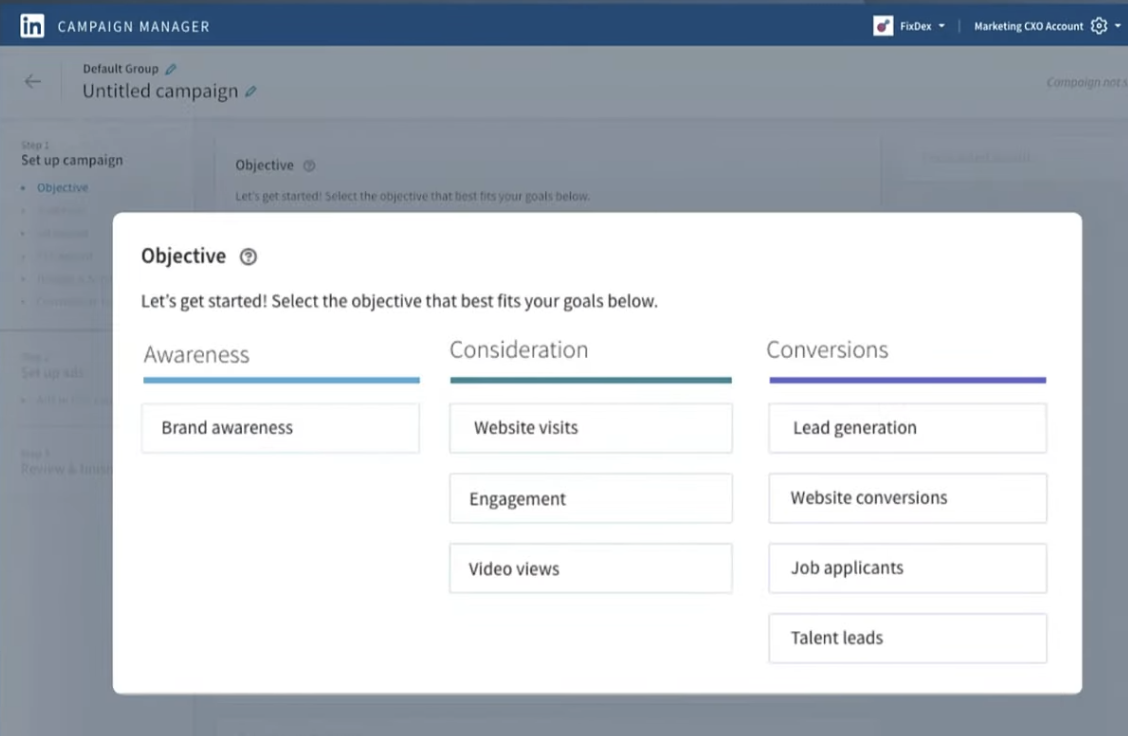 2. Second, select your target audience. Who is this ad for? LinkedIn ads offer more than 200 targeting characteristics, from job experience to interests.
3. Third, pick an ad format. How are you going to attract the attention of your audience? You can choose from these four options:
1. Sponsored Content
Sponsored content is the type of ads users see on Facebook and Instagram. Sponsored content appears in the user's LinkedIn news feed and is labelled "promoted". This type of advertising is native and can feature images, videos, carousels, or events. Sponsored content is viral and successful; however, it has the highest cost-per-click, around $8-10.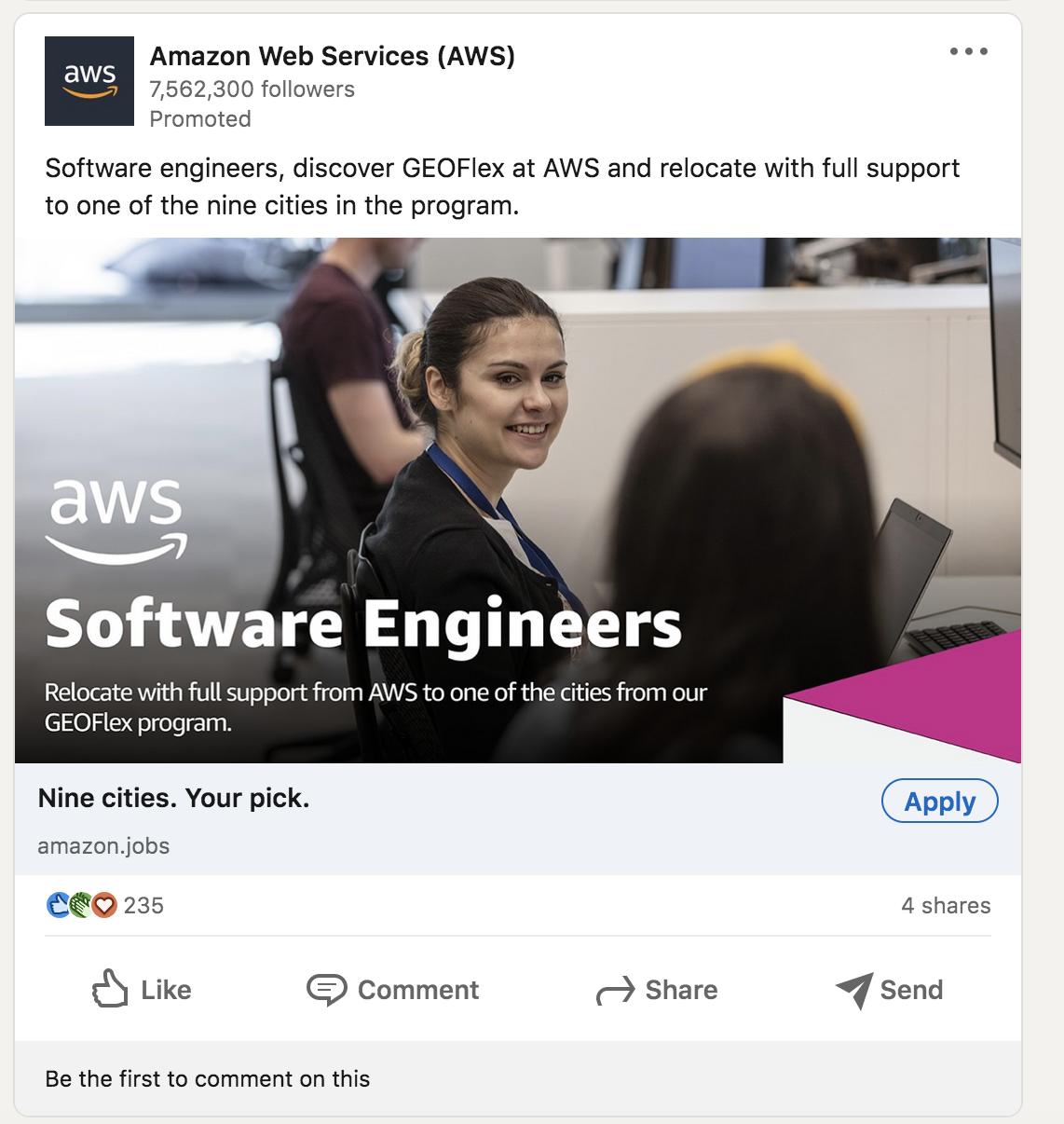 2. Sponsored Messages
Sponsored messages are the type of LinkedIn ads that goes straight into LinkedIn users' inboxes. Sponsored messages are great if you want to drive brand engagement and generate leads. This type of ads also allows you to track how many people opened the message, took action and converted!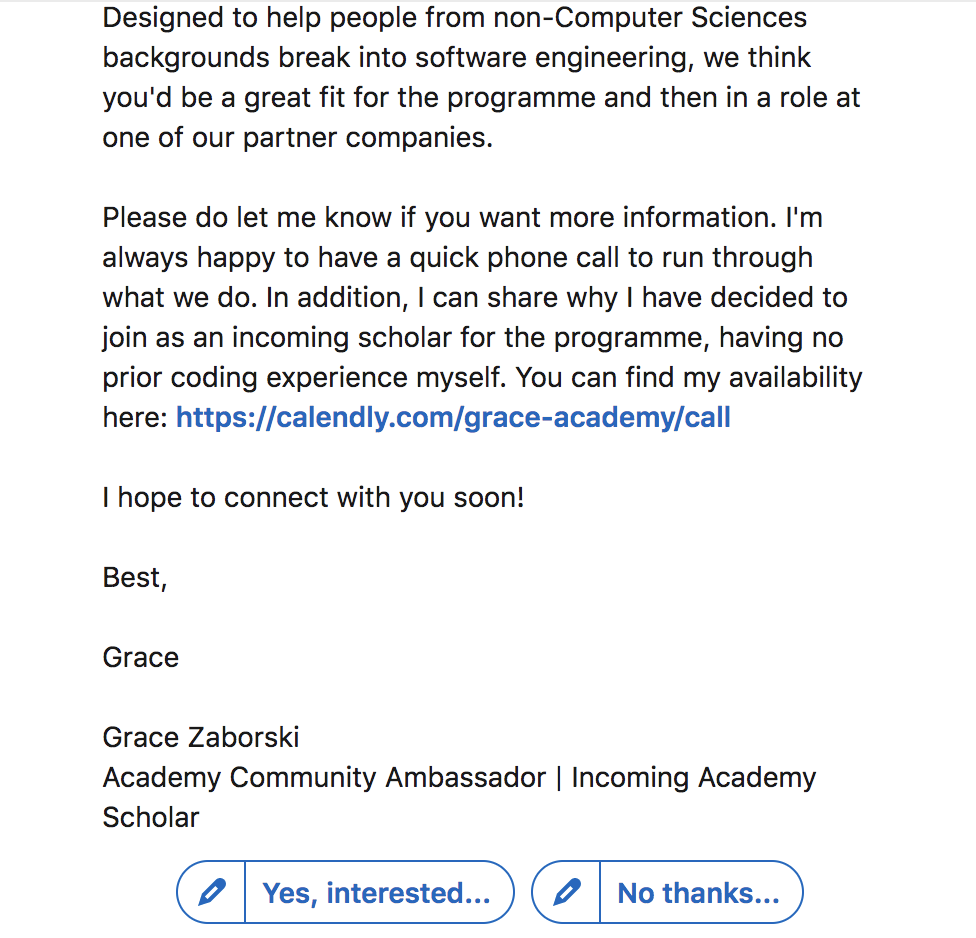 3. Dynamic Ads
Dynamic ads are the most personalized of all available on LinkedIn; therefore, with these ads, you can almost directly speak to your target audience.
When a Dynamic ad pops up in a user's feed, there is information about the advertiser and the user's personal details, such as a photo, job details or a company they currently work for. However, LinkedIn users can opt out of these personalized ads and hide their details.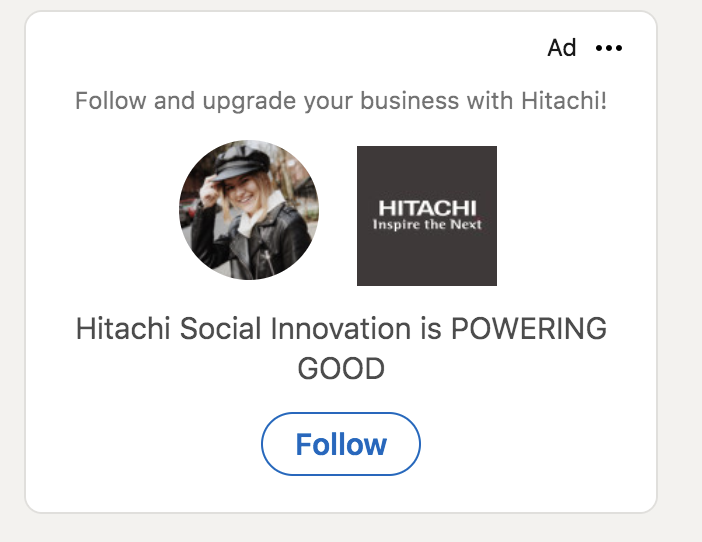 4. Text Ads
Text ads look very similar to Google Ads. They appear in the top right-hand corner of the user's feed and usually contain a small heading, a description, and a call-to-action button. Despite the name, they can also include images and logos.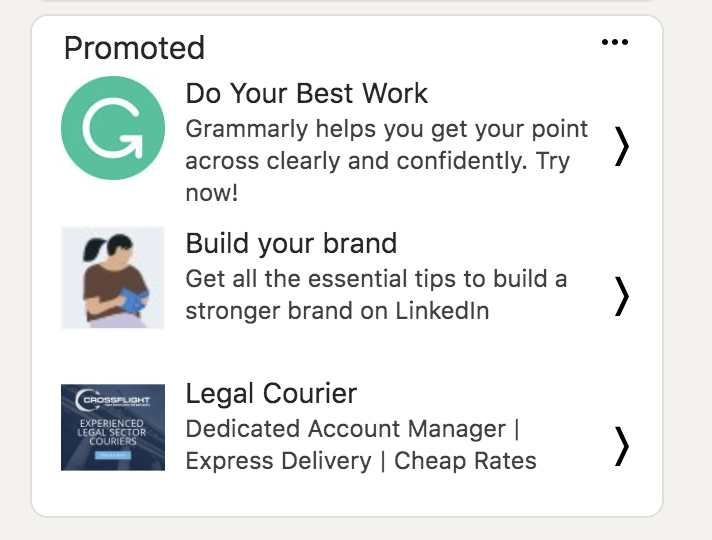 4. Next , set a daily budget and don't spend much at the beginning; consider how well it's going before investing more.
5. Finally, measure your ad's success. Luckily, LinkedIn makes it easy to track how well your campaign is doing. You can see the performance in the Campaign Manager dashboard under campaign performance. The graphs that show your conversions are handy to look at and analyze.
Tips for creating engaging LinkedIn ads
Finally, it's time to talk about how to make ads that people will engage with. The tips below are worth paying attention to, no matter what type of LinkedIn ad you create.
Carefully select the content based on the chosen ad type. Yes, we've said that the rules apply for all ad types BUT remember to keep the format in mind.
Create content with your audience in mind. Think of who you are advertising to. What does it take to make those users respond to an  advertisement?
Check out the competition. What are your competitors doing with their LinkedIn ads? What works and what doesn't? What would you change about their ads?
Use eye-catching visuals and friendly, engaging language.
Final thoughts
We can't emphasize enough that you should use LinkedIn in your business strategy. No matter what you decide, whether you are running a LinkedIn business page, getting involved in the groups or choosing to advertise on the platform, LinkedIn is a great place to be if you are looking for business-minded clients.