If you're looking to save time, duplicating your ad campaigns can often come in handy. This article discusses why advertisers turn to duplication and why Microsoft Advertising (formerly Bing Ads) is the perfect place to do it.
Why Duplicate an Advertising Campaign?
Before we dive into the nitty-gritty of how to duplicate your campaign via Microsoft Advertising, let's look at why we would want to copy and paste a campaign in the first place.
Save time
Imagine you have created one kickass ad campaign and want to create another. Instead of starting from scratch, you could duplicate the original campaign and add new edits to fit the new brief. The copied campaign will retain its settings, ad groups, ads, and keywords. You can incorporate new ads or creatives.
Use it as a framework/template
You can copy an ad even if you plan to make significant changes. For example, you can use the settings of a past successful campaign as a foundation for a new one. By duplicating your leading and most successful campaigns, you create potentially useful templates of campaigns that have already produced results in the past.
Increase outreach
Finally, you can run the same campaign as in the past but boost its outreach. You can expand the number of viewers by making small changes to the budget or bidding.
Bing's Advertising Potential
Microsoft Advertising (formerly Bing Ads) is a pay-per-click advertising service for the Bing and Yahoo search engines. It rivals Google Ads as one of the strongest competitors in the paid search market.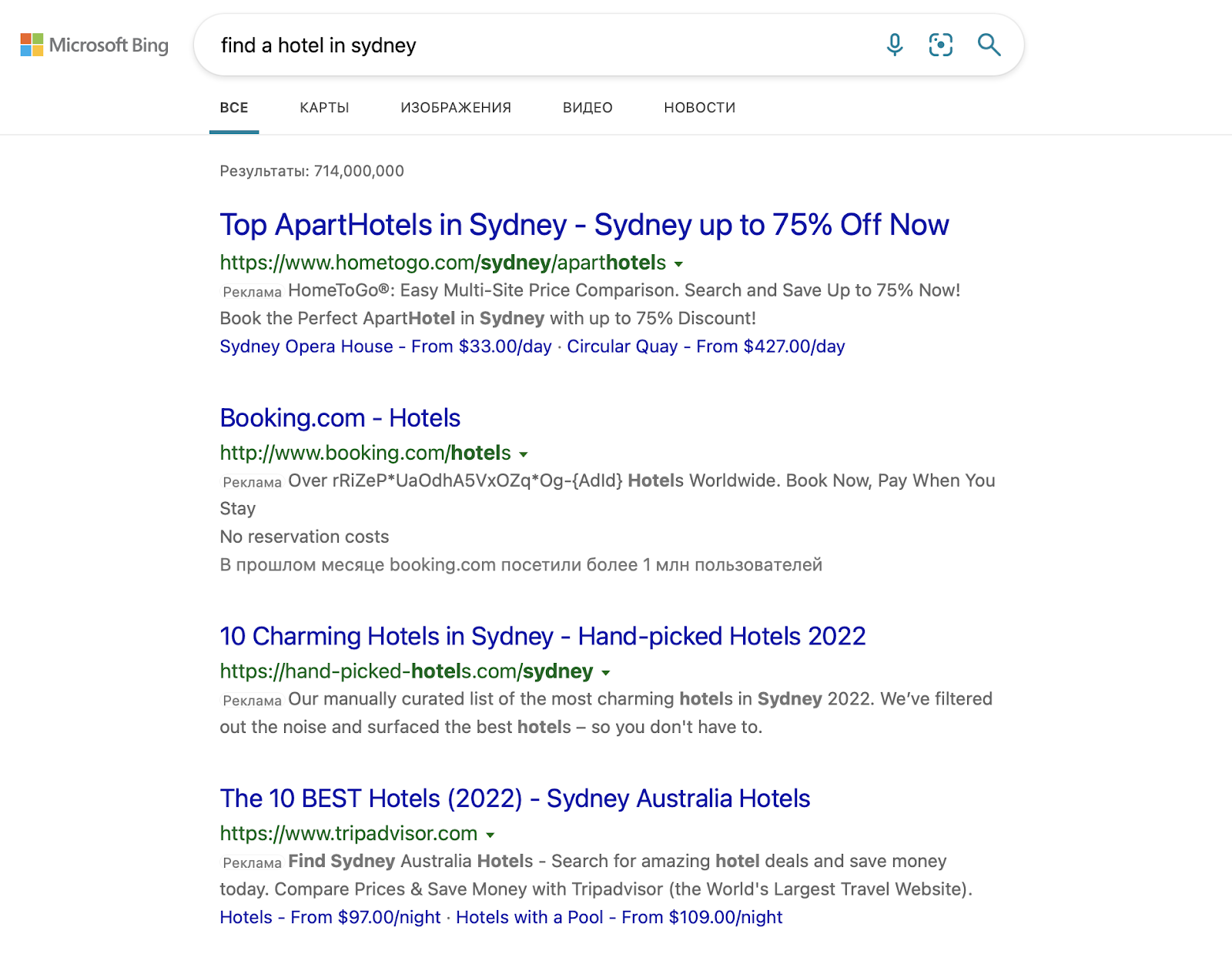 Example of Microsoft Advertising for the Bing search engine
While Google has traditionally dominated the search engine market, the Bing network has grown enormously. In February, Microsoft Advertising launched in 29 new countries in Europe and Africa and now supports 19 more languages. This expansion will increase the platform's reach by 41 million customers, according to the company.
More recently, at Microsoft's annual event, Build 2022, the company unveiled Microsoft Store Ads – a new product for running ad campaigns directly in the Microsoft Store. Using Microsoft Advertising technology, app developers can now get ads for their apps before the customers they want, whenever they want.
Bing now has 14.4% of the desktop search engine market share worldwide.
There are 14.7 billion monthly searches conducted on the Bing Network.
724 million unique searchers use the Bing Network.
While Bing mirrors Google's features closely, advertisers may be surprised that Microsoft Advertising offers additional and more affordable functions that, in many ways, could surpass its more famous rival.
Cost
Microsoft Ads' CPC (cost-per-click) is between 30 to 60% cheaper than the same ad on Google Ads. Therefore, depending on your budget, Bing Ads might be more cost-effective.
User base
Bing has proven to attract traditionally wealthier users. Nearly 75% of Bing users over 35 have an income of $75,000. 38% have a household income in the top 25%. Microsoft Ads would be an excellent place to sell luxury items.
Device targeting
One advantage of Microsoft Ads over Google Ads is it allows for specific device targeting. You can toggle Microsoft Ads to target mobile users specifically. In 2021, 29% of paid Microsoft Advertising search clicks came from mobile devices. 
Less competition
Generally, Microsoft faces less competition on its keywords. This helps lower your CPC (cost-per-click) and make the most of your budget, targeting traditionally wealthier users. 
Other features
Microsoft Advertising constantly evolves, gaining new features and еxpanding opportunities for advertisers. For example, Microsoft Advertising is the only digital advertising platform (outside of LinkedIn) to offer LinkedIn Profile Targeting.
As a 2020 report from Markup showed, Google tends to over-promote its products, such as maps, translators, and so on, making it harder for users to see other search results (including paid ads). Bing, on the contrary, rarely directs users to Microsoft-owned products leaving more space for users to see ads.
How to Duplicate Ad Campaigns in Microsoft Advertising
Generally, Microsoft Ads allows its users to take an existing campaign and create an exact copy. It requires downloading a supporting desktop application. While you can create your ads on the Microsoft Advertising website, you can only duplicate them.
1. Go to Microsoft Advertising webpage and download the Microsoft Advertising Editor (available for Mac or Windows).
2. Follow the instructions to download the application to your computer.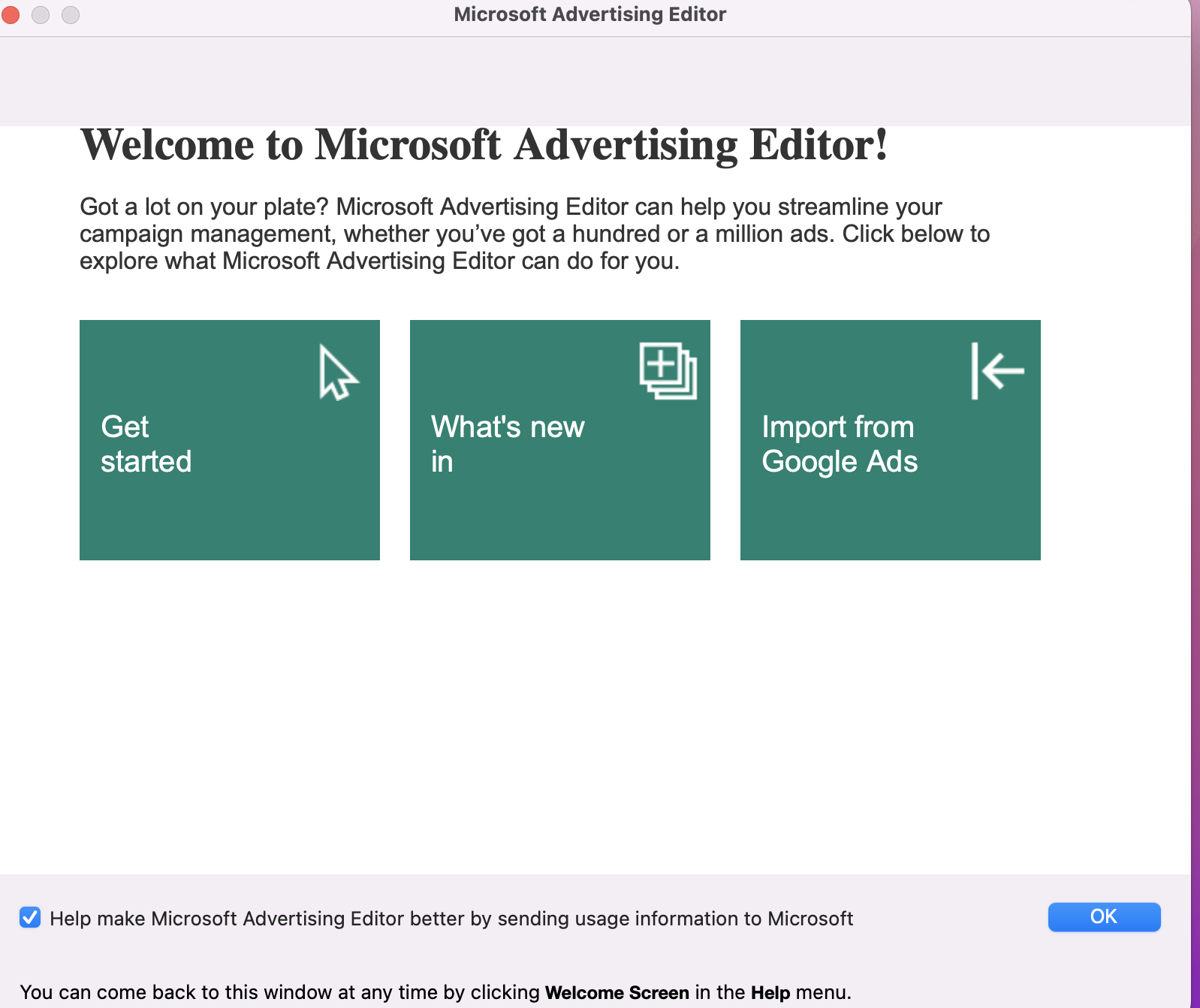 This is what you'll see once you're inside the application
3. Open the Editor app and add your Microsoft Advertising account.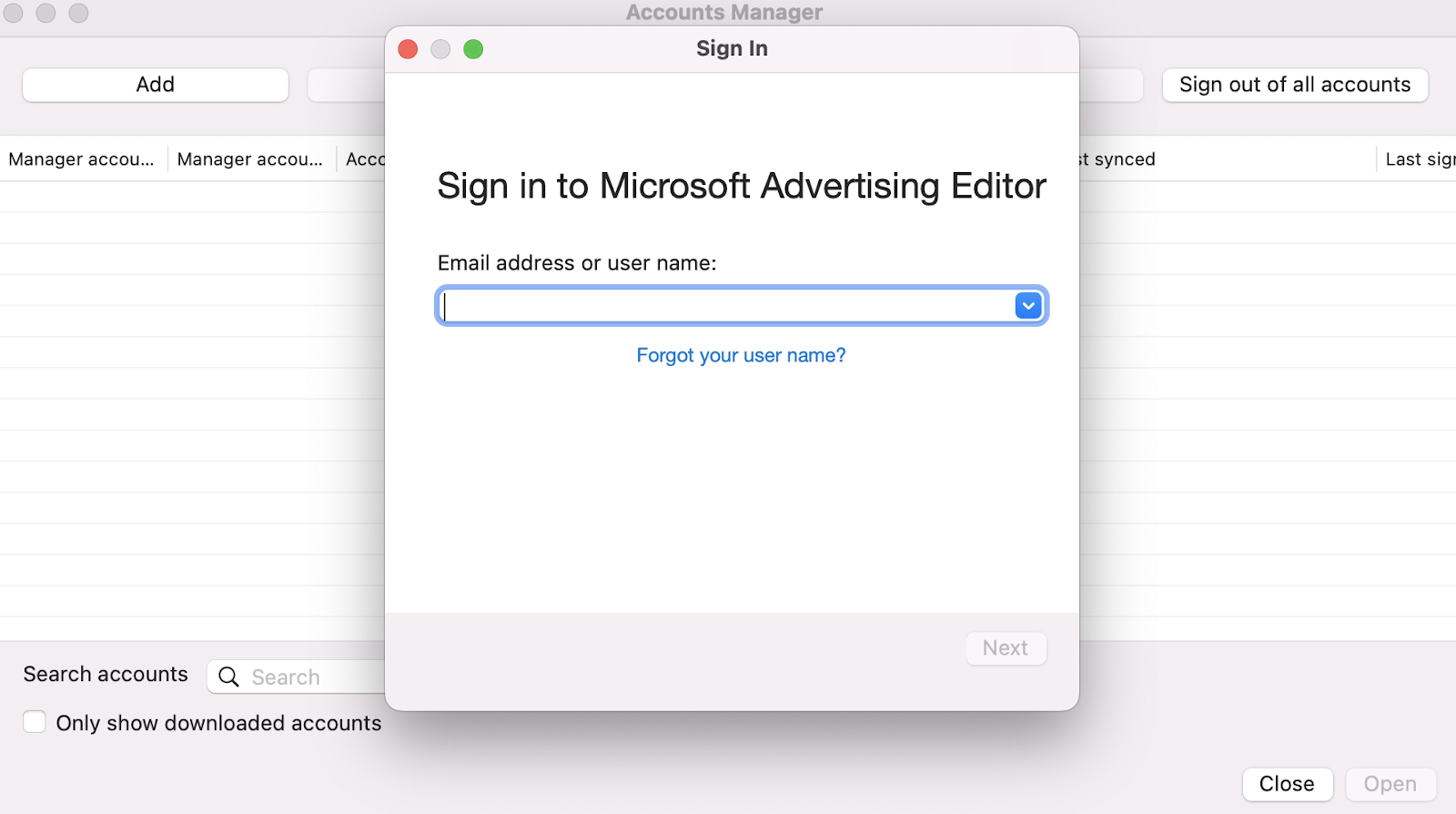 Add your Microsoft Advertising account
4. Once you're in, you'll see all your campaigns in the main menu on the left.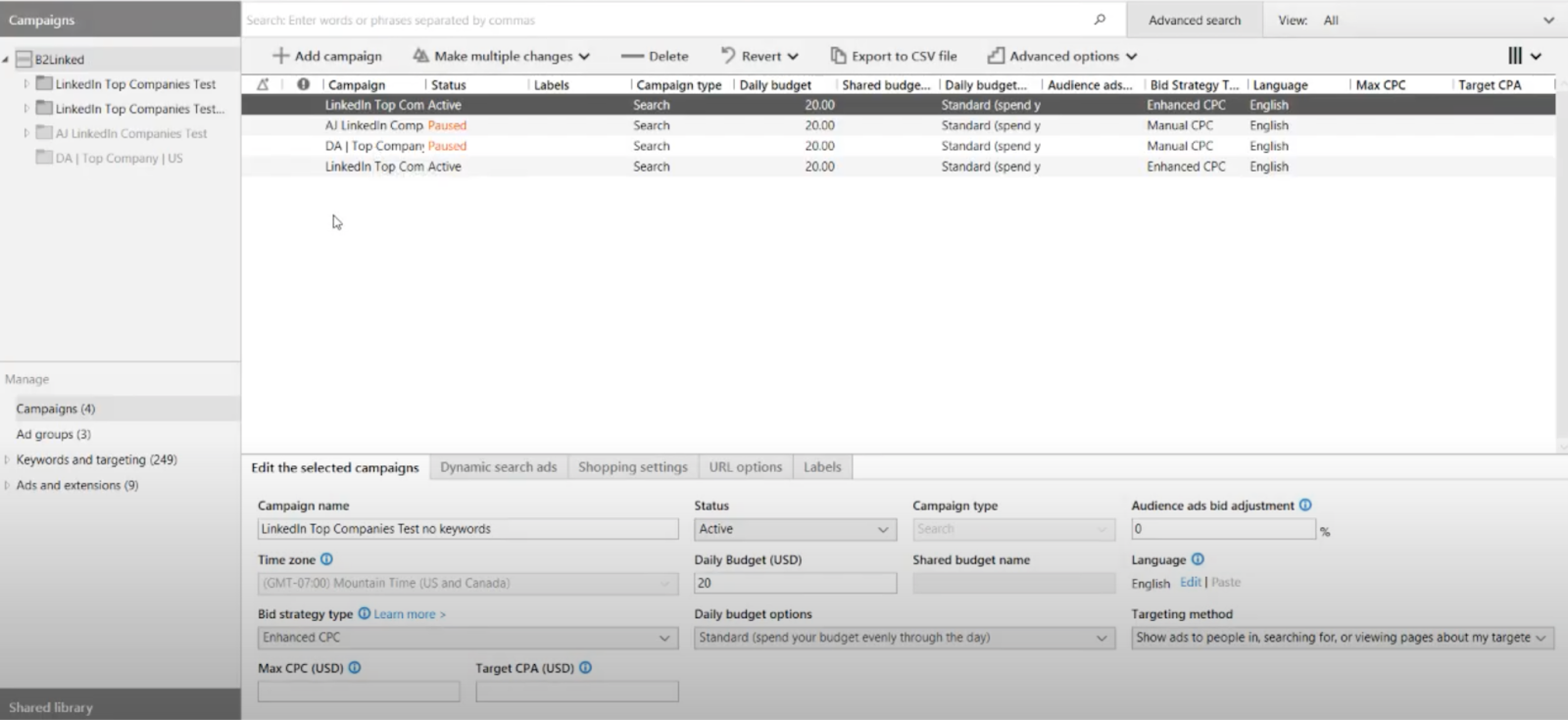 The image is taken from Cody Howell's YouTube
5. Choose the campaign you wish to copy, click on it with Right Click> Copy.
6. Click outside the selected campaign before pasting it with Right Click > Paste.
7. Save your changes by going to the 'Account' tab in the upper left corner and choosing 'Post changes'.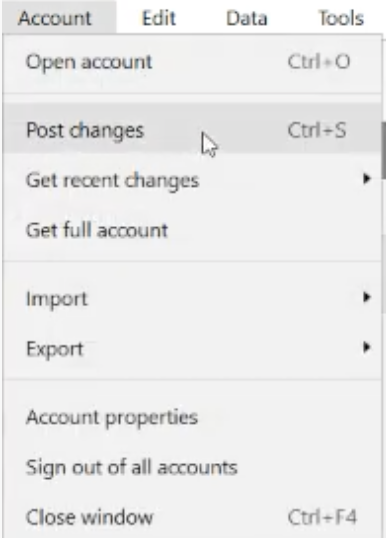 The image is taken from Cody Howell's YouTube
8. A duplicated campaign will then appear in your Microsoft Advertising account.
What to Consider after Duplication?
You have now duplicated a campaign, saving yourself a lot of time. Now feel free to make any necessary changes before activating your new campaign.
It is better to make all the tweaks before you forget what you want to do and end with two identical campaigns.
Before you start making modifications, make sure to change the name of the ad to help yourself differentiate it from the original.
Look at some Microsoft rules. The maximum number of campaigns you can copy is 200. You cannot copy and paste 'smart campaigns.' You can only copy and paste campaigns across one account.
Conclusion
Duplicating is a handy tactic to have in an advertiser's toolbox. It allows you to speed up creating new campaigns, build on past success and increase engagement.
This article has discussed some unique features that Microsoft Advertising brings to the table. Microsoft Ads lets you reach wealthier users by paying less and presents less competition for your keywords and an ever-growing user base. Make sure to duplicate your campaigns and explore all the opportunities Microsoft Advertising offers!